Toontrack's Superior Drummer has proved a big hit. Does their EZKeys virtual piano reach an equally high note?
When it comes to top-notch virtual drum instruments, Toontrack's Superior Drummer 2.0 is right up there, and offers a wide variety of both drum-kit expansion packs and MIDI performance packs in a range of different musical styles. If you can afford the price of entry, you have all the tools you need to create first-class drum tracks. More recently, Toontrack have been branching out from their drum-based roots, and the latest offering is EZKeys, a virtual piano instrument for both Mac and PC. Given just how good SD 2.0 is, EZKeys has a lot to live up to. Does it hit the right note?
The basic concept of EZKeys will be familiar to anyone who has experienced Superior Drummer: the sample-based playback engine partners a set of MIDI performances that can be sequenced within the application and, if required, exported to a host DAW. All the usual plug-in formats are supported, and a stand-alone version is also provided.
Like SD 2.0, you can purchase the EZKeys engine with one set of sounds and then add further sounds as expansion packs at a reduced price. For the purposes of the review, I was supplied with the two options currently available: a Grand piano and an Upright. I suspect that Toontrack will add to these possibilities over time. I installed both from downloads (each at just over 420MB), and the online authorisation was very straightforward.
While the graphics change to reflect whether a Grand or Upright sound is selected, the key elements of the user interface remain the same. You can pick which library/preset combination you require from the drop-down menus located at the top of the window and, if required, audition notes from the graphical keyboard (at different velocities depending upon where on the key you click). Aside from conventional piano sounds, the presets also include a few more weird and wonderful variants, courtesy of the built-in effects, so, for example, the Upright's 'Filter Sweep' preset is almost synth-like, demonstrating that the instrument is capable of more than just conventional piano sounds.
The graphics of both piano surfaces feature flip-top sections to access dynamics and tuning controls. These allow you to adjust the instrument's response to MIDI velocity, to suit your MIDI keyboard or playing style, and to adjust the global tuning. Three footpedals are supported, namely Sustain, Sostenuto and Soft, for those with a full complement. My humble sustain pedal worked just fine via my master MIDI keyboard.
The lower half of the window contains the Song Track, transport buttons, key/tempo controls, master volume knob and four effects controls. These last four are 'smart' controls, in that their function changes with each preset, so, for instance, you might get reverb, tone, detail and compression with one preset and space, filter and time with another. They are automatable from within your DAW but, aside from adjusting their levels, the user doesn't get access to the effects engine to pick their own combination of effects.
While you can, of course, play EZKeys like any other virtual instrument, clicking on the large Browser button opens the MIDI performance browser in the upper half of the window. From here, you can audition the supplied individual performances. These are categorised by style into song units with verse, chorus, bridge and other sections, many of which are eight bars in length. Variations are provided, with different levels of playing complexity, for many parts. When you find something you like, you simply drag and drop it into the Song Track. Tools are provided to sequence the parts to create a full song arrangement. As we will see in a moment, the Song Track also has a few other tricks up its sleeve.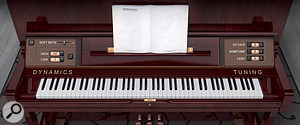 Both piano lids provide access to the Dynamics and Tuning controls.
Like any sample-based instrument, all the additional functions of EZKeys would be only so much froth if the basic sound didn't cut it. Thankfully — and not surprisingly, given Toontrack's track record — EZKeys sounds very good indeed. While the documentation doesn't include any details about the sample architecture, both Grand and Upright seem to be beautifully sampled, with plenty of dynamic response, and the effects — courtesy of Overloud — can be used to add additional colour. In particular, the reverb sounds very nice indeed, while the Detail effect adds more or less realistic keyboard mechanical noise to taste.
As ought to be the case, the Grand and Upright have distinctly different sounds, so there is clearly value in having both. And, even exposed in a sparse mix, the quality of the sounds stands up to very close inspection. I'd have absolutely no reservations about using either piano in a commercial context. And while the world is not short of excellent virtual pianos, both EZKeys instruments strike me as being worth the price of entry just for the sampled piano sounds.
The Browser and Song Track combine to make it possible to create a complete performance just within EZKeys.
Of course, the sounds are not all you get: there are also MIDI performance features. As mentioned above, the supplied performances are organised in a similar song-based framework to much of Toontrack's MIDI-based drum content for Superior Drummer 2.0. What's supplied with the Grand and Upright packages is very good indeed but, if you want more, there are already two additional MIDI bundles available, covering Gospel and Pop/Rock. I expect that more will follow. The flexibility of MIDI shouldn't be underestimated here, as you can adjust tempo or key almost without limit, avoiding the artifacts you might experience with audio loops.
From the Browser, parts can be auditioned at the original tempo or to match the host, and can then be assembled on the Song Track. The main menu (located at top-right of the window) includes options for exporting the Song Track as either MIDI or audio (a useful option) to a file, but you can also drag and drop directly to a MIDI track in your DAW. This worked flawlessly during my testing within Cubase. Familiar editing options such as cut and paste, mute and basic quantise functions can be accessed by right-clicking on a part in the Song Track.
The Chord Selector provides a very clever means of experimenting with different chords and voicings.
This is all great, but EZKeys has an additional set of features that, for songwriters, makes it even more flexible. For example, if you adjust the key (in the area beneath the transport controls), the existing parts in the Song Track go with it. However, the really cool bit is the ability to go in and adjust individual chords, using the very clever Chord Selector. This is accessed by simply clicking on any of the chord names displayed at the top of the Song Track, and its display is based on the Circle of Fifths. Thoughtfully, Toontrack include an excellent music-theory PDF document to help you understand what's going on here. The Chord Selector allows you to choose and audition from a whole range of chord types, select an inversion, add or remove notes from the chord, or set a different bass note. In a review of this length, it is impossible to do justice to just how much flexibility this adds to the supplied MIDI performances. However, it is very easy to use, and is designed in a fashion that encourages you to experiment in musically sensible directions, as well as making it possible to adjust the chord sequences in an infinite number of ways, including making a performance harmonically simpler or more complex to suit the song. Simply brilliant!
To my ears, at least, EZKeys would be good value even if it was just a sampled piano but, like SD 2.0, this is much more than just a virtual instrument. Taking into account the MIDI performances and the very clever Song Track — with its ability to modify performances in a wide range of ways — this is a superb tool for piano-based songwriting.
I suspect that competent piano players might not feel the need for these compositional tools but, if like me, piano is not your first instrument, EZKeys has a lot of potential. Just as SD 2.0 can with drum performances, EZKeys will allow you to create utterly convincing song-based piano parts with a minimum of fuss. This is the most fun I've had with a virtual instrument in years.  
I'm not sure there is anything that quite matches the feature set of EZKeys, but if you want top-notch sampled pianos, the Steinway Concert Grand, NI's various Concert Grands (all for Kontakt), the Synthology Ivory series and VSL Instruments Imperial series provide alternatives at a range of prices.
Pros
The pianos themselves sound very good.
Song Track and MIDI performances make this a brilliant song-writing tool.
Cons
More control of effects configuration would be good, although the effects themselves sound great.
Other than that, at this price, none.
Summary
Toontrack's EZKeys Grand Piano and Upright Piano sound excellent but, included in the price, you also get some brilliant tools for song-writing. Highly recommended.
information
EZKeys Grand Piano or Upright Piano £111; expansion from one to the other £54.95. Prices include VAT.
Time+Space +44 (0)1837 55200.
EZKeys Grand Piano or Upright Piano $149.99; expansion from one to the other $79.99.