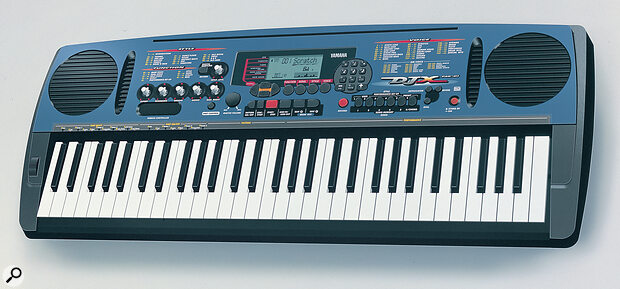 If you thought home keyboards were all about cheesy organ presets and bossanova backbeats the chances are you are just like Paul Farrer, but as he takes the wraps off Yamaha's new baby and rotates his baseball cap by 180 degrees he is astonished to find that he was completely and utterly wrong...
Let's face it, we all hate home keyboards with their nasty 'Come Dancing' rhythms and their cheesy 'even the family pet can play it' accompaniment sections. These days, the mere mention of a keyboard with built‑in speakers, auto rhythms and battery power is enough to evoke dormant feelings of quiet unease. Not the best time, you might have thought, for Yamaha to launch a massive advertising campaign promoting a new home keyboard that does all of these things and is proud of it.
What makes Yamaha so sure they have a winner on their hands is, of course, the fact that this particular home keyboard comes dancefloor ready with 284 presets (many of them classic retro analogue instruments), 15 drum kits, a DSP effects processor, an arpeggiator, a sequencer, MIDI programmable resonant filter sweep controls, sampled drum loops, vocal samples, a ribbon controller, pre‑programmed grooves and loops, a touch sensitive keyboard, a 16‑part multitimbral General MIDI synth, oh....and a built‑in sampler with waveform editing. And the family pet can still play it!
Physically speaking, the DJX is a fairly large (but lightweight) instrument. I suspect the heaviest things inside it are the two 6W speaker cones that kick out much more of a punch than you might expect. The full‑size five‑octave keyboard feels responsive and comes with a smallish pitch wheel on the extreme left‑hand side. The whole thing is powered either by six 'D' sized batteries or an external 12 volt DC power supply, which is included. There is a large and clear LCD screen which helps you navigate through the various pages, but unfortunately this is neither contrast‑adjustable nor backlit, which in a dimly lit studio or night club (both obvious environments for the unit) could prove to be a bit of a sticking point. On the rear panel there are both mic and line inputs in the form of two mono jack sockets for the unit's sampler, MIDI In and Out, a footswitch socket, and a single stereo headphone socket that also acts as the main keyboard output, cutting off the built‑in speakers when a plug is inserted.
The DJX is a little different to most home keyboards. It still has the friendly colours, large squidgy buttons, lots of writing on the panel and so on, but the design is both very '90s and at the same time very retro. There is an analogue feel to the front panel, with its six large white real‑time knobs and ribbon controller. The first two of these knobs control the frequency cutoff point and resonance of the preset you have selected. Knob number three allows you to re‑groove the auto accompaniments (or 'styles' as the manual describes them) — about which more later. Knob number four is freely assignable to perform a number of MIDI or performance functions such as modulation, effects level and even preset attack/release times. This knob, along with the Cutoff and Resonance knobs, transmits data via the MIDI Out so you could use it to record to a sequencer.
After using the ribbon controller for a while, you begin to wonder why more keyboards aren't equipped with one. It can be assigned to a large number of MIDI controls, one of the most useful being the 'turntable' effect — a sort of cross between a spring‑loaded pitch bend and a tempo changer, which has the effect of treating your MIDI sequence, drum loop, preset or sample literally as if you were scratching on a real record deck.
The arrangement of presets (or voices) is roughly divided into two main sections, contemporary sounds and General MIDI sounds. Voices 001 to 155 are given over to the kind of noises that this machine really shines at, namely classic dancefloor sounds gleaned from a host of the best retro analogue instruments around. Heavy use of samples taken from old instruments like the TB303, Minimoog, ARP and Prophet means that the voices in this section are nearly all perfect dancefloor fodder. They range from wonderfully fat analogue basses and whispery pads to the famous DX7 electric piano sound and abrasive acid‑house style synth lead lines. The resonant bass section is particularly juicy and authentic, and when flicking through any of these sounds the combination of the resonant filter sweeps, the ribbon controller and the touch‑sensitive keyboard gives the DJX a totally pro‑keyboard feel.
In amongst this section of voices are a large number of much longer samples. There are about 15 sampled drum loops in total ranging in tempo from 91 to 137bpm, and a host of vocal soundbites ('Ooh yeah!', 'Come on!' etc) as well a good number of really useful sound effects, hits, guitar samples and stabs. Again, all are totally suited to the dance music scene and most are very usable. The drum kits are also stuffed full of heavy electronic sounds alongside more conservative acoustic kits. The familiar sound of the TR808 and 909 drum machines is given a good airing, but there are also large numbers of percussion and drum samples that I hadn't heard before — again, all well suited to their various genres and intelligently presented.
Voices 156 to 283 are the familiar General MIDI set (128 voices from 'Grand Piano' through to 'Gunshot'), and although these sound tame in comparison to the majority of the DJX's sounds, the ability to play GM files is a welcome inclusion. Unfortunately, editing any of the voices outside of adjusting their attack/release times or the resonant filter sweeps is not possible. Giving people what they want seems to be the order of the day with this collection of voices, and instead of coming up with new and innovative forms of synthesis to dazzle us with (what did you expect for this sort of money — a Wavestation?) Yamaha have wisely plumped for instant gratification by providing a host of familiar traditional and contemporary sounds. One area that might prove to be fun, however, is the built‑in sampler assigned to preset 284...
The DJX comes equipped with a modest but none the less useful sampling feature, which records sounds in mono either from the line input or direct from a microphone. There is a maximum of about six seconds of mono sampling time available, and you can have a total of 12 samples in memory at any one time. No single sample can be longer than 3 seconds and to be fair, the recording quality isn't exactly hi‑fi. But for nicking the odd drum loop or vocal line from your favourite CD and building a track around it (purely for recreational uses you understand, your honour) it is more than good enough.
Sampling itself is very easy: the display shows you a small VU meter reading of the incoming signal (adjustable from the front panel using the input level knob), and also allows you to assign the sample to a particular note of the keyboard and set the recording trigger threshold. This is actually very important, as it doesn't let you trim the front end of any samples once they are recorded. What it does allow you to do, though, is to see a simplified version of your sampled waveform (at various zoom resolutions) and accurately trim the end point. Once you have done this you can set the sample to loop and away you go. Important samples you want to keep forever can be dumped via MIDI to a sequencer or similar data storage device.
Incidentally, the manual claims that samples remain in memory even with the power off provided that the mains adapter stays connected and/or there is a good set of batteries in the unit — but the review model retained all the samples I made with neither batteries nor the power adapter plugged in. Perhaps if I leave the DJX near to my Akai samplers overnight it might convince them to develop the habit!
In practice, I feel the sampling side of the DJX probably won't be a huge draw for most serious users (unlike the amazing preset voices) and it is obviously meant much more as an introduction to sampling for the studio novice rather than a serious production tool. The beauty of this instrument, however, is that despite its limitations it's still very easy to keep forgetting you aren't dealing with a £1500 music workstation.
One of the main features of the DJX is its comprehensive 'style' section. This is a form of pumped‑up intelligent auto‑accompaniment on steroids. Forget the awful 'Country and Western' and 'Pop Swing Beats' auto rhythms of home keyboards of the past — techno, trip hop, jungle, drum & bass, hardcore, ragga, old skool, and R&B are the kind of styles this keyboard deals with, and most of them can only be described as jaw‑droppingly good. Many come with programmed drum, bass, keyboard and even some vocal lines built into them, and each of the 100 different styles have infinite versions of track combinations.
Each style has two main sections — one for verses, one for choruses perhaps — and you can deconstruct, regroove, and remix them as they go along using the part on/off section of the keyboard. Muting various parts of the loop as it cycles round is a doddle, and in place of the dreadful 'drum fill' buttons of the past the DJX allows you to trigger an intro or outro appropriate to that particular 'style' using the 'Lead In/Out' button. You change the key of the accompaniment using the familiar bottom octave of the keyboard, and nearly every possible chord type is catered for by using one or other combination of keys within that octave. Yamaha's attention to current dancefloor styles, coupled with as open and easy an operating system as you could hope for, elevates the DJX into the professionals' league for this feature alone. You really won't believe how current and meaty these 'styles' are until you hear them, and without exception, everybody who has seen the review model in my studio over the past few days has listened in wonderment and awe when I flick through a quick demo of just a few of them.
As with Emu's excellent Orbit and Planet Phat modules, all of the pre‑programmed styles can also be transmitted via MIDI, allowing you to dump them into your sequencer to remix them, tweak them, re‑assign sounds to parts of them, or even just look and learn how they were put together. Of course, with the styles happily taking care of drums, bass and keyboard accompaniment, there's still three and a half octaves' worth of keyboard space left for your scorching lead line solo, not forgetting those resonant filter sweeps for added analogue wonderment!
The onboard sequencer is also very well specified, if a little fiddly, and allows three songs to be programmed and recorded in memory at any one time. Those familiar with Yamaha's QY‑series Walkstations will feel very much at home here and songs, like samples, can be dumped via MIDI for storage. There are even built‑in effects and an arpeggiator (see box for details).
One slight difficulty with operating the DJX is that although you can use it purely as an excellent‑value 16‑part multitimbral sound module, the manual makes no mention of how to set this up, or how best to utilise this feature. A quick word with Yamaha reveals that its Japanese inventors apparently underestimated how well the DJX would be received, and so aimed the manual more at the home keyboardist rather than the serious programmer looking for access to a massive library of the latest sounds to put in their MIDI rig. Luckily, however, Yamaha UK are working on an addendum to the manual that better explains how to set up the General MIDI side and how to use the keyboard as a master controller and sound generation unit, which should be ready by the time the DJX hits the shops in August/September.
With the DJX it looks as if Yamaha have finally achieved the impossible and come up with a home keyboard that not only delivers fun by the truckload but is amazingly well specified, and so brimming with useful features that I can see professional studios and programmers snapping them up with as much enthusiasm as teenage wannabe DJs. Perhaps this is the CZ101 for the millennium? Whichever way you look at it, the DJX is a serious piece of equipment, and behind its funky plastic exterior (and the instruction manual seemingly aimed at 13‑year‑olds) lies a sound engine with enough sonic potential to keep even the hungriest dance composer busy for ages. By presenting so many great pre‑programmed but flexible grooves and loops across a broad range of current musical styles the DJX succinctly encapsulates what music making in the '90s is all about.
Nothing is ever 100% perfect, and the DJX certainly has its shortcomings, the most obvious being the non‑backlit LCD screen, the lack of a MIDI Thru socket and its fairly limited sound editing. All of these would be justifiable gripes in a high‑end synth, but at under £270, you really can't complain. Whether or not the DJX will become a cult classic like the CZ101 or TB303 remains to be seen. Yes, it is a home keyboard, it can take batteries, it has a pair of built‑in speakers and will doubtless be annoying thousands of parents across Europe come Boxing Day — but if you let any of that put you off, you will be missing out on one of the most innovative and fun products I've seen in years. If Yamaha want their review model back, they're going to have to prise it out of my dead fingers!
The DJX includes a built‑in arpeggiator, triggered from the front panel with its own dedicated button. This automatically works in time with the tempo setting of the currently loaded auto‑accompaniment style (regardless of whether or not the style is playing). The arpeggiator transmits via MIDI and there are 16 styles to choose from, ranging from simple Up, Down, Up and Down and Random to several interestingly syncopated techno styles. If you want, you can assign arpeggiator speed to the assignable knob or even the ribbon controller, which again adds to the analogue‑feel fun factor.
There are three other effects on offer. The first is simple reverb (choose from two each of halls, stages, rooms and plates) and, like the arpeggiator, is triggerable from the front panel. To switch on the other two effects sections, Chorus and DSP multi‑effects, you have to wade a little deeper into the edit pages. There are just two choruses and two flangers to choose from in the Chorus menu, but the DSP section contains a total of 34 effects, including the usual reverbs, choruses, flanges and delays, as well as some more interesting and very usable wild EQs, auto‑wahs and symphonic effects. The dry‑to‑effected signal ratio can be controlled by the assignable knob, but other than that, the effects themselves are not editable. Before you think ill of this, however, remember that the entire DJX still costs less than the VAT on a Lexicon PCM90!
Pros
Massive number of usable contemporary sounds with a real analogue feel.
Usable and flexible pre‑programmed 'styles'
Incredibly cheap.
Easy to use and nicely presented.
Cons
LCD display not backlit.
Not that easy to use purely as a multitimbral sound source.
Slightly noisy.
No MIDI Thru.
Summary
As close to an all‑in‑one dance music production tool as you could possibly ask for at this price. Huge numbers of big, solid dancefloor sounds that will impress your friends/clients/audience for hours.