Is it better to buy fewer gigabytes of faster RAM, or more gigabytes of slightly slower RAM; for example, 6GB of 1066MHz versus 4GB of 1333MHz? And do motherboards prefer all slots to be filled, and filled with matching RAM, or is it better to get more RAM on a single stick and leave some slots free?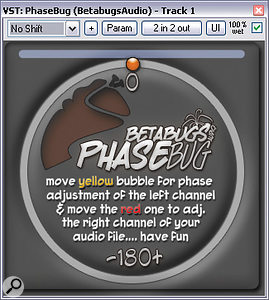 Phase-rotation plug‑ins, such as Betabugs Phasebug and Little Labs IBP, can help overcome some of the thornier phase problems you can encounter when dealing with multi‑mic drum recordings.
Adam Lawley, via email
SOS contributor Martin Walker replies: Sadly, there isn't an easy answer to this question, other than 'it depends'. How many sticks you install is largely down to the type of RAM your particular motherboard supports. If it's dual‑channel RAM, you should always install a pair of identical sticks at the same time, while if it's of the newer tri‑channel variety, first introduced with Intel's Core i7 processor range, then you should install three sticks at a time.
All modules should also be of the same speed and latency, otherwise the faster ones will run with the performance of the slowest in the collection. However, there will be no performance benefit in filling all the slots with smaller-capacity sticks, as opposed to fewer sticks of increased capacity. All that generally matters is the total capacity and slowest speed. In my experience, RAM speed is always less important than the amount, since faster RAM generally results in a tiny overall system improvement with audio applications.
The critical factor when choosing RAM amounts is how much you actually use when running your biggest audio project. Check your PC's 'Available Physical Memory' in Task Manager, or your Mac's 'Free System Memory' in the Activity Monitor. You won't make any application run faster or better by having more RAM, unless all of it is currently in use and your computer is forced to ferry additional data into a cache on your much slower hard drives. When this happens (normally accompanied by noticeably more hard-drive activity), your audio is likely to suffer from major interruptions, and this is the time to think about RAM upgrades.
Most mainstream users will probably find several 1GB RAM sticks perfectly sufficient, which equates to 2GB with dual‑channel systems and 3GB with tri‑channel systems (dual‑channel users could also fit an additional pair of 512MB sticks for a total of 3GB). Quite a few musicians will also find this enough (2GB is all I have in my current Windows XP PC, for instance).
The key to determining whether or not you'll benefit from more RAM is to measure how much you're currently using while running your audio applications. A utility with graphic readout, such as Cacheman on the PC, can make this easier to monitor.The next step up is 4GB or 6GB respectively, and here we generally hit the limits of 32‑bit operating systems, where the 4GB limit has to include the 'memory mapping' of all the hardware devices, as I discussed in PC Notes August 2008 (/sos/aug08/articles/pcnotes_0808.htm). This means you only get access to between 3GB and 3.5GB of the total system RAM, and if your memory needs are greater than this, running a 64‑bit operating system, such as Vista 64‑bit, Windows 7 64‑bit or Mac OS X Leopard, is a must to move beyond this ceiling.
However, with most musicians who are running lots of plug‑ins and soft synths, the bottleneck is nearly always running out of processing power, so once you know your RAM requirement it's better to stick with this, and spend any extra money you have on the next‑fastest processor, rather than extra RAM. Those playing back a huge number of audio tracks from their hard drives will generally be limited by the speed of those hard drives, although a modern 7200rpm model will generally manage close to a hundred 24‑bit/96kHz tracks before running out of steam.
Larger amounts of RAM generally only benefit those musicians who use a lot of sampled sounds. A typical example is Omnisphere from Spectrasonics, which loads in its very impressive but demanding preset sounds in their entirety to system RAM of a suggested 4GB or more. If you're a heavy user of instruments like this you could well find fitting more RAM vital.
The biggest RAM users are those who stream samples from their hard drives. To ensure that you hear the start of any note immediately when you press any key of any streamed instrument, the initial portion of every possible sample used by that instrument has to be buffered in your system RAM, to give your hard drive enough time to start reading the remainder of the required notes. With many orchestral libraries, this means that a full 64‑bit system with 6GB or more of system RAM becomes a must, simply for that buffering. Where your audio application gives you the option to load a bigger percentage of those samples into system RAM, you can also significantly increase your maximum polyphony.