Intel's Ivy Bridge processor may be closer than we thought — but does it make sense for musicians?
Rumours, eh? When I wrote last month's PC Notes column, the Internet was awash with news that Ivy Bridge processors and associated motherboards were to be delayed by eight weeks, with very little appearing before June. However, Intel have since reassured the industry that their original schedule is only out by 'a few weeks', with desktop product launches originally destined for April only delayed until some time in May (hopefully by the time you read this). Intel are also promising a much faster ramp-up of availability of Ivy Bridge components compared with Sandy Bridge, so I expect they are hoping for a smooth increase in demand to match.
More good news for anyone considering an Ivy Bridge upgrade is that these new CPUs finally break Intel's unwritten rule that every new processor range must be released with a slightly different pin-out, so that you're forced to buy a new motherboard as well. This time around (and the cheers must be deafening!), Ivy Bridge devices will plug into existing LGA 1155 sockets (also called Socket H2), as used by existing Sandy Bridge motherboards, although motherboard manufacturers will have to update their BIOS code to recognise them correctly.
So is Ivy Bridge worth considering? Well, if you've already got a fast Sandy Bridge machine, possibly not, since the benchmarks don't suggest a significant improvement in performance at the same clock speed. Ivy Bridge is largely a 'die shrink' from a 32nm to a 22nm manufacturing process, to reduce power consumption, along with improved integrated graphics performance, rather than a radically new design. Two key CPU models to compare are the SB i7-2600K and the IB i7-3770K, both quad-core processors with nominal clock speeds of 3.4GHz and 8MB L3 cache. Most benchmarks indicate a performance improvement of seven to 15 percent between the two; well worth having, but not sufficient reason to scrap an existing CPU (my rule of thumb is that waiting until you can achieve a 50 percent improvement before taking the plunge makes the best financial sense).
On the other hand, if you've been thinking of upgrading an older machine, it makes perfect sense to go for Ivy Bridge. If, for instance, you have an SB-based machine with a more modest CPU, such as the i5-2500K, the total improvement in music benchmarks after dropping in an SB i7-2600K should now rise from about 25 percent in DAWbench to around 40 percent with the IB i7-3770K. You'll also benefit from the quoted 19 percent reduction in power requirement (the average Thermal Design Power drops from 95 Watts to about 77 Watts), which will also make it easier for cooling fans to keep your PC at a comfortable temperature, with correspondingly lower acoustic noise levels.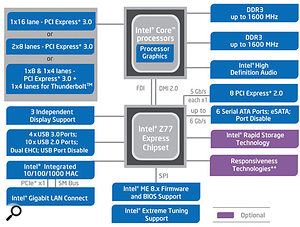 With native support for USB 3 and Thunderbolt, Intel's new Z77 chip set for their Ivy Bridge CPUs could become the new favourite for the musician.
If you're aiming for a completely new build rather than an upgrade, IB also makes perfect sense, although pairing it with one of the new clutch of Ivy Bridge chip sets will probably make more sense than buying an existing Sandy Bridge board. Of the various SB chip sets, the Z68 has emerged as the most popular for musicians and specialist builders, largely because it remains so stable even when overclocked. But Intel's new IB Z77 chip set (aka Panther Point — do I detect a nod towards the Mac platform here?) finally adds native USB 3 and Thunderbolt support and support for up to three display screens, as well as increasing the officially supported RAM speed from DDR3 1333MHz to DDR3 1600MHz.
We'll have to wait and see what the last means for audio performance, but it could certainly be of benefit to those running sample-based orchestral arrangements. As always, it pays to wait with new motherboard releases, so that rough corners can be smoothed off with BIOS updates, but overall it looks as if Ivy Bridge will be worth the wait for musicians!  
Apparently, the chips most affected by the aforementioned Ivy Bridge processor delays will still, as I reported last month, be those for ULV (Ultra Low Voltage) products such as the Ultrabook format. The delay coincides with a big Ultrabook marketing push by Intel, claiming that as a format it's far more effective than a tablet if you want to actually get any work done. Their argument is that, while the tablet is a handy tool for 'content consumption', the notebook is more suited to 'content creation', which does make a modicum of sense, although perhaps their tablet marketing will become more aggressive once Windows 8 arrives with its touchscreen/tablet support!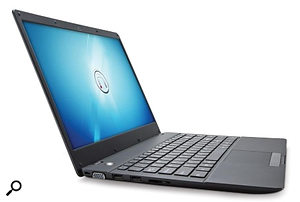 With the arrival of models like Novatech's nFinity, the Ultrabook may have entered the 'affordable' price bracket.
Having said that, some industry analysts still think that many existing non-tablet PC users will stick with the now stable and mature Windows 7 rather than upgrade to Windows 8, because if you disable its touchscreen support it's not that different in look and feel from its predecessor. I can certainly see plenty of businesses taking this approach!
Meanwhile, Novatech also seem to be trying to convince people that the Ultrabook format can be an affordable alternative to a standard notebook, courtesy of their new, and rather skinny, nFinity series, featuring 14-inch screens, Sandy Bridge Core i3, i5, and i7 processors and comparatively low price points. The Ultrabook price has always been the sticking point, so here's hoping this is the start of a new trend.