Apple Logic Pro Tips & Techniques
Screen 1: Enabling Track Alternatives.
We explore Logic's powerful new Track Alternatives.
Sure, we all love Logic Pro and take any opportunity to extol its virtues. But still, there's always a feature or two that the competition has that's been atop your wishlist for so long that you've given up hope and resigned yourself to perpetual envy.
For me, that competition was Pro Tools, and that feature was the confusingly named Playlist function. Not to be outdone and leave their users with a continuous wandering eye, Apple recently came up with an equally (if not more) powerful Logic feature called Track Alternatives.
Simply put, Track Alternatives (TAs) allow you to have multiple tracks within each track. While there is a bit of overlap between this function and that of Take Folders in practical applications, their distinctions pile up quickly — and TAs open up a range of compelling possibilities.
If you don't already know about TAs, I can't really blame you; they're easy to miss. That's because they only become apparent once you make them visible. Right‑click on any track in the Main Window, scroll to Track Header Components, and then scroll to the last item: Track Alternatives. Now each track should display a pull‑down menu next to the track name (see Screen 1).
Until you are ready to take advantage of TAs, the track behaves entirely normally. Even if you don't anticipate an immediate need to use Track Alternatives, it's still a good idea to display them on your tracks and save them in your template.
After recording on a track, pull down the TA menu and choose New. You'll notice that the contents of your track have vanished, and the letter B now appears next to the track name. That's because you are currently viewing Track Alternative B. Your content from the first take is still alive, safe, and unchanged in Track Alternative A.
Now you are free to record into Track Alternative B. Continue adding TAs as needed and when you are finished, you can switch between them with the drop‑down menu (Screen 2) or with the key command Activate Next/Previous Track Alternative.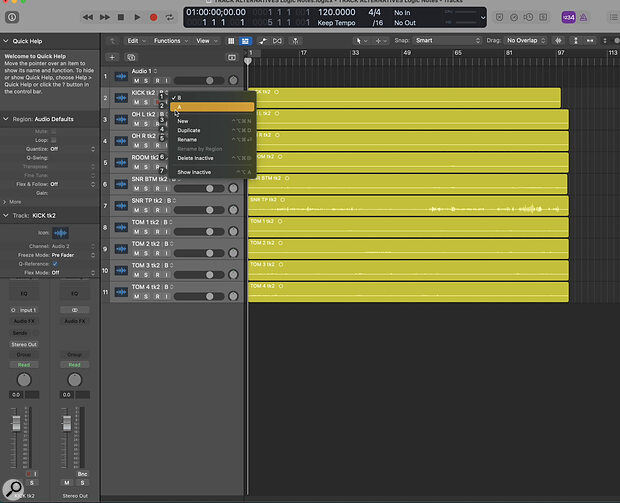 Screen 2: You can switch between Track Alternatives using the track's drop‑down menu.
You are reading one of the locked Subscriber-only articles from our latest 5 issues.
You've read some of this article for free, so to continue reading...
Log in - if you have a Subscription you bought from SOS.

Buy & Download this Single Article in PDF format

£1.00 GBP

$1.49 USD


For less than the price of a coffee, buy now and immediately download to your computer or smartphone.

Buy & Download the Full Issue PDF
Our 'full SOS magazine' for smartphone/tablet/computer. More info...

RECORDING TECHNOLOGY: Basics & Beyond
Claim your FREE 170-page digital publication
from the makers of Sound On Sound — CLICK HERE