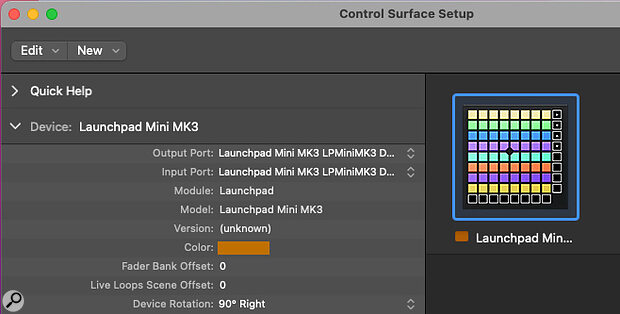 Once you've plugged your Launchpad in, it should show up in Logic's Control Surface Setup window. Here, I've set the Device Rotation to 90° Right, which allows me to use the chevron buttons to launch scenes.
Novation's Launchpad controllers offer hands‑on control over Logic's Live Loops.
This month's workshop came about because I wanted to create a portable setup that I could use live for solo performances of ambient 'music to soak lentils to' chillout music. So far, this has been based mainly on guitar with effects and looper pedals, which is all very well — but sometimes, adding percussion, bass and pad parts really helps. These could be pre‑recorded, but that would fix the time and structure of the performance, and as improvisation plays a large part in ambient music styles, some flexibility is needed to make changes during performance.
Ableton Live users have had hardware options for clip launching for a long time now, but what many Logic Pro X users may still not have realised is that more recent versions that include the Live Loops section (10.5 to 10.7) enjoy plug‑and‑play compatibility with Novation's family of Launchpad hardware controllers. My tests were done using Logic Pro X 10.6 and 10.7 on two different MacBook Pros. I opted for the Launchpad Mini MkIII (reviewed in SOS April 2020 by Simon Sherbourne), as all I really wanted to do was launch clips and scenes from Logic's Live Loops view to support my guitar widdling, but all three of the current‑generation Launchpads can do that. All have an 8x8 matrix of illuminated square buttons plus further keys for controls, and all include arrow keys to allow you to move up and down to view areas of populated cells that are more than eight deep or eight wide.
The Launchpad models differ in size, with the Mini being the smallest and least costly. In terms of how Live Loop cells can be controlled, they all do much the same job, so the real differences are in the number of further control options available and whether or not you get pressure‑sensitive switches to allow for velocity control, aftertouch, controlling faders and so on. Being the baby of the range, the Mini does not have velocity‑sensitive buttons.
You are reading one of the locked Subscribers-only articles from our latest 5 issues.
You've read 30% of this article for free, so to continue reading...
✅ Log in - if you have a Subscription you bought from SOS.
Buy & Download this Single Article in PDF format

£1.00 GBP

$1.49 USD


For less than the price of a coffee, buy now and immediately download to your computer or smartphone.

Buy & Download the FULL ISSUE PDF
Our 'full SOS magazine' for smartphone/tablet/computer. More info...

RECORDING TECHNOLOGY: Basics & Beyond
Claim your FREE 170-page digital publication
from the makers of Sound On Sound — CLICK HERE