Our Experts Transform Your Tracks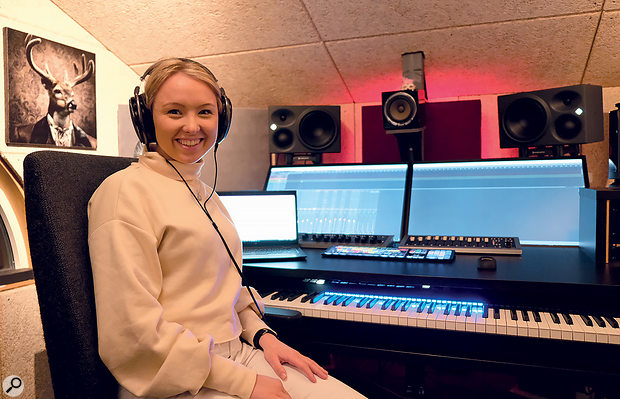 Dorothea Wessel.
Solutions to mixing problems can sometimes be found in your arrangement...
When Roger Wessel contacted me about a mix he was working on, his primary frustrations were the low end and the lead vocal sound, both crucial elements of the lush, electronica-influenced singer-songwriter project he was working on for his daughter Dorothea. He also sought advice on how to maximise the 'lift' from the song's contemplative verses to its more powerful rhythm-driven choruses. Listening to Roger's mix-in-progress, however, I felt that there could also be more textural detail and atmosphere surrounding them, and that the chorus's backing-vocal arrangement could perhaps better maintain the listener's interest during the comparatively long gaps between lead-vocal phrases.
This is the mix of 'Muddy Water' that Roger originally sent in to Sound On Sound, asking for advice about the low end, vocal sound, and long-term mix dynamics.
Auditioning Roger's raw tracks in Reaper, I quickly discovered some reasons for these low-end difficulties. Firstly, the low-frequency tail of the chorus's kick drum dominated below 60Hz, leaving the main bass synth's root-note fundamental scarcely audible. This kick-bass relationship can work fine for more heavily beat-driven arrangements, but the lack of a solid foundation to the musical harmony felt less suitable here. In addition, the bass synth's main low-end component was pulsing in a rather laid-back pattern that didn't seem to drive the groove forward, and its lack of sustain left the verses sounding harmonically deeper and richer by comparison, thereby undermining the verse-chorus dynamics Roger was hoping for. So my first decision was to substitute the original bass synth's fundamental frequency with a dedicated subsynth patch, delivering a much more sustained sense of low-end power. To clear room for this, I then reined in the kick drum's extreme low end by combining a sub-50Hz EQ roll-off with some gating to tighten up the rumbling sustain.
To bring the bass guitar's rhythmic mid-range frequencies forward in the mix, Mike used a parallel distortion channel featuring Creative Intent's freeware Temper plug-in.Another reason for the low-end struggles was a second bass part during that same section: a repeating rhythmic bass guitar riff an octave above the synth. In its raw form, this track's strongest energy came from its fundamental frequency (around 90Hz), with very little mid-range definition above its first harmonic. As such, it quickly created a muddy-sounding frequency build-up in conjunction with the bass synth's strong first and second harmonics. By cutting those troublesome lower partials and radically enhancing the instrument's mid-range using assertive EQ boosts and a mid-focused parallel distortion channel (based around one of my favourite recent freeware discoveries, Creative Intent's Temper plug-in), I was able to give the instrument a more meaningful rhythmic role in the balance.
When you're trying to capture an intimate lead-vocal sound, it's tempting to put the mic right up close to the singer's mouth, because a typical large-diaphragm cardioid design will immediately warm up the tone with its proximity-effect bass boost and will enhance the sense of breathy detail with its on-axis high-frequency boost. At mixdown, though, these apparent enhancements can actually be problematic: the degree of proximity effect can vary a great deal as the performer moves, causing timbral inconsistency, and a close mic position right by the singer's mouth will usually overemphasise sibilance, such that the vocal seems too bright (on account of the consonants) well before the vowels feel airy enough. In addition, though, enhanced frequency extremes often conceal a lack of mid-range energy, which makes it difficult to keep the vocal upfront in a busy mix — by the time you've faded the singer up far enough to be heard, either the low end is making the backing sound weedy, or the high end is making you wince!
Enhancing a breathy vocal's mid-range density can help it keep its position solidly in a busy mix balance. Here, an instance of Klanghelm's IVGI2 saturation plug-in did the honours.And these were exactly the issues that had caused Roger so much trouble while trying to mix Dorothea's raw vocal recording. Fortunately, the proximity-effect variations were only moderate, so I was able to even those out fairly successfully by compressing with a low-frequency dynamic EQ shelf. A parallel distortion channel, using Klanghelm's excellent freeware IVGI2, provided another quick win in the mid-range department, both boosting and thickening the singer's mid-range spectrum.
However, high-end consonants were overwhelming the more desirable upper-spectrum frequencies, and after trying several different de-essing tactics with mixed success I reluctantly decided to bring in the nuclear option: manually editing all the vocal consonants onto their own track for independent processing.
I say...
You are reading one of the locked Subscriber-only articles from our latest 5 issues.
You've read 20% of this article for free, so to continue reading...
Buy & Download this Single Article in PDF format

£1.00 GBP

$1.49 USD


For less than the price of a coffee, buy now and immediately download to your computer or smartphone.

Buy & Download the Full Issue PDF
Our 'full SOS magazine' for smartphone/tablet/computer. More info...

Published March 2020