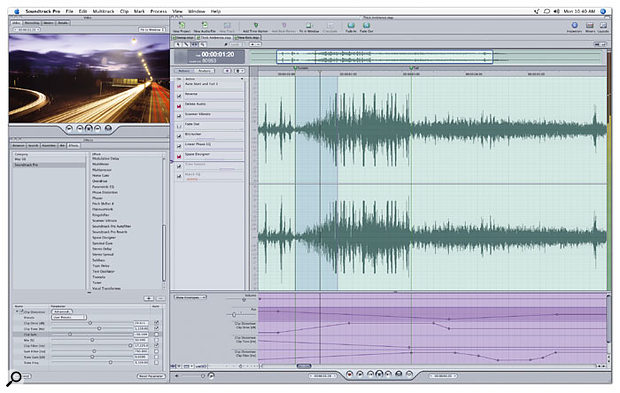 Soundtrack Pro's new waveform editor enables you to process your audio with over 50 bundled plug-ins and comprehensive new tools for analysis and noise reduction.
We offer a brief preview of the features musicians can look forward to in Mac OS X Tiger, take a first look at a major new version of Soundtrack, and examine why the iPod Shuffle is hard to resist.
In recent years, Apple's presence at the NAB (National Association of Broadcasters) show, held annually in Las Vegas, has continued to become more prominent as the company continues to focus on professional products for film and digital media. The rumours surrounding what Apple would introduce this year included new versions of software such as Final Cut Pro, a new professional audio application, and the introduction of faster Power Mac G5 computers. Although this last rumour proved to be untrue, Final Cut Pro 5 was indeed introduced, and the new audio application turned out to be an update to Soundtrack called Soundtrack Pro. Both of these applications contributed to Apple's main NAB announcement, which was Final Cut Studio, a new bundle containing both Final Cut Pro 5 and Soundtrack Pro, along with a v2 update to their Motion motion graphics/animation software and version 4 of DVD Studio Pro.
Calling Soundtrack Pro an update is a bit of an understatement, as Apple have added what seems to be a tremendous amount of functionality to this application that started life as a bundled companion to Final Cut Pro. One of the new features is a Waveform Editor for processing audio files (including audio exported from Final Cut Pro) based on action layers that allow you to make adjustments to processing and undo it at any time. Over 50 plug-ins from Logic Pro 7 are featured in Soundtrack Pro, including Space Designer, Match EQ and Linear Phase EQ.
One nice feature in the Waveform Editor is an analysis tool that allows you to identify artifacts such as clicks and pops, phase problems, silence and signal clipping in your audio. Once identified, you can then choose to fix one or all occurrences of the artifact. In terms of audio restoration, Soundtrack Pro also includes options for noise reduction, with the ability to select a range of audio to specify as a noise 'fingerprint'.
Soundtrack Pro also incorporates a Mixer window and offers support for the Mackie Control, but the real strength of the application is how it integrates with all the other members of the Final Cut Studio family, making it easy to transfer audio work to and from Final Cut Pro, for example. While Soundtrack Pro, like Soundtrack before it, is aimed at editors who want to produce their own audio for video productions, either the final result or a 'temp' for editing against, there's plenty of functionality to make it useful for audio professionals as well. We'll have a more in-depth look at Soundtrack Pro in a future issue of SOS.
I have to confess that I really do find it hard to resist new gadgets, so this month I finally gave in and bought an iPod Shuffle to complement my now two-year-old, 10GB, third-generation iPod. The iPod Shuffle was introduced by Apple CEO Steve Jobs at the Macworld San Francisco show back in January and is the first iPod to use flash memory rather than a hard drive to store your music and other data. The Shuffle naming comes from the fact that, according to Apple, one of the most popular playback modes on iPod players is shuffle, where a random playlist of music is built from all of the songs on an iPod, avoiding repetition, hesitation and deviation. However, choosing the shuffle concept for a new iPod has influenced more than just the device's name.
The iPod Shuffle, seen here plugged into a 15-inch Aluminium Powerbook.Photo: Apple
In addition to being the first iPod that doesn't have a hard drive, iPod Shuffle is also the first iPod not to feature a display — two design choices that make it seductively small, at just 3.3 x 0.98 x 0.33 inches, and weighing 22 grams. While leaving out the display was a great way to bring down the cost, Apple figured that if you're listening to a random selection of songs, you don't really need to make specific choices about the music you want to hear, which is a fair point. So, since there's no display, the control and operation of the iPod Shuffle is kept fairly simple.
The front surface features a round play/pause button (which doubles as a hold function when you press it down for a few seconds) with volume up/down and next/previous track buttons around the circumference. The next/previous track buttons also function as fast-forward and rewind buttons when you hold them down, although I found this a bit tedious and the rewind mode didn't seem to work well at all. Finally, a two-colour LED indicates certain functions of the Shuffle, such as battery charging or play/hold modes.
On the reverse of the iPod Shuffle is a switch to turn the player off or activate one of two play modes: either play in order, which is great for listening to a single album all the way through, or, of course, shuffle. There's also a battery indicator that lights up another LED when pressed, to show whether the battery is healthy (green) or ready to die (red).
The iPod Shuffle connects to a Mac (or Windows computer) via a USB 2.0 plug on the bottom of the device. Although an optional USB charger is available from Apple, the iPod Shuffle charges directly from the computer's USB port when plugged in and has a maximum battery life of 12 hours. Unlike some USB-powered devices, the Shuffle seems to be able to draw enough power when plugged into hubs, extenders and keyboards, which is rather useful compared to some USB devices I've used, that give 'low power' warnings when connected to anything other than the computer itself.
It's almost a year since Apple CEO Steve Jobs announced Mac OS 10.4 — or Tiger, as it's more affectionately known — at the 2004 WWDC (Worldwide Developer's Conference). And by the time you read these words, this major new version of the Mac operating system will finally be on sale.
While Panther (10.3) brought many improvements to the Mac platform in general, the changes specifically aimed at music and audio were perhaps less significant than in Jaguar (10.2), which introduced the Audio MIDI Setup utility and was the point at which both Core MIDI and Core Audio really matured and became usable by a wide range of developers. Tiger is also going to be a significant operating system release for Mac-based musicians and engineers, because there are some really useful and exciting improvements to both Core MIDI and Core Audio, as well as support for standards such as OpenAL, a 3D audio API (Application Programming Interface) that's useful for audio in games.
One interesting feature for those using multiple Mac systems in their studios is that Tiger's Core MIDI features the ability to send MIDI data over a network, thanks to new options in Audio MIDI Setup that are configured in much the same way as the IAC (Inter-Application Communication) Driver. Another new feature in Audio MIDI Setup is the Aggregate Device Editor, which lets you combine multiple audio devices into one so-called 'aggregate' device, that appears to applications as a single Core Audio device. This functionality finally allows you to use multiple devices at the same time, in applications such as Logic Pro that had been missing this ability since the transition to OS X from OS 9 nearly three years ago.
Tiger will also introduce the Core Audio Format (CAF) file, a new 64-bit audio file format that will allow large audio files to exist. Apple state that you can record "a thousand channels of audio for a thousand years in a single file", which should be enough even for new age musicians! CAF files will also offer metadata support for storing information about the audio, and the audio itself can be stored in uncompressed formats, such as PCM, as well as compressed formats, such as AAC. Quicktime 7 will already support CAF files when Tiger ships, and I'm sure other Mac audio applications ­ especially Logic, Soundtrack, and maybe Garage Band — will support this format fairly soon.
We'll be taking a full, in-depth look at OS X Tiger and how to use the new Core Audio and MIDI features in our July 2005 issue.
Like all iPods, you transfer music to and from the iPod Shuffle using Apple's iTunes software. The latest version has some specific options for Shuffle users. While you can drag music manually to the Shuffle, you can also use an enhanced Autofill mode that automatically fills the device (and replaces older content) with songs from your iTunes library. This can be either a completely random selection, or the highest rated songs from your collection. In the iPod Preferences window there's a great feature that I always wanted for my bigger iPod, which is the ability for any song transferred to an iPod Shuffle to be automatically encoded into a 128kbs AAC file. This is great because it allows you to keep your main iTunes library in a lossless format, without having to keep a smaller, compressed second copy for listening to on your iPod. Hopefully, Apple will implement this for other iPod users as well, someday.
As an accessory for Mac musicians and audio engineers, the iPod Shuffle can be quite useful. The main reason I bought one was because I needed a new USB storage device, and the iPod Shuffle can be used as one, thanks to an option in iTunes ' iPod Preferences that allows you to set how much of its memory should be reserved for music and how much should be left for data. For me, this is great for keeping all the latest plug-in and application installers in my pocket when having to maintain multiple computer systems. Secondly, while the 'shuffle' concept doesn't really appeal to me as a way of playing music, if you're working on a mix and want to listen to it on headphones and walk outside for a while — something many iPod users do, apparently — the iPod Shuffle serves this purpose as well. And it's worth remembering that, like all iPods, the Shuffle can also play uncompressed audio, such as WAV files.
The iPod Shuffle is available in two models, the first with 512MB memory for £69 and the second with 1GB memory for £99. They come with the obligatory white 'mug me, I've got an iPod' headphones, a lanyard for wearing your iPod Shuffle around your neck, and a cap that protects the USB plug when the player is in your pocket, if you don't want to make a fashion statement.
Published June 2005