The 1.4GHz Pentium-M processor in Millennium's Centrino laptop ran Waves' C4 multiband compressor plug-in with 3.6 percent CPU overhead — exactly the same figure as I measured recently for a desktop PC fitted with a 2.8GHz Pentium 4 processor!
Encouraging results are achieved from testing a new laptop equipped with an Intel Pentium-M processor. Could it become the centre of the PC user's ideal mobile setup?
At long last I've been able to get my hands on a Centrino laptop, courtesy of Millennium Music Software (whose standard P4 laptop I reviewed in SOS September 2003), so that I can report back on the Pentium-M processor's suitability for music applications. Their new 15-inch Centrino chassis is sourced from an ODM (Original Design Manufacturer — see last month's column for more details) that also makes many of Apple's Powerbooks, and it looks very smart, with its two-tone case incorporating an alloy lid and trim. It came fitted with a 1.4GHz Pentium-M processor partnered with Intel's 855PM 'Odem' chipset, 512MB of RAM and a 40GB hard drive, and features integrated ATI Mobility Radeon 9000 graphics with 64MB RAM, supporting a native resolution of 1400 x 1050 pixels.
This laptop is not quite as versatile as Millennium's 'desktop replacement' laptop, since there's no second drive bay to house a second hard drive, battery or floppy drive (most Centrino laptops don't have a floppy drive), and you get three instead of four USB 2.0 ports. However, it has an extra SD (Secure Digital) Card port (handy for transferring data from another PC), is significantly quieter, weighs just 2.9Kg rather than the 4.4Kg of the standard P4 model, and has batteries that last much longer. Indeed, it was able to run the Cubase SX 'Heaven and Hell' demo for over three hours during my testing, compared with about an hour and a half for the Millennium 5600-series P4 machine (using a single battery in both cases).
I ran a raft of general-purpose PC benchmark tests, with interesting results. While the results of the tests associated with RAM and hard disk performance were very similar to those I achieved with Millennium's 5600-series laptop, the CPU figures varied hugely from test to test, with some producing figures for the Pentium-M 1.4GHz that were equivalent to a P4 2.4GHz processor, and others barely equalling a 2GHz one. Intel generally quote a 1.5x factor, so basically they claim the 1.4GHz Pentium-M provides roughly equivalent performance to a 2.1GHz Pentium 4, and my test results tie in with this claim.
The reason for the differences is that we're comparing two very different processors. It's generally accepted that, while the Pentium-M processor provides excellent floating-point performance, it doesn't do so well compared with a standard Pentium 4 or mobile P4 when SSE2 optimisations enter the equation. (SSE2 is Streaming SIMD Extension 2, where SIMD stands for Single Instruction Multiple Data). However, whether this is relevant depends entirely on what software you're running. Music that uses extensive SSE2 optimisation includes SEKD's Samplitude digital audio editing software and the Waves plug-ins, and these will generally show the standard P4 in a better light. However, the vast majority of music software still hasn't been optimised with SSE2 instructions, and with that software the Pentium-M should hold its own very well.
To test the new laptop's performance with SSE2-optimised software, I installed the Waves Gold plug-ins (version 3.5 — the same as I've used to test quite a few other PCs). I was fully expecting to see competent but unexciting performance, but I was stunned by the results. While the Rverb and Trueverb still produced results with the Pentium-M that were similar to a Pentium 4 2.2GHz processor, the REQ6 result was closer to the P4 2.5GHz model, while the C4 multiband processor, C1 compressor gate, and Q10 paragraphic EQ all gave results that measured closer to a P4 2.8GHz! This seemed far too good to be true, but I double-checked the CPU figures within Wavelab using Windows Task Manager. I also later tried another Centrino laptop and all figures tallied, so I'm extremely impressed with the Pentium-M processor.
However, as I stressed in both the Millennium laptop review and my subsequent PC Musician feature in October 2003, it's important to disable various mobile performance technologies, such as SpeedStep technology, if you want to get optimum performance from music applications, and this was quickly proven when I tried to run the Cubase SX 'FiveTowers' test.
As supplied, with the Power scheme of the Power Options applet of Control Panel set to 'Portable/Laptop', and running on mains power, so that the power-down settings for the monitor, hard disks, and System standby were all 'Never', I ran into CPU overload problems with the 'FiveTowers' test, even before I started the song. However, as soon as I selected the 'Home/Office Desk' power scheme, these disappeared, along with the various power-saving technologies, producing figures of 45 percent at rest (where it's predominantly the plug-in effects that consume CPU), and 67 percent with the song playing (where notes calculated for the VST Instruments come into play).
This compares with 44 percent and 63 percent respectively for the Millennium laptop I reviewed in September 2003 (standard Pentium 4 2.53GHz processor). As you can see from these figures, the performance of the two machines with Cubase's bundled plug-ins and soft synths was almost identical — another excellent result for the Pentium-M processor. However, my results prove how important it is to choose a suitable power scheme if you want to achieve maximum performance with music applications that demand lots of processor power.
If you want to make music on the move, I can certainly recommend the new Millennium Centrino model as highly as their 5600 series. In fact, I've put my money where my mouth is and bought one for my own use.
After a long wait, 64-bit processors are finally arriving for desktop computers. Apple's G5 was the first to appear, but now Athlon's 64 processor is here and shipping in PC systems. It's available in two versions — the 64 standard and more up-market FX range — both of which are modified versions of AMD's Opteron, already used in servers and workstations. They have 128k of level 1 cache and a huge 1MB of level 2 cache, as well as HyperTransport technology, which reduces latency in the transfer of data between the processor and associated chipset. The standard Athlon 64 has just one memory controller, while the FX has two, and the 64-bit processing means a huge number of pins on the chip packages (754 and 940 respectively).
Unfortunately, Microsoft haven't yet released a 64-bit operating system to partner the processors, so they have to run in 32-bit mode until at least next year. Despite this, the first FX-51 processor to be released, with a clock speed of 2.2GHz, is already completing many benchmark tests at over 30 percent faster than the current top-end 3.2GHz Pentium 4. It's being touted as the dream processor for games users, and could also be the start of a new era of no-compromise 'software studios'.
So why did the different power-scheme choices affect the 'FiveTowers' test so much, even when I was still plugged into the mains and batteries didn't enter the picture at all?
Many PC users assume that since the power scheme options provide user timers for monitor and hard-drive power down, as well as for entering system standby (and Hibernation, if you've enabled this option), this is all that the various schemes alter. But that isn't actually the case.
If your processor supports SpeedStep technology and you're a Win 98, ME or 2000 user, you're lucky in that an extra page will appear in the Power Options applet, displaying the current AC and DC speed schemes for the CPU, and letting you alter them. Unfortunately, for the majority of PC laptop users who run Windows XP, XP doesn't display these, nor are the CPU settings relating to each default power scheme well documented, making it difficult to make an informed decision on which to use.
Under the bonnet, ACPI power management defines various Global level states (G0 to G3), sleep states (S0 to S5), device level states (D0 to D3) and CPU states (C0 to C3). It's beyond the scope of this column to go into great detail on the various options, but, for example, sleep state S4 is Hibernation, while S5 is Off, for the CPU the C0 state is defined as 'normal operations' and the other modes are entered in standby, using whatever technologies are available to the particular processor type.
Windows XP has native support for Intel's SpeedStep and AMD's PowerNow!, so that, for instance, Windows can instruct the CPU to enter C3 state when it goes into standby or hibernation, which may lower its operating voltage or change its clock frequency, depending on what type of processor is installed.
A typical default selection of Windows XP Power Schemes might be Home/Office Desk, Portable/Laptop, Presentation, Always On, Minimal Power Management, and Max Battery. You can also use any of the supplied presets as a basis for your own power scheme (use the Save As button). However, when choosing a particular scheme few people realise that they are also choosing a particular CPU 'speed' scheme, that determines how the processor is throttled when running on either AC (mains) or DC (battery) power.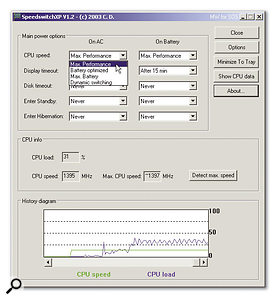 If you want to create a new Power Scheme to suit your laptop, Speedswitch lets you access a host of user settings, including the all-important CPU throttling options.In laptops using standard Pentium 4 processors, the fixed value for CPU throttling can often be altered in the BIOS, or throtlling can be disabled altogether, as I described in last month's PC Notes. However, in all PCs, assuming that the processor supports some sort of throttling, the individual power scheme also determines when and if throttling occurs, according to four options for CPU Speed management.
The Adaptive mode (aka Dynamic Switching) toggles between the maximum processor speed and a lower one, according to the current processor load, and is what caused the glitching in my 'FiveTowers' tests when I was using the Portable/Laptop power scheme. However, Adaptive mode is ideal for general-purpose applications where CPU demand varies considerably and real-time performance isn't an issue, since it significantly reduces power consumption. The result is that cooling fan activity should be kept to a minimum, even when using AC power.
Battery Optimised keeps the CPU at a lower speed continuously, and is more suitable when you want to achieve longer battery life. Max Battery also keeps the CPU at a lower speed, but allows further throttling, depending on how much battery life remains. For music applications, the Max Performance option is the one to choose, since this always keeps the CPU at maximum clock speed, albeit at the expense of battery power.
Microsoft do have a utility available that lets you interrogate and change the hidden settings of particular power schemes, but it operates with a command-line interface, which is tedious to use and unforgiving of the slightest syntax error.
A far more flexible and easier to use alternative is Speedswitch, a freeware utility written by Christian Diefer and downloadable from his homepage at www.diefer.de. Written specifically for Windows XP, this utility simply adds another custom power scheme, named 'Speedswitch Control', that can be altered in various ways. One of four CPU-speed schemes can be chosen from a drop-down menu, while an Options button takes you to four more tabbed pages where you can alter the General setup of the utility, plus various aspects of User, Machine, and CPU Policy.
These last three are probably too arcane for the average user to tweak, and even the Speedswitch manual refers you to various Microsoft tech pages for further information, but it's all there if you need it. Ultimately, the easiest way to ensure the best operation of your various music applications on a laptop is to choose the Home Office/Desk scheme and tweak its timings, but Speedswitch is an elegant way to alter any setting in real time.