There's no lack of new Apple products to discuss this month, with a revamp of the company's portable line of MacBooks and MacBook Pros, and the iPhone SDK that will enable developers to create applications for what Apple hope will become the next significant platform.
When Steve Jobs concluded his Macworld keynote this year, he reviewed the products Apple had announced so far in 2008: new Mac Pros, Time Capsule, software updates for the iPhone and iPod Touch, iTunes movie rentals, a revamped Apple TV and, of course, the MacBook Air. He commented: "All of this in the first two weeks. And we got 50 more weeks to go," implying that Apple have a good deal more up their sleeves for the rest of 2008. This month seems to bear out his optimism, with the announcement of new MacBook and MacBook Pro models, along with the long-awaited iPhone software development kit (SDK).
Following in the footsteps of the Mac Pro line, which Apple updated at the beginning of the year to make use of Intel's latest Xeon processors, the latest MacBook and MacBook Pro models now also feature Penryn-based processors. As you may remember from February's Apple Notes column, Penryn is the latest revision of the Core micro-architecture, offering a number of performance improvements and additional SSE instructions.
Apple's latest MacBook Pro models feature Intel's newest processors, along with the multi-touch trackpad from the MacBook Air.The MacBook is now available with either a 2.1 or 2.4 GHz Intel Core 2 Duo processor, both of which feature a 3MB Level 2 cache on an 800MHz system bus. Although it might seem strange that the amount of Level 2 cache has been reduced by a megabyte compared to the previous model, this isn't really a step backwards in performance terms, since the Core micro-architecture now makes more efficient use of the cache than before.
Other than the new generation of processor, which is a big deal, there are only modest improvements to memory and onboard storage, and the MacBook retains the same 1280 x 800, 13.3-inch screen. Connectivity also remains the same, with the MacBook offering one Firewire 400 port, two USB 2.0 ports, Gigabit Ethernet, audio in and out ports and a Mini DVI connection for outputting video to an external monitor. For wireless networking, the MacBook has 802.11n support (compatible with 802.11a, b, and g), along with Bluetooth 2.0.
The white, entry-level MacBook costs £699 and comes with 1GB of 667MHz DDR2 SDRAM, 144MB of which is shared with the integrated Intel GMA X3100 graphics processor. There's also a 120GB, 5200rpm SATA hard drive, and a combo drive. The mid-range, white MacBook retails for £829 and offers 2GB memory, a 160GB hard drive and a Superdrive, while the high-end, black MacBook comes in at £949 and offers 250GB of storage instead.
As an entry-level portable Mac, the MacBook is a capable machine and good value for money, although there are some limitations to keep in mind. Since Apple only offer 5400rpm internal drives, these won't be ideal for recording and playing back a large number of audio tracks, so you'll need to think about using an external Firewire hard drive to achieve good performance in that respect. And as there's only one Firewire port, it might be the best bet to use a USB audio interface, thus keeping Firewire traffic down.
In terms of memory, although the MacBook can be upgraded to 4GB, both of the memory slots will be filled no matter which model you choose, so if you decide to upgrade the memory later you'll need to replace both memory slots with 2GB SODIMMs. On the subject of memory, as music and audio applications begin to make better use of OS X's hardware acceleration for graphics, the MacBook's use of shared memory for the integrated graphics is perhaps not the best option for those seeking the ultimate in mobile performance.
If you actually are seeking the ultimate in mobile performance, however, Apple have also upgraded the MacBook Pro family, adding the same multi-touch functionality to the trackpad that was first introduced in the MacBook Air. This allows you to control supporting applications with multi-finger gestures, such as zooming in and out of pictures by pinching or expanding two fingers on the trackpad. It will be interesting to see if developers will incorporate these gestures into music and audio applications for generic tasks like zooming in and out of windows, or perhaps to trigger play/pause with a three-finger swipe...
As mentioned earlier, the MacBook Pro models also feature the latest Penryn-based Intel Core 2 Duo processors, and although the clock speeds have remained mostly the same, the improved micro-architecture means that you will still see performance gains over the previous generation. The MacBook Pro models now feature either a 2.4GHz or 2.5GHz processor as standard, with the 2.4GHz chip offering a 3MB Level 2 cache and the 2.5GHz chip providing 6MB, which, combined with Penryn's cache optimisations, should make a big difference in terms of performance. A 2.6GHz processor with a 6MB Level 2 cache is available as a build-to-order option for an extra £160.
Speaking of performance, Apple claim that the 2.5GHz MacBook Pro offers a 55 percent improvement when running Logic Pro, compared to the original 2.16GHz 17-inch model released two years ago. Apparently, the new MacBook Pro is able to run 255 reverb plug-ins, compared with the 165 instances it was possible to run on the old model. When we tested the 15-inch, 2.16GHz MacBook Pro back in September 2006's Sound On Sound (www.soundonsound.com/sos/sep06/articles/macbookpro.htm), it was possible to run 94 Platinumverb instances, so clearly Apple must be testing with a more efficient reverb plug-in.
While Apple were busy announcing new products and revisions this month, the company also quietly discontinued the Xserve RAID storage system. Originally introduced in February 2003, the Xserve RAID was an external, Fiber Channel-based storage device that could accommodate two banks of seven ATA drives, and complemented the Xserve line of Mac server computers. In addition to targeting the enterprise market with what was, at the time, competitively priced storage, Apple also tried to tempt media users, such as Final Cut Studio owners looking for a central place to store assets like large video files. Musicians also took the plunge if they were looking for a place to keep large sample libraries, as featured in many of Apple's artist stories on the company's web site, since you could also connect the Xserve RAID to a regular Power Mac or Mac Pro via a PCI Fiber Channel card.
Despite the success of the Xserve and the recent version 2 update of Apple's Xsan software, which enables you to set-up a Mac-based SAN (Storage Area Network) to allow users to access server-based storage as if it were a local hard drive, Xserve RAID saw only minimal improvements over the years. While Apple did gradually offer support for higher-capacity Apple Drive Modules, Xserve RAID gradually fell behind the competition, in terms of both features and pricing. And with Apple pushing software and, more recently, hardware-based RAID solutions for Mac Pro users looking to stream large HD video files, there was less demand amongst Apple's desktop users, except for the presumably smaller number of those working in larger environments that had the storage requirements Apple catered for with Xserve RAID.
Although Apple no longer offer what was arguably the most attractive storage device ever designed, the company now recommend the Promise VTrak E-Class RAID Subsystem (at www.apple.com/xserve/storage), which supports up to 16 750GB, 7200rpm SATA drives or 16 300GB, 15,000rpm SAS drives. More information is available from Promise's web site: www.promise.com/apple.
The MacBook Pro is available in three standard configurations, each supplied with a Superdrive and 2GB of 667MHz DDR2 memory. As with the MacBook, the memory supplied with a MacBook Pro occupies both slots, so if you want to upgrade the memory to 4GB after purchasing, you'll need to replace both the original modules. Each model offers the same connectivity as before, with one Firewire 800 port, one 400 port, two USB 2.0 ports on the 15.4-inch model and three on the 17-inch, an ExpressCard/34 slot, Gigabit Ethernet, audio in and out ports (which support both analogue and optical digital cables), and a dual-link DVI output. There's also 802.11n and Bluetooth 2.1 wireless networking.
The 15.4-inch MacBook Pro is available in two configurations, the first featuring the 2.4GHz Intel Core 2 Duo processor, Nvidia GeForce 8600M GT graphics with 256MB of GDDR3 memory, and a 200GB, 5400rpm hard drive for £1299. The second model costs £1599 and has a 2.5GHz processor, 512MB graphics memory and a 250GB, 5400rpm hard drive. And, finally, the 17-inch MacBook Pro with the same basic specifications as the more expensive 15-inch model comes in at £1799.
As with previous MacBook Pro models, there are a number of build-to-order options, including the 2.6GHz processor mentioned earlier. You can also order certain MacBook Pro models with speedier 200GB, 7200rpm internal drives, or slower 4200rpm drives with a staggering mobile capacity of 300GB. For audio work, the faster drive is a must.
Last but not least, Apple also announced version 2 of the iPhone operating system this month, which will be available in June and offers both a substantial list of improvements to tempt corporate users to the iPhone, and support for third-party native applications. The support for third-party native applications is a big deal because, until now, the iPhone has only supported web-based applications that have to run in the Safari browser. And while many people have succeeded in hacking the iPhone, allowing them to create and install unsupported applications, such functionality often becomes disabled when the iPhone's software is upgraded.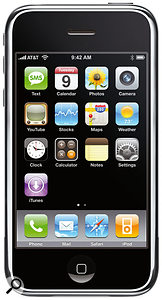 With official support for running third-party applications coming in June, could the iPhone become the new must-have platform for mobile music and audio applications?Although the new iPhone OS won't be available until June, Apple did release a beta version of the SDK (Software Development Kit) that allows developers to create iPhone applications. At an Apple Special Event, the company were keen to point out that the SDK features the same tools Apple themselves use to develop the iPhone's applications, based around the Xcode development tools that ship with every Mac. This means that developers who are already familiar with writing Cocoa applications in the Objective-C programming language on the Mac should feel instantly at home writing applications for the iPhone.
Of interest to musicians and audio engineers will be the fact that since the iPhone OS is based on Mac OS X, it features many of the same technologies, such as Core Audio. As you probably know, Core Audio is the framework used to provide audio functionality to most music and audio software on the Mac, and although the specifics of the iPhone's implementation aren't publicly discussed, it's likely that it will be possible to develop some interesting audio applications for the iPhone.
The new iPhone OS will also feature a new application called App Store that makes it easy to browse, download, and upgrade iPhone applications. In fact, App Store will be the only way you can install third-party applications on your iPhone, but this should make things easy for developers and users alike: App Store will handle the commercial aspects of selling applications for developers, while keeping life simple for them. Incidentally, applications developed for the iPhone will also be suitable for the iPod Touch, which is going to be updated to include the new operating system functionality and App Store.
It will be interesting to see how developers respond to the iPhone as a development platform, creating applications that take advantage of its multi-touch screen and sensors for musical purposes. It's surely only a matter of time before we start to see iPhone metronomes, iPhone drum machines, iPhone piano keyboards... I'm sure you get the idea!