Many of the unwanted hums, clicks, and whirrs that compromise the performance of your computer studio are nothing to do with software. We take a look at what causes them, and how to banish them for good!
While there are plenty of possible causes of clicks and pops in digital audio recordings, most are related to the way the computer has been set up, are problems with the soundcard drivers, or are due to incompatibilities with other expansion cards in the same machine. For PC users, I've written about many such causes and some possible solutions in previous issues of SOS (most recently in SOS May 2003), but there is another set of audio problems that can cause untold frustration for all computer users — fundamental hardware issues that cause hums, buzzes, and other background noises. These can occur both inside and outside the computer, but thankfully most can be cured with a little knowledge, a little sleuthing, plus the occasional use of a soldering iron.
Quite a few musicians still seem to think that choosing a PCI soundcard is more likely to give them audio problems than a USB or Firewire audio interface, but the reverse is sometimes true. I suspect PCI's bad reputation largely came about during the early days of soundcard design, when background noises were all too common in 16-bit models, and you were lucky to get a dynamic range of more than 60dB with models such as the Gravis Ultrasnd and Sound Blaster AWE32. All too often you could hear background noises when the CD-ROM or hard drive were accessed, when you moved your mouse, or when your graphics card re-drew any part of the screen display, and there was little you could do to improve the situation. Plenty of people tried, however, with a variety of home-brew solutions such as wrapping a makeshift screen from metal foil (placed in a polythene bag to insulate it) around the soundcard, and attaching this via a wire to the computer's metal chassis to earth it.
Despite its lingering reputation as a poor audio relation, the PCI soundcard is capable of superb audio quality, even when placed in the hostile environment of a computer. Models such as the Lynx Two shown here are capable of a dynamic range exceeding 116dB.When I first started reviewing soundcards, you could get digital interference problems just by installing them close to a badly-behaved graphics or SCSI Host Controller card, since these can sometimes push out a lot of radio-frequency (RF) interference — some nVidia graphic cards have apparently proved troublesome in this respect. However, internal interference from other computer devices rarely causes audio problems nowadays. This is largely due to the huge advances in the design of soundcard ground planes, multi-layer circuit boards, and greatly improved filtering of the incoming power supply signals to remove any digital noise.
Nevertheless, it pays to be cautious, so make sure when installing a new soundcard in a desktop computer that you don't drape other cables over or near it that are carrying digital signals to USB ports, hard drives, and so on. Also, if it has a piggyback-mounted daughterboard (like Yamaha's SW1000XG and its associated PLG boards, for instance), this may make it come perilously close to adjacent expansion card components. If you can't indulge in some slot-swapping to improve the situation, at least make sure you can see daylight between the two cards, and if in doubt slip a sheet of paper between them to ensure that no component is in electrical contact with one of its neighbours.
While we're discussing such 'proximity' interference, remember that the screening of even high-quality audio cables isn't perfect, so keep external analogue and digital ones at least several inches away from mains cables where possible. Also, try to avoid running such cables in parallel with each other, crossing them at right angles if possible and keeping them well away from CRT monitors, wall-wart power supplies, and particularly the switched-mode PSUs often used by laptops and flat-screen monitors. Analogue cables should also be kept away from digital ones where possible.
If a laptop audio problem is due to indifferent earthing arrangements (laptop audio quality is rarely very high up on the list of manufacturers' priorities, so hefty ground planes and internal shielding are less likely), you can sometimes improve things by creating an earth connection using a cable plugged into an unused laptop serial or parallel port, connecting its screen at the other end to your mixer. This is usually better than relying on the earthing provided by a tiny 3.5mm jack lead connected to the laptop's audio output, and the often tiny earth track connecting it on the circuit board.
Audio equipment which uses a double-insulated design needs no earth connection, and so is less susceptible to earth-loop problems. Such equipment will often use two-core mains cable, which has an oval cross-section, and the mains plug will sometimes use a dummy plastic earth pin, as shown here.Occasionally you may come across a fundamental problem inherent in the computer's design that causes audio interference. In a laptop, for instance, components tend to be very closely packed together, which can result in audio interference on any integral sound chip. Similar problems may also affect the users of designer PCs in elegant but tiny cases with limited expansion potential, where you may have little choice of slots for your soundcard. In such cases the obvious solution is to plug in an external Firewire, PCMCIA, or USB audio interface to sidestep the issue.
Sadly, some laptop switched-mode power supplies seem to add digital noises to your audio even when you're using an external interface. In this instance, unplugging the PSU and relying on battery power during recordings and performance usually solves the problem, which is the way many musicians end up working live. Mind you, many such problems are due to ground loops, which I'll be covering in the next section, and there's an easier solution for these.
Design problems can also affect users of large desktop computers. Some of Apple's dual-processor G5 machines, for instance, have suffered from audio noises that have been tracked down to their power supplies — they happen when the processor switches between its various performance modes, and can even affect external Firewire audio interfaces (see the 'Apple G5 Noises' box for more details).
We've covered the causes of ground loops in the past, most recently in the SOS November 2002 article on studio installation. In essence, any item of audio gear plugged into the mains supply is likely to be earthed via its mains plug, so as soon as you connect two or more such items together via an audio lead you create a loop which acts like a single-turn transformer and can pick up mains hum, circulating noise currents, and other nasties.
Exceptions are those devices that are of double-insulated construction with no ground connection of their own, which you can often recognise by the dummy plastic earth pin on their moulded mains plug, or by the use of a twin-core mains wire which has an oval cross-section (compared to the circular cross-section of three-wire mains cable). Most laptop PSUs also have a two-wire mains cable, relying on an external earth if required, but some more recent models (particularly those with metal casework) do have three-wire cables. Sometimes the fact that an earth wire enters the external power supply doesn't necessarily mean that the laptop itself gets earthed via the PSU's output, but this is often the case.
When you install a PCI soundcard in an adjacent slot to another PCI card, components on the two cards can touch, and this can lead to degradation of critical audio signals. Because it's not always easy to see if components are touching, a simple test is to try slipping a sheet of paper between adjacent cards.Many musicians already understand what ground loops are, but still consider them a problem that only causes unwanted hum. In fact, you can also run into RF problems, particularly if there's a powerful transmitter nearby, as musicians who have ever heard passing taxi messages coming from their loudspeakers will confirm. Oxidation on jack plugs and the pins of mains plugs aggravates such problems, so keeping your earth connections clean will help in this respect.
However, digital audio gear is another source of possible interference once there's a ground-loop problem, and this creates symptoms that may sound rather different — imagine the sound of a digital signal, such as the one most of us hear every time we log on to the Internet via a dial-up modem, but leaking into the analogue signal path. Other sounds can be picked up via a ground loop, as well: these include the sounds of your hard drive when its heads move around accessing different files; the scratchy sounds that you sometimes hear when you move your mouse; or those clicks caused by your graphics card re-drawing part of the screen display on your monitor screen.
Even within the computer, there's the potential for ground-loop gremlins as soon as more than one earth connection is made. One classic example of this is soundcards that have a breakout or expansion box that you can fit into a 5.25-inch drive bay just like a CD-ROM drive — various models from Creative Labs and Terratec, for example. The soundcard already has its main ground connection via the metal backplate, which should be bolted firmly to the metalwork of the computer by tightening down the backplate screw, but then the metalwork of the breakout box gets bolted to the computer's case, the soundcard and breakout box are connected via an internal cable, and a ground loop is born because there are now multiple routes to earth from the breakout box.
One way around such problems is to disconnect the ground connection of the breakout box by bolting it into your computer using nylon bolts and washers. Another option with some soundcards (notably the Terratec range) is to use the breakout box as a stand-alone desktop unit by attaching it via the supplied umbilical cable to the socket on the soundcard's backplate, instead of using the alternative internal ribbon cable and drive-bay mounting.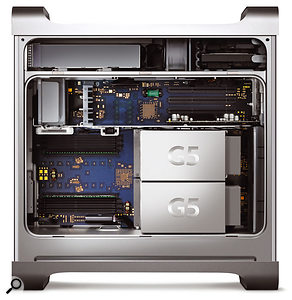 Occasionally audio problems are directly related to computer design faults, such as the PSU problems of some Apple G5 dual-processor machines.An interesting problem has arisen with some dual-processor G5 computers, where PSU-generated noise has ended up affecting connected Firewire audio devices, as well as being physically audible from the computer itself. Having the machine upgraded to a Revision E PSU usually fixes the problem, or at least improves it, but there are stories of the problem persisting even then. When I had mine upgraded to a new PSU, the Firewire noise was cured, but the physical noise from the PSU is still audible and tends to change as you use the mouse. One possible fix is to use a patch called CHUD (part of Apple's free development tools) to disable processor napping, but Apple seem to discourage this even though those who've used it don't seem to be reporting problems. You need to open the control panel and disable napping each time the machine is switched on, and if you're cautious you should probably only invoke it when recording audio or mixing.
When working on a laptop equipped with a Firewire audio device or DSP unit (such as TC Powercore), it may also be better to record audio to the internal drive rather than to an external Firewire device, as this places less demand on the Firewire buss bandwidth. You can always back up to the external Firewire device after recording. If in doubt, do a track count test with both the internal and external drives, and see which gives you the most tracks of recording or playback without glitching. Paul White
By the time you've got a few external synths, a computer soundcard, mixer, amp, and speakers wired up, you may have quite a few simultaneous ground loops all contributing to the problem, giving rise to a chorus of background hum and digital noises. Unplugging one signal or earth lead may cause the problem to get better or worse, depending on how it affects the others. If you've got any elderly gear with tarnished pins on its mains or audio plugs, you may even find the noise level alters after unplugging it and plugging it back in again!
If you get ground-loop problems in your computer after installing a soundcard with a drive-bay interface, such as the Terratec DMX6Fire shown here, try mounting it using nylon bolts and washers.Some wire wool and contact cleaner will remove such uncertainties, and while you've got everything unplugged for a bit of a clean and polish the best approach is to start from scratch with the simplest signal path of a pair of cables between amplifier and speakers, and then systematically plug in your other gear in turn while listening closely for background noises. As soon as a problem becomes audible, then's the time to deal with it before moving on to the next connection.
One of the easiest ways to minimise ground-loop problems is to make sure that your computer is plugged into the same mains supply socket as the remainder of your audio chain, including any mixer and amplifier — this keeps any loop physically small and therefore less likely to cause problems. Since a single 13A socket in the UK can quite easily power a 3kW electric fire, the vast majority of us should also be able to run our entire studios from distribution boards plugged into a single wall socket, or several wall sockets on the same ring main (a single loop of cable which starts and ends at the fuse box).
By the way, while in most houses a single ring main is used for the wall sockets on each floor, with separate rings for individual items with high power requirements, such as electric cookers and shower units, don't assume that all the wiring behind the wall sockets in a particular room will be separated by a metre or two of cable — in many houses you'll find sockets on each side of one room wired through the wall from adjacent rooms, resulting in many metres of cable between them.
Don't rule out digital problems being caused by ground loops either. Just because you often don't notice problems with digital audio until dropouts occur, this doesn't mean that ground loops won't compromise sound quality. Paul White reported a classic example of this in his leader column in SOS February 2003, when occasional digital glitches in his studio were finally cured by plugging his computer and Motu 828 external interface into the same mains distribution board, rather than into wall sockets about six feet apart. As an added bonus, the overall sound of his studio also improved, suggesting that his digital clock-jitter levels had dropped.
With so many of the larger eight-in/eight-out audio interfaces having rackmount breakout boxes, you can create a ground loop simply by bolting them into a rack that's already earthed. A well-designed item of rack gear should have a permanent or switched ground-lift option to prevent this causing ground-loop problems, but if not you can cure them by using nylon nuts and washers.
Even if an external audio interface uses a PSU of double-insulated construction with no ground connection of its own, you can still run into ground-loop problems with such devices when they have multiple audio inputs and outputs, since each cable can carry its own earth connection. The solution to this problem may be to disconnect the screen from one end of each cable, apart from the first.
Don't always assume that occasional buzzes and crackles are soundcard related — a loose wire in a mains plug can also cause these symptoms, as well as being dangerous.
If your audio interface offers S/PDIF or ADAT optical digital I/O, this can be used to connect it to a digital mixer with no direct electrical connections at all.
With larger setups it may not be possible to make the ground loop any smaller to minimise the problems, so the next (and best overall) tack is to break it in some way. The first port of call for many people is to disconnect the earth wire inside the mains plug of the problem device, and rely on the earth connection of its audio cable, or in the case of US users of earthed laptops such as some Dell models, to use a 'three-prong to two-prong' adaptor.
Disconnecting the earth wire inside a mains plug might solve an earth loop problem, but it's a dangerous solution, because you're removing an essential electrical safety measure.This approach may cure a lot of hums and other background noises, but is a dangerous solution, since you no longer have a safety earth connection. Moreover, if the signal lead is ever unplugged you'll have no earth connection at all — at best any metalwork on the device will feed 'furry' because it's left floating with respect to mains voltages, and you may possibly get static 'shocks' from it, while at worst you could be electrocuted if a fault develops and the fuse doesn't blow when external metalwork becomes live. This is particularly important when you're playing live in a venue where the mains wiring is an unknown quantity. Laptop PSUs only output a fairly low (and therefore safer) voltage, but it's still theoretically possible for an internal fault to cause lethal voltages to appear at the output and to be connected to the laptop's metalwork.
For those whose audio gear provides balanced inputs and outputs, disconnecting the screens of interconnecting cables at one end (usually at an output rather than an input) will break the loop while leaving the live and return of the signal path intact. In my experience of reviewing computer audio interfaces, you can normally get away with connecting the unbalanced stereo inputs and outputs of a PCI soundcard to an earthed mixer or amp without encountering audible ground-loop problems, but you're more likely to run into problems as the number of inputs and outputs increases, which is why eight-in/eight-out audio interfaces often provide balanced I/O.
Firewire audio interfaces featuring unbalanced I/O can suffer from ground-loop problems, since they are first earthed via the Firewire cable, and then again via the audio cables.Where you can unexpectedly run into problems is with multi-channel Firewire and USB audio interfaces that only have unbalanced inputs and outputs, since these will nearly always be connected to earth via the outer screen of the Firewire or USB cable to your computer, and then again as soon as you connect one of its outputs to an amp or mixer. I've experienced a lot of ground-loop problems in such situations, and suspect the problem's worse than with a PCI card, because the external interface is in the middle of a large cable loop involving several metres of cables overall. Paul White's convinced that scraping away the outer insulation at one end of a Firewire cable and then cutting its outer screen with tin snips could cure this problem, although I've not tried such a solution.
Here you can see how an earth loop can easily be formed even between just two pieces of studio equipment, and also how you might sensibly remedy it.
If your computer audio device has unbalanced I/O, but you want to plug it into an analogue mixer or other device with balanced I/O, you can make up special pseudo-balanced leads that safely break the ground loop. Over the years I've soldered up lots of these to lower the noise floor of my external MIDI synths, and I've also used them to completely cure background noise problems when connecting the multiple audio channels of devices such as M-Audio's Firewire 410 to my other gear.
You just buy twin-core screened (mic) cable instead of single-core screened, and then solder an unbalanced TS plug on one end (the soundcard end) and a balanced TRS jack one to the other (the mixer end). The 'tip' connections are made as normal using one cable core, while the 'sleeve' of the unbalanced end is connected to the 'ring' connection at the balanced end using the other cable core, and the 'sleeve' of the balanced end is either left unconnected, or preferably connected via a series eighth-Watt metal-oxide resistor of between 50Ω and 500Ω (I normally use 100Ω) to the 'sleeve' connector at the unbalanced end. Such an approach will completely cure most soundcard ground-loop problems, and if you're going to solder up your own leads anyway it will only cost you a few pence more.
If you don't want to make up special cables, the most elegant cure is to use a direct injection (DI) box to break each ground loop and thus prevent unwanted earth currents flowing in the audio ground connections — you just place one in line between the devices causing the problem. The passive ones incorporate an audio transformer to completely isolate the primary source from the secondary destination signal, while active ones (although requiring a battery) will do a similar job with electronics. Make sure you also use the most appropriate position for any ground-lift switch on offer.
For the average musician, the main disadvantage of the DI approach is cost, since you'll need a separate transformer or module of active circuitry for each audio signal — if you end up having to buy eight or more DI boxes or a rackmount unit combining the same then you'd be better off buying an audio interface with balanced I/O in the first place. Many traditional stand-alone DI boxes are more suitable for matching low-level mic or guitar signals in mono to low-impedance mixer mic inputs, but manufacturers are now catching on to the need for cheaper multi-channel versions optimised for line-level signals. For example, Behringer have recently introduced their active two-channel DI20 model in a compact case for about £20 in the UK, while Phonic have the similar two-channel DI2 box for about £35. These are both powered either from a 9V battery or from phantom power, and are ideal partners for a laptop, particularly when playing live, where you may find that you run into unexpected ground-loop problems.
Phonic's more comprehensive six-channel A6200 Supreme DI in 19-inch rackmount format has an internal mains power supply for about £120, and incorporates a switched an 8kHz high-cut filter for use with guitar, while for those who demand ultimate sound quality more expensive but more versatile DI boxes are available from companies like BSS and Klark-Teknik. By the way, don't be tempted to buy a low-cost 'ground loop eliminator', often sold for solving problems in car sound systems, since these often have a poor high-frequency response and suffer from distortion at low frequencies.