A significant proportion of any recorded piano sound is made up of sound reflected from the soundboard to the listener off the floor, so Clive's decision to stack all his empty equipment boxes under the piano was making a serious impact on the sound. The reflections from the side wall were also causing coloration, so both problems were addressed by moving the piano a little away from the wall and then stacking the boxes between the piano and the wall to reduce reflections.
Recording piano was turning out to be a grand challenge in Clive John's home studio, so the SOS team headed over to sort things out.
Clive John's studio holds no shortage of electronic instruments (some quite old and desirable!) and computer software, but the focus of this particular challenge was Clive's fabulous Fazioli grand piano, which he was having difficulty recording. The main problem was thought to be the room, which was roughly square and probably no more than five meters along each side. Combined with a low ceiling (around 2.3m), this was giving the piano a somewhat boxy, coloured sound that did no justice to its true capabilities. The floor was quarry-tiled, and the outside wall had a window and door.
Clive had experimented using a couple of duvets to try to deaden parts of the room that he knew to be particularly problematic, but the results were still disappointing. He had also used the space under the piano as a storage area for unused boxed equipment. (We got the impression that the boxes were primarily there for convenient storage rather than acoustic treatment!)
Hugh and I arrived on schedule at Clive's London home and, realising that the chocolate-biscuit budget had all gone on the piano, we set straight to work fortified by an excellent mug of coffee. The most logical first step was to get Clive to recreate his normal recording setup, which was based around a coincident pair of AKG C414ULS mics set in cardioid mode and fed into a Yamaha Promix 01 digital mixer, and then into an Aiwa portable DAT recorder via its S/PDIF input. The piano lid was fully open and he had tried a number of mic positions, varying from having the mics actually inside the piano to setting up around a metre away. He'd also tried close-miking the strings with the mics in omni mode, but had observed that the problem with close miking was that the mechanical hammer action and pedal noises were too dominant.
Hugh and I set out to make some test recordings using Clive's original setup and discovered that the recordings did indeed sound strident and lacking in depth. Certain upper mid-range notes were particularly prominent and the piano didn't sound tonally balanced at all — you could hear these effects in the room as well, but the miking accentuated these faults dramatically.
Not only that, but the Promix 01, which had been secondhand when Clive bought it, was incredibly noisy for some reason. Not only were the mic amps hissy and hard-sounding, but there was also a considerable amount of noise on the stereo input channel connected to the DAT machine for replays. These problems were made all the more obvious because of Clive's nice PMC AB2 monitors, driven by a huge Bryston 4B amplifier. When it was launched, the Promix 01 was an excellent budget mixer, but I think it's fair to say that the mic amps were not brilliant and certainly not what you'd choose to do justice to a grand piano that costs around the price of a decent flat! Furthermore, the Promix 01 has only 16-bit converters, so getting adequate resolution on an instrument with such a huge dynamic range is a bit of a struggle. Add this to the deterioration that several years of hard use had wrought and it was little wonder that the sound quality was less than optimum.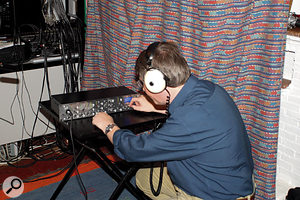 Clive's difficulties in recording a usable solo piano sound were compounded by the fact that his aging Yamaha Promix 01 digital mixer (above) was rather the worse for wear. The preamps and outputs were much too noisy for this critical recording task, so a much quieter Focusrite Voicemaster Pro preamp (right) was brought in to eliminate this problem from the proceedings.As luck would have it, we had a Focusrite Platinum Voicemaster Pro recording channel in the car, and Hugh had also brought along his collection of Sennheiser MKH mics plus a couple of BLUE Baby Bottles. These and some tall and solid K&H mic stands were brought into the studio to do some tests, with the piano still set up as Clive had left it. Because we only had one preamp, we had to conduct our tests in mono, but working on the KISS principle (Keep It Simple Stupid!) actually helped focus the work on getting a good raw sound, and once we had that, adding a second mic for stereo would have been relatively easy.
The first mic we tried was a Blue Baby Bottle (and we also tried a pair of these via the Promix 01), but because this has a 2dB frequency response bulge in the 1-3kHz region it tended to exaggerate the stridency of certain notes, which wasn't helping. So we decided to switch to a mic which we both know well and which has an absolutely ruler-flat response — the Sennheiser MKH40 cardioid mic. Checking this with both the Promix 01 and the Platinum preamp confirmed that the Promix 01 mic preamps/converters were not doing anyone any favours, and straightaway we got a more accurate impression of the sound though the Focusrite, but this clearer recording also affirmed that we had some room acoustic problems and mic placement issues to deal with. We also tried one of Clive's AKG C414s, again in cardioid mode, through the Platinum preamp. This eliminated the noise and muddiness that had previously plagued Clive's recordings, though the slightly forward character of the mic gave the piano a somewhat hard, thin tonality that no amount of juggling with mic positions and distances was able to resolve with the current room setup.
A Sennheiser MKH40 microphone was then selected for further positioning and room-treatment tests, because of its ruler-flat frequency response.
The noise problems with Clive's Promix 01 console made it very hard to evaluate the (mono) test recordings we had been making, so we retired to Clive's lounge where he has a rather good hi-fi system set up, again based around PMC monitors — this time the floor-standing FB1s driven from a Bryston 4B amplifier. We were also able to compare our test recordings with some of Clive's favourite commercial piano recordings, where it was immediately evident that the room acoustic of a concert hall played no small part in the overall sound. Being realistic, we were never going to achieve exactly this sound in such a small and acoustically difficult room, but we felt that if we could tame the worst of the room problems and develop a suitable miking strategy, it might be possible to get close to the desired sound (Clive wanted to record both jazz and classical pieces) by adding a small amount of concert-hall reverb from a good-quality digital reverb processor.
Clive revealed that his plans for the future involved recording everything directly into his computer via a good-quality soundcard (24-bit resolution would be worthwhile with piano). He had already purchased some Cat-5 extender boxes for his keyboard, mouse, and monitor, allowing the CPU to be located in the next room to keep out the fan and hard-drive noise. His hope was that he could use a reverb plug-in to produce the necessary concert hall ambience, but I told him that, in my experience, none of the native plug-ins other than the most power hungry were as good as a decent mid-priced hardware reverb unit, simply because of the CPU power available. This situation improves with every generation of computer, but given the current state of play and Clive's budget, my own view was that he should either buy a mid-priced Lexicon or TC Electronic unit or go for plug-ins that run on a DSP card, such as the TC Powercore, which I use myself and know is up to the task reverb-wise.
Reducing the degree of reflection in the comparatively small room was an important concern, in order that a hall reverb could be added at a later stage, so duvets were hung in a selection of places, including behind the pianist in the corner of the room.Both Hugh and I also stressed that he would have to buy some new preamps, but given that the room would never be perfect and would probably always be the limiting factor in the recordings, we saw little point in buying anything too esoteric. As it was now clear that the Promix 01 had to take early retirement, a good-quality, small analogue mixer seemed to be the most practical solution, as this would handle Clive's modest monitoring and mixing requirements as well as providing a few adequately good preamps. Hugh suggested one of the smaller Mackie VLZ Pro models, as he uses one himself and finds the preamps to be extremely good. If a mixer hadn't been required, then preamps of the quality of the Focusrite Platinum series we'd brought along would have been ideal, though the EQ and compressor sections would have been somewhat redundant in Clive's case, as he planned to record flat and then do any necessary processing via software.
Having auditioned our various test recordings, Hugh and I had a much better idea of where the problems lay. We felt that the first thing we had to do was sort out the basic sound from the piano in the room. In a concert situation, a grand piano typically expects to 'see' a hard reflective surface (usually wood) below it, plenty of space around it and also a high ceiling. In fact, a lot of a piano's sound comes from the bottom of the soundboard, reflecting off the floor, but with all the boxes stacked underneath Clive's piano that contribution was being soaked up here. So, our first job was to remove the boxes, and immediately we heard a very significant improvement to the sound. The instrument sounded better balanced, and much of the hard peakiness had gone. We also felt that the side of the piano being hard up against one of the side walls may not have been a good thing, so to make the side wall 'go away', we moved the piano about eighteen inches into the room, and used all those cardboard boxes to build an absorbing wall between the piano and the actual wall of the room.
The corner behind Clive's piano stool was deadened somewhat by hanging up a duvet and Clive had also rigged up a rail so that we could hang a double duvet close to the wall facing the open piano lid. A further duvet was draped over the rack holding the computer monitor, close to the tail end of the piano. The acoustic sound of the piano in the room was clearly better now, so we set about making some more test recordings.
One of Clive's own AKG C414ULS mics was used in the first instance for experimenting with positioning and room treatment, but its frequency response tailoring made such critical evaluations difficult.
We reverted to Clive's AKG mic now that we knew we were on the right track acoustically, as this was what Clive would be using. The C414 is widely used for piano recordings anyway, and it should be able to deliver a good sound if you find the best position. We started with the AKG mic around one metre from the open lid and aimed at a point around halfway up the lid. While Clive played, Hugh moved the mic around, while listening via Clive's very old Pioneer headphones — which were less than accurate, so we added some decent phones to his shopping list! Hugh recommended Sony's MDR7506 as a good benchmark, but suggested that Clive try out several other manufacturer's offerings in comparison to find something that he felt comfortable with, both sonically and physically.
A number of miking options were tried with the mic closer to the piano, around towards the tail of the piano, and also with the lid half open as opposed to fully open. When we took these test recordings into the lounge and compared them with our earlier efforts, the piano sound was definitely better, and the strident peakiness that plagued the earlier recordings was much less pronounced. However, we still felt the overall sound was a little lightweight and some notes still sounded better than others.
A number of different mic positionings were tried whilst monitoring via headphones, including miking from the tail of the piano.At this point I felt it would be worth trying the mic in omni mode, even if it meant putting some absorbent material behind the mic to reduce the effect of the room. When recording acoustic instruments, omni mics invariably give a more open, honest sound than cardioids, the only downside being the additional amount of spill or room noise picked up. Hugh had said earlier that in a high concert hall he would often set the mics up a couple of metres or more from the piano and a couple of metres from the floor, so trying to work this technique into the present situation, I felt it would be worth trying something like this with the mic set to omni mode, but with a pillow positioned between the mic and the ceiling to attenuate immediate ceiling reflections. Furthermore, I reasoned that just as in the case of a boundary mic, if we could get the capsule fairly close to the ceiling, we would reduce the possibility of ceiling reflections getting back into the mic from anywhere other than directly behind the mic.
The setup we decided on was with the mic about 2m from the piano, facing the middle of the fully open lid and around 25cm from the ceiling. The hanging duvet was directly behind the mic, and I held a pillow above the mic while we made our test recordings. As soon as we heard the playback, we knew we were onto something very promising with this technique. During the previous tests, Clive had commented that he hardly recognised the recorded piano sound as his own Fazioli, but now the whole thing sounded more integrated, more tonally even, and there was a sense of the performance taking place in a real space. We still didn't have the concert hall — that would have to be simulated using electronic reverb — but we were at last getting a decent basic piano sound.
Once the main room problems had been tackled, Hugh and Paul switched back to using Clive's AKG C414ULS for further positioning tests. In the end, switching the mic to an omnidirectional polar pattern and placing it near the ceiling provided the best sound, although a pillow needed to be held in place behind it by Paul to stop ceiling reflections adversely affecting the sound.Holding a pillow against the ceiling during every recording is plainly impractical, so we suggested an area of thick acoustic foam above the position where the mics would be set up, with a few additional squares of foam placed in a chequer-board pattern above the piano to reduce the ceiling reflections to a more manageable level. Even though the mics wouldn't pick up much in the way of ceiling reflections directly, these would still colour the overall acoustic of the room.
All our tests had been in mono, and Clive obviously wanted to make stereo recordings, so Hugh suggested using the AKGs as a spaced pair, still in omni mode, with a fairly small distance of separation. Finding the correct spacing would involve a fair amount of trial and error, but he felt that the range to try would be starting at around 30cm and working up to a maximum of a metre. A spaced pair is less mono compatible than a coincident pair, which is how Clive had been recording originally, but it tends to give a richer stereo image and a better sense of space. In any case, given that omni mics seemed to give the best sound, the coincident option was no longer viable, as this technique requires directional polar patterns.
The curtain pole holding the duvet over the wall opposite the piano lid would be made permanent, with the idea of hanging two double duvets side by side on sliding curtain rings, and Clive said he would also like to try a further thick duvet over the wall adjacent to the piano to see if he could get away without having to keep the wall of cardboard boxes. If it didn't, the boxes would stay, though he would probably hang a curtain over them to tidy up the appearance of the room. In any event, the boxes would not go back under the piano, as they'd clearly compromised the sound. A thicker and larger duvet would also be hung across the corner nearest the piano stool, and all the duvets would use light-coloured covers to maximise the available light in the dark basement room. Bass trapping was deemed unnecessary, as the room has one window and three fairly lightweight doors leading into it, all of which allow low-frequency energy to pass through.
On the equipment front, the priority was to pension off the Promix 01, add a small but good-quality analogue mixer (for its preamps and monitoring controls) and also look at good-quality reverbs, possibly DSP card-based.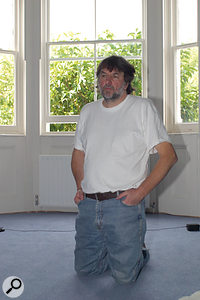 "Paul and Hugh quickly focused on several problems, including the room acoustics and the Promix 01's preamps. While I'd come to realise that those two areas probably needed attention, I couldn't tell how to proceed overall because there were too many things I didn't know. Firstly, I didn't even know what would be a realistic goal — a key question was whether, in that room, professional-grade recording equipment could make recordings that wouldn't sound out of place amongst recent jazz or classical solo-piano CDs. Sadly, Paul and Hugh tell me the answer is 'No' — the room will always be too limiting, no matter what acoustic treatment is applied, so it would be pointless using a wonderful £1500 stereo preamp, because the room would make it sound hardly better than one costing £500. It would seem that a good budget solution, such as a Mackie VLZ Pro or Focusrite Platinum, is all that my recording environment warrants.
"Secondly, there were the technicalities of recording to deal with. I didn't know whether I was failing to deal properly with the room acoustics and mic positioning, or whether my mics were unsuitable. I learnt that my C414s used in omni mode and effectively positioned, in conjunction with some uncomplicated acoustic treatment of the room, could produce a much better sound than I'd come to hope for. However, I think Hugh's Sennheiser MKH40 sounded a lot better!
"While the severe limitations inherent in the room are disappointing, I do now know I can greatly improve my recordings without spending a lot on equipment. On the other hand, having heard how much truer the recordings were with Hugh's MKH40, I also know that better mics than mine could add further improvement, in spite of the room and still using only good-quality budget preamps. I still have to decide which sound card to get, but thanks to Paul and Hugh's visit, my attention is now far more narrowly focused and I can hope to make good headway. This session really was very valuable to me — every home studio should have one!"