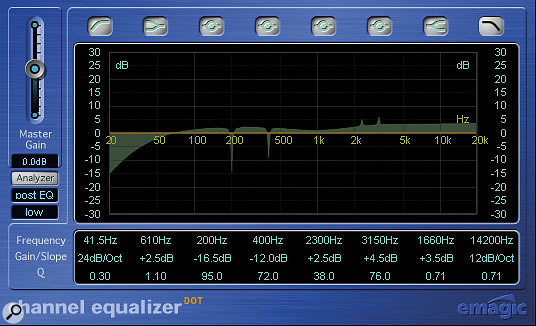 High-Q filtering in Channel EQ is very useful for snare-drum processing, not only for cutting out unattractive low-frequency resonances, but also for boosting particular high-frequency resonances which can make the sound more audible without radically affecting the instrument's tonality.
Get better snare drum sounds with these nifty processing tricks.
Following last month's in-depth kick-drum processing workshop, I thought I'd redress the balance a little by exploring some tricks for getting the best out of your snare tracks in Logic.
Adjusting the tuning of snare samples even slightly can make a world of difference to their audibility in the mix.One thing that many people ignore is the tuning of the drum itself. Tuning the drum to a common note in the song tends to have the subjective effect of making the pitched elements of the sound, usually the lower frequencies, blend into the mix. That means that you can often fade the snare further up overall without the low end becoming overwhelming. The result is, in effect, a sort of subjective high-frequency boost, without actually EQ'ing at all, and that means you don't compromise the weight and impact of the sound. The same applies the other way around, of course: if you can't fade the snare up far enough without the high-frequencies becoming too obtrusive, then tuning the drum to a more dissonant note can make the sound poke out more at lower fader levels. If you're working with samples, then it's a shame not to experiment with your drum's pitch before reaching for the EQ, because even small changes can make a dramatic difference to the audibility of the drum within the whole mix. Naturally, you'll have to think about this before you record if you're using a real drummer.
If you're layering different snare samples, trying using sample delay to get the cleanest attack and most suitable tonal balance.With real multitrack drums, do check the phase of the snare channel (or channels), and use the Gainer plug-in to try different combinations of phase settings for most suitable snare sound. However, phase isn't just a consideration with live drums. Many people working with samples layer several together for a composite sound, but only a few people seem to experiment with the phase relationships between the samples. Not only can you use the Gainer plug-in to invert the phase of the different samples if you've got them on different tracks (or if you're got them running on separate instances of EXS24) but you can also shift the different samples against each other in real time using Sample Delay. It amazing how much difference this can make to composite sound's attack, as well as potentially altering the balance of the lower frequencies quite dramatically.
Equalisation for most percussion, including snare drums, benefits from the instrument operating over a comparatively narrow pitch range. This means that you can often get away with higher-Q Channel EQ settings here than you would perhaps risk on solo instruments. As with kick drums, narrow-band cut is very useful for removing unwanted resonances in the sound, but there's also scope for adjusting the balance between the resonances that you want to keep. For example, your ability to effect general tonal change can be limited if there is a strong resonance in your drum sound — if you want to brighten the tonality of the snare in the mix using broadband HF boost, then a pronounced HF resonance can stop the snare sitting in the mix well before the desired tonal change is achieved. On the other hand, you may be able to increase the prominence of the snare in your mix without altering its tonality unduly if you focus in on a particular overtone with several decibels of very narrow-band boost. In fact, if you set your filter narrow enough, you can effectively manufacture resonances of your own, although I'd be tempted to keep these quite subtle.
As usual, of course, broad-band EQ will work best if you're after general tonal change — best to keep Q values in Channel EQ less than one, in my experience. As for which frequencies do what, it's difficult to provide any useful guidelines here, as so many different snare sounds exist. However, I would say that beginners often go overboard when EQ'ing — a dull-sounding snare will have so much low end filtered out and so much fizz added, that it starts to sound as if you're playing tennis with a bumble bee! Keep exercising that Bypass button, whichever plug-in you use, and if you're straying over about 8dB gain in any EQ band then it's probably time to back off a little and try another approach.
The other thing to mention is that, as with kick drum EQ, you should make sure you check your settings in the context of the whole kit sound if you're working with live multitrack drums — the snare sound will probably come as much from the overheads as from any close snare mics.
I've met a few snare sounds which simply don't have the high-frequencies available to boost if you're wanting to brighten them up, and in these cases the Exciter plug-in really comes into its own. However, it does need to be used with caution. The ear gets used to Exciter processing really quickly, so it's easy to keep adding more and more, which will give you a fatiguing sound. Keep your mouse poised over the Bypass button again, though, and you shouldn't go too far wrong.
Another alternative tone-shaping tool which can be useful, especially where your drum needs more body, is distortion. However, just putting the drum through a distortion plug-in usually isn't the best solution, of course — usually you still want the drum to sound like a drum! The solution is to copy the snare part to another track and set up the distortion on the copy, mixing it back in with the original at a comparatively low level in a supporting role. As with the kick drum enveloper technique I described last month, because the distortion channel is only an addition to the main sound, it doesn't matter what it sounds like on its own as long as it adds something good to the main sound. So feel free to dial up the nastiest distortion sound you like — I tend to stick to the basic Overdrive and Distortion plug-ins myself, but don't let that stop you going to town with Bit Crusher!
In most cases, I'd suggest that a judicious bit of Channel EQ after the distortion plug-in will probably be needed to carve out the frequency areas of the distortion which are going to be most useful to your particular sound, although you can just as well use the no-frills Low Cut and High Cut filter plug-ins if CPU cycles are at a premium.
Here's how to set up the Noise Gate plug-in for low-range gating of the drum overhead tracks. The filters can also be set by ear to make triggering more accurate.The basics of compression for snare drums have been frequently covered elsewhere in the magazine, so I won't retread that ground again here, except to reiterate what I said about kick drums — setting the attack and release times is crucial to getting a good result. However, dynamics processing doesn't end at compression. For a start, the Enveloper technique mentioned last month is just as applicable to snare drums, although snares benefit much more from a distortion plug-in between the Enveloper and Channel EQ plug-ins in my experience — you can even synthesize a passable snare wire-style buzz!
However, one of my favourite techniques for multitrack drums is to use a low-range gate on the overhead mics (or an extra ambient 'squash' mic perhaps) and key it from the snare track. Insert a Noise Gate plug-in into the overhead channel, and select the snare track's audio object in the Side-chain pull-down menu. Now solo the overheads track and set the Lookahead, Attack, Hold and Release times to zero, 1ms, 30ms and 42ms respectively. While listening to the track, set the Threshold, High Cut, and Low Cut controls so that you only get triggering for the snare hits, using the Side-chain Monitor button to home in on the best frequency region for triggering.
N
For gating overhead mics from the snare track, use the Noise Gate plug-in and set its side-chain to be fed from the snare track.ow push up the Reduction slider so that it's at -6dB and fade the overheads channel up by 6dB, turning its solo button off. You should now hear more of a contribution from the room whenever there's a snare hit, and it should still sound pretty natural. If you want to tweak the effect more to your taste, then the time controls in Noise Gate are a good place to start. A good thing about this trick is that it often also has the effect of subjectively brightening up the snare sound in the kit, so experiment with this before reaching for anything but the mildest of EQ.
As a final tip, you can also simulate this effect on sampled drums by sending from the snare channel to a Bus Audio object (I'd suggest a mono one personally) in which a Silver Verb (no need for anything fancier, really) is followed by the side-chain triggered Noise Gate. Dial up the maximum reverb Reflectivity setting and reduce the pre-delay to zero, adjusting the tone to taste with the filter controls — if you set the send to pre-fade you can listen to the gated reverb on its own to home in on the settings. For more dramatic effects, put a Silver Compressor between the Silver Verb and the Noise Gate.
While Logic limits you to two-digit numbers and only allows you to use the digits one through nine to call up Screensets from the computer keyboard, you can actually have Screensets with numbers containing zero as well as three-digit numbers. For Screensets 10, 20, 30, and so forth use Meta message number 49 (Goto Screenset), with the desired number as value. You can send that Meta message from a Fader object or from within a sequence. In the unlikely event that you need more than 99 Screensets, go to Screenset 99 and use the Next Screenset Key Command — those Screensets will be labelled with an ASCII character followed by a digit. Len Sasso
Another fun tip for those of you who want some serious low-end welly in their kick drums. Add a track of 60Hz sine tone to your arrangement — alternatively, you might use something like ES M to generate this in real time if you've got more CPU cycles to play with than disk tracks. Then insert a Noise Gate plug-in after it, feeding its side-chain from the kick channel. Set the attack, hold, and release times to taste, and then mix the sine tone in with the kick drum, but mind your speaker cones! Mike Senior
When you want to explore the contents of different Folders in the Arrange window, one strategy is to open a second, floating Arrange window and place it in Contents Link mode (click the button with the chain-links icon until it turns gold). Selecting any Folder in the original Arrange window then automatically displays its contents in the floating Arrange window. Using a floating window prevents your having to switch back and forth between the windows if they are overlapping. That is also good strategy when you want to drag regions in and out of Folders. Len Sasso