Many of the world's classic independent recording studios were founded by individual, trailblazing entrepreneurs. Estudio Panda, located in the Argentine 'federal capital' Buenos Aires, is no exception. The studio was founded in 1980 by the singer, songwriter and guitarist Miguel Krochik, a Porteño (as the native citizens of the Argentine capital call themselves) who, at the time, could already look back on a successful career as a performing musician. Krochik appeared at the 'Acusticazo' in 1972, a festival which could be seen as an early predecessor to the 'unplugged' concept, and which is still highly regarded by Argentine music aficionados. Two years later, he released his debut solo album Guilmar.
Estudio Panda's large Studio A was built in 1990, with a control-room design by George Augspurger.
The Studio A live area is home to a Steinway grand piano.Miguel Krochik's interest in all aspects of music production ultimately led him to set up his own recording studio in a room at his grandparents' home in the mostly residential borough of Monte Castro — the house in which he was born. Equipped with an MCI 500-series console, the recording venue quickly gained popularity among the musicians in the Capital Federal. Yet it was a political event outside his control that really helped Krochik to establish his new venture: following the Falklands crisis of 1982, the state of Argentina issued a law that all music had to be recorded in Spanish, which had a radical impact on the local music scene.
The original heart of Estudio Panda still survives as Studio B: a compact space in the basement of the building with a fairly small control room and a live area divided into two individual sections by a glass wall. One half is more ambient, with a wooden floor and stone walls, while the other portion offers a dry, almost dead sound with carpet on the floor and curtains across the rear wall. A small sticker on the glass wall provides a clue as to how Krochik's studio received its name. Estudio Panda wasn't christened after its location, nor the name of its founder — as Miguel Krochik explains, he simply liked the word 'panda'!
Panda's mic locker boasts no fewer than three Telefunken ELAM 251s and six Neumann U47s, amongst other classic microphones.
Estudio Panda is home to some unusual and desirable vintage outboard, including (clockwise from top left) an RCA BA6A limiter; Altec 436C compressor and Pultec EQP-1A3 equaliser; Siemens V78 preamps and Spectrasonics 610 compressors; and a Conn strobe tuner.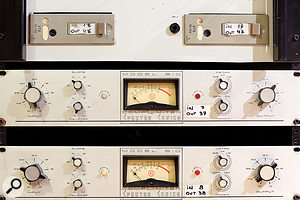 Around 1995, Estudio Panda saw a major upgrade and expansion, overseen by architect Susana Hechtenthal. During the construction phase, Miguel Krochik set up shop in a building on the opposite side of the street, and Panda received a new, much larger room in the first floor, which is now Studio A, as well as lounge and office spaces on the second floor. With the two tinted glass windows in the rear wall, the new large live room boasts an almost church-like atmosphere. The control room, meanwhile, was designed by George Augspurger, who also equipped the room with a pair of his distinctively shaped 'angry duck' main monitors.
The control room is based around an SSL 4040 G+ console, which is surrounded by a stunning collection of outboard gear. The racks in Studio A combine all the classic units a client could wish for: a Fairchild 670 compressor, various types of Pultec equalisers, half a dozen racked Neve modules of the 1064, 1084 and 1081 types, an LA2A, a pair of Neve 2254s, Massenburg EQs, Urei 1176 limiting amplifiers, API modules — in short, the best-known and widely loved of vintage gear. However, there is also room for more unusual pieces such as a pair of Siemens V78 preamplifiers, a vintage Langevin EQ and a small valve-based mixer made by RCA. Reverberation duties are covered by Lexicon 960 and 224 units, two valve-based EMT 140 plates, AMS RMX16 units and characterful vintage echoes such as a Maestro Echoplex and a Roland RE201 Space Echo. It won't come as a surprise that the microphone locker is well-stocked, too, including three Telefunken ELAM 251s, six Neumann U47s, four U67s, a U48s, a KM56 and a TLM170, to name but a few.
Studio B is centred around a white API desk from 1973, equipped with 32 550A EQs in its input channels.
Singer, songwriter and guitarist Miguel Krochik, a native of Buenos Aires, founded Estudio Panda in 1980.Studio A's technical layout alone would put Panda on the worldwide studio map as a heavyweight, but Studio B further expands the venue's capabilities. Around 2000, a vintage API console with 32 input channels was installed here. Built in 1973, the desk boasts API's rare white finish, as well as 550A EQs in each input channel, and is equipped with aftermarket Uptown moving-fader automation. The outboard in Studio B includes two pairs of Spectrasonics 610 limiters and Siemens V78 preamps, as well as a rare white-face Gates Sta-Level. An MCI 24-channel tape recorder here forms the counterpart to the Studio A800 MkIII in Studio A.
Unsurprisingly, Panda has always served as a recording home for Argentine rock bands and solo artists. Among many others, Los Abuelos de la Nada, Alma Fuerte, Sumo, Soda Stereo, Andrés Calamaro and Los Fabulosos Cadillacs have crafted their productions here, and through the decades they have been joined by a number of international clients, too, including Ricky Martin, Celia Cruz, Shakira, Cocorosie and the Scorpions.