500-series module offers precise dynamic control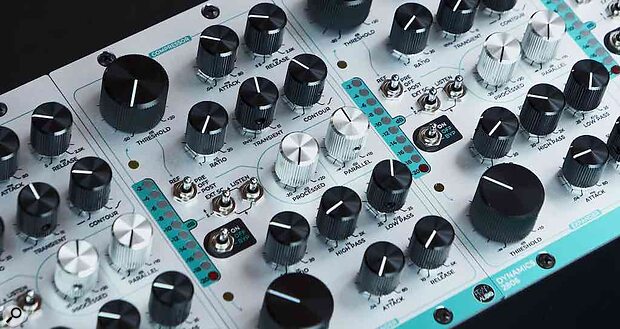 The Dynamics 2806 is the first device from Frap Audio, a new division of Eurorack module manufacturer Frap Tools. Housing both a mono compressor and expander in a double-width 500-series module, the  Dynamics 2806 promises to offer precise control over a signal's dynamic range in a single, straightforward unit.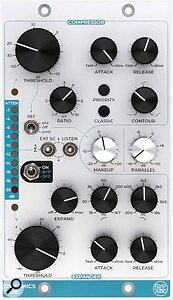 Frap Audio Dynamics 2806 500-series module.The module is built around a single VCA, with the compressor and expander circuits each being fed their own independently generated side-chain signal. The expander is a feed-forward design, with its side-chain signal created by monitoring the device's VCA input, whilst the feed-back compressor utilises a signal sourced from the output of the VCA, which can be set to either pre- or post-make-up gain.
The module's panel is divided into two sections, each of which house a set of dedicated controls for the device's compressor and expander circuits. For the compressor, users are able to choose between two time constants: Priority, and Classic. Frap Audio state that the former offers surgical attenuation control, whilst the latter provides the opportunity to explore more creative effects. The compressor section takes priority during processing, and will force the expander to idle when compression is being applied.
A pair of filters are present to provide precise control over the side-chain signal, with a high-pass type covering a range of 18Hz to 1.7kHz, and a low-pass option offering settings between 200Hz and 18kHz. The Dynamics 2806 is also able to utilise an external side-chain input, which can be routed to either the compressor or expander section, or summed with the compressor's internal side-chain. 
Frap Audio have utilised high-quality components throughout the device's signal path, with the output stage employing a Lundahl LL1585 transformer. Care has also been taken to safeguard the unit's circuitry, with capacitors in place to protect against damage being caused by situations such as the accidental application of phantom power. 
Pricing & Availability
The Dynamics 2806 is available now, priced at €1115.
https://frap.audio/products/dynamics-2806/