Aims to tackle unnatural ADR sound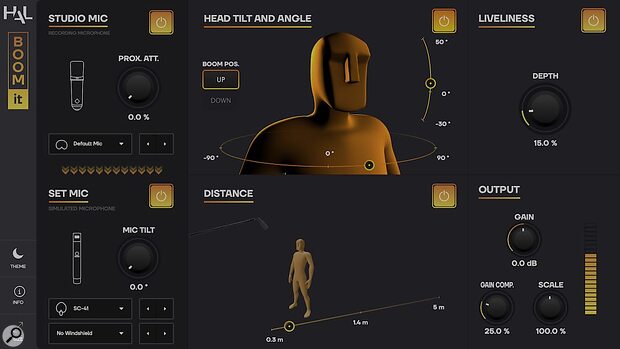 Hal Audio have released Boom-it, a plug-in designed to change the perceived position of a voice recorded at a fixed distance. Intended to add natural-sounding movement to ADR and dubbed recordings, Boom-it allows users to recreate the changes in sound that would be caused by a performer's body rotation, head tilt, and distance from the microphone when production sound is being captured.
The company say that they have recreated the effect of actors' body movements on the sound of their voice using a Head And Torso Simulator (HATS), capturing impulse responses of all possible head positions and body rotations with precise measurement microphones. The plug-in allows users to blend smoothly between these responses to help the ADR sound match the movements seen in the picture.
Microphone Matching
A Studio Mic module in the GUI provides a selection of 18 commonly used microphone types and models, and aims to cancel out their effect on the re-recorded sound. The section is also equipped with a Proximity Attenuation control, offering a way to compensate for the proximity effect in audio that has been recorded too closely to the microphone. A Set Mic module then allows users to choose which microphone they'd like to emulate, with a selection of 20 commonly used models, and an Angle knob offers simulation of the off-axis response exhibited by directional microphones.
Performer Movement Emulation
A Head Tile and Angle module provides a visual interface where users are able to adjust the rotation and tilt of a 3D character's head and torso, with the plug-in applying changes to the source audio based on the values set. Hal Audio say that this module is particularly useful for recreating a character's original vocal performance by matching their on-screen movements, or creating a lifelike sound in the case of an animated film or show.
It is also possible to emulate the changes in sound caused by a performer's distance from the microphone during a location recording. Users are able to set the desired distance from a virtual microphone, with an emulated boom mic range of 0.3 to 5 metres covering most situations from close-up to wide shots, whilst an emulated lavalier range of 0.1 to 0.5 metres covering a range of common body-worn microphone placements.
A Liveliness control then allows users to recreate the imperfections introduced by small movements of a boom microphone during on-set recordings, whilst a Gain Compensation parameter offers a way to minimise the volume losses caused by setting the distance and rotation values applied in the plug-in's modules. A Scale control then offers a global control of the overall amount of processing applied by each of the different modules.
Compatibility
Boom-it is supported on PCs running Windows 7 or higher, and Macs running macOS X 10.10 or higher, with both Intel and Apple Silicon CPUs natively supported. An iLok account is required for authorisation, although a physical dongle is not required.
Pricing & Availability
Boom-it is available now, and is currently being offered for an introductory price of $99, reduced from $149.
https://www.hal-audio.com/produit/boom-it/