Conference to feature David Wrench, Peter Jenner & Tim Exile
Scheduled to take place from the 7th to 9th of June at Anglia Ruskin University, Cambridge, this year's Innovation in Music conference will feature a number of high‑profile keynote speakers. This academically minded European convention brings together musicians, engineers and technologists, all interested in the future of music-making, music-makers and the music industry.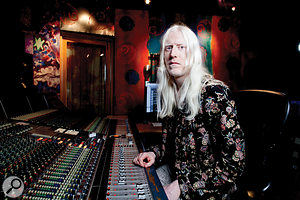 Mix Engineer David Wrench (Jungle, FKA Twigs) will be speaking at the Innovation In Music conferenceThe Production Keynote will be delivered by David Wrench, the acclaimed mix engineer whose recent credits include Caribou, FKA Twigs and Jungle. Martin Walsh of DTS, inventor of the remarkable Headphone:X surround‑over‑headphones technology, will deliver the Technical Keynote on mixing for headphones. Other keynote speakers include legendary Pink Floyd manager Peter Jenner and electronic music producer, performer and all‑round innovator Tim Exile. Alongside these industry heavyweights, there's a full programme of panel discussions and research presentations. Registration for the conference is now open at the InMusic'15 web site.
If you want to attend, move quick because the deadline for early registration is May 18th, and by doing so, you save £50 off the full price. June 3rd is the final deadline for registrations. You can register on the Eventbrite page here.
http://www.innovationinmusic.com