UK's biggest synthesizer event returns for third hit year
SynthFest UK returned to Sheffield on Saturday 6 October, marking the third outing of the UK's biggest synthesizer event. Organised by Sound On Sound magazine, SynthFest UK is a celebration of all things synth, with an exhibition hosting manufacturers, retailers and universities, as well as a seminar programme with big names in the synth world and a Modular Meet where people could show off their own rigs.
Vicky Clarke (right) of Noise Orchestra demos one of their curious light-to-sound instruments.
With a new, larger venue for seminars, all of the top-notch sessions this year were packed. With a focus on the history and future of synthesis, seminars topics included early electronic instrument, the Trautonium, the life and work of electronic music pioneer Delia Derbyshire and a deconstruction of the Dr Who Theme presented by The Radiophonic Workshop's, Mark Ayres. Other guests included Martyn Ware of Heaven 17 and Human League, author David Stubbs (Mars By 1980: The Story of Electronic Music), synthesis expert Martin Russ on his pioneering method of deconstructing sampled instrument sounds, and a VIP roundtable session with Richard Barbieri (ex-Japan and Porcupine Tree), Katia Isakoff (Altersonic Sound, Women Produce Music), Elizabeth Bernholz of Gazelle Twin and 1960s synth musician David Vorhaus of White Noise fame discussing their synth favourites.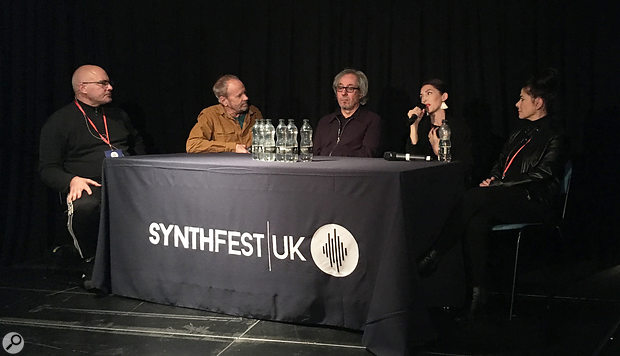 VIP Roundtable chaired by author David Stubbs on left with David Vorhaus, Richard Barbieri, Elizabeth Bernholz and Katia Isakoff.
SynthFest drew a wide range of exhibitors including pedal pros Earthquaker devices.The show played host to an astonishing 69 brands including household names Akai, Ableton, Arturia, Korg, Yamaha, Roland and Moog, plus boutique makers including AJH Synth, Expert Sleepers, Studio Electronics, Soulsby and many more.
New to this year's show was an area dedicated to product demos and film screenings, featuring synth YouTuber Mylar Melodies and Novation's film Oscillator Culture - The Story of the Polysynth.
One thing that really sets SynthFest UK apart from other shows was the presence of retailers — this year Rich Tone Music, Red Dog Music, KMR Audio and SoundGas — who were all out in force and selling synths and other audio goodies at discount prices.
Sound On Sound would like to thank Genelec for sponsoring the event by providing monitors for the Modular Meet, plus a special thanks to all of the volunteers, exhibitors, speakers and staff for making SynthFest UK such a huge success. We look forward to returning next year to the Octagon in Sheffield for an even bigger and better show!
SynthFest UK is a Sound On Sound event in partnership with Sheffield's Sensoria Festival of Music / Film / Digital Media.
Attracting brands big and small, distributor Sound Technology were demoing the latest Nord keyboards.
http://synthfest.co.uk/