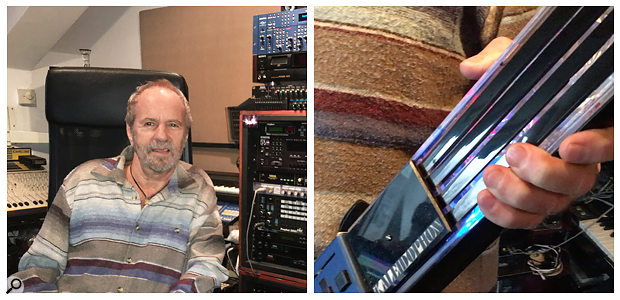 David Vorhaus of White Noise chats with Rob Puricelli about his early involvement with the Fairlight CMI and his Kaleidophon ribbon controller and Maniac sequencer inventions.
Chapters
The Maniac Sequencer00:00 - Introduction
00:31 - Peter Vogel and the Fairlight CMI
01:51 - First Fairlight in the UK
03:25 - That Fairlight sound
05:32 - Stravinsky Firebird Suite
06:38 - The KPM albums
08:25 - Working with Delia Derbyshire
11:15 - Early technological limitations
13:20 - Sequential Circuits
14:56 - 12-bit sampling
16:27 - The Kaleidophon
18:40 - Interlude
19:05 - The Maniac sequencer
21:59 - Modern sampling
24:35 - Using Reaktor
25:50 - Sample libraries vs sound design
28:17 - Creating something unique
30:00 - Ending
David Vorhaus - Biog
An experimental electronic musician with a background in Physics and Electronic Engineering, David Vorhaus has been a pioneer of electronic music in Britain for over 30 years. In 1968 he formed the band White Noise with Delia Derbyshire and Brian Hodgson of the BBC Radiophonic Workshop. Their debut release, An Electric Storm, has since garnered cult status and is recognised by Island Records as being an important album in its genre.
One of his early samples on the Fairlight CMI was of an orchestral stab, taken from a recording of Stravinsky's Firebird Suite by the Philharmonia Orchestra, that has since become the most used sample in music history.
As a bassist with no interest in playing keyboards, David developed the Kaleidophon ribbon controller and the Maniac analogue sequencer, something he has since rebuilt in digital form using Native Instruments' Reaktor software.
https://en.wikipedia.org/wiki/White_Noise_(band)
Interviewer: Rob Puricelli - Biog
Rob Puricelli is a Music Technologist and Instructional Designer who has a healthy obsession with classic synthesizers and their history. In conjunction with former Fairlight Studio Manager Peter Wielk, he fixes and restores Fairlight CMIs so that they can enjoy prolonged and productive lives with new owners.
Rob also writes reviews and articles for his website, failedmuso.com and has guested on a number of music technology podcasts and shows. He can often be found at various synthesizer shows such as SynthFest UK, where in 2019 he delivered a talk and demonstration on the history of the Fairlight in conjunction with producer Steve Levine.
About the Electronic Music podcast channel
On this channel we feature some of the pioneers of the industry, interview musicians and talk about retro and current gear.