"I once believed in Jesus, now I can't believe in rock' n' roll." ex-Virgin Prune Gavin Friday may have his cross to bear, but this gadfly of the Irish rock scene isn't one to let the grass grow under his feet...
The city of Dublin is renowned for its poets, writers and musicians, with James Joyce, Oscar Wilde, WB Yeats, George Bernard Shaw, Van Morrison, Bob Geldof and U2 among its favourite sons. Another product of that tradition is maverick performer, wordsmith and entrepreneur Gavin Friday. A long‑standing friend and associate of Bono, Friday began his influential career by forming the Virgin Prunes in 1978. After achieving cult status throughout Europe, the Prunes dissolved in 1985, and Friday entered various musical collaborations with the likes of The Fall, Coil, David Ball and Maria McKee. Very much the renaissance man, Friday pursued a parallel career as an artist, culminating in an exhibition of his paintings, I Didn't Come Up The Liffie In A Bubble, in 1987.
Friday's next project was the Blue Jaysus club in Dublin, a cabaret/vaudeville‑style venue which he created. Through the club, Friday met the man who was to become his musical writing partner, Maurice Seezer. The duo signed to Island Records, and in 1989 released their debut album, Each Man Kills The Thing He Loves. A self‑contained collection of brooding torch songs, Each Man... established the Friday/Seezer penchant for piano/vocal compositions punctuated with accordian and bass wind instruments.
I actually hate the word 'demos', because I don't find they work — if you capture something, then you want to keep it.
The follow‑up album, 1992's Adam'n'Eve, drew upon Friday's adolescent pop influences and glam rock aesthetics, reinforced with production by Dave Bascombe and mixing from Flood. Followed by tours in Europe and America, the duo explored another avenue of music by assisting in scoring the soundtracks for both Robert Altman's Short Cuts and Jim Sheridan's In The Name Of The Father. Interestingly, Sheridan and Friday have also been involved (along with Bono), in opening Café Deluxe, Dublin's flamboyant late‑night club, hosted by the semi‑legendary '70s Irish cabaret star, Mr Pussy. The film work has continued, but Friday & Seezer have also found time to record their third album, entitled Shag Tobacco which features the production skills of Tim Simenon, aka Bomb The Bass.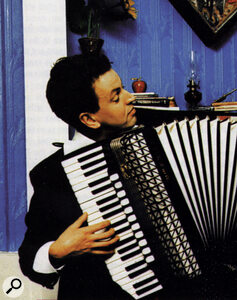 How did you go about preparing for the new album, and what level of pre‑production was involved?
Friday: "I'd say that the real pre‑production was the piano in my dining room! Maurice also has a piano, so it's a pretty organic base that the ideas come from. We recorded some demos at Interference Studios, a little home studio owned by a friend. I wouldn't actually call them demos, because what we recorded there we did actually bring over and enhance in London. I actually hate the word 'demos', because I don't find they work — if you capture something, then you want to keep it."
Seezer: "We captured quite a lot of stuff on half‑inch tape, and did a lot of transferring onto hard disk — we ended up working that way. We were caught between two schools of thought; we were just trying to make sure we got the right vibe for the song, but not have the technology get in the way."
I notice that the natural and acoustic sounds which are your trademark are still evident throughout Shag Tobacco, despite the album entailing more machinery and technology than ever before.
Friday: "Each Man... was a totally organic album, recorded in two weeks (in Greenwich Village, New York), with live musicians, and mixed in a week and a half. With this album, we worked from the bottom up. We worked at Eastcote Studios, London, and basically from the songs being simple pieces with just voice and piano, we programmed things in. After two weeks we brought in the live musicians; Eric Sanko on bass and Chris Cunningham on guitars, and another musician, Renauld Pion, who is becoming part of a collaborative threesome with myself and Maurice. Most of the musicians we work with tend to play numerous instruments."
Seezer: "Two years ago, when we were on tour in America, it was just myself on accordian, Renauld Pion on bass clarinet, and Gavin singing. That taught us the way that those two instruments work together, and the brilliant resonance they create."
Friday: The live line‑up is now Maurice with sequencers and programming, whilst playing keyboards and accordian, Renauld is playing all his wind instruments — anything with a hole in it, that you can blow! And we're working with this Irish, classically‑trained cellist, Kevin Murphy, who can also play an amazing bass and guitar — so we can switch from doing something totally programmed to totally organic or acoustic."
I was impressed with the way Pion uses his EWI (electronic wind instrument).
Seezer: "It's one of the most expressive ways of playing samples, where you have perfect volume control. Renauld plays a violin sample on 'The Last Song I'll Ever Sing', and the expression he got was the closest I've heard to a real violin player. With a keyboard, you're dealing with three or four different variants while you're trying to control the sample, but with Renauld's EWI it just comes naturally, because that's the way he plays."
Friday: "There's an almost schizophrenic mix of instruments and attitudes in certain elements of the songs. Like in 'Dolls', the drums are programmed, there's bass and guitar which sound like they're coming from some kind of science fiction punk record, mixed with accordian and EWI. The analogy in our head was, 'what would Right Said Fred be doing if they were hanging out with Kurt Weill on ecstasy?'. Thankfully, Tim Simenon understood what we were on about."
For many, the working relationship with Tim Simenon may appear an unlikely alliance. How did it come about?
Friday: "For In The Name Of The Father, we were doing most of the recording in Dublin. We decided not to get political with the lyrics, but let the music be political by using lambeg and bodhrán samples, which are Protestant and Catholic drums. We wanted to bring in a more contemporary producer, and it was coincidence that Tim had just signed to Island at the time. There was an instant spontaneity between us — funnily enough, he had been a Virgin Prunes fan, which surprised me — and within two days of meeting us he was in, recording. What was interesting for him was that he hadn't worked with white singers before — so he got a fistful with me, Sinéad O'Connor and Bono that day! The great thing is that Tim will throw disks over to us or vice versa, since we've set up our little studio in Dublin. The little bit of money that we made out of In The Name Of The Father all went into the studio."
What were the criteria and requirements when setting up this small studio?
Seezer: "We'd had quite a basic setup in my living room up to about a year and a half ago, based around a Roland MC500, Korg master keyboard, Yamaha DX7, Oberheim Matrix 1000, Alesis Quadraverb and a Sony DPSR7 reverb.
I've always been very suspicious of technology. I'm the kind of guy who goes up and says 'what's that?', touches the screen and it goes blank.
"This year, we decided to come of age, if you like, and finally got an Atari computer (running Notator), Akai S1100 and Mackie 8‑buss desk. It seemed the logical step after spending the previous year working with Tim and his MIDI programmer Kerry Hopwood. A major addition has also been the Kurzweil K2000, which I'm just starting to get my head round."
Friday: "Whereas I'm the kind of person who kicks the computer when I get bored."
Seezer: "The beauty of the setup is that Kerry had come over at Christmas and spent two weeks with us, basically designing the studio within our budget and getting the gear that would make us completely compatible with their setup in London. That's how we stay in touch, basically, with MIDI files, sample disks and things like cue sheets from the Mackie."
Gavin, your lyrical work exhibits influences from many different cultures. Are you creating an alternative European language?
Friday: "There's a lot of European wordplay. Certain words like 'fuck' sound good in any language, but if you want to say 'brilliant', you'd say 'fantastique'. So there's a lot of German, French and Italian, but it's all badly done. It's like if you look at what Hispanic and black culture are doing to American English. I think that eventually you're going to have this 'Europeano' language — like 'stronzo', which is basically an Italian swear word for the ultimate shithead.
"The lyrics are sometimes cumulative, or can come very quickly — there are little gifts that come out of the sky. We tend to think very cinematically, and see each album as a little movie. There's always been that feel in our music. While working on In The Name Of The Father, which I also worked on as music consultant, we were checking out what Trevor Jones (writer of the film score) got up to — there's a mystique, which is easily broken if you spend a few hours seeing how they do it."
Seezer: "I think it works both ways. A funny thing happened to us when we were both working on the score for the Australian film Angel Baby. Once we had a done a song, which took up most of our time, we would take all the elements and have them triggered either as sequences, or stored on hard disk — so that we had access to everything that we'd done on tape. When it came to scoring, the role of the computer was at its best. We literally worked all of our themes into the film, and they worked perfectly. I think the most important thing is knowing what you want to do, and if the computer gets in the way of that, or confuses it, then it's probably best to call it a night, and come back the next day with a clearer mind."
Tim Simenon's is a masterly presence on the album. There is his characteristic emphasis on bass, along with inconspicuous rhythmical layers. How were the tracks assembled?
Seezer: "The songs were 80% there, and what Tim ended up doing was coming in and taking a lot of the rhythms that we had, and either ditching them completely and starting afresh, or else working with what we had, and developing it to give it his vibe. It's probably different to the way that he would normally work — he'd normally start with rhythm and bass — but with these tracks, he was bringing in rhythms on top of what we already had. With a lot of the new songs, like 'Angel' and 'Dolls', we've dropped everything and started from the bottom up, with a bass line that's going to work — because bass lines are so important."
Friday: "The interesting thing in the studio with 'Angel', is that it started out as a bass line that we loved, but was one of the least structured tracks that we had. We started jamming to it, Tim heard it, and said 'I love this, keep going.' I started singing falsetto and gibberish, but Tim said 'that's it'."
The album features the varied talents of Eric Sanko on bass, Dave Clayton on keyboards, ex‑Massive Attack vocalist Loretta Heywood on backing vocals, Danny Cummings on percussion, and Chris Cunningham on guitar. Nevertheless, I understand you're not averse to Maurice broadening his repertoire...
Friday: "Well, on some occasions during In The Name Of The Father, we were thinking of getting Jah Wobble in to play bass, but I remember Maurice had finished his bits and said 'right, that'll do — you'll get it from this'. I turned round to Tim and Bono and said 'no, we have it, it's Maurice.' Just the organics of a guy understanding the musicality of an instrument but going at it, creating an urgency, is great. On 'Dolls', Maurice played 90% of the instruments — we had tried Chris Cunningham, but it didn't have the right attitude."
Another track, 'Kitchen Sink Drama', required a radical rethink in the studio. What went wrong?
Friday: "It was going in almost a salsa direction, so we said, 'Stop all the drums, stop all the technology, let's get voice and piano, record it, get a beautiful take and then just build it.' We brought in Renauld on (bass) flute, added the bass, and then the drums."
Seezer: "That's modern technology at its best — when it serves an idea that you have. We don't tend to work well starting with a groove or vibe; even with 'Angel', there was something organic there that we wanted to get across."
Friday: "With 'Angel', we left it on tape and came back to it the next day. We then went to the piano in the next room and looked at the melodies, the chords, spent a few hours, and then went back to it. We always revert back to voice and piano."
"I've always been very suspicious of technology. I'm the kind of guy who goes up and says 'what's that?', touches the screen and it goes blank. I just carry this electricity, so I'm a nightmare for Kerry Hopwood. I think the great freedom we now have is our own studio. I can see us going into a new world by the time we make the next record."
The album has only one cover version, of Marc Bolan's 'Slider'. Did it prove easier to record than the original songs?
Friday: "That was done in an afternoon. We used to do it live on our American tour, just for the fun of it."
Seezer: "At that stage we were playing everything live. Renauld (Pion) had his sampler and EWI with him, but the only track that he got to use it on was 'Slider'. There's this mental loop that he had, which he'd slowed down and twisted around, and that was the track that got a huge reaction every time we played it."
Friday: "With 'Slider', we just went for it in a couple of takes. That was actually the most straightforward track we did in the whole Shag Tobacco sessions."
Each Man Kills The Thing He Loves Island, 1989
Adam & Eve Island, 1992
In The Name Of The Father (soundtrack) Island, 1994
Shag Tobacco Island, 1995
Enrico Caruso, born in Naples 1873, was regarded as one of the world's greatest tenors, and the first to actually have recordings made of his work. Despite having died in 1921, he gets a tongue‑in‑cheek credit for backing vocals on the Shag Tobacco track, 'Caruso'. I wondered how this resurrection was achieved.
Friday: "A lot of blood, sweat and tears from Maurice. You're talking here about the first pop star, you know; he's the guy who at the start of this century was a lot bigger than Pavarotti or U2."
Seezer: "I had found this cassette of Caruso singing songs from Naples, and Gavin had the complete set of recordings on CD — so we sampled about 10 likely sections, and spent a while figuring out where they would work in the track. It was a case of stretching, detuning and retuning to get it right in rhythm, and then just to make it sound completely natural. Q (Tim Simenon's long‑time engineer) did a wonderful job EQing out most of the hiss, so that the clarity of his voice came right through. And it worked a dream — it was like he was on backing vocals."
Friday: "That track is opera in my book — there's not enough middle eights in music today."
What manner of instrument is the Stronzophone, credited as appearing on several of the album tracks?
Friday: "Stronzophone is a word I have for a megaphone. I've had a number of megaphones customised: we got a guy (Laurent Mellet) from Archaos, the French theatrical group, to make us some metal ones. But I was fascinated, because reading up on Caruso, he used to sing through metal megaphones in order to get resonance in his voice. So basically, in songs where I'm giving grief and being Mr Shithead, out comes the Stronzophone. Aesthetically, the metal ones are great, but they're so heavy...
"I don't play guitar, and when vocalists go on tour, you generally want something to carry — you can't really walk round an airport with a microphone case, can you? At least a megaphone in a case really makes me feel like I'm in the band."