Photo: Daniel Silbert
Go-to producer for Taylor Swift, Lorde and St. Vincent, Jack Antonoff has the rare ability to translate wild experimentation into record sales.
Over the past few years Jack Antonoff has enjoyed success on a galactic scale. Taylor Swift's megahit album 1989 has sold over 10 million copies, and more recently, he's been responsible for Lorde's Melodrama and St. Vincent's Masseduction. More impressive still is the fact that the New Jersey-born 33-year-old works mostly from his home studio in the Brooklyn Heights apartment he shares with his girlfriend Lena Dunham (creator and star of HBO series Girls).
Antonoff's studio is very much his comfort zone, right down to the fact its walls feature the same wallpaper design he had in his childhood bedroom. "It's, like, these tigers," he laughs. "I just like to have shit around that reminds me of me. One thing I didn't like about going to commercial studios is I'd be in a space where the walls didn't know me. Whereas when you're home, all your stuff keeps you in you."
At the same time, Antonoff also likes to maintain a sense of creative intimacy in his studio. Typically, there will be no more than three people in the room at any time: Antonoff, whichever artist he's working with, and his engineer Laura Sisk. "Sometimes I'll have Laura working on something in another room while I'm in there with an artist, 'cause it gets really small," he explains. "I usually like to be the one to record someone's vocals, but it's different all the time. It's whatever works.
"But Laura is sort of the unsung hero of all of this. She also really built the room. She'd been in studios with me forever and has worked on all my records, so really knows what needs to happen for me to be just able to think."
Jack Antonoff credits engineer Laura Sisk as the "unsung hero" of his recording exploits. This photo was taken at Jungle City Studios during the recording of the second Bleachers album, Gone Now.Jack Antonoff started out as an artist himself, initially as the singer/songwriter of indie rock band Steel Train, then as guitarist in baroque pop band Fun, and now operating as a solo act under the name Bleachers. This has given him a strong personal perspective on the creative process which feeds into the way he uses his low-key studio. "I got very obsessed with how making records is all about protecting this innocent vision," he says. "So I wanted to get out of studios. I just wanted to be as closed-off as possible. And it's worked so far. I've done a lot of things that I've been very proud of in that room."
Antonoff's first musical love as a kid was the Beatles, and in his teens, in the late '90s, he formed a punk band, Outline, at school. It was through the group that he first experienced an ad-hoc eight-track studio environment. "The first time I recorded we hired this kid and paid him 200 bucks to make us a demo," he remembers. "He had one of us in his kitchen, one of us in his living room…"
But it was with the advent of the Mbox in 2003 that Antonoff first began to explore Pro Tools and creating music at home. "It changed everything for me," he says. "I never read the manual, I just slowly learned. There's still things that are crazy that I don't know. But I almost don't want to know too much. I do a lot of twisting of knobs without thinking sometimes.
"I don't care to do it the right way. Sometimes when I'm recording, things will be out of phase, or this will be pitched funny, or this timing is messed up. But then you fix it and all the magic has gone. So a lot of times recording and writing for me is just this weird mess of sounds and ideas until boom, something is like, 'That's interesting, grab that.'"
From 2002 on, when his next band Steel Train signed a deal with Drive Thru Records, Antonoff began to gain an education on a more professional level of recording. Particularly with Steel Train's second album, 2007's Trampoline, he credits producer Mark Trombino (Jimmy Eat World, Blink 182) with helping him to organise his sometimes overly elaborate Pro Tools files.
"At that time in Steel Train, I was really into a lot of clutter and percussion and just sort of like tracks and tracks and tracks and tracks," he says. "Every year that went by with Pro Tools, you could record more and more and use more and more plug-ins without it crashing. I just got obsessed with tracking and panning and bouncing things together. So it wasn't until Pro Tools got really good that I sort of chilled out a little bit and got off the excitement of that."
Later, in Fun, Antonoff worked with Kanye West producer Jeff Bhasker on the band's breakthrough 2012 album Some Nights, which featured the Grammy-winning US-and-UK number one 'We Are Young'. In the process, he learned how to further strip down his sound for maximum effect. "That's when things started to get more focused," he says. "I learned a lot from Jeff about how I currently do things. It kinda came from this Kanye school of thought of like, 'Fuck it, all that matters is what evokes a feeling. It doesn't matter if we spent 20 hours recording these drums or these vocals. If you come in the next day, and you don't like it, delete it all.'
"In those sessions, I also learned a lot about low end. I learned about the space that a low Moog can fill. Not necessarily doing big, like, Depeche Mode stabs, but just a hum that can sort of live in the background of other things."
Creating 'We Are Young' was, Antonoff recalls, something of a headache, given its complex arrangement and tempo shifts. "It was a tempo map in Pro Tools," he says. "There's all this math involved, but the whole point of a shifting tempo is just feel. Y'know the point of a ritard or something pushing forward is it's supposed to feel like a band is just halting to a stop or jamming up into a new tempo. But you have to use the math to try to make it feel real.
"Everything about it was tough to get right. The tempos, the mix. It was just a mess until it wasn't. But a lot of time leading up it was like, 'Woah, this is so unwieldy, the way it slows down and speeds back up.' I remember working on that forever, 'cause it just didn't feel like it made sense."
It was while working with Jeff Bhasker and fun. that Jack Antonoff first used Jungle City Studios in New York, the Chelsea facility that is a favourite of Kanye West, Beyonce and Madonna. The main studio has a choice of two different consoles — a 48-input SSL Duality and a vintage EMI TG 12345 Mark III — and Antonoff would return there to make the first Bleachers album, 2014's Strange Desire.
"Jungle City is a really cool place," he enthuses. "Having known that Kanye did some of My Beautiful Dark Twisted Fantasy there was very inspiring. I would do the guitars direct through that old desk, just so I could blow it out and just kinda make it sound like the Beatles' 'Revolution' or something. I understood the way the room sounded, and I ended up spending a long, long time there."
When it came to building his home studio, Antonoff employed the Walters-Storyk Design Group, the same company who'd designed Jungle City Studios. "It's treated similar to Jungle City with those pegged walls," he explains. "I use [SCM45A Pro] ATC monitors which I love. I just need everything to be 'up', so that everything has a Pro Tools input and it's ready to go."
To ensure that everything is as immediate as possible, Antonoff has all of his synths, processors and effects within easy reach of his listening position. To his left are a Moog Model D and Voyager, Roland Juno 6, Yamaha DX7 and Mellotron M4000D. Next to those lie a Solina string machine, Oberheim OB8 and an Emu Emulator.
"That's all there, and I can sort of wheel over and touch everything," he says. "The Mellotron is a wonderful instrument. I love the tubular bells in there. I love all the strings, I'll use the horns. The Solina to me is like the ultimate one-trick piano. I don't like the low stuff, I like the high register and usually I'll just sit on one note to create suspense. It's this ultimate Depeche Mode-y/Abba feel."
Jack Antonoff's own studio is set up in such a way that everything he needs is within reach and ready to go immediately.
Located below Antonoff's workbench to his left are his preamps, with the Chandler TG2 EMI strips being used mainly for guitar and bass. Elsewhere, the right side of the studio features Mutable Instruments modular gear, most notably the Braids Macro-Oscillator, and a Yamaha U1 upright piano. At the back of the studio sits Antonoff's compact drum booth.
"When I'm recording my drums, I have it all sort of dialled in the way I like," he says. "My go-to drum tone is a short, compressed, splatty Sgt. Pepper thing. When we're recording, I'll have my drum sound, but then I'll have just like two or three odd mics in there totally blown out."
The small booth in Antonoff's studio is used mainly for recording drums: he prefers to track vocals in the control room.Often these drum treatments will involve his vintage analogue outboard effects. "I have this one rack to my left which I love: on the bottom it's a [Roland] Space Echo, on top of that is a [Roland] Chorus Echo, on top of that is a Binson echo and on top of that's a [Ekdahl] Moisturizer [spring reverb]. Very often whatever instrument or synth I'm recording, I'll also have one or two other tracks recording it, going through some weirdo shit, just to see if anything pops out."
A lot of Antonoff's technique involves freewheeling experimentation, often done live while recording, which he then bounces down to make quick and final decisions about tracks before moving on. "Sometimes I even ride compression while I'm playing. So if it's one of those EMI strips, I'll ride the red knob and blow it out and take it back. A lot of things people told me you're not supposed to do, I like to try. Even with plug-ins, it's like, 'What happens if you keep compressing over and over? What happens if you put two, three, four, five [SoundToys] Decapitators on a sound?' It starts to get really interesting.
"I'm really into bouncing and printing things. If I think something's interesting, I print it. And if I really, really want to go back, it's somewhere in an old session. But I never do, and I don't like having all the plug-ins still there. The next morning, I wanna pick up where I left off. I don't want to be tweaking reverb forever because if it sounds good, it sounds good."
Jack Antonoff is a great believer in creating a 'sound world' for each album he works on, and so certain synths or combinations of sounds will feature more than others. "They're all record-specific," he says. "The first Bleachers album and the 1989 Taylor stuff were really centred around the Juno 6. That instrument has such a sadness and a glory all at once."
Meanwhile, the new Bleachers album Gone Now, Lorde's Melodrama and St. Vincent's Masseduction made much use of the Moog Model D and Voyager. "I got very involved in getting things off a Moog and recording a lot of Mellotron strings, then putting real strings on top of it. I split that out so you have like a lot of interesting panning going on where maybe the Mellotron strings are on the left and the real strings are on the right. It created a very eerie feeling. Or, y'know, doubling low-end Moog parts with real bass, so you have this push and pull of a live instrument and a synth."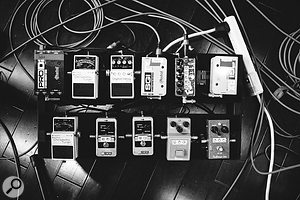 Not only synths and rackmount effects, but also guitar pedals play a role in creating Antonoff's 'sound worlds'.In order to further manipulate synth sounds, Antonoff feeds them through a variety of guitar pedals. "One of my favourite things that I've got a lot of sounds off recently, specifically on the St. Vincent album, is the Model D going through a fuzz pedal called [Walrus Audio] Contraband. The pedal just squeezes it in this way where it can't control it, so it gets really loud and then it crushes it and this crazy thing happens. I've gotten some really exciting sounds using that.
"I got really into the [Korg] M1. It's very goofy until you find that one sound. The piano on [Lorde's] 'Green Light' is a mixture of an upright piano and an M1 piano. And these sort of like dance sounds that come off an M1 are exciting. Often I'll just let a track roll and flip through a bunch of settings and just bang around and see what sticks."
The sound world of Melodrama was, says Antonoff, particularly distinctive. "There's certain sounds that can never be in that world because they're not part of this album," he explains. "Like, y'know, there's no accordions in that world [laughs]. There's no soft synths in that world.
"Whether people know what they're hearing or not, they feel what they're hearing and they're hearing all real synthesizers. There's a lot of room-miked piano with filter on it. You start to hone in on these sounds that define that world. And the longer you work on it, the easier it is to live in it because you know it.
"Then what's great about the room is there's all these little booby traps everywhere. Like, I have two mics in the top of the room that are really great for backup vocals, or acoustic room sound. I'll often record that in addition to stuff. They're both Coles [4038] mics which sound kind of odd."
Lorde's Melodrama album cover.Co-producing Melodrama with Lorde took Antonoff around 18 months. "There was nothing that her hands weren't on," he says. "No sound that she wasn't a part of. She's an amazing producer. We recorded a song like 'Liability' many different times in many different feels, because we knew it had to be a very simple recording. To get that perfect, simple recording we tried it in many different settings. We tried it live, we tried it tracked, and we ended up with mostly a live version. A song like 'Sober' was one of the craziest journeys ever and then a song like 'Hard Feelings' kinda just fell into place the day we wrote it. Y'know, it changed, but it was there."
On Masseduction, Antonoff cites the track 'Los Ageless' as the best example of a track that blends organic and synthetic layers. "You have this very mean modular arpeggio and modular drum pattern, and then you have her electric guitar and pedal steel guitar, and you have baritone sax in the chorus. These big, lush live instruments which became a pretty big part of what that album is: this push and pull of wild, synthetic sounds and deeply personal organic sounds."
For Antonoff, the thrill of the unknown is key to his process. "I know a felt piano and a Juno 6 muted pad is gonna sound beautiful together," he says. "But I'm really interested in stuff I don't know. This pedal through that. The nice thing about printing stuff is then you can grab moments of reverb. So a lot of my stuff will use hits of reverb from a vocal. I take the end of a word, just like the 'aah' of reverb, and put that in places. If you print it, you have it more like an instrument and less like something coming off a plug-in."
Antonoff's favourite outboard reverb is the spring in his Roland Chorus Echo. Plug-in-wise, he tends to use the Waves Renaissance Reverb and Valhalla's Plate, SoundToys' EchoBoy for delay and, for more extreme effects, SoundToys' FilterFreak, PanMan and Crystallizer granular delay. "If I have a sound," he says, "and I want it to just sort of live on, but not just with a reverb or an echo, something a little more odd, Crystallizer's a really cool program. The only other thing that's sort of random that I like is AIR's Filter Gate. A big thing I've been doing is I put a [SoundToys] Tremolator on long synth pads and sort of create 16th-note arpeggios out of that."
Much of Antonoff's distinctive style comes from the blend of electronic sources, such as the Korg VC10 vocoder, with more traditional instruments such as his Yamaha piano, which are often heavily treated with effects.With so much choice, it's perhaps inevitable that some of Antonoff's gear sometimes goes entirely unused. "It's interesting the stuff you really use and the stuff that you don't," he says. "I also have this area of little keyboards: old Casios and a [Yamaha] DX100 and a small cheap Realistic [Concertmate MG-1]. Those I never use, and they're so cool. It's nothing to do with cost or quality. Some of the crappiest stuff I use over and over again. But I have a [Sequential] Prophet 5 and I haven't plugged it in in months. You go through phases with stuff. You get bored and you have to rediscover it."
Although he values the familiarity and intimacy of his own studio, there comes a time when a fresh perspective is required, so when the Lorde and St. Vincent albums were approaching the final stages, Antonoff decamped to Electric Lady Studios in New York. Here, he took an unusual approach to finishing them off. "I only work in the attic, the top room," he says. "And I don't even work in the studio up there. I bring the studio into the live room and just rent ATCs and work out of there.
"I just sort of found this vibe that I liked up there and went with it. Sometimes you've got to get out. With both those records it was time to get out when it was all there. Then it became more about finishing. 'Cause you hit a point with an album where you're like, 'Oh, OK, we've got this. Now we have to finish the album,' which is a wild task in itself."
Most recently, Antonoff has worked on two tracks on Pink's latest album Beautiful Trauma, and with Taylor Swift on her return single 'Look What You Made Me Do'. "It's mostly modular synth, drums, big fuzzy guitars through those EMI strips that come in in the second pre-chorus," he says of the latter. "Then live piano and just a lot of weirdo sounds and samples I sourced through things I've been collecting over the years."
Given the secrecy surrounding Swift's Reputation album, Antonoff kept his studio computer offline in order to avoid an online hack and leak such as the one Madonna suffered during the making of her Rebel Heart album in 2014. "I don't keep anything on me," he stresses. "Once it's done and it's mixed and mastered, I kind of want to wait until it comes out, so I just wipe everything. I'm always deleting things and moving things around. I never work on anyone's drives but mine. I'm very cautious."
Looking to the future, Jack Antonoff is currently experimenting with completely different sound textures, with a view to using them in upcoming projects. "I'm really interested in layering acoustic guitars," he says. "I'm listening a lot to Jeff Lynne lately and experimenting with acoustics and Nashvilles and 12-strings. Just creating these beautiful walls of acoustic. I don't know what it's for yet, but that's very interesting to me right now."
Now as ever, it seems, he remains open to the possibilities and mysteries of the recording process. "The cosmic joke about writing and recording," he concludes with a laugh, "is you could do something for eight months and then wake up in the morning, get in the shower and hum a melody that was better than anything you did. That's just it. You have to be ready to follow that. You don't know when it's gonna come or how it's gonna come. You're powerless, and I kinda love that."  
St. Vincent's Masseduction album cover.Jack Antonoff often mixes his tracks himself, but also farms others out to his favourite mixers, Tom Elmhirst (Adele, David Bowie) and Serban Ghenea (Beck, Katy Perry). "They're opposite mixers," he says. "Serban puts things on a rocket ship to the moon. Takes what you give him and just kicks it in the ass. Tom brings almost like a dark sadness to everything. And you never know what you're gonna get with him. Sometimes you need that and sometimes you need the guy where you know kinda what sound you're gonna get. Somewhere inbetween both of them is my perfect sound."
Whereas the Lorde album Melodrama is relatively sparse, the St. Vincent record Masseduction veers between stripped-down and incredibly dense passages, making it trickier to mix. "Yep, very hard," says Antonoff. "There's a lot going on. It was an interesting album to mix, 'cause in the chorus of one song you'd have incredibly delicate parts that needed to sound wildly organic where you could hear the whole room as if you were sitting in there. Then you'd have massively squashed, aggressive sounds that needed to be crushed within an inch of their life. So it was interesting to find that balance. But it was recorded with that in mind. We'd never really send songs to mix and expect them to come to life. I don't send things to mix unless I'm already really happy with where they're at."
In his heart, even in the light of his successes, Jack Antonoff remains very much a music fan. So much so that he was thrilled to get one of his heroes, Vince Clarke, involved in programming and playing keyboards on both of the Bleachers albums. "Vince is the godfather of modern pop radio," he effuses. "Most people just don't know. He's a quiet person. If you think about all his bands, he's always in the background. Erasure, it's all Andy Bell. In Yazoo, Alison Moyet is right there, front and centre, with that wild voice. Depeche Mode he wasn't even in very long. So he chooses to be in the background, but he's the architect for how a lot of modern music sounds."
Although Antonoff visited Clarke's vintage gear-stuffed studio in Brooklyn (coveting his '70s Sennheiser VSM201 vocoder in particular), he admits that he was too intimidated to work knee-to-knee with his idol. "I never work in the same room with him," he says. "I just send him things. I think I'd be too anxious to work with him. Compared to him with this stuff, I'm a baby. So it's more like I'll work on something and I'll send it to him and say, 'What would you do?' And he'll send back five or six ideas and I take pieces and move them around without fucking with his magic."
Always concerned to protect the intimacy of his recordings, Jack Antonoff records vocals with artists in the control room. "I hate the vocal booth," he says. "It's a terrible idea to put someone in a little box. Also, nothing ever sounds better than the control room, unless you have bad isolation with all your gear and stuff. But if you have a quiet control room, it's the best-sounding room."
Typically, his vocal chain is a Wunder Audio CM7 Suprema microphone into BAE preamp and a Tube-Tech CL1B compressor. In terms of in-the-box vocal processing, he tends to use the Waves Doubler and the AIR Chorus. Similar to his approach to recording instruments, Antonoff likes to retain a sense of freshness and spontaneity in vocal performances. "An inspired take is so much more important than a correctly recorded take," he states. "I mean, so many times I go back to the rough where there's bleed. When you're just putting it down to get the idea, it's often the best takes."