Interview | Songwriter & Producer
A combination of hard work, business acumen and old-fashioned musicality have brought JR Rotem huge success as a hip-hop and R&B songwriter and producer.
Photo: Mr Bonzai
Since 2006, charts around the world have featured a succession of hit songs with a recognisable signature style, sometimes signposted by an exclamation of "JR!". We're talking hits by Rihanna ('SOS', 2006), Sean Kingston ('Beautiful Girls' and 'Take You There', both 2007), Leona Lewis ('Better In Time', 2008), Iyaz ('Replay', 2009), Jason Derülo ('Watcha Say', 2009; 'In My Head', 2010), Nicki Minaj ('Fly', 2011), and many, many more. The "JR" in question is Jonathan Reuven Rotem, and his successes have been so widespread and impressive that he's been nicknamed 'The White Dr Dre'.
Only six years ago, Rotem was one of the world's many unknown songwriters and producers, creating tracks in a home studio and dreaming of the big time. Rotem had one thing that helped him to keep the faith: the placement of the song 'Fancy', which he had co-written and co-produced, on Destiny's Child's hit 2001 album Survivor. For five long years after that, he had nothing to show for his efforts, until Rihanna's 'SOS' was a hit in 2006. The song, which he co-wrote and produced, has sold 4.6 million copies to date. Since then, Rotem has co-written and (co-)produced thousands more songs, several hundred of which have been released, and several dozen of which became hits. His work centres around melodic pop songs with strong hip-hop influences, keyboard-based arrangements with a sophisticated harmonic touch, and a decidedly 21st-century approach to producing vocals, often using Auto-Tune, stutter edits and other effects.
JR's signature style is the foundation of the Beluga Heights label, which he began in 2007 with brother Tommy and manager Zach Katz. Artists Jason Derülo, Sean Kingston, Iyaz, Mann, Auburn and Livvi Franc are currently signed to the LA-based label, which employs half a dozen staff, and has distribution deals with Warners and Epic. Add Rotem's 2011 BMI Songwriter Of The Year award, and it's the kind of success that most people can only begin to dream of.
There's no desk and little outboard at JR Rotem's studio at Paramount, which is based mainly around a Pro Tools HD rig.
Born in South Africa in 1975, JR Rotem moved to Canada with his parents when he was two, and to the Bay Area in California aged 12. He received classical piano lessons from a young age, and after high school, enrolled at the Berklee School of Music in Boston to study film scoring, but ending up studying jazz piano and composition there. Not exactly the stuff that pop artists are made of, but Rotem had also developed a keen interest in rock music by the likes of the Beatles, the Police and Queen, and hip-hop, the result of hearing Run DMC's album Raising Hell (1986). Rotem also dabbled with electronic keyboards, and hearing Dr Dre's The Chronic (1992) and Snoop Dogg's Doggystyle (1993) sparked an ambition in him to go into music production and become a producer.
"During high school, I was into keyboards and synths and things like that and acquired a Korg M1, which was the first multitimbral workstation with a built-in sequencer, so I would make instrumental compositions on that. I then moved on to the Atari ST1040 using Master Tracks Pro sequencing software. After I finished my studies in Boston, I returned to the Bay Area and built a home studio, based around a PC with Cakewalk software, which became Sonar. I then decided that I wanted to do that full-time, stopped doing jazz, and moved to Los Angeles. I was a big fan of sequencing, and being able to see things on a computer screen. I always wanted to be able to see the MIDI notes on a screen, so I could manipulate them with a mouse, as opposed to using a dedicated sequencer like the MPC. I really liked the way Sonar worked, and used it to construct the song I did for Destiny's Child, 'Fancy', and Rihanna's 'SOS'."
The proceeds from Rihanna's super hit enabled Rotem to upgrade his studio to a professional facility located in Chalice Recording Studios. Then, in the middle of 2011, he moved to a studio complex run by the Paramount Recording Group, the biggest music-dedicated studio operation in LA, arguably the biggest in the world. "The room I have now is considerably bigger than the one I was in at Chalice," Rotem explains, "and we also have a big live room, which is more often than not used as a lounge, and a vocal booth. Across the road from the studio are the offices of Beluga Heights. The gear I have here is similar to what we had in Chalice: I work in the box in Pro Tools HD, and my main keyboards are the Korg Triton Extreme and Yamaha Motif XS8. I also have a Korg Oasys, Korg Radias, Korg MS2000, Roland Juno 60, the [Akai] MPC2500, and as modules the Roland XV5080 and Fantom XR, and several others. I also have a big selection of soft synths, like [Native Instruments] Battery, [XLN Audio] Addictive Drums and [Big Fish Audio] Overkill for drums, [Synthogy] Ivory for piano, [Spectrasonics] Trilogy for basses, plus I have the Spectrasonics stuff like Omnisphere, Fab Four, GForce M-Tron for Mellotron things, a lot of Native Instruments stuff and the Nexus Synth stuff. In the vocal booth, we have a Neumann U87 and a Sony C800, which is now our main mic. Our current preamp is the Avalon, but I think we'll ultimately be upgrading that. When we were at Chalice, we were able to borrow different preamps and other gear from them, but that's not possible any more here.
The classically trained JR Rotem still prefers hardware synths, and his studio includes a number of modern and vintage instruments: (left) Korg Microkorg and MS2000; (centre) Yamaha Motif XF6, Korg Triton Extreme and Korg Oasys; (rear) Roland Gaia SH01, Roland Juno 60 and Korg Radias."I also still use quite a few hardware keyboards because, first of all, I'm used to using them, but also, I find that they are more stable than soft synths. I'm used to playing regular piano in classical and jazz contexts, and in switching from an acoustic piano to a synthesizer keyboard there's already a difference in latency of milliseconds. The sound is triggered digitally, rather than acoustically with a piano. To my ears there's, again, a similar difference between hardware keyboards and soft synths. Soft synths have a little bit more latency, they're more likely to crash, and there's a little bit of a different feel compared to playing hardware synths. I still feel that hardware synths have more rock-solid reliability. I feel more in control when I'm playing them. I also find it easier to change the sound of patches on hardware synths. So at the moment I'm still using a combination of hardware and soft synths.
"Having said that, I've always relied heavily on stock sounds, partly because I still find all the different parameters and what they do confusing — beyond basic things like altering the release time or the portamento, I don't really do much programming — and partly because in my creative process I get inspired by a particular sound or patch, which tends to push me into playing a particular kind of chord progression or other musical part. When I work on developing that part, I don't really have the patience to sit around and tweak sounds. Instead, I'll be thinking of a drum or a bass part that can go with it. I construct my tracks very quickly, and I don't want to stop the musical composition process to perfect the sound I'm working with. I only occasionally do this, when it's driven by a sound that has to be innovative, though my approach to customising my sounds tends to center more on layering — I may have lines that contain three or four different patches — or on tweaking plug-ins. I add distortion with plug-ins like Sound Toys' Decapitator, or EQ heavily, or add some crazy delay, and all of a sudden a patch sounds very unique."
As well as a laptop-based recording rig, this separate writing room contains more hardware synths, including a Roland SH201 and Roland V-Synth GT, and an M-Audio Axiom 61 controller keyboard.
Quite a lot is made in official biographies of Rotem about his jazz and classical roots, but when he's asked about them, he admits that they can be as much a hindrance as a bonus when it comes to constructing hit songs. "A few years ago, I went through a phase when I felt that knowing a lot about the technical aspects of chords and harmony limited my creativity. When I heard people like Timbaland saying that he didn't know anything about music theory, and that this made him more open to hearing sounds, there seemed to be a huge potential for creativity, and it left me wishing that I could just play with sounds and not think about harmony. So for a while I was holding back on my knowledge. But on the other hand, I take the good with the bad, and I realised that knowing all that music stuff allows me to understand how to harmonise melodies, to easily replay things, and to write piano ballads as well as pop and hip-hop stuff.
"I think that what every producer and writer brings to the table is different, and the mark of great producers like Dr Dre, or even Quincy Jones, is that they know their strengths and also know who to bring in to help them in areas that are not their forté. They are like good conductors, making sure that everyone is in the best possible position and getting the best out of them. So they know who to bring in to program the drums, or write a chord sequence, or play a guitar part, whatever it is they need. My strength is in writing musical beds that set the tone and atmosphere for songs. But I'm not a top-line writer, ie. I'm not someone who is going to write the lyrics or the top-line melody. That's not what I bring to the table. I'm not one of those people who is going to sit at the piano and write an entire song, lyrics, chords, and melodies. Instead I'm more of a beatmaker and the person who sets the tone and direction for a track."
Clearly, the 21st-century approach to writing pop music, which generally involves, in Rotem's words, "a lot of writers, who are not necessarily in the same room, working in various parts of the world in a multi-staged process," is tailor-made for him. The tracks Rotem is involved in creating often begin with him using a sample and/or coming up with a chord sequence, and creating a keyboard-based arrangement with bass line and drum pattern to support this. Sometimes he'll have writers in the room with him as he begins a track, sometimes he'll invite other writers into his studio after he's created a bed for a track alone, and in many cases he sends the track out to writers, who then write and record their additional parts in their own facilities. For this reason, Beluga Heights employs the services of a whopping eight additional writers: Evan 'Kidd' Bogart, of The Writing Camp fame, Jonathan Brown, Clemm Rishad, William Jordan, Kevin Hissink, Mike Mac, Jordan Baum and Travis Margis.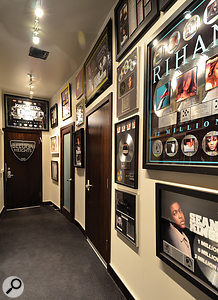 Since his 'second breakthrough' with Rihanna's 'SOS', Rotem has enjoyed numerous hits, as the walls of Beluga Heights suggest.Rihanna's 'SOS', for instance, was based on a sample of Soft Cell's 'Tainted Love' — itself a cover of a song written by Ed Cobb — with Rotem doing the arrangement and production, and Bogart adding a top line and lyrics. This resulted in only three people being credited with writing the song, a relatively modest number by today's standards. Rotem elaborated, "The amount of songwriters for each song these days has to do with the times and with technology, which means that it's no longer necessary for people to sit together in a room any more, writing. Obviously, every case is different, but if you use a sample, you have to credit every writer of the composition, no matter how small your sample is. That can easily add two, three, or four writers. So say I'm writing a song for Rihanna: I may initially be in the room on my own, or with one or two top-line writers, perhaps one guy who is very strong with top-line melodies and another who is good at writing lyrics. I may then feel that the chorus isn't melodically all the way there yet, and needs a bit more work, so I send it out to another writer to ask him or her to have a crack at it. Or I may decide to bring in a guitarist, and if he adds something substantial, I also have to credit him. Then I send it to Rihanna, and between her and her team they may change a couple of things, and that's another two writers on the credit list.
"Technology makes it possible to do these things, and also makes it easier to trace who has contributed what in each song. People are literally writing songs via Skype, and are sending each other sessions via the Internet, trying to refine the song and trying to get it as good and commercial as possible. And this makes it very easy for the amount of writers to stack up. Another good example is Nicki Minaj's song 'Fly', featuring Rihanna, which originally began with a guitar loop made by Kevin [Hissink] in Amsterdam. He sent it to me, and it was more of an up-tempo thing. I wanted to take it into a different direction, so I sent it to Will [Jordan] and Clemm [Rishad], who are in Seattle, and they wrote a hook to it. When it came back to me, I restructured what they had done and built a new thing around it, and I took that to Nicki, who added some parts and also asked Rihanna to also be involved, who did her overdubs in New York. That's a real example of how today's technology makes it possible for several writers in different places around the world to be involved in the creation of just one track."
But why is this proliferation of writers so universal, at least in urban music? After all, it's hardly in the writers' interests to share the royalties so many ways. "I think the current state of the music industry is one major reason," reflects JR Rotem. "We're in an extreme single-orientated market at the moment, and also an extreme, almost corporate-commercial, stage, where albums aren't selling as much as before, and so people try to make sure that every song they record gets on the radio, rather than songs being a calling card for an album. Of course, people would like to get as much of the publishing as possible, so they'd prefer there to be less writers on a song, and not to use a sample, because that can really take a big percentage of the songwriting royalties. But people also really want to be attached to a hit, and I'd rather have a small piece of a big hit than a big piece of a minor hit or an album cut.
"I agree that having lots of writers on each track may lead to things becoming more fragmented, and sometimes be to the detriment of the music. But I also think that there are pluses and minuses to every single situation, and I believe that the ability to work on multiple projects at the same time, and with different people all across the world, can give the music an immediacy that's very important today. We live in a completely different world, and people who listen to music have a much shorter attention span. People aren't lying in their beds any more with headphones on listening to the whole of Dark Side Of The Moon. It's more a matter of: let me listen to 30 seconds of this and then to 30 seconds of that. But there are no hard and fast rules. I have heard good songs written with this process, and have also heard a lot of average stuff.
"For me, as a producer, I've had to develop skills that perhaps didn't come naturally. I constantly edit what other people do and help writers refine things. I'll hear a melody and I'll change one note to make it sound better, or suggest that this or that section of the lyrics needs to be improved. But I would say that today's music sometimes lacks that synergy that you got through a trade-off process. I sometimes began relying on sending my beats to this or that person, and when it came back, it was decent but just did not have the magic. Music is not a process of one plus one equals two. When people are sitting in the same room and are getting excited about a track together and bouncing off ideas, you can get a synergy that you don't get any other way. So I'm actually trying to get into a phase where I spend more time sitting in a room with people again. Like with Kevin [Hissink], he's very capable of writing and recording stuff on his own, but when we sit in a room and he's playing guitar and I'm playing keyboards, you end up bouncing ideas off each other, and I do think that more inspiration and greatness can come from situations like that."
Given the 21st-Century tendency for several writers and producers to be involved in the making of each attempted hit song, the unfinished session can often be taken in many different directions, and those involved may disagree on how to complete it. All sorts of politics can come into play at this stage, which is a major reason for the increasingly important role of the outside mixer, who is often asked to make sense of the efforts of those who went before and imprint his or her own vision on a track. This, in turn, leads to many mixers, charging as much as $4000 per mix, and even being in a position to demand points on top. Unsurprisingly, producers who can mix their own material tend to prefer to keep things in their own hands, and Rotem is one, even though he sometimes uses the services of star mixers like Phil Tan or Serban Ghenea.
"How we approach the mix varies on a case-by-case basis. There are many songs that I mix myself, and there are songs where I feel the mix can be stronger, or want another viewpoint. Even though I work with an engineer, who will be doing vocal sessions and file transfers and other technical stuff in the computer, I tend to be very hands-on during recording, and I'll be putting on EQ and compression and other effects as we go along. Doing everything in the box makes it really easy to recall mixes, and so after listening to something in the car, or wherever, and deciding that the snare needs to be a little louder, I can come back to the session the next day and immediately do that. So it is a process of constantly mixing and refining a track. By the time the track is done, my mixes are pretty competitive. They're radio-ready and just need to go to mastering. Jason Derülo's 'Watcha Say' was my mix. Having said all that, I'm not the best mixer in the game, and when I really want that extra push or an outside perspective or the sound of an SSL board, I will send it to another mixer, who will carry on where I left off. It's not like I'm sending sessions with just raw files and everything zeroed out. They'll be enhancing what I did. Phil mixed the first Sean Kingston album, and Serban mixed Iyaz's 'Replay' and their mixes definitely come back sounding better. Sometimes, when a song is really important, that can give me that edge on the radio."
Many of these decisions are taken by Rotem for business as well as purely artistic reasons, as you'd expect of someone with his own label. "I spend the majority of my time in the studio, doing the music stuff, and I can't switch gears very easily. I have a clear vision of the kind of deals that we make as a company, so I do have business sense, but after having had big meetings with our partners, like Warner Brothers or Epic, I can't immediately go into music mode. So Zach [Katz] handles 99 percent of the communications and stays on top of things. My brother Tommy takes care of the A&R, and has found most of our artists on the Internet. He's a new type of A&R man! But in working with our artists, the executive producer or label manager side often quite naturally comes into play. For example, when we signed Sean Kingston, he was a rapper who went under another name, and in the process of working with him, I suggested that he embraced his Jamaican roots and that he call himself after the city that he's from. It was a similar thing with Jason Derülo. I knew he was going for a kind of international, Euro sound, so I suggested he put the two dots on the 'u', giving his name a more European vibe. This will extend to imaging and marketing and what kind of visuals we want in the videos."
It all sounds like an ideal setup, were it not for the small detail that the last JR Rotem-penned song that was a genuinely big hit on both sides of the Atlantic was Iyaz's 'Replay' in 2009. Since then, he's had only moderate success with the likes of Iyaz, Nicki Minaj and Mann, while second albums by Sean Kingston and Jason Derülo — only in part produced by Rotem — have done much less well than their first albums. Rotem is remarkably open about this state of affairs, even publicly expressing his surprise at being nominated BMI Songwriter Of The Year 2011 during what he calls a "dry period".
"I think I'm at my best when I'm in an open and very creative state working with a new artist," comments Rotem, "and we've not found someone to get really inspired by in that way recently. I also am at my best when I'm in album mode, and in the studio with an artist every day for a length of time, rather than being with them for just two days and the artist then going to another producer. That's not my ideal creative process. So when we're working on a first album with an artist, that's an ideal situation, because the artist is hungry and not many people know about them and the whole process is very self-contained. We go into the studio every day in an old-school way, just like Quincy Jones or George Martin would have produced entire albums. But with both Jason and Sean, working on the second album was very different than working on their first, and truthfully, not one I found very enjoyable. When it comes to recording the second album, it means the first one was a success, and now everybody knows the artist and they want to spread their creative wings and they have lots of options and want to work with different writers and producers. There's a lot more pressure to deliver and the distribution labels also want much more creative control, and so you have many more cooks in the kitchen. The artist will often change the magic of the formula that got them where they are. That's been our experience with second albums, and frankly, Beluga Heights didn't have a lot of creative control over these second albums. We're now working on Sean Kingston's third album, and he now has a different attitude, and the way we approach it feels a lot closer to how we did the first."
One thing that Rotem & co can't control is the general downturn in the music industry. "There's no mystery as to why the music industry is shrinking. If you have the ability to listen to any song on YouTube for free, you're not going to purchase it, unless you want to listen to it when you're not in front of your computer screen. But even then you may decide to just buy the single, and not the album. In the past, if you liked a single, you'd be quite tempted to spend $15 on an album. Having said that, a select few artists, like Adele, have recently inspired people to go out and buy albums again, so from an executive standpoint, you gravitate towards signing artists who are not going to be one-hit wonders. A while back, if you felt that you could get just one hit out of someone, it could be worth signing him or her, but now, with all the work it takes to make or break an artist, you have to really weigh whether that's worth it. You now ask questions like: are they going to be the real deal? Are they going to sell albums? Are they going to do shows? Are they going to have merchandising?
"But streaming audio on the Internet has been very destructive, and I don't know where the future lies. It all depends on whether they will be able to figure out a fair and reliable way to monetise streaming. At the moment, the Internet and streaming are like the Wild West. It's very difficult to control and monitor and monetise anything. Of course, if you give people the choice of having a product for free, or to pay for it, they'll just get it for free, and I don't know how and when that will be fixed. Music isn't going away. There will always be a desire for music. It's just a question of how people are going to consume it. Right now, they are consuming it in new ways, and the industry and technology have not caught up with that yet. Obviously, for my own sake, and for that of many others who make a living from music, I hope that it does get figured out."  
Applying Auto-Tune and adding the "JR" tag are things JR Rotem does himself during production or mixing. He says, "These days, for most singers, Auto-Tune has become a very standard thing that they are used to hearing on their voice. Most singers want to hear Auto-Tune on their voice when they're in the vocal booth, even when they're singing in tune. They might not want it cranked up for a T-Pain-like sound, but they do want a little bit of it. In the case of Jason Derülo, his debut single 'Watcha Say' had a sample of Imogen Heap's song 'Hide And Seek', on which her voice has a vocoder-like effect, so we thought that Jason singing through Auto-Tune would make the sound more cohesive. Of course, Auto-Tune also is a necessity for many rappers, for whom singing on pitch may not naturally be their forté. But we've used Auto-Tune a lot less recently, and there are many songs on which I've not used it at all that have yet to be released. Music is changing. With the success of Adele, people are more open to organic things, more open to things sounding a little bit more natural.
"With regards to the JR tag, in hip-hop that's done by many DJs and mixers, and I liked the way it sounded, from a sonic perspective. Sometimes it's not appropriate, like when I did Leona Lewis' 'Better In Time'. It's a piano ballad and it would be very distracting to hear a DJ-style tag in a song like that. But it works well with a lot of the more hip-hop orientated songs. Also, in today's day and age, when people are no longer buying albums and are not reading liner credits, I wanted to figure out a way of branding myself. All these kids buying tracks on iTunes obviously know the name of the artist, but they often have no idea about the production. I wanted to find a way to make it very identifiable when listening to something who produced it. But I probably haven't used that tag very much in more recent stuff."
JR Rotem switched from Cakewalk's Sonar to Pro Tools around the same time as his move to Chalice Studios, but still has a soft spot for his early DAW. "When I listen to the beats I made in Sonar, they still sound fatter and warmer than the sounds in Pro Tools. I don't know whether it's to do with the programs' respective algorithms or the MOTU soundcard I used with Sonar, but there's a warmth and punchiness in Sonar that I have not been able to replicate in Pro Tools. I try to compensate with all sorts of analogue sound simulating plug-ins, and it's not a day-and-night difference, but I cannot tell you that Pro Tools sounds better. I also really enjoyed the creative process in working with Sonar, and continue to look back on it very fondly. Switching from Sonar to Pro Tools was a lot of work. I had to export every single audio file from Sonar!
"I'm still working with Pro Tools, so the good outweighs the bad. It is obviously a way more professional and stable program that's capable of doing many things that Sonar can't, and most of all, it's the industry standard. Because of that, there will always be a stage when I'll be working with Pro Tools, particularly when recording vocals and mixing, and it's easier to just stay in one program, as opposed to starting a song in one program and then having to move it over to Pro Tools. These days, when I begin work on a track I basically sequence everything I do in MIDI in Pro Tools. All my keyboards are connected to Pro Tools via MIDI, and I have a template with all my soft synths. Once I have recorded all the soft and hardware synth MIDI parts, I'll get my engineer to render all the MIDI data into audio, after which I'm dealing with audio clips and I will continue to build the track up and mix it at the same time. In this process, my MPC2500 is just a module with drum sounds, and doesn't function as a hub for anything."