Photo: Jason Martinez
With an extraordinary track record as producer, songwriter, musician, mixer and remixer, Mike Dean is a one‑man music industry.
"I could not imagine being just a mixer, and all you do every day is to mix, mix, mix. I would go crazy. Instead, I mix a little, I produce a little, I engineer a little, I master a little, and so on. It's good to keep things interesting. It keeps me from getting Alzheimer's. It keeps my brain active!"
While Mike Dean's list of his activities may already sound quite impressive here, a cursory glance at his track record makes clear that he's in fact dramatically understating what he is up to. Wikipedia simply has him down as a "record producer" to distinguish him from Mike Dean, the Premier League referee, while others have called him "hip‑hop's biggest stoner". Some would argue that being constantly stoned makes it harder to keep one's brain lucid and well‑balanced, but in Mike Dean's case, the only thing that's crazy about him is the spread and scale of his activities.
In addition to the above, he's also an artist, songwriter, guitarist, keyboard player, composer, remixer, plug‑in designer and more. Dean's credit list on Allmusic has an astonishing 1750 entries across a wealth of different genres, including hip‑hop, trap, pop, computer music, heavy metal, prog rock, film scoring, symphonic rock and so on. In short, Mike Dean may be the single most multi‑faceted and busy man in the American music industry. He manages all this because, he admits, "I'm a workaholic, a little bit, yes. But actually, I work really smart. For example, I mix quickly. I may later go back a couple of times for 30 minutes each, but that's it. And I don't use templates. I start with the session as it comes. You don't want to reinvent the song. As a producer I understand that."
When asked what he considers the highlights of his long and varied career, Dean selects just two projects out of thousands. "I particularly like what we did on Scarface's The Untouchable album [1992], and on Kanye's My Beautiful Dark Twisted Fantasy [2010]. We were in Electric Lady Studios for a few months for the latter album, working around the clock. Those were some of the best sessions I can recall."
Mike Dean had his hands all over both albums, with his credits on Dark Twisted Fantasy consisting of bass, cello arrangement, composer, engineer, guitar, keyboards, mixing, piano, producer and soloist. The album was enormously influential, winning a Best Rap Album Grammy Award, coming in at number one in dozens of Album of the Year and Decade polls, and going platinum in the UK, the US, and several other places.
Dean is best‑known for his long association with West (now Ye), which began in 2002, when, recalls the protean producer, "Kanye first came to my house in Houston, where I had my studio, to do his first mixtape. In those days everybody flew there to work with me." The mixtape was called Get Well Soon, and Dean has played a part in the making of almost all West albums to date, including 2003's The College Dropout and Graduation, Late Registration (2005), Watch The Throne (with Jay‑Z, 2011), Yeezus (2013), The Life Of Pablo (2016), ye (2018), Jesus Is King (2019) and Donda (2021). In many cases Dean had a very central role, and he earned all his five Grammy Awards through his work with West, including Best Rap Song for 'Ni**a In Paris' (2011).
Dean comments: "I'd say that Twisted Fantasy and Pablo are my favourites of the albums I did with Kanye. However, I can't discuss how I work with Kanye. His process is his story to tell."
The fact that West does not allow his collaborators to talk about their work with them is a loss to the world, as there surely are endless fascinating stories to disclose. At the time of the interview, West and Dean were still hard at work on Donda 2, but all the latter will say is, "We're back at full speed! Firing and hiring engineers every day!"
The story of how Mike Dean went from an unknown Texan to someone who helped reinvent hip‑hop, trap and pop music, and who now is on his way to becoming the next synth god (see box) starts in 1965, when he was born, in his own words, "in the middle of nowhere". It was, in fact, not far from Houston, Texas. He tried his hand at saxophone, piano and bassoon at a young age, became a serious classical piano player and was part of the school orchestra. In his teens he graduated to playing hard and prog rock in school bands, and also soul, funk, blues and country in cover bands.
Still a teenager, Dean was invited to join Parliament‑Funkadelic when their keyboard player Bernie Worrell left to join Talking Heads, but instead he chose to play for local group Selena y los Dinos, because, he recalls, "It made more money!" He became the group's musical director, and also acted as a producer for singer Selena while she was still a young girl, before quitting in the mid‑1980s.
Dean continued working in piano bars, and in the late 1980s was a member of a local group called Def Squad, in which he tried samplers and drums machines, and started making hip‑hop. He connected with the new and local label Rap‑A‑Lot, and ended up being mentored by the label's producer John Bido. Through the label, and using his ever‑growing skillset, Dean ended up becoming one of the key people in the development of Texas rap, helping develop what's called Southern Rap, aka the Dirty South sound, and working with artists like Scarface, Geto Boys, Do Or Die, 5th Ward Boyz, UGK, Tha Dogg Pound and many more. Two albums by Scarface that he co‑produced, The Diary (1994) and The Untouchable (1997), went platinum.
Around the turn of the century, Dean moved to New York, where he opened a studio called Dean's House Of Hits. This, he says, "was in my apartment, and kind of crazy. But all my studios have always been in my house, where people come to work with me." In 2002, while both working on Scarface's album The Fix, Dean and Kanye West met and it ignited their long‑standing collaboration. Dean has since opened a studio in Los Angeles, and has worked with an astonishingly wide variety of artists, including Travis Scott, Kid Cudi, Beyoncé, Jay‑Z, Madonna, the Weeknd, Frank Ocean, Travis Scott, 2 Chainz, Nas, Christina Aguilera, Selena Gomez, Gorillaz, Pop Smoke, Burna Boy, Lana Del Rey, FKA Twigs and many more.
Dean operates under the motto, "Producers should never get stuck in time. They should always be time travellers living in the future." He also often uses his DJ name MWA, an abbreviation for Mexican Wrestling Association, and he started a label under this name.
Dean operates under the motto, "Producers should never get stuck in time. They should always be time travellers living in the future."
Today, Mike Dean has a studio in Houston and two in Los Angeles, where artists apparently like to visit. "Madonna drops by every couple of days. She is always fun. I just mastered a compilation of 51 of her number‑one dance hits. We're also working on some remixes of 'Frozen' and we do remixes of remixes. And we're writing."
Spreading his wings still further to collaborate with mostly female pop singers, Dean previously worked with Madonna on her albums Rebel Heart (2015) and Madame X, and with Lana Del Rey on the song 'Wildflower Wildfire' from her most recent album Blue Banisters (2021), which he co‑wrote, co‑produced, mixed, mastered and appeared on.
"Lana lives close to my studio, and also drops by regularly. The session we did for her album was interesting. Lana came over for a day or two, with a rough idea of what she wanted to do, and we worked on the song, on the chords, and got it all together. We worked in a room upstairs where I have a piano, and she sang through the karaoke machine.
"We then recorded her at the same time with my Sony C800 and Shure SM7B, with no windscreen. The latter sounded better on her than the Sony did. In fact, Lana's whole history has been about using the SM7B. My mic pres here are mostly the Neve 1073, either vintage or BAE, and I have the Neve Shelford Channel in my B room. My compressor on the way in is the Tube‑Tech CL‑1B. That's it. I keep it pretty simple. Everything else is synths and guitars."
After recording Del Rey, Dean did vocal production, which, he says, was minimal. "She really did not need much vocal production. She sang the song through two or three times, no punch‑ins. I think we comped two or three lines. There also was some very minimal tuning with Melodyne. And that was it. In a situation like this, where you just do some minor pitch‑corrections, you want Melodyne."
Suddenly animated, Dean elaborates: "Have you heard of Christine And The Queens? We worked on her new album here. She does not use any Auto‑Tune or Melodyne. That's really nice. There is stuff out of tune here and there, but it is cool. Marvin Gaye was always 15‑percent flat. Imagine if he was in tune! He'd sound like a robot! Tuning can make singers sound very sterile. Sometimes I have two or three rappers on one song, and I can't tell the difference!
"I do a lot of vocal production myself. It's all part of the job as a producer. But vocal production has become a separate discipline now, and this means that many producers are just beatmakers at this point. They have to hire a vocal producer. But I've been doing vocal production since back in the old days. If a note was out of tune, we'd use an Eventide H3000 to pitch it down a few cents and punch it back in. It was manual vocal tuning, and it was fun. You had to really use your ears!"
There's a tone of disdain when Dean talks about modern vocal tuning, which is a little surprising as he was at the heart of some of the Auto‑Tuned recordings that had a major impact on the industry. "I used what we call 'the Heartbreak sound', which is Auto‑Tune and distortion [and a reference to West's 808s & Heartbreak album], for the first time when John Legend came in to do backing vocals on 'Jesus Walks' [a track on West's The College Dropout album]. John was really pitchy, and we put Auto‑Tune on him, set to zero, which sounded really cool and turned it into a talkbox kind of thing. That sound was a big step for everybody. It became a strong influence on the way singers use Auto‑Tune today, and also on the kind of chord structures that everybody uses."
Dean's misgivings about this aspect of modern technology, as well as his obvious love of analogue keyboards, suggest that he may be a bit of an analogue purist, but in fact he's clear that he prefers the minimalist modern approach to the hardware studios of old. "I like it more simple. I'm using the two new SSL UF8 controllers, in both my rooms, and I like them a lot. But that's it. Apart from the recording gear that I mentioned earlier, my hardware consists of the Neve 5060 Centerpiece 24x2 desktop mixer, SPL MixDream summing mixer, and I have two units of the McDSP APB16, and four units of the UAD Satellite [two Thunderbolt 3 and two USB Quad Core], and the Antelope 10MX Rubidium Atomic Clock.
"I have two Mac Pros with 384GB of RAM and 8TB hard drives, running Pro Tools, Ableton, Logic, FL Studio and sometimes Reason. I use Pro Tools for recording vocals, mixing and mastering. I don't do any creation in Pro Tools, because it has the most clunky MIDI environment in the world. I don't see how people can create in Pro Tools. I tend to do drums in Ableton, or in FL Studio if you want the particular sound of that DAW.
"Why do I use Pro Tools if I think it's so clunky? Well, the automation in it works a lot like that of an SSL desk, which I am used to. I also like the fact that the HDX stuff takes a lot of load off the computer, like plug‑ins and the playback engine. But I don't really use any Avid interfaces. I have one Antelope Goliath in Studio B, and two in my main studio, so I have 64 channels going out to my summing, and 32 channels of keyboards coming in.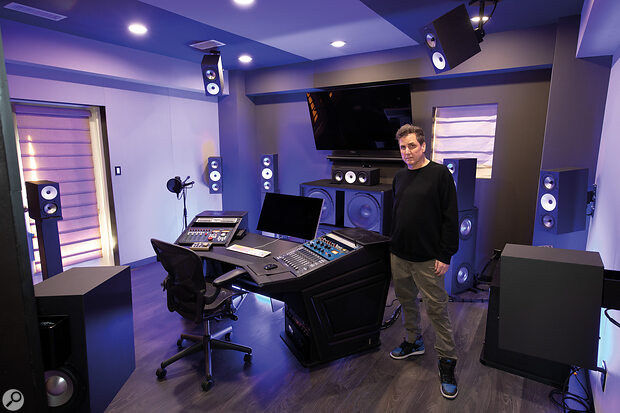 Mike Dean's B room is kitted out with an impressive Dolby Atmos mixing setup.
"My main room and my B room have identical gear, so we can easily move from one to the other. The main difference is that my A room has my keyboard, and different monitors, because my B room has an Atmos set up. I have Tannoy 215 monitors and Yamaha NS10s in my main room, and my B room has all Amphions, with Two18's at the front, One18s at the back, and 418 subs. I use my main studio to make beats and mix, and then I can take that to the B studio, and when I load it up the mix comes up the same. I then make the Atmos mixes in there from the stems. My monitor controller is the DAD MOM Monitor Operating Module.
"The Neve 5060s are at the core of my setup. They give you that Neve sound. They sound very similar to a Neve 8080 desk. You can push things through a half‑million‑dollar 8080 and then through the 5060, and the 5060 wins every time! The NS10s are also crucial to my workflow. I have eight sets of them, so I can replace woofers and tweeters. Plus I have six sets of Tannoy 215's. They sound like the NS10s with a couple of extra octaves at the low end."
Mike Dean: When I mix, I stay very true to the demo... For a mixer to take off the effects is just a waste of time. It is like buying a new car, and saying: OK, I am going to take the transmission out and then put it back.
During his entire career, Dean has preferred to work in his own studios, but this is now more the case than ever. "Mixing and mastering in other studios is fucked," he explains. "Nobody's rooms are tuned right any more. They are not maintained like they used to be. This started in the 2000s. But I still occasionally go to other studios. I went into a studio for a few days with Kanye recently. I just go in and catch the vibe. I'll watch him track vocals, and then I grab the files and bring them home, and I do all the additional production and mixing and mastering here.
"When I work on vocals, I use plug‑ins like the Avid D‑Verb and Waves H‑Delay. I particularly like the D‑Verb. It makes stuff sound like it's in a room, what else do you want? The Valhalla reverbs also are go‑tos. They are nice, and simple to use. I like Slate stuff, I like UAD, I like SoundToys, Plugin Alliance, Waves, and more. I have every plug‑in that you can buy, just so I can load everything that people bring me, and if I don't have a plug‑in, I will buy it. But I don't like stuff where I don't know what it is doing. And in general I like regular, stock plug‑ins. I don't use a lot of weird stuff.
"I push things through the Neve board when I'm mixing, which makes it sound really good, and I keep everything digital from there on. As I mentioned, I work very quickly, and when I mix, I stay very true to the demo. Producers sometimes work on demos for years. For a mixer to take off the effects is just a waste of time. It is like buying a new car, and saying: OK, I am going to take the transmission out and then put it back. Especially with the rap stuff, everybody has very specific vocal effects, which are part of their sound, and you want to respect that. And yes, I have specific plug‑ins for mastering, but I don't really want to get into them!"
Having arrived perhaps too close for comfort to discussing some of his trade secrets, Dean decides to sign off, but not before mentioning his a new solo album, which will be released in April this year, just like 4:20 and 4:22 in the previous two years. Tantalisingly, more news was not forthcoming, and fans will have to practice patience. The bong‑shaking synth god clearly likes to keep his fans' brains active as well…
A synth god in his synth Valhalla. Mike Dean's collection of modern and vintage synths is so huge that they won't all fit in his studio at once, but among the classics visible in this shot are multiple Moog instruments including a Memorymoog, Minimoog and Voyager, a Yamaha CS80, ARP 2600 and Roland Jupiter 8.
At the age of 56, Mike Dean is aiming for a career change. He wants to become, in his words, "a synth god", similar to Jean‑Michel Jarre or Rick Wakeman, playing solo concerts to huge audiences the world over. Dean famously is the owner of 50‑something hardware synthesizers, and, as evidenced by YouTube videos, likes to play several at the same time, with a joint between his lips, smoking so furiously that he creates his own theatrical smoke effect. The music is smoking as well. His first major releases in his 'synth god' persona were his studio albums 4:20 (2020) and 4:22 (2021) and his live album Echoplex (2021).
The first two of these, recorded at his Los Angeles studio, were in part the result of the pandemic, as they contain compilations of some of his Instagram live‑streams, with Dean mostly improvising. Dean calls the music "a psychedelic symphony" and it's best listened to in a very relaxed, or, one could say, very stoned state of mind.
"Yes! Becoming a synth god has always been there," enthuses Dean. "It's something that has been building over the years. I'm also a guitarist, and I play guitar and synths live with Kanye and Travis Scott. Lots of my records have guitar, with solos and crazy tones. I play lead and rhythm. When I did a show with Kanye last month, the guitar was screaming through the whole thing. But with every album, I turn the synths up a little bit more, and now with my solo albums especially there are tons of synths, even as I also play some guitar. My ambition is to be a solo artist more than a producer, even as I'll continue to do production as well."
Dean now has too many classic keyboards to fit in his studio at once. What's the attraction of having that many synths, given that they are heavy to lug around, take up space, can go out of tune and malfunction in other ways, may need MIDI fitted, and in general require a lot of maintenance? (Dean's keyboards are maintained by Rosen Sound, "LA's pro shop for analogue synth repair and restoration.")
"I have about 50 keyboards. All of them have been upgraded to work with MIDI. They give me real sounds. They sound far better than soft synths. I just spent $15,000 on an ARP 2600, and it sounds so good, it paid for itself in a week. It has nice, warm distortion and wonderful oscillators. I have the Behringer clone and it sounds terrible, and the Arturia version, and while it sounds good, it doesn't sound like the real thing.
"I also just spent $50,000 on a Yamaha CS80, and it sounds great, and nothing plays like it. Nothing has the same polyphonic aftertouch. I also bought a Roland Jupiter 8 this year, for $20,000. People talk shit about these instruments. When you have one, you can hear the difference with the imitations. The fact that the real synths are sometimes out of tune is what makes them so cool. It's funky. It gives them character! I also use soft synths a lot, I'm not against them. But soft synths are like singers with Auto‑Tune. They sound very sterile."
Dean is particularly a fan of Moog synths, and explains: "The Moog synths I use the most are the Matriarch, the Grandmother, and the Voyager for my signature bass sound. I have been to the Moog factory a few times, looking at prototypes and trying things out. The Voyager, Juno 106, Korg Triton and two laptops are my core setup live. One laptop is for playback and the other for sound sources, like my guitar sounds and stuff like that. But when I work in my studio in the box, I use mostly samplers, like Native Instruments Kontakt, and I also use a lot of Arturia stuff, for organs and so on."