Silken Ladders
Everything about this is pretty: the songs, the sound, the name, and — prettiest of all — the cover. We don't get many albums sent to us with tigers on the front, and that's a great shame. More tigers please!
Tigers aside, this is a very skilled piece of work, and it shows that, as they point out, it was a real labour of love for all involved. At its core it's gently played acoustic folk, with plaintive vocals and the odd well-chosen accompaniment, such as cello, flutes and accordions. More than that, though, there's a sensitivity towards songwriting that's refreshingly uncommon. Not the melodies themselves, perhaps, but the arrangements. The harmonies and guitar accompaniment feel very Simon & Garfunkel-inspired, though there's a nod towards more recent trends as well. This is particularly evident in tracks one and six, the latter using cello phrases and held accordion chords.
While the instrumentation is perhaps more in the English style, there are elements of American folk creeping in that occasionally give it that quirky, "wasn't this on the Juno soundtrack?" quality. All in all, this is a lovely piece of work, well worthy of praise and success. Nell McLeod
Rake Wickman
Possibly the most engaging things about this album of ambient electronica are the puzzles presented by its title and the artist's name. I can shed no light on the latter, but Wikipedia tells me that the Suur Toll is a famous icebreaking ship, which saw service with various Baltic nations before ending her days as a museum exhibit in Estonia. Rake Wickman, whoever he may be, has devoted his 45-minute concept album to evoking key moments in this ship's career through the medium of unsurprising synthesizer programming.
Any resemblance to Journey To The Centre Of The Earth, or The Myths And Legends Of King Arthur And The Knights Of The Round Table On Ice, is passing in the extreme. Instead there are, as you might expect, a lot of ponderous swells, glacial pads and metallic clanging noises. There is also, as you might expect, precious little for the milkman to whistle as he drops off your Gold Top of a morning. Much of it is largely textural, apart from a few welcome moments where Rake stirs himself enough to introduce a drum beat. If his aim is to communicate that the tedium of life on board an ice-bound vessel is only rarely punctuated by drama, then for me, he has perhaps succeeded a little too well. Sam Inglis
https://soundcloud.com/rake-wickman
21st Sentry
21st Sentry are not new to the pages of SOS, having appeared in 2003 in our gone-but-not-forgotten Demo Doctor column with the accolade of 'Top Tape'. What our reviewer then picked up remains today, which is that this duo doesn't mess around with long and tedious intros; they get straight down to business. It was made to be heard on the dancefloor, after all, and people are only there to do one thing (in the clubs I've been to, anyway)...
This is an incredibly catchy and danceable album with such attitude and style that you just want them to be your friends. Kris Kristiansen and Michael Devin started out on their apparently intergalactic journey way back in 1992, so they've got their formula pretty much sorted by now. They put this together with one living in Liverpool and the other in San Francisco, and the result is amazingly slick and fresh-sounding techno and house. My only criticism was going to be that they'd missed an apostrophe in the title, but then I realised I'd gotten the title wrong and I found myself liking it even more!
Well done chaps, you've woken up this dreary Wednesday afternoon considerably. Nell McLeod
Angels In The Architecture
Angels In The Architecture are the brainchild of one Simon Paterson, who pens a superior blend of singer-songwriter material which often hints at jazz and world-music influences. With Simon's fine singing, guitar and piano playing backed by upright bass, drums and trumpet, this is music that shoots for the 'classy' bracket and gets nearly all of the way there. He's had the sense to hire a well-known engineer, Colin Elliot, to track the album, and the basic recordings and performances are excellent.
However, Simon has taken charge of the mixes himself, and I'm not quite sure they do justice to the band or the material. Everything is brutally loud and much of it heavily compressed, to the point where even a delicate ballad like 'A Real Thrill' is marred by obvious distortion, and Simon's breathing is sometimes louder than his words. His other production decisions have mostly been spot-on, so it's a shame he couldn't have treated things with a lighter touch here. A 'high resolution' master is available from www.fdrhd.com, but I suspect that it would take a remix to undo the damage. Sam Inglis
Jon Durant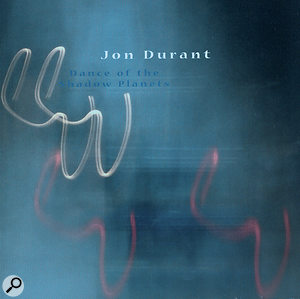 Jon Durant makes ambient instrumental music that rarely seems to top 100bpm. Repetitive but satisfyingly tuneful bass lines roll along steadily throughout, keeping in check the regular appearances of electric violin, guitars and percussion. This isn't the most eclectic of albums, so it was a wise move to bring really skilled musicians into the project. What really makes this is Jerry Leake, hitter of exotic drums. While Durant's compositions are driving and well crafted, albeit in the highly ambient style of nothing-much-happens, it's Leake's playing that really adds interest to each track. And it's this that kept me listening past the second, simply to see what he'd do next.
While I'm not sure how this would fit into my strictly timetabled music-listening schedule, I do think it's a good piece of work. I suspect, though, that being so laid-back, and featuring such gently played instrumentation, it risks being forgotten outside health spas and acupuncturists' waiting rooms. Nell McLeod
The Cat & Cage
Words will never be able to convey to you the sheer bonkers-ness of this album. It starts as it means to go on with a cheeky a persistent bass and rather aimless — if actually quite musical — piano line. Add to that electric piano, synth plucked strings, the odd bell, a hiss, a squawk, and sampled, haunting voices and you get about 10 percent of the happy chaos that is this album. I couldn't begin to count the number of random noises and unexpected virtual instruments that crop up from time to time on Evidence Of Absence.
Still, and you'll have to take my word for this, the madness displayed here is the happiest I've ever encountered. As my colleague David Glasper just put it, "Imagine Mr. Toad bought himself a recording studio." By this description I'd never listen to this album. But I did, all the way through. Nell McLeod
Al Fleeman
Another dose of instrumental electronica courses slowly through my headphones, this time owing more to Jarre and Vangelis than to Aphex Twin. Al Fleeman's album comprises nine pieces inspired by the Argyll environment in which he works, many drawing on the Celtic folk tune he references in his title, and each explained in a pretty and concise fashion in the sleeve notes.
Al is clearly an able composer and musician, who appears to be working mainly with programmed material. This is arranged and mixed effectively, though I can't say I share his taste for dated synth leads and cheesy brass. However, I often found myself wondering whether Al's approach really succeeds in capturing what he's after. The reliance on electronic sound sources serves to cut the music adrift from its geographical location, and as a result, it never really puts across any sense of place or community — which is a shame, considering that Western Scotland has such a rich folk heritage to draw on. If you'd told me it was about a retail park in Crawley, I'd probably have believed you. Sam Inglis
Music To Drive Tanks To
If I had to choose some music to drive a tank to (here's hoping that civilisation doesn't crumble so badly that people look to feeble and girly music reviewers to save the day) I think I'd probably choose something loud and crashing. Something that either stirs the soul and prepares the mind for combat ('Ride Of The Valkyries', for example) or something that really puts the wind up those I was driving it towards. What I probably wouldn't choose is pop, electronica or indeed an upbeat fusion of the two. At best, that'd go on the 'maybe' pile.
This particular incarnation of the pop-electronica blend is catchy enough, and well produced, with nice songs that I wouldn't ask to be turned down in a restaurant. The vocalist can hold a note in tune and has a rock quality to his voice, which is enough of a move from the electronic elements of the record to keep things interesting. The album as a whole becomes more rocky as we go along, though I'm not sure how intentional this is.
There's nothing particularly surprising about this album, and maybe that's the problem. It may seem that I'm making too much of the title, but the point is that the band have chosen a title which pinpoints exactly what this album is not; it highlights what is lacking here, not what's there. If your instant reaction is "Wow, I wouldn't drive a tank to this!", you won't necessarily strive to find times when you would listen to it. Nell McLeod