Aaron Dessner & Jonathan Low: Recording Sleep Well Beast
Engineer Jonathan Low (left) and guitarist/producer Aaron Dessner (right) at work in Long Pond Studio.Photo: Graham Macindoe
A move to the country led the National to rethink their recording process and embrace studio experimentation as never before.
Six albums into their 18-year career making dark and inventive art-rock, the National decided to shake up their creative process for their seventh, Sleep Well Beast. Having formed in 1999 in Cincinnati, before relocating to New York, singer Matt Berninger, twin guitarist brothers Aaron and Bryce Dessner and non-twin brother rhythm section Scott and Bryan Devendorf were all now living in different parts of America and Europe. In addition, Aaron Dessner, their chief producer, had decided to leave behind his Brooklyn home and garage studio space, which the band had used for tracking key parts of their previous albums.
But Dessner had a grander ambition in mind: to build a much larger recording studio from scratch in the grounds of his new house in upstate New York. "A few years ago I realised I was done living in big cities," he says. "So the idea was to create a place where the band could gather together, whether to rehearse or make new music."
The period from Autumn 2015 to Spring 2016 was spent building this idyll in a rural spot 10 miles from Hudson, New York. It's named Long Pond, after the spring-fed pond that the facility overlooks. "We're surrounded by organic farms and mountains," Dessner says. "At night there's coyotes that come down and drink from the pond, and there's wild turkeys and bobcats and all kinds of deer and crazy bird life. It's only about two hours away from New York City, but you kinda feel like you're on vacation. It's fun to play music in there, 'cause there's these large glass doors and a big picture window and you're just looking out at nature. Every season is beautiful out there."
When Aaron Dessner first looked around his 18th Century farmhouse property to find a likely location for the studio, he began to zone in on the space where its barn was situated. Knowing that it was too small to house the studio he envisaged, he decided to dismantle the barn and reuse the materials as part of the new construction.
"There were some issues," he says, "because the land had to be shaped a little bit to do it. We had to basically cut off half a hillside and take down a lot of trees, which was sort of sad. But we basically reused everything that we could, which was probably 90 percent of the barn. We used the wood, and even the tin roof became the siding of one side of the new studio. The floors in the upstairs of the barn, the walls in the bedrooms and the staircase are made from the rafters of the barn. But then the actual studio space looks and feels very new, because the floors are concrete with radiant heat. They call it an Alaskan Slab because there's no actual basement."
The main Long Pond space is over 2000 square feet in size, comprising one large, two storey-high, open-plan live/control room with vaulted ceilings and isolation booth. The remainder of the building is given over to a lounge, kitchen and two bedrooms. A local contractor oversaw construction, working to plans drawn up by studio designer Jeff Hedback of HdAcoustics. Also heavily involved from an early stage was engineer Jonathan Low, who'd first worked with the National on their previous album, 2013's Trouble Will Find Me.
"I ended up moving up to the Hudson Valley once construction started in the Fall of 2015," says Low. "I was involved in scaling Long Pond up into a much larger version of the garage in Brooklyn. One of the main features of the room that we kept from the garage is this wood slat diffuser pattern that's on every wall surface. That's a big part of the vibe of the visuals of the room. It's all made out of cedar, so it just has this wonderful earthy smell when you walk in that was really familiar from the garage. It helped a lot with controlling any sort of reflections and liveness of the room."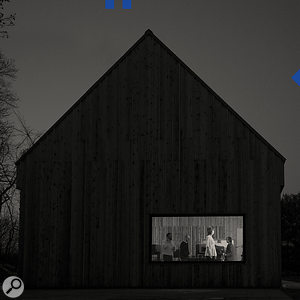 Long Pond studio, exterior view.Low says that one of his main goals during the building of Long Pond was to create a space that felt open. "There is a huge picture window on the opposite side from the mix position," he says. "So there's a ton of natural light. You don't really feel indoors while you're working in that space, which is pretty rare for a recording studio.
"I guess the biggest struggle is monitoring [because there is not a separate control room]. We were kind of used to that in the garage already, so there was a little bit of a recording and listening back process to make sure that everything was capturing the way you wanted it to. If it was loud enough of a source, you were able to run the monitors at a low level.
"It's a big space, so obviously you're gonna have to control certain things. The glass is obviously reflective, but it makes it such a more pleasing place to be, especially if you're working, like, 12- or 14-hour days. So there are trade-offs with not having a live room and having a ton of glass. Just keeping everyone feeling good and comfortable and not necessarily like you're in this box. You have a sense of time, y'know. How you're progressing through the day."
Another key factor in the design was that Dessner and Low wanted Long Pond to be wired with audio, MIDI and USB conduits throughout, so that every part of the facility could be used for band members to record or program in. "You can be anywhere and plug in and be recorded," says Dessner. "That enabled everyone to have their own little work space and be contributing, even if it's not like, 'Hey, it's your turn to play the guitar.' When we work everyone is fully miked-up and connected up, whether people are doing MIDI or just tracking instruments. That was a nice feeling for the band, being in our own space, not on the clock. It allowed for a very flexible, open, collaborative environment."
Long Pond is configured as a single large space without a separate control room, enabling the band to lay down live takes as a unit. Aaron Dessner (foreground), twin brother Bryce (rear right) and bassist Scott Devendorf show off the ample natural light in the recording area.Photo: Graham Macindoe
When construction on Long Pond was completed, Aaron Dessner and Jonathan Low sat down and began discussing how to build upon the gear setup they'd had in the Brooklyn garage studio. Central to this was the National's Toft Audio ATB-16 desk, which is used mainly for monitoring. "I guess the big gear thing initially was just to beef up the Pro Tools system so there's more I/Os, and just beefing up the headphones situation, so you could have five people playing all at once in different zones and everyone getting their own mix."
For monitors, Dessner and Low chose a pair of ATC SCM45as to fill the larger space. "Some of the most incredible speakers I've ever heard," Low enthuses. "I feel like that had a really great impact on how we made this record. Just the fact that we were able to hear things so clearly right from the beginning. Right from the source, everything sounded the way we needed it to on the way in. You could crank up the ATCs in this huge space and everything just stayed very clear. You could make a decision pretty much instantly on whether something was the right miking situation, the right chain, or the right instrument."
"The ATCs just felt like a real step up for us," says Dessner. "One of my favourite parts of the process was realising that exactly what you were hearing in the room translated outside of the room. That's not how I've worked in the past because it's always been trial and error. To finally have this space where what you're hearing is accurate really increased our ability to get results."
At the front end of the setup, the outboard workhorses at Long Pond are a pair of Neve 1064 preamps, a 'silverface' UREI 1176 compressor and a Lisson Grove AR-1 tube compressor. When the National arrived at the studio for the first session in April 2016, the chief task for Low was to experiment with different recording chains and microphone configurations in the new space. Initially, it was decided to set up drummer Bryan Devendorf's 1960s Slingerland kit in the isolation booth, but it rarely stayed there.
"The bulk of the sessions that made the record he ended up in the big room," says Low, "where everyone kinda felt the drums hit them in the chest. Bryan is a loud drummer, but he's incredibly easy to record because the way that he tunes and plays the drums, within two hits you know it's Bryan."
In addition to tuning, Devendorf spends a lot of time dampening his drums to various degrees for different songs. "He's always carrying around scraps of T-shirts," Low adds. "He definitely errs on the side of more controlled, thuddier drums. On certain songs that were slower and more sparse we kind of let that open up a little bit, but for the most part they're very controlled and have a very distinct sound."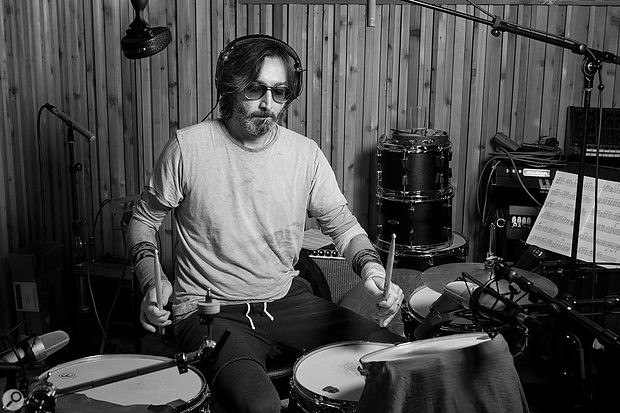 National drummer Bryan Devendorf frequently experiments with different ways of damping the resonance of his drums. Visible in this shot are the spaced pair of Schoeps pencil mics in 'Recorderman' array, and a Coles 4038.Photo: Graham Macindoe
For miking the kit, Low opted for a Telefunken M82 placed outside the bass drum, with a Sennheiser MD421 on the inside. A pair of Schoeps pencil mics were set up in the 'Recorderman' arrangement — one 32 inches above the snare, the second at an angle 32 inches to the drummer's right — while Shure KSM353 ribbon mics were used for stereo overheads, along with a Coles 4038. "The Shures were placed not so far out," says Low, "because the room already sounded pretty large. Once you compressed those, that gave you a lot of sense of space and excitement."
After the preliminary session with the band, however, it was clear that more sonic adjustments had to be made to the recording environment of Long Pond. "Each time the band came up, there was more to be done," says Low. "There were tweaks and improvements that we made with each of the full band sessions, like some more panels on the ceiling. We had these eight-foot gobos built. It was really an interesting learning time of tweaking the room to make it as pleasing as possible."
A further level of experimentation was added to Sleep Well Beast when Aaron and Bryce Dessner travelled to Berlin in September 2016 where, along with Bon Iver, they hosted the Michelberger Music festival residency involving over 100 musicians. In Studio 4 at the city's Funkhaus (a former GDR state radio station in the east of the city), they added spontaneous, improvisational layers to the tracks involving the likes of German electronic duo Mouse On Mars and Bon Iver's Justin Vernon.
"It was just a beautiful recording space," says Low. "Everything was so controlled. Just so many tube microphones. It was kind of like a playground. There'd be someone walking by with a drum machine, or a viola, and they would just come in and jam or work on this idea or theme. It was rapid-fire. That would happen 20, 30 times a day, and new ideas would hatch from that. Everything changed very quickly, only in a matter of four or five days."
"We wouldn't tell anybody the chords or anything," Dessner explains. "You got a lot of random interaction that way. Then I would go back after the fact and comb through all the audio and find little bits and little loops and little edits that I could make. I sort of gathered material that way. It's almost like field recordings, but slightly more structured. It was a way to collect more subversive, less sympathetic, less harmonic elements. A lot of the more textural elements and kind of the sounds behind the sounds came from those sessions in Berlin."
The National pose in front of the pond that gives Aaron Dessner's studio its name. Left to right: bassist Scott Devendorf, drummer Bryan Devendorf, guitarist/keyboard player Bryce Dessner, singer Matt Berninger and guitarist/producer Aaron Dessner. From there, the project moved on to Paris and Les Studios Saint Germain for string and brass overdubs written by Bryce Dessner. In the past, the National had built up their orchestrated overdubs layer-by-layer using small groups of players. For Sleep Well Beast, they took the opportunity to record with a 20-piece string orchestra.
"The studio has a wraparound Neve [3188] console," says Low. "That was an amazing session. The arrangements that Bryce wrote, they were pretty full, top to bottom, just to cover a lot of bases. The strings were then mixed down into stems or stereo mixes. The day after the string sessions we went in and contextualised everything."
"We needed to get the sounds in a more natural way," adds Dessner, "and be able to place them better. But then I think given the nature of the album and the experimentation, we also wanted to mess it up and play around with those sounds, putting them through various filters and re-amping."
A useful tool for manipulating the orchestrations was Oto Machines' 8-bit effects and analogue filter, Biscuit. "It does a lot of bit-crushing and synthesis sort of effects," says Low. "A lot of aggressive filtering, a lot of distortion, and everything is very interactive. It was just running full stereo parts of the strings and the horns through there and kind of like shrinking their size down a little bit, but in an interesting way, so that it would fit in and not necessarily sound like the most beautiful string arrangement in the middle of a rock band. On top of that there was a lot of processing done with running the stems through a two-track tape machine for a little bit of saturation and colour."
"Nothing is really sacred," adds Aaron Dessner. "Something can be beautiful and uneasy at the same time. I think you hear that all over the record. There might be this very beautiful song, but there's kind of this queasy underbelly to it or something. That was the tension we were searching for."
While many of the tracks on Sleep Well Beast are nuanced and layered, one or two were basically recorded live, not least the full-on rock of 'Turtleneck'. "Everyone was in the big room with the drum set and Matt was placed in the living room area. He was screaming his head off in the other room while everything else was tracked all at once. What made the final mix was that live recording of the band. Matt redid the vocals, but there were pretty minimal overdubs on that song, so that was a special moment, for sure."
Singer Matt Berninger with a Telefunken USA U47 mic in one of the booths at Long Pond; some of his vocals were tracked here, but others were recorded in his LA home.Photo: Graham MacindoeRoughly half of Matt Berninger's vocal takes were captured at Long Pond, while the rest were recorded at his home in Los Angeles, using a modern Telefunken U47 into a Neve 1073 pre-amp and Universal Audio compressor, into Pro Tools running on a laptop. "He kind of likes to be at home when he's working," says Dessner. "He has a little setup with a UAD Apollo and Pro Tools, although he mainly uses GarageBand to write, just singing into his computer microphone. Mainly he sings through a U47. The thing with him that can be difficult is the dynamics, 'cause he sometimes goes from a baritone whisper to a screaming yelp in the same song. So you have to watch and ride the gain and the compression."
Once most of the tracking was done, the National invited their long-time mix engineer Peter Katis to Long Pond as they moved into the final phase of the album. "Peter's known us since almost the beginning," says Dessner. "What we love about him is he doesn't settle. He's unwilling to accept something before he feels it's as good as it can be. That's really helpful for us, 'cause at the point where we were ready to mix, we'd been working on it and circling the vortex for so long.
"I get lost in the details, and it's helpful to have someone who we know so well and who's such an audiophile to come and sort of say, 'Guys, this is not good enough,' or 'Guys, this is great.' He's an amazing engineer but he's not listening with a cold mind. He wants to be affected by the emotion in the music, so if he feels something is lacking, he tells us and then we keep working. The recording doesn't stop when Peter gets there."
In contract to previous albums by the National, where the signature sound was foggy and layered, for Sleep Well Beast Aaron Dessner was striving for clarity and definition. "That also had to do with how we built the studio and the monitors we chose," he says. "It was just wanting to be able to hear the intention of everything and how it's working together. Sometimes Bryce and I like to create these kind of webs of guitars or synthesizers. But I think this time we kinda moved back toward something more singular. A lot of the time it was just one guitar."
In addition, surprising Jonathan Low, the mixing for the record was all done in the box. "That was a bit of an experiment for both Peter and I," he admits, "and I think it turned out really great. We used a lot of the UAD EMT 140 plates, a lot of [SoundToys] Echoboy and I think a little bit of the Valhalla Vintage Verb made it on there as well as some Altiverb."
By far the hardest song to mix was the track that was to be released as the first single, 'The System Only Dreams In Total Darkness'. "It wasn't so much because of the sound of it," Dessner points out. "It was just getting it right. There were a lot of options in terms of the arrangement, and particularly the drum arrangement. There were a lot of different ways that song could go. There was a string orchestra, and [experimental New York quartet] So Percussion had done this elaborate arrangement of it. Y'know, I could create 100 versions of that song and I think I'd probably like about 50 of them [laughs]. Then Matt kept rewriting the lyrics. So I would say that song actually took up probably 90 percent of the mixing process."
Elsewhere the deceptively simple-sounding rocker 'Day I Die' nearly didn't make the album at all, until Dessner remembered a final take where some of the band members had swapped instruments. "We were sort of frustrated with the song," he says. "Originally I had played the main guitar riff, and Scott was on bass. We switched up, so I went to the bass and Bryce was playing the main guitar riff, and Scott was playing guitar. We'd never really listened to that take and then when I went back to it, I realised that actually we had kind of solved it. It became this more minimalist thing and less sort of thick, and it had something."
Listening back to Sleep Well Beast now, both Aaron Dessner and Jonathan Low are rightly proud of what they've achieved with the album. "It was awesome to experiment a little bit more with the palette," says Low. "It's the kind of record I really enjoy listening to, 'cause you pick up a lot of things over multiple listens. You can't necessarily tell what's making this sound or what's making that sound and it's just a really immersive world that these songs live in."
"I think for me this one really feels like an achievement," Dessner concludes. "I don't doubt it really. I don't know if that's getting older and being more confident, or if it's just having had more time to work and having built a world-class studio where I can really get sounds that we're happy with. But I can actually listen to it and enjoy it. I hear stories in each song of how they were made."
If there's a difference between the sound of Sleep Well Beast and the National's previous records, it's a deeper sense of experimentation and more electronic layers. "There's a lot more MIDI implementation on this record," says Jonathan Low. "Bryce will maybe be in the far corner running Ableton, clocked to our sessions. He'll be manipulating sounds but also adding new elements. He was using Ableton Push [hardware controller] a lot. Nothing is ever really that static, everything is very interactive."
Keyboards and other electronic instruments feature more prominently on Sleep Well Beast than previous National albums.Photo: Graham Macindoe
Go-to keyboards and synths in the studio included a Vox Continental, Fender Rhodes, an M4000D digital Mellotron and a Prophet 6. Aaron Dessner, however, is pretty much wedded to his Teenage Engineering OP-1, which he used for everything from sub-bass to sampling guest singer Lisa Hannigan's voice to be used as choral washes throughout the album. "Lisa's voice is a vocal sample on multiple tunes on this record," says Low. "It's a pretty abstract sound that you can't really put your finger on, but it still sounds very human-like and performed."
"Over the years the OP-1 has become intuitive for me shaping sounds," Dessner says. "I love the drum machine and what you can do with different sounds and sampling other textures. I would say nine times out of 10 I get keepers whenever I open up a line to the OP-1. Things happen and that's not the case for a lot of other synths. The results are kind of amazing and I still haven't exhausted its capabilities. Songs like 'I'll Still Destroy You' or 'Sleep Well Beast', those were written on an OP-1 and then I added things later to develop them."
Another key synth, heard providing the pulses for 'Walk It Back' and 'Born To Beg', is the Korg MS20. "That was so key to a lot of songs," says Dessner. "Bryce and I did the part on 'Walk It Back' together, which is a pulse going into the MS20. Bryce is playing the notes and I'm manipulating the sound."
Bryan Devendorf also likes to experiment with beatboxes to augment his drum parts. "He's really fond of the Korg Volca Beats," says Low. "We also use the Roland TR-8 a lot. Watching him program those is really fun because he kind of performs and changes things in real time. There are actually a lot of variations in his drum programming done on the fly."
Aaron and Bryce Dessner's guitar setups reflect their different sonic styles. "Generally, Aaron likes a little bit of a woollier sound," says Jonathan Low. "Bryce likes a bit more of a chimey sound." For Sleep Well Beast, Aaron Dessner switched between a 1963 Fender Jazzmaster into a 1959 Fender Champ, and the same guitar or a late-'60s Fender Telecaster through a Music Man. "The Music Man combo I feel is kind of his tone," says Low. "It breaks up really nicely in the low mids."
Bryce Dessner's sound is typically more effected, and centres around either his brother's Telecaster or his own 1965 Gibson Firebird through an Electro-Harmonix Memory Boy analogue delay pedal and into a vintage Fender Princeton Reverb amp. "You'll hear him playing around with feedbacks using the Memory Boy," says Aaron Dessner. "He also uses an EQ pedal a lot to dial in specific tones for different songs."
Low mostly employed the Coles 4038 as the main microphone on the guitar amps. "If that got too woolly, especially on the Music Man, then I'd go with the Beyerdynamic M160, or a 414. Generally the guitar amps were close-miked, but if anything had a room mic on it, it would've been the U47 that was already out in the room. I would pull it up and see if that complemented the sound."
Meanwhile, Scott Devendorf's bass was always DI'ed. "On the record there's actually no bass amp involved," Low notes. "It's right into a REDDI tube DI and that generally goes through the Lisson Grove. If it's a more aggressive song, then it might go through the 1176."