Mary J Blige & Puff Daddy
Tony Maserati in Circle House Studios.Photo: Tony Maserati
Last year's Love & Life album saw R&B superstar Mary J Blige reunited with Sean Combs (aka Puff Daddy, aka P Diddy) and his Bad Boy production stable. Mix specialist Tony Maserati spent two months at Miami's Circle House Studios working on the project, and recorded his experiences in this unique diary.
Engineer Tony Maserati has been a long-term associate of both Mary J Blige and Sean 'Puff Daddy' Combs, having first worked with the pair on Blige's smash hit 1992 debut What's The 411?. When Blige returned to Combs' Bad Boy fold in 2002 to work on a new album, Tony was eager to get involved...
For several months leading up to my work on 'Ultimate Relationship', I had tried to reach out to some of the producers I knew who were working on the Mary J album. Later, while I was in Los Angeles working on the Black Eyed Peas project [Tony mixed the band's Elephunk album], I saw Heavy D at Record Plant Studios where I was camped out. After a big hello and some personal catching up, he let me know Puffy and Mary were back together making Mary's new record. The next day, without hesitation, I called Puffy's office and left a message to Puffy that I 'wanted in'.
That evening, while waiting for [Black Eyed Peas main man] Will.I.Am to arrive and help with rides on 'Latin Girls', my manager called and said "You're in!" It had been two years since I'd worked with Puffy and five since I'd worked with Mary. For all of us, a lot had happened in between, but I knew this combination had the potential to produce another classic.
Sean 'P Diddy' Combs helped to make Mary J Blige's 1992 debut album a smash hit, and Blige returned to his Bad Boy production stable for Love & Life.Puff was in the middle of explaining an idea to Loon, a rapper on Bad Boy, and writer Adonis when I walked in to greet him after a couple of years of being away from the Bad Boy world. It was certainly a great joy and perfect welcome to see a big smile on his face when I finally interrupted him to shake hands and say hello. We had worked for many years together on some classic records and this was very much like a homecoming for me. It was obvious he was as excited as I was. We had gotten together on the first Mary J Blige record back in 1991 so, although a good many years had passed, we were immediately in a comfortable place.
When I finally got a better look around Circle House Studio, it was clear that comfort was also what they're all about.
Circle House Studios offers clients the facilities to take advantage of the Florida climate.It's a studio built in the owner's home, and after a quick tour of the pool area and some more hellos, I went to visit my old friend and colleague, Rob Paustian [112, B2K, the Bad Boys II soundtrack, Beastie Boys, Brian McKnight, Celine Dion, Cyndi Lauper, Faith Evans, John Secada, Madonna, Mary J, Mr. Cheeks, Stevie Wonder, Usher], who was mixing in control room B.
Mixed 3-5 December by Rob Paustian; mixed again by Paul Logus
Rob had been mixing for a couple of days by the time I came to Miami. He and all his equipment are packed into control room B at the front of the building. The beat was hot and I knew right away it was a single. Studio B has a 72-input SSL 4000 with no moving faders. Eeow, that's a lot of VCAs. Rob's joint is so full of fun toys it is making me wonder if I'm stupid for not bringing my racks... Rob seemed to be heavy into it so, after briefly catching up, I let him do his thing.
Mixed 5-6 December by Tony Maserati
The power of Puff! He's got an uncanny knack for being able to finesse the truth out of everyone's soul. The first track I'm supposed to mix is a ballad, not what I would have chosen. But damn if it didn't make me get close to the project, as well as Mary's direction, faster than ever! The ballad put me through a workout, trying to make the heavily overdubbed vocals sound silky and sexy while keeping the rough, hip-hop sound that is Mary J.
I had walked into the SSL J9000 room at Circle House pretty sure I was going to have technical problems at every turn. Surprisingly, the in-house acoustical design was very usable, the room size sufficient and outboard gear not too far from what I was used to. So, time to go round the room and see what works and what doesn't, what's not where they say it is, and so on... Turned out, from owners and management all the way to the techs and assistants, the place was put together solid.
Speakers are usually my first fight and Circle House was no exception. The mains in my room were Genelec model 1035. Not my personal fave, but I had brought my Tannoy System 12 MkIIs. The wiring from board to amp and amp to speakers was a bit radical, so I had them pull all the extras and get me straight to my Tannoys. By that time, it was 4am, so off I went to my accommodation on the beach!
The SSL J9000 at Circle House.Photo: Tony Maserati
Mixed 7-8 December by Tony Maserati
The night I arrived, Puff and Mary were having a listening session that I sat in on. That brought me up to speed a little, but they'd only play a song for 16 bars then stop, talk and play another song — I never got to hear whole songs. 'Could It Be Love?' was one of the songs that stuck out, mostly for its ol' school, Mary J flava! I knew right then that I wanted to mix it. So far, no one had asked my opinion, and I wasn't offering, but I was taking mental notes.
By now, I had a better picture of what my surroundings were. There are three control rooms at Circle House: Studio A, B, and the Cabana House. I specifically wanted the SSL J9000 room, Studio A. In addition to the main rooms, Puff and the Bad Boy crew had put together writing suites in every available space in the house. Stevie J was upstairs in a small room equipped with a Mackie 32-input console and his huge array of keyboards. He made sure to have a pair of Tannoy dual 15s stuffed into the front of the room as well. A small Pro Tools rig was working overtime, recording writers round the clock, like a NYC taxi cab, never having time to cool down... hot all the time! The back bedroom had a small Pro Tools system and a rack of synths with a Triton keyboard as controller. A smaller Mackie mixer was being used for the simplest of rough mixes. As in all the writing rooms, there was a mic set up, usually a Neumann U87 or TLM170.
Carl Thomas and Loon writing a new joint in the back of my control room.Photo: Tony MaseratiI was getting to know the staff at Circle House, and managers Abebe Lewis and Lourdes Hersh had already gotten an earful of comments and 'needs' of mine. From the Bryston amp I use on my speakers to stealing outboard from the Cabana room, they were more than accommodating! My assistant, Steve Nowaczynki, is a Full Sail grad and hard worker, which I like. Bad Boy had the place so maxed out that the assistant from Studio B continually came through to our room for cables, discs and lots of whispering/negotiating with Steve about... assistant stuff.
My room also turned out to be Mary's choice for a lounge, which was great, but that didn't give me much time or room for goofin' off — not that there would ever be time for 'ear breaks', given the schedule Puff had worked out for us. I could have used a few breaks, because a huge challenge to my psyche turned out to be fragmented, improperly cared-for SCSI hot-swaps! Consequently CHS's chief tech and resident computer genius, Jose Cuves, became my new best friend. His task at hand was way too demanding: 65 hot swaps, 30 Firewire backup drives, countless DDS4 backup tapes and a different generation computer in every room!
Mixed 9-10 December by Tony Maserati
This song came together pretty easily, and within six hours, I was ready for comments from Puff and Mary. I was finally getting my groove goin' so it was with a stiff smile that I agreed when Puff and Mary asked (or decided!) to do some listening and eventually writing, recording, more recording and plenty of editing on a totally different song. I've learned to go with the flow when at all possible... so much for my groove, though this course change gave me a view into the selection process Puff and Mary go through when finding the songs for the album. These two people have a couple a' dozen hits each, but they still initially have to be moved and excited by a song before spending time on it.
Rob Paustian gettin' friendly with Mario Winans, with Frank Saracco waiting patiently to finish the overdub.Photo: Tony MaseratiWe had received a CD of the instrumental track the day before via Don Pooh, Mary's A&R guy from MCA. I witnessed their first reaction and, to both of them, it was a very personal thing. Puff seemed to know immediately that it was a smash but didn't let on to me. Mary was sitting in the back of the room and looked focused and stern. By the end of the track, Puff had walked out to let it resonate in the room. Mary listened again, but began a conversation with someone about something unrelated and, by the time Puff walked back in the room, it was like no one had listened to the new song at all. Finally, after what seemed like a long time, Mary quietly asked Puff what he thought about the song. "That's a big record," he said in a low voice. No jumping up and down, no patting each other on the back, just quiet satisfaction — though I'm sure both knew there was plenty of work to do to make it a Mary J classic.
I continued working at the computer while keeping my eye on both of them, waiting for something to identify their connection. Pooh was quiet as well, even though it was his footwork that got the track there for Mary to listen to. I played it again just to break the silence and pretty soon Mary was swayin' and coming up with melodies in a low voice from behind the credenza. It may not sound like much, but the electricity was high. I watched as the track looped and Mary and Mechalie Jamison came up with melodies and eventually lyrics.
We'd recorded the whole song, then Mary came into the room two days later with some new ideas that she'd wanted to put down. She is artful at knowing what's comfortable for her voice, but also impatient, and I felt lacking in my recording skills after solely mixing for the last several years. As she sang, I could easily hear the elevation in control and tonality that had occurred since the last time I recorded her more than eight years ago!
Mixed 12 December by Tony Maserati
An interlude that Deric 'D-Dot' Angeletti recorded in NYC and sent us via FedEx on the 11th. Mary heard it and was ready within minutes to add her ideas to it. With a mix and an edit by Puff, we were ready to print in four hours! Now that doesn't happen often!
Mixed 13 December by Tony Maserati
This is another classic-sounding recording, and I've done too many of these over the years to mess with the essence of this song. A loop creates a cool vibe and helps to lay down the rhythmic idea, then Stevie J added some keys and additional drums. I stuck to the formula, focused on Mary's performance, and everyone responded with smiling faces. Mary was happy that she heard things in the song she didn't hear before!
Mixed by Rob Paustian
Mixed 14-15 December by Tony Maserati
Damn! Some songs are just not easy. In this case, we started off really good and thought we had something knockin' in eight hours. Puff walked in, hopin' that my fire was still hot. Soon as he heard the lead vocal, he lowered the volume and said "Oh no, the vocal is way too harsh!" I stared at him like a deer in the headlights, and he asked "Do you disagree?" I was unable to comment 'cause I was still lovin' the mix. After he left the room and I listened, it was evident that he was right, extremely right. I just couldn't hear what the problem was but I knew I had a whole lot of work to do.
I worked until 2.30am, trying to figure it out. Changed from my Neve 1066 EQ into a Distressor patch to a Summit EQ into a Summit compressor. Then I took the GML 8200 off the insert and thought that should warm it up, not to mention dull it up. Unfortunately, the buzzy, 5kHz harshness was still there. My assistant had the great idea to insert an EQ into a compressor's side-chain, then push all the harshness with the EQ and let the compressor dip it. This seemed to help the most but it made the vocal a bit lifeless, and if there's one thing a Mary J vocal can't be, it's lifeless! So, I went back to my Summit­into­Summit chain, but then split it off onto another channel and blended it with the 'lifeless' side-chained vocals. That seemed to be the best we were going to get before sleep caught up and I had to leave.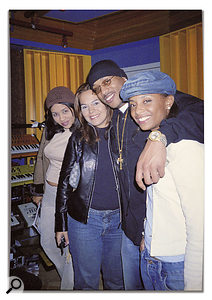 Mario Winans and friends taking a break before a rare Saturday night off.Photo: Tony MaseratiThe next day I listened to the mix in progress on my way from the beach. It seemed I was still missing something in my deduction of where the problem lay in that harsh vocal. It was my sense that since I had had nothing to do with the marriage of track and vocal, it may not have been done to the highest standards and deserved a closer look. Steve thought it was a brilliant deduction, but I had just handed him a venti caramel macchiato so he might just have been been in a nice mood. Turns out, the vocal session was at 44.1 and the instrumental session was 48k. Thus, a sample-rate conversion had taken place and I assumed it was less than 'tweekhead quality'. So, while I surfed the 'net a bit, trying to secure my family's Christmas gifts, Steve reconverted the vocals to match the track. The result was good, but it didn't solve the problem completely.
I asked who recorded the vocals and knew him to be top-notch, so I continued to listen to the rough mix against what I had and couldn't tell if it sounded better or just duller on the rough. I was still convinced that the mix was great but, at a certain point, I had to accept the recording as it was. I spent the afternoon reducing the top end in the track and lowering the vocal in the mix to mimic the vibe of the rough. Unfortunately, rerecording wasn't an option because the performance was compelling. So, what you hear on the record is my battle with that vocal.
Mixed 16-18 December by Tony Maserati
Mario Winans is showing off his talents in this song and it was a pleasure to listen while Mary is giving us, her audience, everything — never hiding her life or her inner most feelings. This song had all the overdubs done and plenty of separated vocals. Unfortunately, the individual drum, keyboards and bass tracks were never recorded to the session so I decided to mix it 'as is'. The track mix sounded great with a little EQ and the overdubs really worked well with it. Mary's performance was stunning and, with one edit to shorten a double second hook, the dynamic of the song seemed perfect.
I had to leave for the Christmas holidays before Puff got back from his business trip and had used the now defunct Rocket Network to send him a reference version. Being on the road, he didn't stand still long enough to pick it up so, off I went, headed to the airport, with directions left for Steve on how to print the different versions and pack up my software and gear...
January 3, 2003: I had been listening to mixes and music for my upcoming trip back to Miami and was a bit nervous because I hadn't heard from Puff about the mixes. I had been listening to No More Drama last night and couldn't believe it had taken me so long to appreciate that record.
I called Pat Dillett [Arto Lindsay, Aztec Camera, the B52s, Diana Ross, Mariah Carey, Meat Puppets, Nile Rogers, Notorious BIG, Soul Coughing, Stevie Ray Vaughan, They Might Be Giants] to invite him to write down his experiences and technical minutiae during the recording of the vocals for this album. In that discussion, we both found ourselves saying the same thing; artists like Mary J are the reason we're in this business. He recounted an instance during the recording where she sang a particularly emotional song and began to cry during the performance of 'Special Part Of Me'. Tape kept rolling and by the time she was done, there wasn't a dry eye, even in the control room. I had to cut him off, mid-story, to tell of an identical situation 10 years earlier during the making of the My Life album. While overdubbing a vocal, Mary was so emotionally charged, I let her go for almost nine minutes right to the end of the tape. By the way, capturing a performance by an artist is something very few people know how to do and Pat Dillett, with his technical superiority, can achieve it transparently both for the artist and all those involved in the production.
It's these very occurrences that made walking in the recording studio that day much like the first concert performance I attended or first gig I played with a band. There's a rush from the nervousness and an elation from the belief that the same message conveyed by the performer will be understood by the listener. It could be said to be a communication of the soul. As engineers, we're taught about equipment that will capture performances or enhance performances others have captured. But, we're driven to the job by our love of great performances.
OK, the holiday break was officially over — Puff gave the word and we all headed back to Circle House to finish mixing. We had a switch in the engineering talent on this leg; Paul Logus [98 Degrees, Baby Ray, David Bowie, Faith Evans, Jimmy Page, Limp Bizkit, Notorious BIG, P Diddy, Shirley Murdock, Tina Turner] was joining us and would probably take part in a good portion of the mixing. Like me, he's been with Puff from the beginning.
Mixed 11 January by Tony Maserati
This song was pulled from the final release.
Jean Marie Horvat surprises Mario Winans in the Cabana room for a quick photo op.Photo: Tony Maserati Mixed 11 January by Paul Logus
This track didn't hit me at first, I think I was distracted by the voice in the loop. But the more I listened, the more I realised it's got a great Mary J vocal performance! This track really shows off her ability to bring a lyric to life and ultimately, make us believe her every word. The final mix came out great as well. Paul really captured the important elements and brought them out.
Mixed 13 January by Tony Maserati
This song was pulled from the final release.
Mixed 16 January by Tony Maserati; mixed again by Paul Logus
One of the biggest problems with disk-based recording is the lack of track sheets and details about the recording that engineers would normally carry through the whole process as a road map for all those working on a project. Like my assistant said when I started cleaning up the edits on this track: "Why can't we get a Readme file with even just the tempo and start time?" I dunno, Steve — but please remember this for your children!
Owners and staff of Circle House meeting before the crowd arrives.Photo: Tony MaseratiI'd been on this damn song for a good three days and I was finally getting the direction Puffy was looking for. Luckily he was in New York on business while Stevie J added new bass and guitar parts and Mario Winans added some percussion and string parts. I'd decided to play down the old bits and really focus on the live guitar and bass stuff. Mario added a great string part that followed Mary's performance emotionally as it developed through the song. Then Stevie added a wah guitar part that countered and played off that, bringing to the song exactly what Puff and Mary had been looking for: a live feel and the emotions that build with the vocal and lyric. Now, I had to make the whole thing sound cohesive before Puff got back that night.
OK, is it good or bad when you add two days' work by suggesting recording live strings? Right, well, the jury's still out on that... I know a lot of arrangers, but the only guy I'd call for this gig would be Larry Gold [Brandy, Christina Aguilera, Jill Scott, Jennifer Lopez, Justin Timberlake, Roots Music]. Larry works out of his own studio in Philly and has worked with everyone Puff would know including, most recently, Floetry. Unfortunately, I never got to finish this mix because of my schedule. Also, Puff couldn't meet within the allotted time-frame, so I let him know I would be fine with the idea of Paul Logus taking over the reins on it.
I had sent the some stems to Larry who arranged the strings, recorded the section and sent it back to me on several tracks, which I imported seamlessly into the Pro Tools Session. I called Paul to get his comments on the finishing touches and redos that may have occurred on the second mix: "There was a lot of work done on it in Miami and I know you burned the last of your midnight oil trying to finish the mix before you left town. I felt bad that your mix was not considered finished after all your hard work, but Puffy had other ideas for it. When I started working on 'Friends', Puffy came to me with ideas of it being harder-sounding but incorporating more music at the same time. Since there was no way to recall your mix — it was done on a J-series SSL and I was mixing on a G — I had the TMaz mix loaded into Pro Tools so I could reference it at a flick of a switch. My aim was not to match the mix, but to refer to elements and relationships, and then apply my twist on it.
"The live strings ended up being part of the drama that Puffy was looking for. They added a lot of movement, and helped lift the song emotionally. Hats off to you for that. I submixed the strings and ran them through tube compression and EQ to squeeze out extra harmonics, which also let me tailor the dynamics to my liking. Still, Puffy wanted more drama, he is the king of that, so I reprogrammed a bell part for the chorus which previously had little to do with the song. It's now a prominent part of the hook. Finally, I created a variety of blends so the song builds in overall, with the energy getting bigger and bigger." We hope you all like the end result of some hard work by four producers along with several engineers and mixers!
Mixed 19 January and revised in April 2003 by Tony Maserati
'AM' is an acoustic guitar and vocal song with an extremely inspired performance by Mary. I hadn't heard whether this mix had been OK'ed. Then, four months later, I got a call from Slam, Bad Boy A&R and general know-it-all, saying they needed to take out some harmonies that Mary had never intended on being in the song. Unfortunately, I had not done a stem without the harmonies. It was a real challenge trying to recreate the sounds, reverbs and overall drama from the original, but luckily I got the approval from Mary and it went to mastering.
Mixed 22 January by Tony Maserati; mixed again by Paul Logus
I had recorded the vocals to this song when Mary was down the previous month, and I knew this was going to come back and bite me in the ass! I'm a real picky recordist, so much so that everyone gets mad 'cause I make them wait until I've got everything just the way I want it. Which, for an artist like Mary, is seriously detrimental to her flow — I'm hunting down a buzz for two hours and she's ready to start her background vocals.
It had been a while since I'd recorded vocals and even after I had gotten rid of the buzz, I really didn't like the sound I was getting from a Sony C800G into an Avalon 737SP located beside the mic power supply, patched into the closest fader to my right hand. This usually works OK, but for some reason I thought it felt small and lifeless. I wasn't able to change anything because time and Mary's patience had run out. She was ready to sing and I had to do my best to deal with it. Not the kind of situation I wanted when recording Mary J for the first time in 10 years! But record we did and, as expected, I was then committed to that 'sound'. So even when she changed the lyrics the second day, I had to stick with the setup I had! I was ready to kill myself then and there.
Mechalie Jamison, Mary J and Don Pooh humour me for a minute before Mary finishes some vocals.Photo: Tony Maserati
So there I was, mixing it almost a month later and, yes, it still sounded horrible to me. But at least I knew all the problems and could try and use them to my advantage. Problem one: all the vocals lacked 'air,' as if there was some sort of low-pass filter across the mic path, though of course there wasn't. Two: the track arrived with separated instruments which got misplaced in the pile of other FedExs that had come in over the past three weeks. Three: someone drank all of my Sauza Hornitos that I was saving for just such an occasion! The only real problem that couldn't be solved was the lack of top end on the vocals. Everything else got fixed with a little legwork and/or computer time. My assistant and I needed coffee and espresso brownies, so off we went to satisfy that craving and replenish our stocks of alcohol.
Conceptually, this record is from a very particular place, dictated by the orchestral sample being used to create the track Mary's singing to, so I kept everything big, lush and full-sounding. Except, of course, Mary's vocal, a solution that I've used many times to help steer clear of over­mixing a song and draining it of intimacy. I used a simple vocal path and effects to accomplish this.
I'd rented a pair of Neve 1066 EQs and there was a Tube-tech CL1 in the room. I placed those on the 'tape out to line in' patch point, then used Waves' Renaissance Reverb internally and brought that up on separate faders. That way, I could ride the reverb to taste in the different sections of the song. I also used the Lexicon 480 and the PCM80 from a throw that I had set up on a buss directly from the small fader on the lead vocal — again, I got more control of the 'verb that way. Oh, and something I learned from Dave Pensado: I split the lead vocal to another channel, EQ'ed out all the top, put a Distressor on the insert and rode that in when I felt Mary sounded too thin. Pretty basic stuff but it seemed to have the right effect.
The right effect is the whole thing. Because, as I've said so often to anyone willing to listen, 'our job' as music producers and engineers is to help the artist create the desired emotional effect for herself and her audience. We take our cues from her emotional delivery and the music surrounding it to enhance the listener's experience with a little technology and, hopefully, some empathy of our own. That's the record as I saw it, hope you enjoy it!