Graham 'G' Hastings: Producing Cocoa Sugar
Young Fathers: left to right, Kayus Bankole, Alloysious Massaquoi and Graham 'G' Hastings.
The playful, genre-defying sound of Young Fathers reflects an equally unorthodox approach to studio recording.
Ten years after forming in Edinburgh in 2008, Young Fathers have carved themselves a niche as an uncategorisable band who blur the lines between soul, hip-hop, dub, gospel, Krautrock and punk. Arriving four years after their 2014 debut Dead won the Mercury Prize, their third album Cocoa Sugar marks another step forwards in their progression, offering a more accessible entry point into their often murky or frenetic music, with hooks aplenty and frequently dazzling sonics.
The trio met aged 14 on the dancefloor at the under-16s Lickshot hip-hop night at the Bongo Club in the Scottish capital, and began performing together as Threestyle two years later. All of them — Liberia-born Alloysious Massaquoi and the Edinburgh-born Kayus Bankole and Graham 'G' Hastings — sing and rap, while Hastings handles most of their playing and production.
It was as kids in the latter's bedroom that they did their first, rudimentary recordings. Hastings remembers that he would put together beats using the loops-based eJay software, before the three would add their vocals and rhymes around a single mic into a karaoke machine. "I had this old shitty computer," he recalls with a laugh. "Basically it could only run that software. We couldn't record into it, it was that slow. I had a karaoke machine from Argos, and we would just play and sing at the same time, always one take. It was an advancement when we actually got MiniDisc, 'cause MiniDisc players had that direct in where you could record, so it was easy for us. But that was just to listen back to."
If this sounds like merely teenage fun and games, these experiments were in fact to inform Young Fathers' entire approach to production, which remains spontaneous, lo-fi and rule-bending. In addition, at this early stage it knitted together the trio's voices to create a unique, intuitive style. "When you hear our songs," Hastings points out, "it's pretty constant from start to finish vocally. I think those early days recording made it like that, 'cause we were essentially writing fully arranged songs before we even hit record. We had to be like, 'Right, you're doing first verse, I'm gonna sing the chorus,' and you'd literally have to push someone out the way to get to the mic. That's just how it started and I think that's still involved a lot in how we record now."
The trio's first experience of a professional recording studio came when they were signed as Threestyle to a production deal and entered The Lighthouse Studios in Edinburgh. "It used to have a Yamaha O2R [digital mixer] and loads of nice toys like old Hammond organs and a Korg [MS20] synth," says Hastings. "But I think we realised that we didn't like that environment as well. Hated the vocal booth, 'cause it was separate. It's that thing where, 'I'm gonna go through now and do my vocal take.' A lot of our stuff is based on the spillage and everything happening in the room."
It was when they became Young Fathers that they met their mentor/co-producer Tim London, formerly of the band Soho who scored a transatlantic hit in 1990 with 'Hippychick'. London gave Young Fathers access to his home basement studio and the band imposed upon themselves a strict remit to record a track a day. The result was their eight-song mixtape/EP Tape One, recorded in a week in 2011 and instantly released online, before being picked up by US indie label Anticon two years later.
"Tim gave me the keys to his house, basically, and he just had toys," says Hastings. "Tape One was the first moment where we realised, 'Fuck, we can do what we want.' I think because we made an emphasis on starting and finishing a song every day, you can't waste time on setting up stuff. So Tim and me engineered the room beforehand, so that when everybody came in for the day, there's no routing needing to be done, there's no setting up. Everything's on, ready to go.
"It was a pretty basic setup. We were using a Tube-Tech preamp and an old Sanken pencil mic that we've used on every album since. For some reason, that mic just worked with us — for drums, for percussion, vocals. You can go right up to it and it naturally distorts and becomes really furry and sometimes you want that. But if you come a bit further away, it sounds like any clean mic. Even further away, it sounds like a room mic.
"Everything was done on this one mic in the room. Not because we chose that, but because it was more important for us to get down what we were trying to do, rather than thinking about, 'Aw, this mic would be great for that.' We've never been that kind of band."
Working fast, from here, Young Fathers' freewheeling recording approach developed further. "Technically," says Hastings, "it's always kind of the opposite of how you would usually work in a professional studio. It's more important for us to work in the moment, and instantly. So I'd rather take the hit on the technical side of things, in order to get to the gut feeling of what someone's trying to sing."
In Tim London's studio, Hastings fell in love with the co-producer's '70s vintage EMS Synthi AKS, which quickly became his workhorse for creating and processing sounds. "It's the most unbelievable piece of equipment ever," he enthuses. "I feel like the EMS for us has always done that job to fill in those frequencies that guitars would usually fill. The way it drones sometimes, and the way it moves in pitch and vibrato and with the spring reverb as well, people feel it's like a guitar."
One of the key elements in Young Fathers' sound from early days has been the Powertran Transcendent 2000 kit synth.The other synth that was used mostly on Tape One and its swiftly recorded follow-up Tape Two was a late-'70s monophonic, kit-built Powertran Transcendent 2000. "That and the EMS have these really nice 'jaggy' sounds, I would call them," Hastings says. "They're kind of abrasive. I'm not really into smooth and crisp and already formula-ed synths."
Much used, too, on these early records were the Korg Electribe ER-1 analogue drum machine and EA-1 synth. Routing the former through the Synthi on the appropriately named 'Rumbling' from Tape One, Hastings managed to produce such a heavy bottom end that one listener wrote to the band to complain that it had broken his system.
"It'd blown his speakers," says Hastings, clearly amused by the fact. "Everything was going through the EMS, 'cause I would use it as a preamp almost. When you turned up the drive, it just did that weird distortion which was really warm. A lot of the synth stuff is the Transcendent going through the EMS or just the EMS on its own. I love the fact that, especially with the scale of the EMS, nothing's exact."
Beats-wise, inspired by the 'human' feel of Kraftwerk, Hastings mostly plays drum parts live, either using the ER-1 or his own library of sounds in Native Instruments' Battery. "I would never quantise them. A lot of our tracks, it's funny... when people are trying to DJ them, it's like, 'What tempo is this?', 'cause they drift. Sometimes we're on the grid, but some songs it was never on the grid. I've been building a kind of drum sound and effects library up for years. Battery I always found was good for changing pitch and changing tones quickly."
The group's Korg Mini Pops drum machine was the backbone of their early stand-out 'I Heard'.A standout of Young Fathers' early work was 'I Heard' from Tape Two, a lo-fi soul track built around a beat from a Korg Mini Pops. "It's brilliant, straight out of the box," says Hastings. "It's amazing how those drum machines have the balance in them pre-made. If you try and program something the same, it doesn't sound the same. It's obviously just the wiring in it.
"'I Heard' was recorded live in the room: the drum machine, the organ and even parts of the vocals. I started playing that bit on the organ and Ally started singing and Tim was like, 'Just press record, press record.' A lot of it was done like that. I think the only thing we really overlaid was some ambient sounds."
Room ambience, vocal ad libs and random chatter are recurring features in Young Fathers' tracks, often surreptitiously recorded by Hastings at the start of a session. "The way we work, the mic's on as soon as everybody comes in," he says. "So I can capture the room. A lot of that room is actually kept in the end mix, depending on if it makes sense. Because a lot of melodies happen instantaneously. To us, it feels like there's a thing that happens in the first take and that's the essence of what it should be, so let's capture it."
This spur-of-the-moment approach extended to the mixing of Tape One and Tape Two, most of which was done in mono. "I'm not really into stereo that much, to be honest," Hastings admits. "So everything's done in mono, and only at the end sometimes we might pan stuff. If you listen to Tape One, it's pretty much straight up the middle. I think that was the first instance where we just realised that we needed to do, rather than sit and talk and think."
This creative roll continued into Dead, Young Fathers' first full album, which was recorded only a month after Tape Two, but held back for two years to 2014 due to record company schedules. "For Dead, I think it was more concentrating on the spring reverb on the EMS," says Hastings. "I just wanted to use it on everything. There's a track on Dead called 'Mmmh Mmmh' and it's just the EMS doing a drone. It's not being played, it's just droning, and you can just feel the note and kind of bend it into the right place.
"For us, it's always just been about character, and whatever gives it that character, however cheap, however expensive it is, that's all that matters. Y'know, putting mics through amps that are fucked. Organs that are fucked, going out of tune, dying. You manage to record that bit where it dies and a note goes 'Whaaauum', and you use it. And that becomes the hook.
"We've used mental things in the studio sometimes. Putting mics in one side of the room while someone's over there under a cover. All these different things. Whatever it takes. Sometimes with the speakers on, no headphones, just pure in the room, and you get that tiny, tiny feedback. All that's in the mix as well."
Hastings' freewheeling approach often pushed Tim London's Yamaha NS10s towards breaking point. "He'd always moan at me 'cause I had them far too fucking loud," he laughs. "Tim would be sitting in the back like this [hands over ears], 'cause they're so bright. I'd be like, 'What's wrong?'
"He also had a pair of what we called the ghettos. They were just ghettoblaster speakers, and we'd go back and forth just to hear what the bass was doing. We did a whole mix of Dead on tape. We got a reel-to-reel in, but we got out of there and there was no top end. It's 'cause I was listening so brightly. So we started again. I kind of turned it down a bit and that was it."
2015's follow-up, the more up-tempo and propulsive White Men Are Black Too, saw Young Fathers change their location, if not exactly their modus operandi, moving their gear to an artist residency space in Berlin called ZKU. The fact that they arrived in this new environment in the middle of winter affected their music in one significant way. "It was so cold that a lot of the songs actually sped up, just to keep us warm," says Hastings. "So, 'Rain Or Shine' was much slower when we started. It was so cold, I was like, 'Let's just make this 20 bpm faster.'
"We'd been on tour and that naturally seeped into how we wanted it to drive. A lot of the songs, we're not stopping the beats. We're not making gaps and putting little fills everywhere. What we wanted to do was basically have a rhythm going and drive from start to finish. If there's a drum machine doing something, don't be smart-arse about it, just let that fly from start to finish and just power through. When we took those songs live, it worked. The motion was already created."
Cocoa Sugar is the trio's third full-length album.With their new album Cocoa Sugar, the band decided to try to adopt a more 'linear' and accessible approach to their sound. "Being this leftfield, weird and wonderful band," says Hastings, "after a while you just get bored of that. We had to feel uncomfortable again, and the only way that felt obvious at the time was using less noises, sparse beats, vocals dry, exposed. It was uncomfortable at first, but you have to kind of batter through it and tune your ears to it."
Exploratory sessions for the latest record began in Los Angeles at the home studio of producer Dave Sitek (TV On The Radio band member and producer of Yeah Yeah Yeahs and Foals), who ended up co-writing 'Turn' and 'Picking You'. "Dave reached out, basically," says Hastings. "He has this great wee house in the hills in LA where he makes music and he just has this environment where it's like an open house kind of thing. We'd got the message that he wanted us to just come round and hang out [laughs]. We're not really into hanging out. We just want to get on with the music.
"Dave played some stuff and just let us be. He would come in and organise bits. We're pretty self-contained, so we can walk into any room and we don't need really anybody to be there. But when someone is there, it's good to have that feedback, because they're outside the group and they can give you a bit of perspective. Dave's like that. He's just a great guy and encouraging, and I think that's vital."
Among the toys that Young Fathers enjoyed messing around with were Sitek's Mellotron M4000D and assorted pedal effects, but it was his Neumann U47 microphone that was the biggest revelation for Hastings. "The Sanken mic has always done us," he says, "and any other mic, condenser or whatever, that we've ever tried to use just never really seemed to work with us, vocally. They're just too pristine and too bright and clean. The U47, I've found, is the only mic outside of that that suited our voices."
The first product of these sessions was 'Only God Knows', a stand-alone single featured in the soundtrack for the movie T2 Trainspotting in 2017, and which marked the debut appearance on a Young Fathers record of the slightly mysterious Leith Congregational Choir, who also feature on 'Lord' from Cocoa Sugar. As it turns out, it's actually the three of them under a pseudonym, with added vocal support from Jacqui and Pauline Cuff, ex of Soho.
"We just made that name up," says Hastings. "A lot of our vocals are done with us singing at the same time on the one take. You've got the five of us and we're just stacking. But we're doing that Phil Spector thing, where you put the mic over there and you stand different distances away from it, and it sounds like a choir in a room. I wish there was a real choir..."
PVC: for the ultimate in dead drum sounds!For the bulk of the tracking for Cocoa Sugar, Young Fathers bunkered themselves into their new basement studio in the Edinburgh area of Leith. Colourfully, the building was once a brothel. "It's got these weird rooms with mirrors on the ceilings," Hastings notes with a smile. "Wash-down rooms and secret compartments and stuff. But the basement is essentially just one big room. Everything's turned on and plumbed in. It's kinda the same setup as what we've always liked, which is basically everything available at your fingertips."
Some of the tracks feature live percussion, albeit recorded in typically idiosyncratic fashion. "Our drums are covered in PVC to give it that dead, dead sound," says Hastings. "They're usually hit with a big beater, so it's got the resonance, but not the attack."
As far as Young Fathers are concerned, not being in concert pitch gives their upright piano added appeal.Elsewhere, a feature sound on both the gospel-ish 'Lord' and the dusty, African-sounding 'Fee Fi' is the studio's decrepit upright piano, which Hastings doesn't always choose to pitch-correct. "I think the whole thing is just over half a semitone out," he says. "I was gonna get it tuned up, but we were halfway through the album and I was like, 'I can't do it now!' Plus, I just like things like that. On 'Fee Fi', that kind of discord in it wouldn't sound like that if it was perfectly in tune."
Other keyboards used to create the more warped layers on Cocoa Sugar include his GEM and Farfisa organs patched through a Sherman Filterbank for slow modulation, a cheap Casio keyboard bought from a charity shop and the Korg Monotron Delay analogue ribbon synthesizer. "The Monotron Delay is the best," says Hastings. "I just love how simple they are. Because it's a ribbon synth, again, it's not perfectly in tune all the time, and you have to sit and kind of find the note. You can do a great drone with the delay. Turn up the feedback and that'll drone on forever.
Charity-shop organs were also widely used on Cocoa Sugar."The Casio I like because you can switch it to the Arabic scale. I like the notes inbetween the notes sometimes as well. And it suits us well, 'cause if something starts from a synth that's completely out of tune, I can find the note on there just enough, or I'll add enough vibrato. A lot of the sounds are typical Casio sounds, but once you have them through a Sherman or a delay, they just sound great.
"It's a weird thing, but my ears seem to prick up with things that are out of tune and things that are slowly modulating through pitch. They seem to have this kind of depth and so I'm always attracted to it."
Similarly odd is the creepy violin part on album opener 'See How'. "It's a kid's violin, and it's got a battery as a bridge, and it's broken," Hastings chuckles. "And there's just one string on it. But that's been our string section for the last three albums."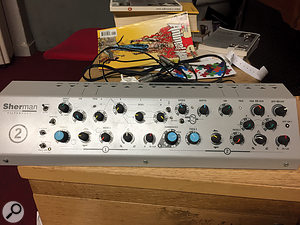 Many sound sources on the new album were recorded or processed through the group's Sherman Filterbank to give them movement.When it came to vocal processing on Cocoa Sugar, Young Fathers chose to be purposely minimalist, using FMR Audio's Really Nice Compressor on the way in, a Roland Space Echo or an old Guyatone delay on the way out, and virtually no reverb. "We kind of binned the reverb on this album," Hastings says. "We were trying to go for a sparser and drier sound. You have to kind of break through that barrier of the things that usually make you comfortable, like reverbs.
The one-stringed kid's violin used on album opener 'See How'."The old tape in our Space Echo sticks sometimes and warps and I like that. But even the Space Echo on this album, I needed to use it sparingly. On the previous albums, I've literally put the whole mix, or instrumental, through the Space Echo, or put all the vocals through it. Some tracks are actually the sound of just the direct from the tape of the Space Echo, 'cause it does a weird warping thing. We've purposely never changed the tape on it for a while."
Use of plug-ins is equally sparing, though Hastings likes to treat some instrumental parts with the Waves SoundShifter for pitch manipulation and create vocal harmonies with the Clone Ensemble. "I've never bought the full version," he laughs. "I'm still just using the demo. It's only got one mode that does a lot of the choir-sounding stuff.
"But nothing's doing anything heavy-duty. I'm not a fan of choice. I don't like being given options. So I try to limit my palette as much as I can, 'cause I'm just not into endless choices. I think they slow everything down. For us, we'd always rather do it in the moment, rather than do it with plug-ins later."
In a first for a Young Fathers album, Hastings brought in outside mixers for Cocoa Sugar, with Ben Baptie (London Grammar, the Strokes) finishing 'Lord' and Laurie Ross (Massive Attack) the rest of the tracks. "It felt like time I should actually relinquish some control," Hastings grins. "Ben and Laurie did a great job. We've always been a hard group to kind of understand what we're trying to do. Some people think we're a hip-hop group, so they're trying to make the bass drum like all the other hip-hop bass drums. You can't mix us like that.
"A lot of the stuff that we like are frequencies that people usually try and duck. Like, a lot of the harsh mid frequencies, people hate them. With us, those are the ones that make us react. So when you're getting someone to mix, they just have to be open to that. I'd done kind of pre-mix mixes, faders-up stems and basically I just wanted them to have depth. This album has less of that harshness than the previous albums. So it wasn't as much of a job."
As far as the future of Young Fathers' sound is concerned, Graham Hastings admits that he doesn't have any inkling yet exactly where it might go. Which is exactly how he likes it. "I was completely clueless before this album," he says, "and we're always kind of clueless going in the studio. This album was made kinda rejecting how we felt about ourselves after touring the last album. I think that's actually what makes it what it is.
"You just have this vague feeling of what you don't want to do. But you don't know what you want to do until you actually start working on it. And it'll be the same for the next thing, I think. I've not got a clue [laughs]. And I don't want to know!"  
Like Tape One and Tape Two, all of Young Fathers' Mercury-winning debut album Dead was mixed down to a chrome cassette tape, using Dolby C to achieve a particular effect. "We mix mostly with everything up the middle," Graham Hastings explains. "But for some reason, the Dolby was spreading things that we weren't spreading. Especially the reverbs. We were using just an old [Alesis] MIDIVerb or the spring off the EMS. But it would just put them in the right place. I don't know if it was something to do with the squashing, but it seemed to pan them and then put them in the right place. They sat back and the vocals came up. You could squash the vocals against the beats as well.
"We never even told the label that it was done on cassette," he admits. "'Cause there's a stigma kind of thing, like, 'Oh you can't do that.' It fucking won a Mercury, so... But it was just purely for the smashing of the sound and just character. We've always been attracted to that over it being cleaner."
Graham Hastings used Steinberg's Cubase SX as his recording software for Young Fathers' earlier albums, before switching to Logic. For the latest album Cocoa Sugar, he decided to return to Cubase, using version 6. "It's just instant," he says. "Again, it's speed."
This is paired with a MOTU UltraLite audio interface. "It's heavy-duty. We used it live for years as well. It just feels like it's robust and it fits in a bag and it sounds good."