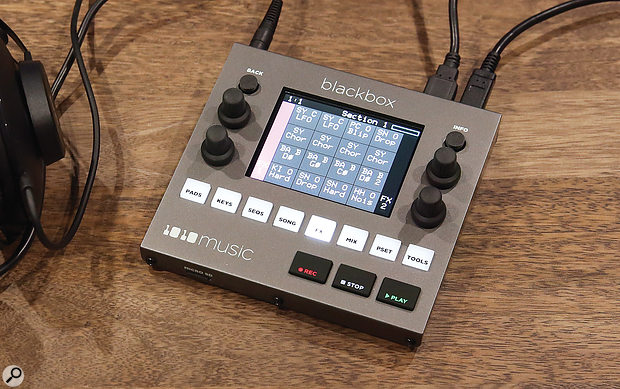 1010music's Blackbox packs an awful lot of sampling action into a very compact case.
If you're of a certain age, the name Blackbox might make you involuntarily erupt into the chorus of a late-'80s dancefloor smash. Or perhaps it puts you in mind of indestructible aeroplane flight recorders. In some ways, 1010music's Blackbox could be inspired by both. Let's just overlook the fact that it's dark grey!
Sampling is making quite the comeback lately. For a while, it seemed that everyone had abandoned hardware samplers in favour of the infinite possibilities of software. Even Akai stopped making stand-alone MPCs for a while, favouring dedicated MIDI controllers, until 2017 when, to the delight of many, they introduced the current Live and X models. Now it seems like drum–orientated samplers are more popular than ever. Elektron, Roland, Pioneer, Korg, Jomox, MFB and Synthstrom all have sample–based groove-box products on the market.
The first thing you'll notice about the Blackbox is just how sleek the unit is. At 14 x 13 x 3cm, this is one compact sampler, which you can genuinely fit in a backpack. In fact, you could throw 10 in and still have room for your sandwiches! There is a reassuring weight and sturdiness to it, the knobs are rock solid and the buttons are high quality. On the desk, it won't slip about thanks to its weight and rubber feet underneath.
The action centres around a crisp, colour 3.5-inch LED touchscreen. This is flanked by four endless encoders, two on each side, which take on different roles depending on what screen you're looking at. There are no actual drum pads, so any finger drumming is also done on-screen, or on a suitable MIDI controller. The screen isn't pressure or velocity sensitive, so a large Velocity slider accompanies the on-screen 4x4 grid so you can set the velocity of any notes being recorded.
A row of eight backlit buttons change the current mode, with the brightest button indicating the current selection. Where a mode might need more than one screen, the Info and Back buttons at the top can be used to cycle through them. Finally, there's a trio of backlit transport controls for play, stop and record.
Round the back we find a USB Type B socket for power; a suitable cable and wall wart are included. There's also a USB Type A jack for connecting MIDI controllers, or if you prefer, MIDI in and out is also available via TRS 3.5mm jacks. Two TRS to 5-pin DIN adaptors are included. All audio inputs and outputs are also on 3.5mm jacks. There's one stereo audio input and three stereo audio outputs, plus a stereo headphone output. Lastly there is...
You are reading one of the locked Subscriber-only articles from our latest 5 issues.
You've read 20% of this article for free, so to continue reading...
Buy & Download this single article in PDF format

£1.00 GBP

$1.49 USD


For less than the price of a coffee, buy now and immediately download to your computer or smartphone.

Buy & Download the Full Issue PDF
Our 'replica SOS magazine' for smartphone/tablet/desktop. More info...