Paul White meets the junior member of Alesis' family of Type II 20‑bit ADAT recorders.
With the arrival of the Alesis ADAT Type II 20‑bit recording format came the announcement that a new, lower cost ADAT would be joining the range for the benefit of those users who wanted the sound quality of the Type II format but not necessarily all the features of the XT20. The XT20, reviewed in SOS in May this year, has balanced analogue I/O and a comprehensive locator system; on the LX20, the locator system has been considerably simplified, and the analogue I/O is via unbalanced phonos only. However, the standard ADAT digital I/O remains, as do the nine‑pin sync sockets to allow synchronisation with other ADATs. The LX20 has its own small remote control or LRC which is included with the package, as is one ADAT S‑VHS tape, though full compatibility with the BRC controller/locator/synchronizer is also maintained, as is the universal 90 to 250 Volt power supply.
The front panel of the LX20 is a little simpler than that of the XT20, with no further row of buttons between the display and the track arming buttons. Furthermore, all the buttons are moulded rubber, giving the whole front panel a less 3D appearance than the XT ADATs. These new buttons appear to have an almost two‑stage click operation, so if you only push them hard enough to get to the first click, nothing happens. Give them a slightly more decisive prod and they work as expected.
While the transport and audio converter circuitry is the same as that used in other Type II machines, the mechanical construction is much simpler than usual, relying on a folded steel chassis rather than on the heavy casting of the XT. The overall circuitry is also far simpler and tidier than on early ADATs, with excellent access to the transport for cleaning and servicing. The metal top cover is damped with a small square of acoustic foam but, in practice, it still rings quite noticeably when you tap it, and the transport noise is more evident than would ideally be the case. It isn't too bad in play or record modes (at least compared with computer systems), but fast wind is pretty industrial‑sounding. Given that there's no meter bridge function on any of the new ADATs, I feel that mechanical noise could have been better addressed as it's invariably necessary to have the machines close by so you can see the meters.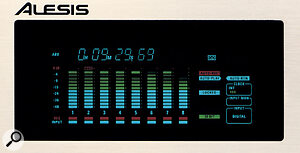 LX20 Display.As far as I can tell, the display is identical to that of the XT20 and provides large plasma meters as well as parameter and location information. Function status LEDs are adjacent to the buttons rather than being moulded into the buttons themselves, but the layout is still very clear and easy to navigate around.
A maximum of four location points (in addition to return to zero), may be stored when the machine is being used in a stand‑alone mode, though if it's being controlled by a BRC or slaved to XTs, it obviously obeys all their autolocate commands, which is why it makes such an attractive slave machine. Locate points can be dialled in by location or stored on the fly, and as well as being able to shuttle between locate points, it's also possible to set Auto Return and Auto Play to make the machine loop between locate points one and four. Auto punch in and out can be implemented between locators two and three with the option of a rehearse mode.
For those less sure of their musical success, it's also possible to set up a loop record mode where you can go over the same take time and time again until you get it right. I don't know if it's just me, but I've never used an auto‑punch mode in my life — I always find it quicker and easier to punch in and out manually, or with a footswitch connected to the BRC if I'm playing guitar at the same time. With the LX20, the LRC socket doubles as a regular footswitch input for punching in and out.
As with other ADATs, the digital crossfade used at punch in and out points to avoid clicks can be adjusted, in this case from 11 to 43 milliseconds. Once again, I've always found the factory default to be perfectly satisfactory. Pitch control of ‑300/+100 cents is available, and if you want to know how many hours your machine has spent running, holding Set Locate and pressing Stop at the same time will tell you how long the drum has been spinning in contact with the tape. The same track copy and track delay features are provided as with other ADATs.
Instructions are provided for cleaning, though if good quality tapes are used, ADATs will run for a long time without problems. There's an inbuilt routine for recalibrating the brakes, which is suggested for every 250 hours, and an error 'asterisk' in the display comes on whenever interpolation is used to conceal an error. If this lights up regularly, try a different tape, and if that doesn't cure the problem, a proper cleaning will usually do the trick unless the machine is in need of a service.
LX20 ADAT control buttons.
Operating the LX20 is much like any other ADAT except that before you start work, you have to decide whether to format your tape to the old ADAT Type I standard or to the new 20‑bit Type II format. Type I is 16‑bit only, but will play back on both old and new machines. Type II offers the extra dynamic range of 20‑bit recording, but can't be played back or overdubbed on older Type I machines, so the choice hinges on whether you are finishing the complete project yourself, or whether the tapes may need to be worked on at a facility that has only Type I machines.
The sound quality of the LX20 seems to be every bit as good as that of the XT20, but then as the converters and transport are the same, there's no reason to expect otherwise. Type II ADATs, including the LX20, are compatible with older ADATs for synchronisation purposes, providing the older ADATs have a suitably current software version. As with the original XTs, mixing them with 'black face' ADATs will slow down their wind and rewind operations as these older machines were considerably slower.
ADAT LX20s will appeal to those users who want lower cost slaves to link up to a XT20, but the unbalanced analogue I/O may be seen as a limitation. It's OK in situations where the ADAT optical link is being used, but less satisfactory where you need to use analogue connections, especially when you consider that even the cheapest mixing consoles now tend to have balanced line inputs and group outputs. Other minor niggles include the transport noise and the rather odd button response, but on the whole, the LX20 is extremely good news. Given that, for a significant cost saving, you still get the same 20‑bit sound quality as from an XT20, the LX20 is worth considering for stand‑alone use as well as for use as a slave, provided that you don't need the extra locate facilities.
The whole ADAT concept may seem a little outdated as more stand‑alone digital workstations and software based studio packages appear, but the low cost and high storage capacity of tape has a lot to commend it. ADATs also provide a track‑to‑track sync accuracy that's to single sample resolution, while I've heard tales of people using software digital audio systems where the track sync errors have been so large as to be clearly audible. Until very high capacity, very low cost rewritable disk cartridges become a reality, and until computer‑based systems are designed to be less problematic, I believe digital tape has an assured future.
Pros
Attractive price.
Easy to use.
Cheap media.
Generally reliable.
Cons
Unbalanced analogue I/O only.
Transport could be quieter.
Summary
A high performance, low cost ADAT best suited to use in systems controlled by an XT20 or a BRC.
information
£1699 including VAT.