Tablet Computer
At the beginning of 2010, few people outside of Apple knew about the iPad. Yet in the span of two short years — and three iPads later — there are now few people anywhere who do not know about the iPad. Apple's latest model, which, following on from the iPad 2, is logically called the iPad, was announced on March 7th and released into the wild less than two weeks later.
Unlike the iPad 2, whose enclosure had evolved to make a svelte product even more slender and attractive, the new iPad is nearly identical to its predecessor. In fact, breaking with tradition, Apple's latest product has the rare attributes of being slightly thicker and slightly heavier than the one which came before it. This difference is slight numerically, but more noticeable in your hands than the measurements would suggest. And, like trying to don a shirt you purchased a year ago, it also means that not all iPad accessories will necessarily fit as snugly as they once did, if at all. However, I was pleased to find that Apple's Smart Cover still performs its job admirably, despite the jarring aesthetic conundrum of using a year-old cover with a brand-new device.
Perhaps the stand-out feature of the new iPad is the Retina Display, which brings the high-resolution screen technology first seen in the iPhone 4 to a tablet device. The Retina Display manages to pack four pixels into the space where there was previously one, so the 1024x768 resolution found on the original iPads becomes 2048x1536 on the new iPad. With a resolution of 264 pixels per inch, you really struggle to notice individual pixels, and, along with increased colour saturation, the result is a display that's simply gorgeous.
If you've seen the Retina Display found on recent models of iPhone and iPod Touch, you'll have some idea of what to expect. But when you see this kind of high-resolution display on the larger scale of the iPad, somehow the quality has far more impact. It's immediately noticeable that everything has adopted a sharper, glossier appearance, and a screen of text looks so crisp that you'll struggle not to read it. A few days after getting the new iPad, I still can't look at this screen without a sense of wonderment: it's that good.
For music software, the Retina Display means about as much as it does for any other type of software: everything looks cleaner and just, well, better. However, there is one category of music software in particular that will really benefit from this technology: notation software. Avid's Scorch app, for example, hasn't been Retina-optimised at the time of writing. However, since iOS seems to allow most text rendering to take advantage of the Retina Display automatically, this seems to have had a positive effect on the way Scorch renders scores. So even though the app's user interface buttons are clearly aliased, a piece of music in Scorch looks absolutely stunning — exactly like a print-out from a laser printer, only clearer, somehow.
It might be hard to appreciate in print, but here you can see the same screenshot from Avid's Scorch app from an iPad 2 (left) and a new iPad with a Retina Display (right).
The biggest problem with the Retina Display is that it's addictive. The disappointment in finding an app you use regularly not yet supporting the Retina Display is a bit like expectantly opening the drinks cabinet and realising the bottle of Tanqueray is empty. Apps that don't support the Retina Display are scaled up by the system and, as a consequence, seem to look worse than they did on the iPad 2. However, developers are no doubt already updating their apps with the high-resolution graphics that will also be responsible for an increase in the size of apps — you can't have everything.
Internally, the new iPad is powered by Apple's new A5X system-on-chip, which is a revised version of the A5 chip that powers the iPad 2, iPhone 4S, and the new 1080p-capable Apple TV that was unveiled alongside the new iPad. "What's the X for?" asked Phil Schiller, Apple's Senior VP for Worldwide Marketing, during the iPad Event. "Quad-core graphics."
Given that the new iPad has four times the number of pixels on screen compared to the previous models, it makes sense that Apple would need to improve the device's graphics processing power. Where the original iPad's A4 chip had just one GPU core and the iPad 2's A5 had two, the new iPad once again offers exponential improvement by serving up four GPU cores. Although this is particularly great for graphically-intensive 3D games like Infinity Blade, rather than music software specifically, the increased graphics horsepower helps to maintain the fluid iPad user experience when running apps that take full advantage of the Retina Display.
As with Apple's previous A-series chips, the company have remained shy in revealing the exact specifications of the A5X, beyond mentioning that it has 'quad-core graphics'. However, also as with previous A-series chips, curious early adopters have been tearing apart their devices and taking X-rays of the A5X to discover more.
Geekbench (a benchmarking app available from the App Store) indicates that the A5X has 1GB memory (double that found on the A5), which again makes sense given that the Retina Display's resolution would increase the memory required for the graphics system. According to reports, the A5X (as the name implies) features the same dual-core ARM CPUs as the A5 chip. Running Geekbench on both a new iPad and an iPad 2 seems to confirm this observation, since the scores are roughly the same. This means that general app performance — including the performance of music apps — is going to remain pretty much the same.
As I was finishing this review, reports of new iPads getting warmer than previous models had begun to circulate online. Consumer Reports, for example, noted that a new iPad reached temperatures as high as 116 degrees Farenheit after a tester had played Infinity Blade for 45 minutes. However, early indications imply that this issue is related mostly to extreme GPU usage rather than the CPU. I left GarageBand playing its supplied demo song for nearly the same amount of time and didn't notice my new iPad becoming appreciably warmer.
Overall, the new iPad essentially makes a good product even better. Yes, the option of a 128GB model might have been nice for those with large app collections or those who use their iPads for audio recording; and sure, more CPU performance is always welcome. But ultimately, if you have an original iPad, the new iPad is an attractive upgrade; if you have the iPad 2, the new iPad is something of a luxury upgrade; and if you're looking to buy an iPad for the first time, this is clearly the best one yet. Mark Wherry
From £329From $399.
Drum Machine For iPad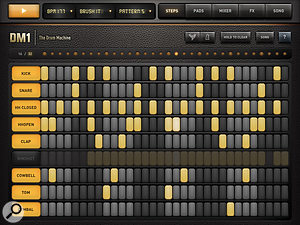 DM1's Steps page fits a 32-step pattern neatly on a single screen.
DM1's mixer, showing automation of hi-hat pitch at the bottom.
Drum machines for the iPad are hardly a scarce commodity but Fingerlab's imaginatively-named DM1 is new, temptingly priced and pretty. I know we all pretend that functionality and other serious matters come first, but where the iPad is concerned, being cute is still important.
This pattern-based drum machine has 64 kits, a song mode, twin Kaoss‑style effects, and drum pads for tapping in beats. The multi-touch surface is well employed for 'xox'-style programming, and patterns of up to 32 steps can be whipped up as swiftly as any drum machine I've seen. Going on to create a finished song is similarly painless and involves simply dragging and dropping your patterns on to a timeline.
Where vintage drum machines typically supply a global accent to play with, here level, pitch, pan and note length of every instrument in a kit may be automated. Adding further fine detail, the stylish mixer screen also notches up sample reversal and the speedy replacement of individual drums or entire kits. This ability to mix and match goes a long way and, thanks to the generous number of kits supplied, you hardly miss importing user samples at all. The kits are divided into the Vintage, Acoustic and DM1 categories, and if the 808 and 909 don't quite convince, there are plenty of other analogues to make amends. The acoustic kits are a very pleasant change; they include everything from jazz brushes to timpani. But it was while auditioning the more outlandish DM1 kits that I started to see real potential for this as a stand‑alone percussion module. Given that there is currently no MIDI clock sync, using external note triggering seems the ideal way to add the DM1 to a larger setup. The only sync offered at the moment involves Korg's WIST (Wireless Sync-Start) technology — and a second iPad.
If you only have the one iPad but still fancy a spot of jamming, the 'Audio In Background' option ensures that songs and patterns keep running while you noodle on another app. Naturally, patterns or complete songs can be exported, then emailed, sent to iTunes or pasted directly to other apps that support Audiocopy.
To spice up your patterns in performance, what better than two X-Y pads brimming with effects? These are a decent collection, whether for extra impact and dirt or merely smooth delay and filtering. If that still isn't enough to keep you amused, there's one last ace in the pack: randomisation. This has to be the easiest way ever to generate fresh patterns, and I know I'm going to use it all the time!
When I installed DM1, I was surprised to discover that its timing was all over the place. I dropped Fingerlab an email about this 'unwanted humanisation' and a few days later v2.0.1 arrived, sorting it. From that moment I never looked back and began to really appreciate this well‑provisioned and intuitive drum machine. Lacking MIDI sync, it won't replace Funkbox in my studio just yet, but with its many usable kits, its song mode and its effects, DM1 is already a worthy backing machine and a fine source of loops for other apps. Paul Nagle
£2.99.$4.99.
DAW For iOS
GarageBand's Note Editor is perhaps the most successful implementation to date of a piano-roll editor for iOS.
The iOS version of GarageBand, launched last year alongside the iPad 2, proved to be an impressive success. For the paltry sum of £2.99$4.99, Apple provided users with an eight-track, music-creation app, complete with a variety of instruments, effects, loops, and an arrangement view borrowed from its Mac-based big brother. Last November, Apple released a Universal version of the app, allowing iPhone users to take advantage of GarageBand's mobile music‑making potential. And, with the unveiling of the new iPad, Apple have taken the opportunity to release an updated, 1.2 version of GarageBand, which, despite the numerical indication, represents quite a substantial step forward.
One of my favourite new features addresses what was an obvious omission in the original release: a Note Editor. You can now edit notes that have been recorded (or create new ones) by double-tapping a region in the Tracks view and selecting Edit, to open that Region in the new, piano-roll-style Note Editor. There have been many attempts at creating this type of editor in other iOS apps, but, as you might expect, Apple's implementation is easily the simplest and most effective yet seen for iPhone and iPad users alike.
You can scroll and zoom the Note Editor using familiar gestures, and note editing works very much like region editing in the Track view. You can drag notes around in pitch or time, and even edit their velocities using a handy, tap-to‑show pop-over. Lengths can be adjusted by dragging the ends of notes, and notes can be niftily edited or deleted via a control that works like the sustain pedal in the Keyboard Touch Instrument.
Visually, the Note Editor is exactly what you would expect, with the pitch and duration of selected notes highlighted in the horizontal and vertical pitch and time rulers. The only slight curiosity is that while the velocity of notes can be edited, there's no way to see the velocity of all of the notes simultaneously, as you might expect in similar editors. Even a mere horizontal line, as with Logic Pro's Piano Roll, would be useful.
Joining the collection of Touch Instruments supplied with GarageBand is the, quite frankly, shockingly good Smart Strings, and I could write as many words on this aspect of the app as are available to me for the whole review. The basic mode has a really nice pizzicato trigger, which turns into legato when you slide the controls, as opposed to tapping, and, while this might sound somewhat vulgar, crescendos when you slide the trigger back and forth. I can't even begin to tell you how neat this is, especially when you get into the Autoplay modes, and the ability to turn the individual string sections on and off, and so on. Yes, you're not going to get any serious work done, but you could easily be inspired to do some.
One feature that's garnered a great deal of attention is Jam Session, which enables a number of GarageBand‑equipped iPads and iPhones and their users to 'jam' together via Bluetooth. Simply start a Jam Session on what will be the Master iPad (or the Band Leader in GarageBand vernacular), which will have control of the transport, and then join this Session from other iOS devices. When the Band Leader presses record, everyone can play along, in time, and the results can then be automatically supplied back to the Band Leader's device. From a technical perspective, this is pretty incredible. And while I could possibly see this kind of functionality being useful in a middle-school music classroom, maybe, in my experience, with sufficiently amusing friends, a GarageBand Jam Session typically devolves into what one might imagine a bad LSD trip to be like.
GarageBand remains an impressive and ludicrously enjoyable app. There's the occasional crash (though your work will usually have been saved), Jam Sessions will, on occasion, become sloppy or disconnected, and you really need at least an iPhone 4, iPad, or 4th-generation iPod Touch to make use of all the features. But, arguably, this latest version of GarageBand once again sets standards for value, functionality, and ease-of-use that other mobile music apps have yet to equal. Mark Wherry
£2.99.$4.99.