Audio Interface For iOS
A couple of weeks ago I visited Apogee's headquarters for a demonstration of several of the company's more recent products. However, while seeing Symphony IO interfaces connected via a Symphony 64 Thunderbridge to a MacBook Pro was all well and good, what really piqued my interest was a demo of Apogee's Quartet interface being used in conjunction with an iPad. Using WaveMachine Labs' Auria app, various members of Apogee's team had recorded a song with the Quartet in the same way you would record a song using a laptop or desktop computer. And while there's nothing technically difficult to grasp about the situation, the idea that an iPad could now be an alternative — or even a replacement — to a regular computer was rather interesting.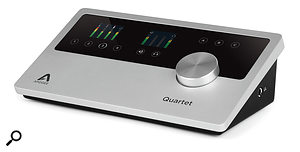 As Paul White reviewed the Quartet (/sos/nov12/articles/apogee-quartet.htm), before Apogee released a firmware update to make it iOS compatible, you should refer to that article to learn more about the Quartet in general. This article will focus on using theQuartet with the iPad.
While there are many manufacturers whose audio interfaces support iOS (RME, Focusrite, and others), Apogee are arguably more serious than most about their interfaces being used with iOS devices. The Quartet (like the company's One and Duet interfaces) now comes with both 30-pin and Lightning cables, in addition to a regular USB cable for use with a Mac. (If you bought a Quartet prior to the 30-pin or Lightning cables being included, these can be purchased from Apogee for $34.95 and $29.95 respectively.) And, best of all, that 30-pin or Lightning cable is also able to power and charge your iOS device. This is a really big deal since the majority of audio interfaces that can be connected to an iOS device don't have such capability, meaning you only get one charge's worth of music or audio work with the interface attached.
In terms of support software, Apogee offer an iOS version of Maestro, the software used to manage the input and output routing of the company's interfaces, and this can be freely downloaded from the App Store. Maestro is a universal app, meaning that it can run on either the iPad or the iPhone. And while it's kind of neat to think you can connect a £1400$1400  audio interface to an iPhone, the majority of serious audio apps available for iOS tend to be iPad-only.
In Cubasis' stereo outputs popover, notice that you can choose from eight stereo output paths. (The 7/8 pair can be used for a dedicated headphone feed.) Notice that the input for this particular track is 3+4.
One nice thing about Maestro for iOS is that the latest version of the app always contains the latest Quartet firmware, so you can update your interface directly from the iPad without having to plug it into a Mac. Simply navigate to the Setup view from the Main Menu, tap the interface underneath the External Accessory heading, followed by the Update button; now, wait a few moments, and you'll be prompted to reboot your Quartet.
The main reason you'd consider an audio interface like the Quartet rather than, say, the Duet, is if you have need for more inputs and outputs. The Quartet can record 12 inputs simultaneously (four analogue inputs with preamps and eight digital inputs via ADAT connections) and has eight outputs (six line outs and one independent headphone jack). However, it perhaps goes without saying that you'll need music and audio apps that can take advantage of more than just a stereo input and output. Garageband cannot, for example — although it can still work with the Quartet in stereo — whereas apps like Auria and Cubasis can. And in the case of these latter two apps, you can even work with the Quartet at 96kHz and still record from all 12 inputs as the interface features two Toslink inputs. It would be nice if Maestro indicated the current sample rate, although you can confirm 96kHz operation as the labels on the digital inputs change from ADAT to SMUX.
One issue I encountered when sending audio out of the different outputs on the interface was that sending audio to any output pair other than 1-2 would result in audio being sent to both the 3-4 and 5-6 outputs. However, it turned out that the Quartet was not to blame and it was one of many bugs affecting music and audio software in iOS 7. The bug was fixed in iOS 7.0.3 and the Quartet worked perfectly with multiple outputs after installing the update.
In addition to its audio connectivity, like the Duet and many other modern interfaces, the Quartet also provides a Type-A USB connector, into which you can plug a Class-compliant MIDI controller. This makes it easy to plug in a MIDI keyboard to play the many instrument apps that are available, for example, and you can also connect a MIDI interface if you want to use the traditional five-pin approach to get MIDI in and out of the Quartet.
The ultimate question when using the Quartet with an iPad is why you would use an iPad rather than, say, a MacBook Air,
Like its desktop counterpart, Maestro for iOS gives you access to the Quartet's hardware routing capabilities. which isn't drastically bulkier and has a significantly better selection of software. The answer would, perhaps obviously, be convenience and mobility. As apps offer better touch-first user interfaces, such that recording with an iPad is actually the most convenient solution, the reasons to track with an iPad (and potentially edit and mix and master final productions) and use an audio interface like the Quartet are going to become ever more compelling.
Overall, I really enjoyed the experience of using an iPad (Air) with the Quartet. It's an expensive solution, to be sure; but if you want what the Quartet has to offer with the apps that you use, it's a very good solution. Mark Wherry
Live Remix App For iPad
Reviewing ScratchPad was difficult because as soon as I'd briefed my nine-year-old daughter and six-year-old son on how it works I couldn't get them to give my iPad back! Within a matter of minutes they had mastered the majority of the app's key features and were making very respectable compositions from its library of drum and bass, dubstep, hip hop, house and trap loops. That's not to say that ScratchPad is a toy aimed purely at youngsters, but it could certainly be used as an educational tool for introducing school children to the world of sample layering, mixing, and processing.
It is best to think of ScratchPad as a set of nine virtual turntables onto which sample loops can be dropped, simply by dragging them from a styles menu on the left-hand side. Once a sample is loaded — a process that takes a matter of seconds — it synchronises itself to the master tempo and is ready to be played.
The turntables are arranged into three columns of three, and at the top of each of the columns there are controls for triggering and shutting down all three turntables simultaneously.
The Inspector allows you to apply processing to your selected loop. Having the column controls means that with a little forethought in terms of sample placement on the page, some rather dramatic breakdowns can be performed with a swift finger swipe. Shutting down is done by moving a slider called Tape Stop, which replicates the sound of a reel of tape slowing to a stop. Alternatively, if a slider is left partially down, all of the samples that are playing in its column will do so at a reduced speed, enabling each column to be set differently to its neighbour!
Each turntable within the columns has its own set of touch controls too, which look like they might be a bit small for a finger to control but actually work pretty well. A swipe across the middle scrubs the audio in whichever direction the finger is heading, roughly emulating the technique of winding tape backwards and forwards over a tape machine's play head. Another turntable-specific option is Tape Stop, which works the same as the aforementioned column Tape Stop, and then there are four sample Stutter presets, ranging from slow to extremely rapid. And, of course, every turntable has its own stop/play button.
When a turntable is selected, some slightly more touchpad-style processing can be applied to the loop that it is playing. This is done from the 'Inspector' page, which is headed by an X-Y control grid with Resonance and Cutoff mapped to opposing axes. The page also offers low- and high-pass filters, One-Shot and Loop play options, a volume control and a range of sample-triggering preferences. Impressively, it is possible to modulate the selected loop with the X-Y pad at the same time as applying the stutter, scrub and Tape Stop turntable controls, all of which enable the user to mangle a sample very easily and to great affect, while the other turntable loops carry on playing.
Cakewalk's ScratchPad allows you to simply drag and drop loops onto virtual turntables.
Every performance is saved automatically and although, as yet, they can't be played back, they can be named and exported as WAV files using Dropbox.
Within the app there are links to iTunes where 'in-app' expansion packs can be purchased.v However, the basic library of samples is extensive enough to keep users busy for a while. It is also possible for users to import their own samples, again using Dropbox. WAV, AIFF, M4A and MP3 file formats are all supported.
It would be nice if ScratchPad gave you the option of applying effects to individual samples. A delay line, in particular, would be a great addition. Overall, though, ScratchPad is a great app which is fun, educational and, with the right samples in place, could be used to produce some inventive tracks. Tom Flint
MIDI Converter App For iOS
For decades, simple and affordable solutions to allow guitar players to control synthesizers have proved elusive. The best options available usually involved hardware units in conjunction with special pickups used to convert guitar signal to MIDI data, but these were often both expensive and frustrating to use. Who then would have thought that one day you would be able to plug your guitar into your phone or tablet and achieve results as good or better without any special pickups or modifications for the cost of a lunch? That day has arrived, and one of the first software apps to do this successfully is appropriately named MIDI Guitar.
The two primary challenges of guitar-to-MIDI conversion are tracking accuracy (how well the unit converts what you play to MIDI data) and latency (the time it takes between picking the note and hearing it on your synth). While it's fairly easy to translate data from a piano keyboard, guitar players typically engage in activity that converters struggle to interpret accurately, such as string bends, slides and hammer-ons. What makes matters worse is that it takes converters longer to figure out what notes are being played on lower-pitched strings than it does for higher strings.
MIDI Guitar from Jam Origin converts your guitar signal into MIDI data without requiring a special pickup. A simple setup screen provides control of polyphonic or monophonic triggering, input sensitivity, buffer size (which will dictate latency) and output path. The app runs in the background and, with Virtual MIDI, allows you to select it as a MIDI input source in your preferred synth app. You can connect a MIDI cable to your external synth modules or computer using any compatible iOS MIDI interface, and connection to a DAW or desktop synth can also be achieved via Wi-Fi. The manufacturers stated latency is between 6ms and 11ms. Compared to guitar synths of old, this truly 'plug and play' app is a real game-changer. No additional latency is added when using an internal app, so playing iOS synth apps is very satisfying.
A word of advice: any guitar-to-MIDI converter requires a sensible approach. If you're triggering a french horn sound, try to think and play like a french horn player, and don't unleash a flurry of hammer-ons and rapid-fire picking. It will sound awful, and you'll be missing the point. The more percussive the sound you're triggering, the more the latency of the conversion process will reveal itself. Pick cleanly, mute open strings, think 'less is more' when it comes to picking, and choose your sounds carefully. Make sure your guitar is set up correctly and is properly tuned.
The app is a virtual gem that will unlock new ways of sonic expression for guitar players. It can be demoed for free with periodic interruptions asking you to purchase, so there's no reason not to give it a try. It's not perfect — guitar-to-MIDI conversion is still fraught with challenges and compromises — but for the price it's a no-brainer! Bill Lacey