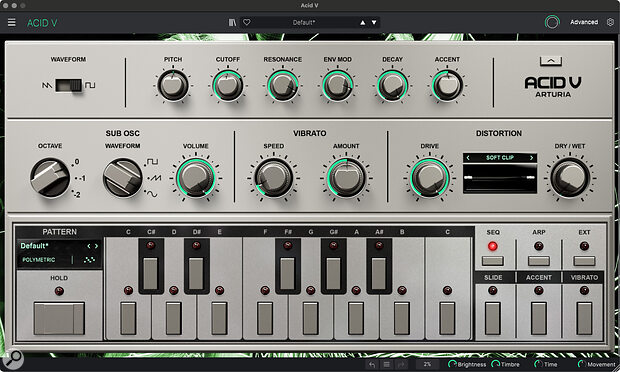 Arturia have another classic on their long list of software synths: a special little squelchy box.
Acid V is a software emulation of the ever popular Roland TB‑303. With all of the important original features dutifully included, new sequencing, modulation and audio capabilities have also been added.
You may have already noticed the addition of several extra knobs to the front panel. These are for distortion, which makes it easy to jump right into high‑energy screaming acid leads without having to search for a non‑flat 9V battery for that orange Boss pedal; a sub‑oscillator with octave shift and a choice of waveforms; and a vibrato section with depth and speed controls. Vibrato can be assigned to notes in the same way as the traditional accent and glide. Gone, though, is the infamously difficult sequencer, replaced with a grid system that makes the note entering and editing process very easy and offers sequences of up to 64 steps.
The interface is nice and clear throughout, although I do hope that with repeated use the silver paint wears off around the cutoff knob as with the original. I was slightly unsure of the glowing green rings around the knobs at first, but they provide a good visual feedback when connected to the various modulation sources.
One slightly bothersome detail is that the 'Advanced' button is used frequently to flip between the front‑panel view and the sequencer view, but it's also the tiniest button, far, far away in the upper‑right corner of the window. It would be useful if there was a keyboard shortcut to flip from one mode to another. One for an update, perhaps?
After locating and pressing the Advanced button you're presented with tabbed pages for Sequencer, Modulation and Effects. More on the Modulation and Effects in a moment, but first let's turn to the original 303's greatest flaw (or greatest asset, depending to whom you speak) — the Sequencer.
Clicking the Advanced button reveals tabs for the sequencer, modulation and effects pages.
Acid V's grid sequencer works much as you'd expect, but has some interesting features including 'Polymetric' mode. This allows the number of steps before the end of the loop to be set independently for octave select, notes, slide, accent and vibrato. It's effectively independent control of the 'last step' position for each of those parameters, so that you can set a sequence going where the notes to which slide, for example, is applied drifts over time, to create interesting variations.
The sequencer can be set to adhere to a number of different scales, and it's possible to enter custom scales (with probabilities set for each note). There is a set of traditional scales, and a set that's geared specifically towards acid melodies. There's also the option to fill in the blanks with a pseudo‑random note generator.
The Transmutation section has a pleasing Erlenmeyer flask graphic, which can be used...
You are reading one of the locked Subscribers-only articles from our latest 5 issues.
You've read 30% of this article for free, so to continue reading...
✅ Log in - if you have a Subscription you bought from SOS.
Buy & Download this Single Article in PDF format

£1.00 GBP

$1.49 USD


For less than the price of a coffee, buy now and immediately download to your computer or smartphone.

Buy & Download the FULL ISSUE PDF
Our 'full SOS magazine' for smartphone/tablet/computer. More info...

RECORDING TECHNOLOGY: Basics & Beyond
Claim your FREE 170-page digital publication
from the makers of Sound On Sound — CLICK HERE