Audio Modeling's SWAM range delivers a complete suite of virtual solo woodwinds and strings.
Back in the day (October 2012, to be precise) I waxed lyrical about Sample Modeling's solo wind instruments. I'm pleased to say the company are still going strong, though there was a bit of a hiccup in 2017 when a split in the ranks led to the formation of a breakaway outfit, cunningly titled Audio Modeling. A minor legal kerfuffle ensued (details in the box below) and an amicable resolution finally reached: Audio Modeling began selling their own products, adding new instruments to the SWAM range which caught the ear of SOS's editorial team at a recent NAMM show. It now falls to your intrepid reviewer to investigate further...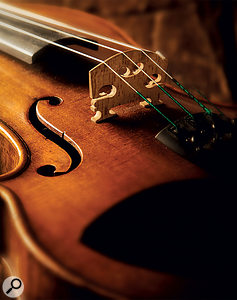 For those who enjoy bewildering acronyms, SWAM stands for Synchronous Waves Acoustic Modelling, a proprietary technology conceived by Stefano Lucato and developed by Emanuele Parravicini. Without getting too technical, it's optimised for acoustic instruments which require continuous control of performance techniques — a violinist gliding from pitch to pitch, a variable-speed clarinet trill, or a flautist gradually introducing vibrato while swelling the volume of a note. Because such mobile articulations are hard to pin down with fixed samples, SWAM introduces physical modelling (note correct spelling) to accurately mimic instruments' real-life behaviour.
The SWAM sound engine runs as a VST, AU or AAX instrument plug-in on PC and Mac systems (see the 'System Requirements' box below). It has no stand-alone version, so if you want to run it outside of your DAW you'll need a separate VST or AU host. If you plan to use it on stage, it's worth noting that Audio Modeling have developed their own Camelot host with live performance in mind. The player software (supplied free when you buy an instrument) comes in two flavours: SWAM-W for woodwinds, and SWAM-S for bowed strings. We'll take a look at Audio Modeling's current range, which divides neatly between those two solo instrument groups.
Audio Modeling's solo woodwinds conveniently group together different members of the same instrument family in one package. SWAM Flute comprises piccolo, flute, alto flute and bass flute. The latter's sumptuous low register enables you to write four-part flute arrangements spanning over five octaves from A2 to C8, an attractive colour rarely heard in today's media music.
The main page of the SWAM Flute interface.
Rather than giving users dozens of patches to wade through, the makers opted for a single all-in-one instrument containing all possible stylistic and timbral options. Thus, the Flute's 'Style' slider allows you to run the gamut from 'classical' (featuring a pure-sounding, restrained attack) to 'ethnic', whose spitty, octave–overtone note fronts are reminiscent of a Japanese shakuhachi. Between these two extremes are the 'jazz' and 'funk' styles, the first of which has enough attack definition for most purposes and thus serves as an ideal default setting.
I was immediately bowled over by the flute's sheer playability and lovely full, lyrical tone, prompting an extended improvisation which threatened to go on for hours. Noting the ecstatic stream of notes emanating from my music room, my partner wandered in and remarked that although it sounded very nice, it lacked the breathy quality she was expecting. This was easily fixed by increasing the 'breath noise intensity' setting on the interface, after which the flute sound met with unanimous approval from both parties.
Moving on, though its top few stratospherically high notes are of limited musical value beyond entertaining the bat population, I also enjoyed the piccolo, which manages to sound suitably bright and piping while avoiding the hollow, wispy sound in the bottom octave I associate with the real thing. Always delectable in the low notes below Middle C, the alto flute's lyrical higher...
You are reading one of the locked Subscriber-only articles from our latest 5 issues.
You've read 20% of this article for free, so to continue reading...
Option 1: Buy and download this single SOS article in Adobe PDF format
For less than the price of a coffee shop drink, buy this article now and immediately download the PDF file to your computer or smartphone.
Single article PDFs look identical to the printed magazine layouts (but exclude advertisements).
Note: Some shorter articles don't always have a PDF version.
Option 2: Buy a great value DIGITAL subscription (or Print+Digital) and open ALL web articles & Full Issue PDFs instantly!
It opens ALL premium web articles, plus our Tablet edition App, and now includes your monthly FREE Full Issue PDF download (worth

£3.99

$5.99

each).
Or contact our Subs staff to discuss an upgrade price to add Digital access to your existing Print subscription.
Option 3: Buy & Download TODAY the Full Issue PDF
From January 2018 edition, we began selling a FULL ISSUE PDF 'replica magazine' for the cost of a handful of single PDF articles. More info...
Try these FREE sample FULL ISSUE PDFs on us!