When it comes to sample-based string sounds, the modern composer is spoilt for choice. However, in the main, those choices are from a number of different orchestral string libraries that might not be quite the right sound for '60s and '70s soul and funk. Which is, of course, exactly where Big Fish Audio's Vintage Strings is supposed to come in. This Kontakt library is intended to sit alongside Vintage Vibe and Vintage Horns and, like those products, uses original samples recorded in a fashion intended to replicate how it might have been done in Motown: small recording studios, small string sections and a rather gritty sound.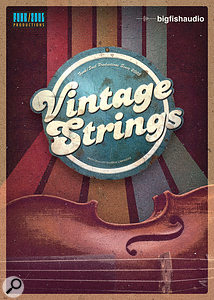 What you get, therefore, are a series of two, six and 12 violin-section patches, multiple articulations and both 'do it yourself' patches (for those with more experience of writing string parts) and some 'assisted' patches (essentially various pre-harmonised patches where you can generate harmony lines and/or chords with just a single finger). The user interface includes a rather nice convolution reverb with a good selection of virtual spaces (based on plates, rooms and springs but, appropriately, no concert halls), a basic EQ for colouring the tone and a subtle, but effective, tape saturation effect.
The articulations are accessed via keyswitches in the usual fashion. It was the various harmonised patches that you can play with a single finger that impressed me the most. While these include fixed chords, there are also options where you can select the key and a scale type (from a number of different possibilities) and the engine then applies a little bit of musical intelligence to generate a suitable harmony based upon the one-fingered line you play. A further nice touch are keyswitches to select different chord inversions.
The documentation suggests that BFA are very much going for a 'non-polished' sound here to get the vibe of the '60s and '70s and, on the whole, I think that has been achieved; Vintage Strings certainly sounds different from an orchestral string library. I did experience the occasional (and minor) rough edge in the samples and, when I dialled in an octave-down harmony, managed to find myself triggering articulation keyswitches unintentionally but, on the whole, the library was a pleasure to use.
Yes, with the right artificial reverb and a few suitable plug-ins to grunge things up a bit you probably could get your orchestral library close to the sound of Vintage Strings, but if you don't want that hassle — and the ease of those harmonised patches sounds appealing — then Vintage Strings, while perhaps not in the casual purchase bracket, is well worth auditioning. My only problem is that I now really want to give Vintage Horns a try... John Walden