Sub‑miniature Microphones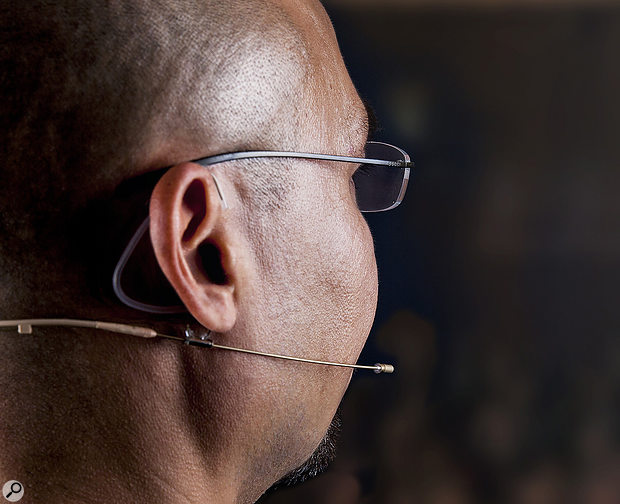 The 6066's headset has a more secure fit than that of the 4000 Series version, and is a 'one size fits all' design.
DPA have been leaders in the tiny-microphone market for years, but their new 6000 Series takes 'miniature' to a new level.
Size is relative, isn't it? Way back when I started my training in broadcast sound I remember being impressed with what I thought, back then, was an amazingly compact 'personal mic' — the Sony ECM50, which was the mainstay of BBC TV studio sound. The ECM50 measured nearly 12mm in diameter and over 20.5mm in length, but over the following decade it was replaced by smaller and smaller models, culminating in mics like the ECM77 (5.6mm diameter), the DPA 4060 (5.4mm) and the very popular Sennheiser MKE2 (4.8mm). These 'personal' or 'lavalier' mics, and more from other manufacturers, have remained in widespread professional use in the broadcast and theatre industries for a considerable time now, and I had assumed it was simply not practical to make a high-quality microphone much smaller than that.
However, the advent of high-definition television and, particularly, UHDTV (4K pixel resolution) created strong demand from production companies for even smaller and less visible clip-on microphones. During a recent visit to the DPA Microphones factory in Denmark, I was privileged to be let in on a closely guarded secret: DPA had designed and perfected a brand-new 'sub-miniature' microphone. And by 'perfected' I don't just mean this new creation is smaller than their previous microphones. Other manufacturers have built sub-miniature mics, after all, but DPA's achievement is to design one which matches the technical performance of their highly regarded 4000 Series range, despite being significantly smaller. And that is really pushing against the boundaries of microphone science!
Moreover, I wasn't being shown some delicate R&D developmental prototypes. The factory was already manufacturing full production microphones in reasonable quantities to build up stocks ahead of the public launch in Autumn last year. Marketed as the 6000 Series, the new microphone's initial variants are the d:screet 6060 (standard omni) and 6061 (high SPL omni) lavalier models, along with the d:fine 6066 omni headset version. DPA sent me a 6061 and a 6066 headset to try for this review.
Naturally, all three new 6000 Series models share the same fundamental omnidirectional capsule design, which is a genuinely astonishing 3mm in diameter (3.4mm with the removable cap fitted), and 14.4mm in length. Interestingly, the reduction in diameter of roughly 2.5mm compared to the 4060 has a much bigger visual impact...
You are reading one of the locked Subscriber-only articles from our latest 5 issues.
You've only read 20% of this article, so to continue reading...
Option 1: Buy and download this single SOS article in Adobe PDF format
Buy this article now and immediately download the PDF file to your computer.
Single article PDFs look identical to the printed magazine layouts (but exclude advertisements).
Note: Some shorter articles don't always have a PDF version.
Option 2: Buy the Full Issue PDF **NEW**
From January 2018 edition, it is possible to buy a FULL ISSUE PDF 'replica magazine' for the cost of a handful of single PDF articles, and instantly download it. More info...
Option 3: Buy a DIGITAL subscription and open ALL web articles instantly!
It opens ALL web articles, the Tablet edition, plus Full Issue PDF download...
Or contact our Subs staff to discuss an upgrade price to add Digital access to your existing Print subscription.