Modular Digital Synth & Effects Pedal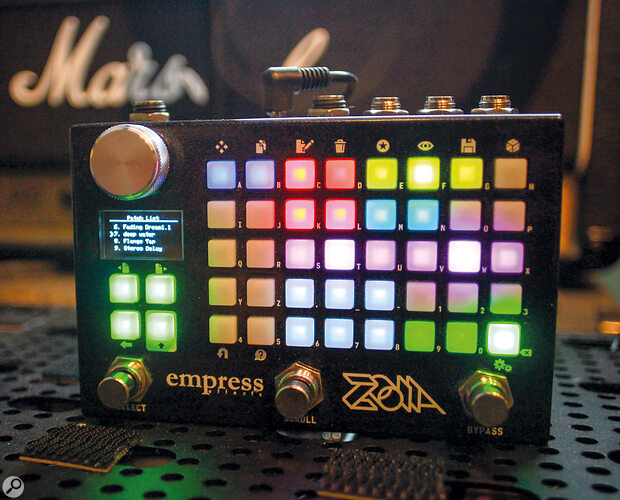 Empress' compact, powerful and versatile ZOIA is part multi‑effects unit, part modular synthesizer...
What do you get if you combine a guitar pedal with a modular synthesizer? Well, you get the ZOIA — a fully modular environment for creating instruments and effects, which comes in a stompbox format that's equally at home on your desktop or a pedalboard. The ZOIA already includes over 80 'building block' modules and more are planned; the collection includes control sources such as LFOs, oscillators and envelope followers, alongside MIDI, CV and audio I/O, switches, analysers, a mixer, and various effects and processors. The possibilities are almost endless: you can create custom effects, synthesizers, MIDI controllers and control voltage sources, as well as entire pedalboards. The ZOIA can also store up to 64 presets for easy recall during live performance, and patches can be shared in an online community.
But while the ZOIA is clearly intended for tone tweakers — those of us who are looking for the maximum degree of control over their effects — it doesn't exclude players who prefer a few shortcuts. Not only can they can easily load one of the 20‑plus ready‑made effects modules (which cover delay, reverb, EQ, distortion, phasers, cab sims, a ring modulator and more) but, for such a complex pedal, Empress have managed to keep ZOIA's front panel mercifully simple.
The ZOIA has actually been around for a while now but Empress introduced firmware v2.0 fairly recently, and as well as attending to bug fixes, this brought many new features to the pedal, many of which were requested by the community, including several new modules and the long‑awaited undo function. Coding optimisation has reportedly reduced CPU usage by a whopping 24 percent on average too. When I received my ZOIA, it was already loaded with a beta version of this firmware but, having read up on the previous version, I can see that it has transformed this pedal; it is wonderful to see the manufacturers continuing to develop the ZOIA, and if you have one and have yet to update, you should do it now.
The stand‑out feature on the top panel is the 8x5 array of backlit buttons. These represent your main work space and provide access to each part of your chosen module, but they also have alternate functions. Press the Shift key (below the screen) and the top row, for example, becomes what the manual calls Action buttons, granting you instant access to the most useful controls for building your patches (move, copy, edit, delete, save, random and star). Other alternate functions for buttons include undo (new in firmware version 2.0) and help, which displays information on the highlighted function or modules — yes, there's a built‑in manual!
At the bottom are three high‑quality footswitches, each with main and secondary functions. They're usually set up as bypass, preset change (scroll or bank) and select, but holding the centre and right switches allows you to configure them as programmable triggers with latch or momentary functions.
The hi‑res 15 x 25mm OLED screen is used to display the ZOIA's module and parameter...
You are reading one of the locked Subscriber-only articles from our latest 5 issues.
You've read some of this article for free, so to continue reading...
Log in - if you have a Subscription you bought from SOS.

Buy & Download this Single Article in PDF format

£1.00 GBP

$1.49 USD


For less than the price of a coffee, buy now and immediately download to your computer or smartphone.

Buy & Download the Full Issue PDF
Our 'full SOS magazine' for smartphone/tablet/computer. More info...

RECORDING TECHNOLOGY: Basics & Beyond
Claim your FREE 170-page digital publication
from the makers of Sound On Sound — CLICK HERE