Photo: Mike Cameron
As well as bringing 192kHz capability to the project-studio market, ESI Pro's new range of soundcards also features revolutionary drivers which allow the user new freedom to route audio between applications.
Most musicians now appreciate the benefits of 24-bit recording, particularly in dealing with live performances when levels can't always be predicted. Many of these musicians have already embraced 96kHz sample rates, claiming cleaner and more realistic transients with drums and percussion, and a more natural top end in all acoustic recordings.
However, technology marches on, and there are now converters capable to being used at sample rates as high as 192kHz. I've already tried these out in the Lynx Two (in SOS March 2002), but not every musician will be able to afford its £1000 price tag, even to attain the impressive 115dBA dynamic range. For those with a tighter budget, ESI Pro (a division of Ego Systems) have been quick off the mark with the four models in their new 192 range, each capable of 192kHz operation.
The WaMi Rack 192X is the flagship model reviewed here. It offers four mic/line inputs and eight analogue outputs plus a headphone output, along with co-axial S/PDIF digital I/O and a single MIDI In and Out. Both the A-D and D-A converters and the digital I/O support 24-bit audio at up to 192kHz. The WaMi Rack 192L is very similar to the 'X' model, with the same 24-bit/192kHz D-A converters, but its A-D converters are only capable of 24-bit/96kHz operation. The Waveterminal 192X and 192L, however, are completely different products, with a two-in/six-out format, no rackmount interface, and a single Toslink optical output. Again, the 'X' version offers 192kHz A-D and D-A conversion, while the 'L' model's A-Ds only go up to 96kHz. A backplate with optical input and MIDI In and Out is an optional extra for these two.
With all four models offering at least six audio outputs, it's not surprising that the 192 range is designed with DVD Audio production in mind. The cards support Dolby Digital 5.1 and DTS 5.1, DTS ES 6.1 and 7.1 surround formats, and when used with a software decoder like WinDVD Player can "transform your PC into a full-blown 5.1 home theatre system", should you wish them to do so.
The bulk of the 192X I/O socketry is housed in a smart blue-grey, silver and black 1U rackmount case, shown above. On the front panel are two pairs of XLR mic inputs, each pair with a common +48 Volt phantom power button. The older WaMi Rack 24 provided only +12 Volt phantom power, despite having its own mains power supply, but with the WaMi Rack 192X, ESI have managed the full +48 Volts powered solely from the computer.
Each input pair also has a Mic button, which when released disconnects the front-panel sockets in favour of the rear-panel TRS-wired line-level inputs. However, the four input level knobs are active in both mic and line modes, and provide a 20dB gain range. The front panel is completed by a red LED power indicator, and a stereo headphone output with its own level control.
The rear panel is also straightforward. Apart from the four line inputs just mentioned, there are eight TRS-wired analogue output sockets, a pair of XLR sockets duplicating outputs 1 and 2 for monitoring purposes, MIDI In and Out, and the D-sub connector to connect the breakout box to the PCI soundcard.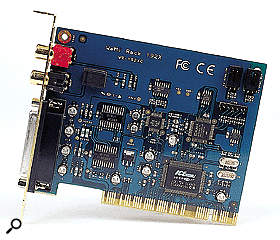 Photo: Mike CameronThe card itself is a simple affair, with backplate connections for the umbilical and a pair of phono sockets for the co-axial digital in and out. There are also Sync In and Sync Out headers on the card itself, which are used to lock up to four cards together internally, and a suitable Sync cable is also supplied. At five metres, the 192X's umbilical cable is also at least double the length of any I've encountered, which will endear it to anyone who wants their noisy PC well away from their audio rack.
The ESI E-WDM drivers provide some unique features (see 'E-WDM' box), and support Windows 98SE, ME, 2000 and XP. The drivers themselves comprise just six files totalling 616k, but install in a somewhat different way to those of most other soundcards. Instead of giving a single 'New Hardware Found' message, my PC found a total of eight new devices — the WaMi Rack 192 E-WDM Controller, followed by Wave-1 through to Wave-6 and finally MIDI. Just leave your PC to its own devices, and it will find them all and install each one in turn.
Device Manager also displays the 192X as eight devices, but inside music applications you'll find six audio devices, which appear as analogue outputs 1 and 2, 3 and 4, 5 and 6, 7 and 8, S/PDIF-AC3, and Multi-10 ch. The latter is for surround sound, and provides access to all 10 outputs within one driver. Exactly the same six devices appear as inputs, although inputs 5 to 8 don't actually exist except when using the special DirectWire features (more details in the box, below).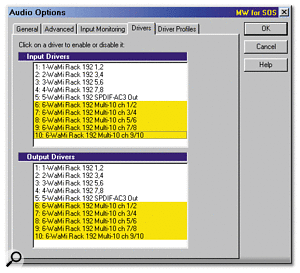 The 192X appears inside applications with quite a few driver options — here you can see both the MME and Multi-MME (highlighted) inputs and outputs.I had no problems installing in Windows 98SE, and didn't even have to reboot before the new Ego Sys Console icon appeared on my Taskbar. I was particularly impressed when the first time I launched it, its titlebar announced an IRQ conflict — it had spotted that the 192X had ended up sharing IRQ 5 with my Echo Mia card. Although I didn't subsequently have any problems with this particular arrangement, it's reassuring to have interrupt sharing announced, so that you can take preventive measures when appropriate.
The WaMi Rack 192X Console has an attractive interface that manages to display all its functions in a single page. Down the left-hand side are the sample rate options, ranging from 16kHz to 192kHz. You can either leave the Auto button at the bottom lit, in which case the sample rate is chosen by your application, or reset this to its Lock position, after which you can force the sample rate to remain at any value you wish — this is handy if you ever accidentally load audio files of differing sample rates, since your song will stay at the originally chosen setting.
The clock itself has three possible settings. Internal should be used if you want the card to provide the master clock, Digital when receiving signals from the co-axial digital input, while Cardsync is the setting for further cards in a multi-card system, so that they get their clock signal through the Sync In header on the circuit board from the card designated as master.
Driver inputs three and four are by default connected to analogue inputs 3-4, but you can switch them from this setting to Digital if you want to record from the co-axial digital input instead. This either/or setting is a design decision that won't bother many users, but may infuriate others. Two further buttons beneath this pair let you switch the S/PDIF input and output between Pro (AES-EBU) and Consumer (IEC 958 Type II) settings.
The remaining two-thirds of the Console is devoted to mixing and monitoring. Each pair of input channels can either be monitored in mono or stereo — changing their state switches relays in the rack unit. Another relay is operated by the Monit button, which routes the input signals with zero latency directly to analogue outputs 1 and 2 when lit, while any playback signals sent to these outputs are also mixed in.
The 192X Console utility provides all the features you'll need in one comprehensive page.
Each of the four inputs and eight outputs has its own pre-fader peak-reading meter and a monitor level fader. There's a readout of the current setting in dB (ranging from 0dB to -63.5dB) beneath each fader, and clicking on this mutes the channel. These faders are handy for balancing up a monitor mix including both inputs and playback signals, but as always they operate in the digital domain, and so the monitor output shouldn't be used for critical purposes.
The S/PDIF output has its own meter, but this time there are no faders or mute function. Surprisingly, the MME outputs also have their own set of eight faders calibrated from 0 to 100 percent, along with meters and mute functions, so that you can balance their levels against the fixed output levels of the ASIO/GSIF drivers.
The Console title bar also has various menu functions. Config offers four settings for mouse-wheel sensitivity when moving the faders, seven ASIO latency settings ranging from 48 to 2048 samples, a Factory Default reset for all settings, Always on Top (which is handy while setting up), and current Card selected in a multi-card system. Unfortunately, you can't choose a new latency setting unless all music applications accessing the card have been closed down, which is tedious during initial setup, and particularly so if you hear an odd glitch in the middle of writing a song and want to tweak the buffer size. Perhaps because of this limitation, clicking on the ASIO Control Panel button provided in applications like Cubase and Wavelab doesn't launch the 192X Console either.
The final menu option is the most intriguing, since it launches a separate graphical window containing the DirectWire patchbay (the function of which is covered in the 'E-WDM Special Features' box below).
The DirectWire patchbay lets you internally transfer audio from one output to another input. Here (from top to bottom) are some suggestions: stand-alone MME soft synth recorded directly into Cubase ASIO, GigaStudio recorded into Cubase, Cubase recorded into Sonar Multi-MME, Sonar recorded into Cubase, and stand-alone MME soft synth into Wavelab MME. Notice also that there are no restrictions on using each stereo output pair with multiple applications simultaneously.Ego Sys first announced their E-WDM (Enhanced Windows Driver Model) in November 2000, a time when various other soundcard developers still seemed to be struggling with WDM drivers for 2000 and then XP and recommending their existing VXD drivers for Windows 98SE and ME. By contrast, E-WDM is a one-driver solution for MME, DirectSound, ASIO 2.0 and GSIF formats that runs on all four of these operating systems.
All four formats provide multi-client capability, so they can be accessed simultaneously by any number of applications. Other soundcards already offer mix-and-match support, so that you can for instance allocate one pair of outputs to the MME drivers used by a soft synth, a different pair to GSIF drivers allocated to GigaStudio, and yet another different pair to ASIO 2.0 captured by Cubase VST. However, E-WDM goes further by providing Multi-Streaming, which allows you to assign multiple applications to the same output port, even when choosing the same format.
Since the various driver formats are incorporated into the E-WDM structure, it gets even better. DirectWire is a unique feature that lets you digitally transfer signals between any of the MME, Multi-MME, ASIO or GSIF driver components. The DirectWire patchbay is launched from the Console utility, and all you need to do is click and drag any of its inputs or outputs, whereupon a graphic patch cord appears that you can drop on any other output or input. These routings are preserved between boots.
DirectWire makes it possible (for instance) to internally transfer multiple outputs from GigaStudio GSIF drivers directly into Cubase's ASIO 2.0 inputs or Sonar's Multi-MME inputs, so that you can add VST and DirectX plug-ins to them. Alternatively, you could send the Multi-MME outputs used by Sonar directly to Cubase ASIO inputs, or vice versa. The reason for the apparently redundant driver inputs 5 to 8 now also becomes clear — you can use them for internal routing when you don't want signals mixed in from the analogue inputs. This is freedom with a capital F!
I was impressed by the audio quality of the 192X, and after months of auditioning soundcards with very similar converters to the AK4528s in my benchmark Echo Mia, it was refreshing to hear some that sounded slightly different. These had a subtle 'forward' quality at the high end, giving strings and percussion a sweetness and sheen. I suspect once again this was also partly due to a low-jitter clock, since transient detail was more defined and focused, and I could hear further into reverb tails.
The mic inputs sounded clean, and my experiments with 96kHz recording displayed an open, airy and natural sound. Switching to the 192kHz setting provided an improvement that was at best extremely subtle to my ears, although its claimed frequency response of 6.5Hz to 87kHz (±0.007dB) should preserve detail that might be lost at lower settings. Personally I think that moving beyond 96kHz is of questionable value unless your mics, acoustics, mixer and so on are of first-class quality, but it's an option if you want to try it.
Background noise with the front-panel gain controls set to their minimum 0dB position measured -93dB RMS with 16-bit/44.1kHz recordings, dropping to a very good -107dB at 24-bit/44.1kHz, opening out to -105dB when the bandwidth was increased to 96kHz, and -102dB at 96kHz.
Mic inputs: four, balanced/unbalanced front-panel XLR with 1.5kΩ input impedance, optional +48 Volt phantom power switched in pairs.
Line inputs: four, balanced/unbalanced rear-panel TRS-wired jack with 10kΩ input impedance.
Line input sensitivity: +4dBu nominal, +22dBu maximum, +20dB gain adjustment.
Analogue outputs: eight, plus stereo headphone, balanced/unbalanced rear-panel TRS-wired jack with 100Ω impedance, nominal output level +4dBu.
Input dynamic range: 123dBA at -60dbFS.
A-D converters: 24-bit 128x oversampling, full differential input.
D-A converters: 24-bit 128x oversampling, 8x digital filter.
Output dynamic range: 106dBA.
Frequency response: 6.5Hz to 87kHz (±0.05dB) at 192kHz sample rate.
Supported bit depths: 16, 24, 32-bit float.
Supported analogue sample rates: 16, 22, 24, 32, 44.1, 48, 88.2, 96, 176.4 and 192kHz.
Digital I/O: co-axial in and out, at 32kHz to 192kHz (using the digital input replaces analogue inputs 3 and 4).
MIDI: In and Out.
With NI's Pro 52 and my Pentium III 1GHz PC I managed to run at the lowest ASIO setting of a reported 48 samples at 44.1kHz, giving a theoretical latency of just over 1mS. However, I'm afraid I just didn't believe this value, especially as I also managed it with Cubase VST 5.1, but without the CPU overhead meter rise and flickering you normally get when there are nearly 1000 interrupts per second.
Further investigation using the 'real-world' audio latency test I described in last month's PC Musician showed that these buffer sizes seem to be reported as half their actual value, although applications like Cubase that provide a latency figure do show the correct result. So, for instance, the 128-sample buffer, which you might expect to produce a 2.9mS reading at 44.1kHz (128/44100) actually reads 6mS in Cubase, and has a real-world value of 6.8mS. For those who want to attempt the lowest '48-sample' setting, this is displayed within Cubase as 2mS, but actually measured a real-world 3.2mS. Despite being slightly misleading, this is still excellent performance.
GigaStudio 160 needed an increase in buffer size on my PC to 64 samples to avoid glitching with the GSIF drivers, but with the E-WDM Multi-Streaming functions I managed to run Cubase VST 5.1 alongside it, with both applications simultaneously using the same pair of analogue outputs — this, again, is excellent performance. The DirectWire functions are nothing short of revolutionary, and let me for the first time add VST and DirectX plug-ins to individual GigaStudio sounds.
The DirectSound drivers didn't fare so well with Pro 52, managing only 30mS, while the MME drivers only scraped through at 45mS without glitching. However, since most modern applications have access to ASIO or GSIF drivers this is rather academic.
Thankfully, Sonar recognised the true WDM nature of the drivers, and its Wave Profiler immediately set about testing the WaMi Rack 192X hardware. Once this has finished, Ego Sys recommend selecting the Multi-10 channel driver option for both playback and recording timing master, and after doing this I immediately got glitch-free performance at the lowest suggested buffer size, giving me a latency of 11.6mS.
The S/PDIF I/O proved somewhat more troublesome, and it took me a couple of hours to sort out exactly what was going on. Transferring a known file from a DAT player into the 192X 3/4 inputs set to digital mode did produce a bit-for-bit copy, except that the left-hand channel was delayed by one sample — a small point, but one that would mess up stereo imaging at high frequencies. More serious is the S/PDIF output, which for some strange reason was exactly 5.5dB down in level. These two bugs need sorting out as a matter of urgency.
However, digital bugs apart, I was most impressed with the flexibility and performance of the E-WDM drivers, and particularly with the Multi-Streaming and DirectWire features.
There's little doubt that 192kHz will become the next 'must-have' specification for some musicians when buying a new soundcard, especially with the Waveterminal 192L offering an attractive £149.99 entry-level price point. Whether or not you'll actually benefit from this is harder to say, and I've always maintained that unless you can hear the difference with your particular setup, it's not worth consuming lots more hard drive space.
However, there's a lot more to the 192X than a high sample rate. Both it and its stablemate the 192L are a lot more professional in appearance than the previous WaMi Rack 24 model, and although they all share an unusual four-in/eight-out format, the 192 series offers additional full +48 Volt phantom power on its mic inputs, as well as a significantly wider dynamic range. It does, however, have half its predecessor's quotient of MIDI Ins and Outs, and loses the optical I/O, SMPTE and word clock functions.
Overall, the 192X will sell on its 24-bit/192kHz capability and high audio quality, and for the impressive E-WDM drivers, which make most others seem very limited by comparison. Being able to allocate the same stereo pair to multiple applications simultaneously, even when using the same driver type, is truly liberating. Moreover, DirectWire offers patching possibilities that are unmatched by any other audio interface.
Pros
Excellent audio quality.
192kHz capability.
Multi-client and Multi-Streaming drivers provide incredible versatility.
DirectWire features allow digital transfer form one application to another.
Cons
You lose a pair of analogue inputs when using the digital input.
Music applications must be closed before latency is altered.
Serious S/PDIF bugs with version 3.80 drivers.
Summary
With the four analogue inputs and eight outputs of the 192X, plus excellent audio quality and 192kHz capability, ESI Pro have carried on their tradition of being a little different, but where they really score is with their amazingly versatile E-WDM drivers.
information
£599.99 including VAT.
test spec
ESI Pro WaMi Rack 192X driver version 3.80 (4th June 2002).
Intel Pentium III Coppermine 1GHz PC, Asus TUSL2-C motherboard with Intel 815EP chipset, 512MB PC133 RAM, running Windows 98SE.