The new Artist series brings Euphonix's innovative Eucon technology to the project studio market. Does the MC Mix put existing fader controllers in the shade?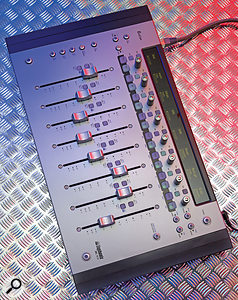 At the NAMM show earlier this year, Euphonix gave us a sneak preview of their Artist Series MC Mix and MC Control units, two new control surfaces that support most mainstream Mac–based DAW software packages. Where the software vendors have implemented Euphonix's own Eucon protocol, this is used to connect the Artist controllers, but they are also capable of emulating Digidesign's HUI protocol and the Mackie Control protocol. Each Artist may be used independently, or they can be combined as part of a larger system. We were sent the more conventional fader–based MC Mix controller for review; the intriguing MC Control, with its touch–screen interface, should be following imminently, along with Windows support.
Until now, Euphonix products were mainly aimed at the professional working on a professional budget, but these new Artist controllers are pitched to appeal to both pros needing a compact control system and to project studio owners. The technology behind the interfaces is drawn directly from the Euphonix high–end control surfaces, as is the Eucon protocol itself. Like the larger MC Pro controller reviewed in last month's SOS, the MC Mix hooks up to the host computer via Ethernet. A Eucon control utility is continuously active while the controller is connected, but doesn't seem to impose a significant CPU load. A separate MC Client application routes the Eucon control data to all the supported applications.
I say 'all', because Eucon makes possible the simultaneous control of multiple applications or even multiple workstations. The use of Ethernet means that data bandwidth is vastly higher than MIDI, which most controllers in this price range use, and Eucon also offers better data resolution than MIDI, where controllers are commonly restricted to 128 discrete values.
The MC Mix is designed to work to a limited extent with any application, but for fader and knob control the application must either support Eucon directly or via the HUI or Mackie Control protocols. Where applications lack support for any of these protocols, the buttons can still be mapped to send out user–specified keystroke commands, so although you wouldn't buy an MC controller to work with unsupported software, it may still be useful.
Most of the major DAWs now work with the Artist series of controllers directly, by incorporating Eucon support, among them Apple's Logic, Steinberg's Nuendo (and soon Cubase), MOTU's Digital Performer and Cakewalk's Sonar. The big name missing from this list is Digidesign, and Pro Tools users will need to use the HUI emulation. Mackie Control emulation should take care of other non–Eucon DAW software.
The first thing I noticed about the MC Mix was just how slim and compact it is, despite it having eight 100mm, touch–sensitive motorised faders, eight touch–sensitive rotary encoders with integral push switches and a clear LED display above each fader, using Organic LEDs (OLEDs, which have various advantages over LCDs). Overall the unit measures 16.5 x 9.5 inches and is barely an inch thick, yet with its neat layout, clean lines and uncluttered panel, it looks thoroughly professional.
The MC Mix connects to the host computer via Ethernet.Up to three further units, or a setup incorporating an MC Control and up to four MC Mix units, can be linked to provide a larger–scale control surface. Short swivel legs beneath the unit allow it to be angled up slightly, and there are also plastic clip–in pieces that can be used if a bit of extra height is needed. Where multiple units are used together, they can be physically joined, after removing the relevant end–cheeks, to produce a single entity, which makes for a very neat installation. Power comes from a separate switch–mode power adaptor, and the connector for this is on the rear panel, along with the Ethernet socket and a jack socket for an optional punch–in/out footswitch. Most modern Macs need only the included crossover Ethernet cable to get up and running, but an Ethernet switch or hub is needed when hooking up two or more units or for enabling control over a network.
Once the supplied software is loaded from its CD–ROM, there is little or no setting up to do, depending on what DAW software you're using, though I had some teething problems getting my Ethernet connection to work. If your host computer is already configured for network use, you might need to give the MC Mix a fixed IP address too, rather than relying on the default dynamic allocation. This had been necessary in order to get the review model working for the photographs, and the manual didn't make it entirely clear how to change it back again — though a few tentative button presses and choice swear-words soon fixed it!
A grey 'E' symbol appears in the menu bar at the top of the Mac's screen on start–up, and this turns green when communication has been established with the MC Mix. This is supposed to happen automatically, but on both my MacBook Pro and my studio G5 I found I had to click on the 'E' symbol to bring up the Eucontrol Settings panel. This has a list on the left called All Surfaces and a list on the right called My Surfaces, and I had to add the MC Mix manually by selecting it in the All Surfaces list and hitting the Plus button, which then puts it into the My Surfaces list. Once the above step had been completed, the 'E' symbol glowed green, the MC Mix burst into life and everything was happy.
In addition to
its small size, the modest number of buttons on the MC Mix comes as something of a surprise, and a dedicated transport section is conspicuously absent, though this isn't an insurmountable problem as will be revealed shortly. At the two lower corners are Shift buttons which activate a second function for each control (printed in blue), but so well has the operating system been devised that relatively few buttons are actually necessary. You can lock the Shift keys by pressing both together.
Each channel has Select and On buttons next to the rotary encoder, Solo and On buttons below the encoder, and Record and Select buttons alongside the fader. The encoder On key toggles dual–state parameters, such as switching EQ bands on or off, while the Sel key changes the knob function or, for example, switches from pre– to post–fader, depending on the context. The individual LED display above each fader strip displays metering and track details for the associated channel in your DAW. Though the LED windows are quite small, the displays offer very high definition with good contrast, and show a lot of information, including level metering, automation mode, track name and pan position. If you're working in surround, they even show very skinny 5.1 metering to the left of the window, and whenever a track is selected as the 'attentioned' track a horizontal line appears in the display. The displays dim when not being used, to extend LED life.
Touching a fader automatically selects the corresponding track, though the touch function can be disabled if required, in which case the channel Select button does the same job. The Shift function of the Fader Select button is used to assign parameter control to a fader in cases where an application isn't directly supported, so you can, in effect, create your own control system for these programs, albeit to a more limited extent than those that are directly supported.
Three sets of left/right cursor buttons deal with nudging through channels or stepping through banks of channels or edit pages, with a separate Back button for retracing your steps. Down the left of the panel are five further knob mode buttons designated Channel, Inserts, EQ, Aux and Pan. When Channel is off, the unit is in 'Normal' mode, where the knobs control the same function across eight different channels. When Channel is on, the eight knobs control up to eight different parameters relating to a single 'attentioned' track. Channel mode is indicated in the LED display by a grid of small yellow dots around each parameter title and knob position indicator, and the 'attentioned' track has further dots around its entire display area to highlight it.
The other four mode buttons get you directly to the named functions, enabling plug–ins, EQs and aux sends to be inserted or created, and their parameters adjusted. Under some circumstances, knobs have dual functions that may be toggled by pressing the knob's Select button, EQ frequency and bandwidth being one example. The displayed parameter name changes when Select is pushed, in this case.
With no dedicated transport controls, the Solo and On buttons for the last four channels double in this role.Shifted functions include Flip, which makes the faders and rotary encoders swap functions, Input, Dynamics, Group and Mix. Shifting the left Nudge button opens and closes the mixer page of your DAW, where this function is supported, and the shift button also turns the last four channels' Solo and On buttons into a full set of transport controls, while leaving the On and Solo buttons of the first four channels functioning normally. Engaging the Shift lock keeps the transport available all the time, but the LED status within the buttons now functioning as transports doesn't change accordingly. I think this is a bit of a shortcoming, as it should have been possible to make these emulate a conventional transport section (either all lit or all off) and for the record button LED to turn red instead of green when active.
Shifting the track Rec buttons accesses the DAW's track automation and steps through the available automation modes. Another very neat touch is that you can assign the 'attentioned' track to a dedicated fader, while you to 'bank' through tracks with the remaining faders. This is a good way to keep the currently selected track always to hand as you change banks. To get back to the first eight channels quickly, you just activate the Home function (Shift plus left Bank).
When your DAW is the active application the MC Mix jumps to attention, and if you have multiple DAWs running at the same time the MC Mix simply aligns itself with whichever one is in use. Apple's Logic needed no setting up at all — you just fire it up and go. If you switch to an unsupported application such as a word processor, the faders return to zero and the displays and LEDs go blank, other than a small rectangle in each display window. There are also protocols for manually switching between multiple open applications via a dedicated button to the right of the front panel and a Shift function for closing open windows. However, there's no fader kill mode that I could find; when you're doing a final mix it would be nice to be able to disable the faders so you can listen to the final product without the sonic accompaniment or visual distraction of moving faders.
Overall, I love the straightforward approach of the operating system. It is extremely intuitive and seems to be more obvious than, say, a Mackie Control, though not sufficiently different that it would take a user long to move from one to the other. With my Mackie Control, for example, selecting channel mode to see all the sends associated with a single channel is easy, but when you want to see specific controls associated with multiple channels, this is less obvious, and the default mode seems to be to allow you to change the designation of a send rather than its value. To this day it confuses me, but the Euphonix MC Mix just did what I expected it to do.
The default start–up mode controls levels and pans across eight channels, but if you hit Aux, you see the control for the uppermost send slot in each channel, and using the Page arrow buttons, you can move up or down through the sends — very straightforward. The function of the rotary controls then changes to adjust the send levels, just as you'd expect, while activating Channel mode shows the first eight aux sends associated with the selected channel across the display section.
In Insert mode, each display shows the contents of a single plug–in slot on its associated channel; if Channel mode is active, the eight channels show the first eight plug–in slots on the 'attentioned' channel.When you select Inserts, the Page buttons can again be used to move up or down the insert slots in the eight channels. Pressing a knob opens the associated plug–in window and shows the parameter values across the LED windows — again very intuitive. Doing the same thing with Channel mode active shows the first eight plug–in slots associated with the 'attentioned' channel (any more are shown on a second page), and this choice of 'horizontal or vertical' access extends to most channel functions.
All the buttons include bright status LEDs that leave you in no doubt as to what mode you're in, which is essential in a product such as this, but I do have an issue with the tiny legend size on the MC Mix's front panel. In my office, which is illuminated by one of those energy–saving bulbs that laughingly claims to give the equivalent of 100 Watts of light (as seen from Mars, perhaps!), I couldn't read any of the panel artwork other than the Euphonix name and the Eucon symbol without reading glasses, and even then, the writing still looked about the size of the text in a busy dealer ad! It's perfectly readable in bright light, but under typical studio illumination you don't need to suffer from less–than–optimal eyesight to experience problems. There's absolutely no reason for this, as the panel layout would allow a typeface of twice the size without crowding, and the buttons that double up as transport buttons have plenty of space for proper transport–button–style graphics below them.
I've already mentioned that the MC Mix is more intuitive and straightforward to use than Mackie Control, but on the down side, it does miss out a few features that Mackie Control includes, such as the row of function buttons that take you directly to your screensets, marker navigation and a single button for saving the current project. I really missed having a data wheel for scrolling the cursor and, for me, having dual–function transport buttons halfway up the panel is not as immediate as a well–labelled, dedicated transport section. The transport section is the most–used area of my Mackie Control, and as well as starting and stopping playback and recording, it allows me to zoom the vertical and horizontal display resolution, turn the metronome on and off and to enter or exit Loop mode in Logic. In my view, Mackie got this exactly right, although the way the limited number of buttons on the MC Mix is utilised is very effective.
Both are fantastic pieces of kit for the price so I don't want to knock either, but equally both have their strengths and their weaknesses and they may appeal to different types of user. Maybe adding an MC Control to the MC Mix would provide a more complete solution for those who have similar requirements, but with a Mackie Control you get the eight faders plus a master fader, as well as a solid transport section, all in the same unit.
Leaving the limited transport section aside for the moment, even if you're one of those people who doesn't use a remote control surface to its full extent, and I have to confess I'm one, the MC Mix makes it very easy to mix, pan and access plug–ins and to change automation modes, which seems to be what many users spend most of their time doing. There's no visibility problem with the MC Mix's LED readout panels, as they are pin–sharp and high–contrast, even if the rotary controls are so close to them that they're usually obscured by your knuckles when you're making an adjustment. All the motorised faders feel smooth and comfortable, with the touch mode behaving very positively, at least for me. Furthermore, even though my first test system was based around a laptop where nothing had a mains ground (everything ran from power adaptors), the touch faders still worked reliably, which isn't always true of controllers that use touch–sensing technology.
The MC Mix is perhaps the most elegant compact controller I've yet seen for use with Logic, which is the DAW I'm most familiar with, and it should be equally welcome to users of the other fully supported DAWs. Before working on this review in my own studio, I spent a little time with the Euphonix product specialist. He had multiple DAWs on his system, and it hopped between them with no problem. Furthermore, the MC Mix is priced very sensibly to be within the reach of home and project studio owners. It doesn't offer quite so much functionality as my Mackie Control, but what it does, it does very professionally and intuitively. It also takes up a gratifyingly small amount of desk real-estate. It is probably fair to say that as the Euphonix MC Mix has a more professional provenance than the more populist Mackie Control, yet is priced within the same ball park, it's not unreasonable that it should have a more streamlined feature set.
The forthcoming MC Control adds four further motorised faders and a flexible touch–screen control section, so having one of each would make the operation even more intuitive, but even as a stand–alone controller the MC Mix does a surprisingly good job. The ability to address multiple DAWs without having to manually change modes or reboot the system is excellent, though having the faders clatter to the bottom every time you switch from a DAW to a word processor is slightly irritating. Perhaps just leaving them where they are when switching to an unsupported application would be a kinder option, both to the user and the faders?
Ultimately, however, such niggles as I have are minor, and even the poor legibility of the legending would only be a problem during the short time it would take to learn what all the buttons do, as there aren't that many of them. Getting Euphonix quality in such a classy, cost–effective controller, built around the proven Eucon technology,x is a big deal and should be recognised as such. I'm really looking forward to checking out the MC Control when it becomes available.
Apple Macintosh G4 with a 1.25GHz or faster Power PC G4 processor; Power PC G5, Intel Core Duo or Intel Xeon processor highly recommended.
Mac OS 10.4 or later.
One available 10/100 Base–T Ethernet port.
An Ethernet hub or switch is required to connect additional MC Mix or MC Control unit(s) or to connect to a network.
1GB RAM.
100MB of free hard disk space for full installation.
If the MC Mix looks a bit short on transport control features, that's because the forthcoming MC Control looks after all that and more. It's based around a data wheel and a colour touch–screen interface, with several function keys that access the shifted functions of other buttons on the MC Control, nine rotary controls, a punch in/out footswitch jack and four of the same high-quality motorised faders as on the MC Mix. The touch–screen can also display things like EQ curves and song data, and it is possible to add up to four MC Mix controllers to create a 36–fader control surface. A number of ergonomically placed buttons around the data wheel enable it to control multiple functions, though the actual operating system and the extent of its transport control abilities won't be known until we get hold of one to test.
Pros
Intuitive but powerful user interface.
Supports multiple DAWs, automatically recognising which one is active.
Affordable.
Stylish and compact.
Multiple units can be mechanically locked together to form a single control surface.
Cons
Panel legending unnecessarily small.
Button LEDs in transport mode could be more helpful.
No jog/shuttle wheel or display zoom buttons.
Summary
This is a very serious controller that looks great, takes up little desk space and supports all the mainstream DAWs.
information
£699 including VAT.
Euphonix +1 650 855 0400.