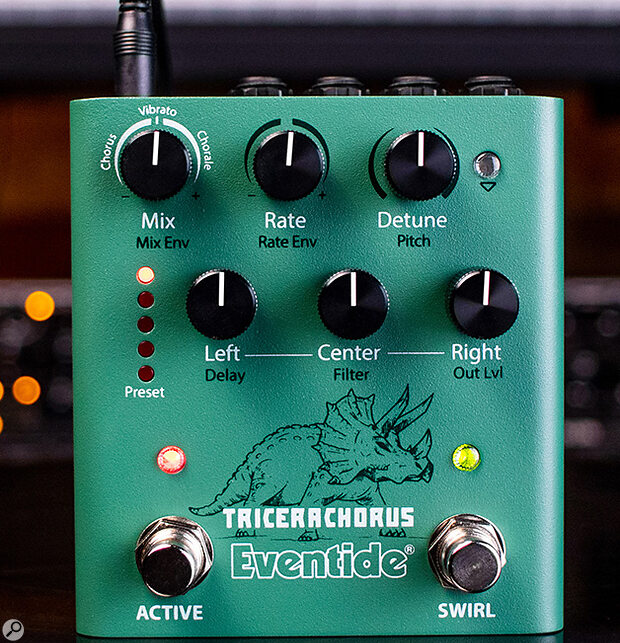 Another of Eventide's excellent plug‑ins makes the transition to the popular pedal format.
Although all of the effects in this pedal are created digitally, the sonic inspiration for the TriceraChorus lies in bucket‑brigade analogue chorus pedals from the 1970s and '80s. The chorus effects are combined here with Eventide's MicroPitch detuning and a parameter called Swirl, which adds what Eventide describe as psychedelic flanging, phasing, and Univibe‑style sounds. Furthermore, TriceraChorus can generate three different types of chorus voice with separate modulation depths for Left, Center and Right, to generate a lush stereo soundscape. There are three basic chorus types designated as Chorus, Vibrato, Chorale and up to 200ms of delay may be added to each type.
As with Eventide's UltraTap Delay and MicroPitch Delay, which share the same form factor, the TriceraChorus has the ability to store presets. In this case up to five can be stored in standalone mode, but the free Mac/Windows Eventide Device Manager (EDM) software gives access to many more and provides a means to create new presets too. Five LEDs show which preset is active and up to 127 presets can be accessed via a MIDI connection.
This pedal isn't just for guitarists: the TriceraChorus sounds just as impressive on keyboards.
The pedal itself is made from folded steel and comes with five card overlays, each showing the control settings for a different factory preset. There are six knobs, each of which has a dual function, and two footswitches with status LEDs. Active is used to engage or bypass (which can be set as Buffered, Relay, DSP+FX or Kill Dry) the effect, and one activates or bypasses the Swirl option, with a button switching between the two Swirl knob functions. The Swirl footswitch can also be used to select presets, while the Active footswitch can be set for latching or non‑latching operation.
As with other Eventide pedals, the TriceraChorus can accept mono or stereo inputs, at line or instrument level.The main knob functions are Mix (which also selects the modulation type), Rate, Detune, Left, Centre and Right, with secondary functions of Mix Envelope, Rate Envelope, Pitch, Delay, Filter and Output Level. The envelope settings allow the input signal envelope to control aspects of the modulation, for example, allowing the modulation depth to increase as the input sound decays.
On the back are an input for the included 9V PSU, a mini‑USB port for linking to the software or MIDI control over USB, and quarter‑inch jacks to accommodate mono or stereo inputs and outputs. The input is on a TRS stereo jack, and the two outputs appear on separate mono jacks, with switching for instrument or line‑level operation and separate mono/stereo switching for the inputs and outputs. A further jack takes an optional expression pedal or switch, for tapping in the mod rate, and using a three‑button switch here you can cycle through presets. Any combination of parameters can be mapped to the expression pedal to allow smooth real‑time morphing between settings.
Of course, what really matters is the way this thing sounds, and it really is very impressive in this respect. If you've heard Eventide's plug‑in equivalent of this pedal, you'll already know what to expect: it covers all of the conventional chorus‑like effects but it can manage a credible ADT or doubling effect too, with the detune feature helping reinforce the illusion. Kicking in Swirl really does suggest a hint of Univibe, and the stereo options allow for rich, textural, almost '3D' chorus effects. Importantly, this pedal isn't just for guitarists: the TriceraChorus sounds just as impressive on keyboards. It really doesn't disappoint, either in the range of available modulation effects or in its overall sound quality.
Summary
A great‑sounding, high‑quality digital chorus pedal, suitable for line/instrument and mono/stereo sources.