A hybrid recording interface can give you the practical benefits of a stand-alone recorder with the flexibility of a computer and audio interface. Here's our round-up of current options.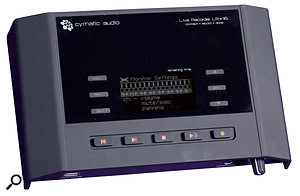 Cymatic Audio LR16
The Cymatic Audio LR16 is designed to make capturing multitrack recordings of live concerts as easy as possible, with audio being stored to a USB thumb drive. When hooked up to a computer, it provides 16 line-level inputs and a stereo out.
Review: /sos/jul13/articles/cymatic-lr16.htm
RME Fireface UFX
Though primarily a high-quality audio interface, the UFX can also work as a 30-input stand-alone USB recorder. It can even play back up to 30 outputs at the same time, or its outputs can be configured for foldback, using its extensive TotalMix DSP effects and routing, configured from a computer.
Review: /sos/jan11/articles/rme-fireface-ufx.htm
Allen & Heath Ice 16
The Ice 16 can interface with computers via either Firewire or USB, providing 16 line-level inputs and outputs to a computer. All of these can also be used simultaneously in stand-alone record mode, with audio being stored to and played back from an external USB drive.
Review: /sos/may13/articles/allen-heath-ice16.htm
Zoom R24
In both interface and recorder modes, the Zoom R24 can record up to eight mic or line channels simultaneously. When working as a stand-alone recorder, it can store and play back up to 24 channels, while in interface mode it can work as a DAW control surface. It can also run on batteries.
Review: /sos/jan11/articles/zoom-r24.htm
Boss BR800
The BR800 can record up to four mic or line inputs simultaneously, and play back up to eight. As well as functioning as a four-in/two-out interface, it features built-in effects for processing vocals and guitar, as well as an on-board drum machine.
Zoom H6
When connected to a computer, the H6 works as a six-in/two-out interface with direct latency-free monitoring. As a recorder, it can simultaneously capture the signal from its four mic preamps, as well as two more channels from its range of attachment options, which includes a two-channel preamp, an X-Y stereo mic, a Mid/Side mic or a shotgun mic.
Cakewalk V-Studio 100
Featuring two mic/line inputs and four line-only inputs, the V-Studio 100 is designed to offer tight integration with Cakewalk's DAW, Sonar. As well as being both an interface and standalone recorder, it has a well-appointed control surface built in, comprising transport controls, a rotary encoder, various function buttons and a motorised fader.
Review: /sos/sep09/articles/cakewalkvstudio100.htm
Roland R26
The R26 has two pairs of stereo mics (an X-Y pair and a pair of omnis) as well as two XLR mic inputs. It can record all of these at the same time, in either USB interface or stand-alone mode, and ships with a copy of Cakewalk's DAW Sonar LE.
If you like the idea of making recordings away from your mouse and keyboard, but still want to enjoy the flexibility of mixing in a DAW, read on...
Computers are great for mixing — but sometimes the extra complexity involved with using them can get in the way of a good recording...
There can be no denying the power of computer software in music mixing. The instantly recallable settings, the flexibility and the sheer power of DSP have seen even the most hardcore of outboard devotees pawn their precious processing racks. But there's one area where hardware still reigns, and that's at the beginning of the music production process: recording.
While it's perfectly possible to set up a computer-based recording system that's stable enough to work in hostile recording environments, there are still many pitfalls to watch out for. For example, the vast majority of USB and Firewire connectors are non-locking, so the connection between your audio interface and computer can easily work loose, resulting in an audio drop-out at best or, at worst, a severe crash and the loss of your recorded audio! Then, of course, there are all the potential software glitches, bugs and gremlins, which have an uncanny way of presenting themselves at the worst possible moment.
In contrast to computers, hardware recorders have only one function to perform and are consequently much more robust in operation. This is mainly because their designers don't need to account for the possibility that someone might want to use their device for recording music, playing Solitaire and downloading pictures of cats, all at the same time!
Equally important is the user experience. Just as many people prefer using consoles or control surfaces to mix on, many also would rather hit a physical 'record' button than use a mouse to click on a virtual one. The very act of using a mouse, screen and keyboard can be enough to stifle creativity — especially when there's software to configure even before a single note has been played.
For some time now, studio equipment manufacturers have been building audio interfaces into all kinds of devices, such as mixers, control surfaces, microphones and, more recently, hardware recorders. It's a marriage that makes a lot of sense, allowing engineers to take advantage of the robust and simple operation of a stand-alone recorder at the critical recording stage of production, while being able to use the same device with a computer for mixing, where the extra complexity is a worthwhile trade-off for all that DSP.
The degree of computer integration varies considerably between the current crop of hybrid products, but all offer at least some means of monitoring audio from your computer, in the form of stereo line and headphone outputs. In fact, any input and output that's available when in stand-alone mode is also generally available when the device is being used as an interface, and in the case of the handheld-type recorders, that means you've got a stereo pair of mics directly hooked up to your computer, ready for when inspiration strikes.
Most of these hybrid 'recorderfaces' can also use their USB or Firewire connectivity to transfer audio files directly to and from a computer, which makes backing up and transferring work trivially simple — so if you want the best of both worlds, a hybrid recording interface might be just what you need...