Guitar Amp Simulator [Mac OS/Windows]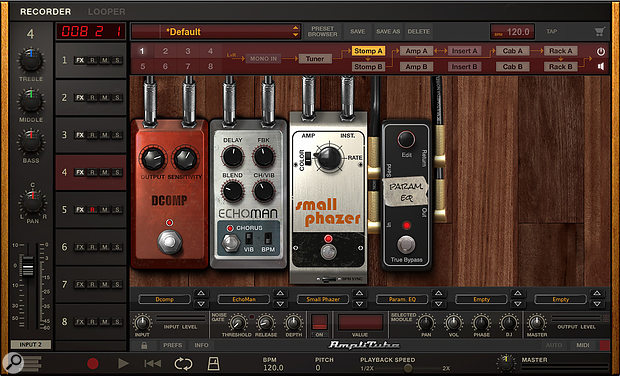 AmpliTube 4 gives the virtual guitarist more amp, cab and miking options than ever before.
It has been almost six years since the last major release of IK Multimedia's flagship guitar-amp simulator. And while IK have been busy releasing collections of additional amp models endorsed by the likes of Fender, Orange and Mesa/Boogie, the software itself had begun to look a little jaded. The latest version, AmpliTube 4, is a much more comprehensive program, adding to the core amp-, speaker- and effect–modelling with an eight-track recording package, a four-track looper, multiple cab, room and mic options, speaker replacements, improved signal routing, a host of new amps, and an acoustic simulator pedal. At the same time, however, many DAWs now come with pretty good amp-simulator plug-ins for free. Does IK's dedicated package still have what it takes to draw in the crowds?
First things first: the user interface has noticeably improved in comparison with AmpliTube 3, and everything is much cleaner and easier to grasp at a glance. This is particularly apparent in the new UltraTuner, which features bright green strobe-like visual feedback and delivers tuning accuracy to 1/100th of a cent.
Once I was in tune, I cycled through a few presets to get a feel for the new version. However, I was dismayed to find that I was missing one or more models (amps, mics or effects) for near enough every preset. Whenever this occurred, an annoying warning popped up to say that a certain part of the signal chain was missing, and that the preset wouldn't sound as intended. This, I can only assume, is a deliberate ploy to entice users into buying the missing models from the Custom Shop, where additional gear is available.
Unfortunately, most of the presets supplied with AmpliTube 4 require additional models from IK's Custom Shop to load properly. Don't get me wrong — I think the Custom Shop is a great idea, but this hard-sell aspect of the software was a little too much at times.
Chief among the new additions are five vintage amps, with matching 4x12 cabinets. Dubbed the Classic Brit Collection, these amps have all been modelled on Marshall heads from back in the day. Red Pig is based on the huge 200W Marshall Major, released in the late '60s and nicknamed 'Pig' because of its chunky dimensions; Brit 8000 models an early '80s JCM800 and Brit 9000 an early '90s JCM900; Brit Silver emulates a 1987 Silver Jubilee running at half power; and the Brit Valve Pre mimics the rackmounting JMP1 valve preamp. All of these models sounded fantastic, reacted to my playing dynamics perfectly and enabled me to sweep from mellow tones to searing leads using only the volume knob on my guitar.
Another new addition is the Acoustic Sim stompbox. Like the popular Boss AC3 pedal, this is designed to transmute the sound of an electric guitar into that of an amplified acoustic. Although its limitations are pretty apparent when listened to in isolation, and it's never going to sound as good as recording an acoustic guitar with a decent mic, the fact that you can blend the 'acoustic' sound with your original signal means you can create some unusual hybrid tones.
It's now possible to place stompboxes and rack effects in the new Effects Loop section, between the preamp and the power-amp stages, and rack units can now sit side-by-side with pedal effects before the amp. There are still some restrictions on which effects can be placed where in the signal chain, but the word is that all effects will be free to inhabit any of the effects slots in a future update.
The redesigned Cab section is perhaps the highlight of AmpliTube 4.
Most impressive of the new improvements, however, is the redesigned Cab section, which trumps previous versions of AmpliTube in terms of look, sound and its almost mind-melting range of options. Users can now select from six different recording rooms — Big Live Room, Booth, Garage, Studio A, Studio B and Venue — and up to two different mics can be selected for each cabinet. Dynamic and capacitor options are included in the 'vanilla' version of AmpliTube 4, with additional models, including ribbon mics, available in the pricier Deluxe version, which contains an extra 101 pieces of gear. Best of all, the positions of the mics can be adjusted intuitively in a '3D' environment by clicking and dragging on the graphic of the mic itself, moving the mic stand closer or further away from the cabinet, or otherwise by adjusting the settings in more detail on the right-hand side.
The room itself is miked with two capacitor mics, and in the sleek mixer section, all the inputs (including the direct signal) can be mixed, panned and polarity-inverted to your heart's content.
But that's not all that's on offer in the redesigned Cab section. Many guitarists are notoriously anal about their tone, and IK Multimedia have sought to fulfil their every wish by offering an array of replacement 12-inch speakers (other speaker sizes are unfortunately exempt from this feature). These speakers can be swapped into each of the cabs, including the option to have four different speakers in each cab, should you so desire. At first I thought this would be overkill, but I changed my mind as soon as I heard the difference in sound offered by each speaker. And, as you'd expect, additional speakers can be purchased from the Custom Shop.
All in all, the Cab section is a top-notch affair: it's simple enough to set up in a few clicks, but deep enough to encourage users to experiment with mic placement, room sound and so on. Never has it been easier to see and hear what your changes are doing to the sound of your instrument.
All in all, AmpliTube 4 is stacked full of improvements, and upgrading from previous versions is a no-brainer. And for those who are new to IK's modelling software, I highly recommend downloading the demo, plugging in your favourite axe and discovering a world of great amps, effects and recording options. Guitarists and bassists who want to experience the power of software should look no further.
IK Multimedia's main guitar software rivals are Native Instruments, whose Guitar Rig 5 Pro offers 17 amps, 27 cabinets and 54 effects. Other very worthy options to consider are Waves' GTR3, Studio Devil Amp Modeler Pro and Overloud's new TH3.
All of the functionality described in the main text is available both in the stand-alone version of AmpliTube 4 and in the VST/AU/AAX plug-in. However, stand-alone operation also offers two additional modes called Recorder and Super Looper.
The former is a simple eight-track DAW, which is adequate enough for recording ideas, but it could do with a few improvements to speed up repetitive actions. Copying and pasting, for example, is a chore: there is no option to duplicate recorded audio and have the duplicated segment placed at the end of the previous one. Instead, you have to manually move the playhead to exactly where you want the pasted audio to be dropped.
However, chopping audio is simple enough. Handles at the top adjust fades, while ones at the bottom can be dragged to change clip length. Basic level, EQ, solo, mute and panning controls for each track are on hand to create rough mixes with a minimum of fuss. Recorded tracks can be played back at different speeds using a slider that runs from from half-speed to double-speed, so that users can practice a solo or improvise new ideas. However, recorded audio starts to glitch at slower speeds, and recording is disabled at anything other than normal speed.
As for the new Super Looper, I was impressed with its ease of use and its bold red/green lighting that lets you know exactly where you are in a given loop. As an added bonus, each of the looper tracks can be can be exported individually, or as a full mix — something that sadly cannot be said of the Recorder, where only the full mix export option is available.
Pros
Fantastic sound quality and tweakability.
Cabinet and room options are second to none.
Extra models available via the Custom Shop, but...
Cons
...users are pushed to buy extra models at every turn.
Most of the presets don't work right out of the box.
The Recorder can only really be used as a sketchpad.
Summary
AmpliTtube 4's redesigned Cab section, '3D' mic placement options and five 'Marshall' amps are worth the price of admission alone, and the Recorder, Super Looper and Acoustic Sim pedal are useful additions. Then, of course, there's the ability to add new gear at any time via the Custom Shop. Great stuff.
information
AmpliTube 4 €179.99; AmpliTube 4 Deluxe €359.99. Prices include VAT.
IK Multimedia UK +44 (0)1223 234414
Amplitube 4 $149.99; Amplitube 4 Deluxe $299.99.
IK Multimedia US +1 954 846 9101