Mastering Software Suite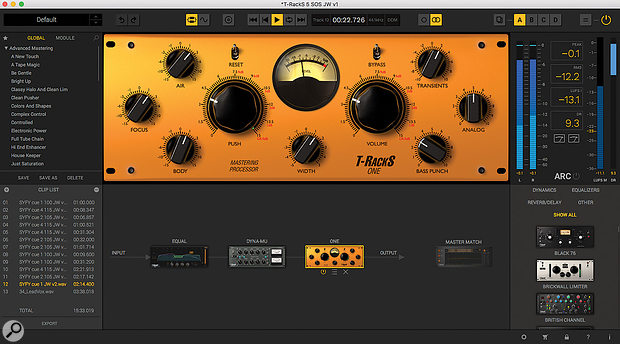 Among the many new features in T‑RackS 5 is ONE, a simple 'one-stop' mastering processing tool.
IK Multimedia take home-studio mastering to the MAX — and beyond!
Software-based DIY audio mastering is now an accepted necessity for most independent musicians. IK Multimedia's T‑RackS is one of the more long-standing options for the task. Paul White reviewed the original version way back in SOS February 2000 issue, while more recent versions have been covered in the April 2009 and May 2013 issues, with consistently positive conclusions. It has now arrived at version 5, with four interesting new modules added, a stylish redesign of the stand-alone interface, improvements to the underlying audio engine, more comprehensive 'broadcast-ready' metering tools and options for album-style mastering with a montage view for sequencing tracks. The latter includes export options such as Disc Description Protocol (DDP) image for replication purposes.
T‑RackS started life as a stand-alone application, offering a modest, but well-featured, suite of processors comprising mastering-style EQ, compression and multiband limiting. The feature list has expanded considerably since then, and all the individual processing options are now available as separate plug-ins for use within any suitable Windows or OS X host. The latest iteration of the software continues the multi-format approach, with VST2, VST3, AU and AAX plug-in versions included alongside the stand-alone program.
T‑RackS 5 comes in four flavours. The free T‑RackS Custom Shop includes the Classic EQ module and an in-app store where you can buy further processing options individually, while the paid-for T‑RackS 5, T‑RackS 5 Deluxe and T‑RackS 5 MAX come with bundles of nine, 22 and 38 processors respectively. There is...
You are reading one of the locked subscriber-only articles from our latest 5 issues.
You've only read 10% of this article, so to continue reading...
Option 1: Buy and download this single SOS article in Adobe PDF format
Buy this article now and immediately download the PDF file to your computer.
Single article PDFs look identical to the printed magazine layouts (but exclude advertisements).
Note: Some shorter articles don't always have a PDF version.
Option 2: Buy the Full Issue PDF **NEW**
From the January 2018 edition onwards, it is possible to buy a Full Issue PDF 'replica magazine' (with adverts) for the price of a handful of single PDF articles, and instantly download it. More info...
Option 3: Buy a Digital subscription from our shopstore
A Digital sub can be bought from our online Shop

Store

and used immediately, or contact our Subs staff to discuss an upgrade price to add Digital access to your existing Print subscription.