Dual-core processors hold the key to unprecedented performance with music applications. But how do systems based around Intel's Pentium D, like this one from Millennium Music, compare with their AMD-based rivals?
Photo: Mark Ewing
In SOS January 2006 I reviewed a dual-core PC for the first time. Scan Computers' 3XS system featured an AMD Athlon X2 4800+ with both cores running at 2.4GHz. Now it's time to check out the opposition: Millennium Music's system is based around an Intel Pentium D 840 processor, which has both cores running at a much faster 3.2GHz — although relative clock speed is no longer a reliable guide to relative performance. This is also the first system I've been sent that features PCI Express slots, which have suffered a mixed reception amongst people using PCs for music as a result of various associated problems. However, as I reported in PC Notes February 2006, the Intel 955 chip set in this Millennium PC has been pronounced free from buss-hogging, so the system should in theory achieve impressive test results.
Millennium have used a rather unorthodox case design for this computer. Antec's P180 sites the PSU — in this case a Tagan 480W model fitted with 'Silence Control Technology' and 120mm low-noise fan — in a separate chamber at the bottom, which prevents temperature-controller supplies getting noisier by having to deal with system as well as PSU heat. The case also features a magnetically sealed front 'door' to minimise drive noise levels (although, oddly, this hides the drive activity LED!), two handy front-mounted USB 2.0 ports and one Firewire port. The side panels feature three-layer aluminium/plastic/aluminium construction to dampen system noise, while Millennium have also added additional acoustic foam lining and drive-bay 'blanks' to further lower noise levels.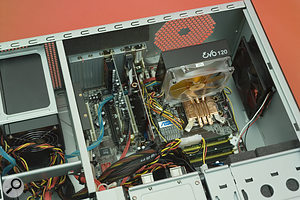 The Akasa Evo 120 CPU cooling system, with its large fan, is becoming a popular choice in PCs where low noise is important.Photo: Mark EwingBoth Scan and Millennium abandon the stock AMD/Intel CPU coolers in favour of quieter alternatives, and in fact Millennium too have chosen the Akasa Evo 120, incorporating heatpipe, heatsink, and low-noise 120mm fan, which fits a variety of AMD and Intel processors. This is obviously a popular item that performs more effectively with dual-core PCs than the previously favoured Zalman Flower cooler, and the use of 120mm fans is a growing trend because their larger blades and slower rotation speeds result in quieter operation. Millennium partly rely on the CPU cooler to push warm air from the rear of this PC as it's already almost exactly in line with the existing fan grille, but the main exit point for warm air in the P180 is via a top-mounted 120mm case fan, which is supplied with a clip-on grille/duct to prevent airflow accidentally being blocked if you place anything on top of the case.
When idling, the CPU temperature remained at about 40 degrees Centigrade, and after running Prime 95 for several hours it rose only as far as a comfortable 52 degrees Centigrade, while remaining relatively quiet. My only reservation is that although the top of the case is the perfect theoretical position to exhaust the rising hot air, I'd have personally preferred to have the top 120mm case fan mounted on the rear panel, since it's already higher here than in any case with a top-mounted PSU, and doing this and blocking off the top opening would result in even lower noise.
Case: Silver/black Antec P180 Advanced Super Mid Tower.
PSU: Tagan TG480-U01 480W fitted with 'Silence Control Technology' and 120mm low-noise fan.
Motherboard: Asus P5WD2 Premium with one LGA775 socket for Intel Pentium 4, Intel 955X chip set running at 800MHz front side buss, four 240-pin DIMM sockets supporting up to 8GB of system memory, native DDR2-800 support, three PCI slots, one PCI Express x1 slot, one Universal PCI Express x16 slot, and one PCI Express x 16 slot for graphics card.
Processor: Intel Pentium D 840 dual-core, with each core running at 3.2GHz and having a 1MB cache.
CPU heatsink and fan: Akasa Evo 120 incorporating heatpipe, heatsink, and 120mm fan with 15dBA noise rating.
System RAM: two 1GB sticks of DDR2 800.
System drive: Western Digital Raptor, 74GB, 10,000rpm, SATA II, 8MB buffer.
Audio drives: three Western Digital WD1200JS, 120GB, 7200rpm, SATA II, 8MB buffer.
Graphics card: ATI x300 PCI Express, passive cooling and 128MB RAM.
Optical drive: Samsung Writemaster TS-H552U burner.
Active system ports: PS/2 mouse and keyboard, six USB 2.0 ports, two Firewire ports, parallel port, two Gigabit LAN ports.
Keyboard & mouse: Logitech cordless Internet Desktop black.
Installed operating system: Windows XP Professional Edition with Service Pack 2.
For this particular system:
Monitor: Relisys TL766, 17-inch diagonal TFT, silver, 1280 x 1024 native resolution.
Audio interface: ESI Waveterminal 192X with version 6.0 drivers.
Music software: Steinberg Cubase SX 3.1.
PCI Express-equipped motherboards fall into two camps. Some recognise that the x16 graphics cards are about the only PCI Express devices currently being sold, and therefore provide five old-style PCI slots and only one PCI Express one, while others opt for a more balanced approach. This system is built around an Asus P5WD2 Premium motherboard that takes the latter course — there's a x16 PCI Express slot for a graphics card, a clever 'universal' x16 format slot that can run in x2 or x4 modes, plus one general-purpose x1 PCI Express slot (which is disabled when the universal slot is used in its x4 mode) and three traditional PCI slots. This approach seems perfect for musicians who want to move forward into the PCI Express arena, but already have PCI soundcards or DSP cards that they don't want to abandon.
The magnetically sealed door opens to provide access to the drives and front-panel ports.Photo: Mark EwingThe case also provides another spare dummy backplate position for those inevitable extra sockets, which Millennium had used for the Akasa fan speed control. They had also fitted a budget ATI x300 graphics card with passive cooling in the main x16 slot, and an ESI Waveterminal 192x card in one of the PCI slots, leaving plenty of room for further expansion. Since the main advantages of PCI Express are for graphics cards at present, it might seem odd to partner the x16 PCI Express graphics slot with a comparatively slow graphics card, but this reduces the likelihood of buss-hogging problems, and musicians have no need for the fastest 3D graphics. Also installed on the motherboard were the previously mentioned Intel D 840 processor, plus two 1GB sticks of DDR2 800 RAM.
Four hard drives were installed and NTFS formatted: a 74GB Western Digital WD74 Raptor model with 10,000rpm spin speed (one of the fastest models available), and a RAID 0 setup comprising three Western Digital SATA II drives with a total storage of 360GB, divided into a small 'outer' 20GB Scratch partition for your current project, with the remainder devoted to Audio.
Completing the drive complement were a Samsung 16x DVD-RW burner and floppy drive, and for this particular system Millennium also supplied an ESI Waveterminal 192X audio interface, a Relisys 17-inch TFT monitor, and Steinberg Cubase SX 3.1 software. Providing the finishing touches were useful Millennium help files, Nero Burning ROM, Power DVD XP, and Norton's Ghost 9, to allow complete backup of both system and data drives.
The 10,000rpm system drive measured 58MB/second sustained write and 56MB/second read speeds on my standard Dskbench test, which is surprisingly similar to measurements for the more typical 7200rpm Seagate Barracuda drives used on so many music PCs. However, HD Tach proved the advantage of the 10,000rpm spindle speed, with outer to inner speeds of 72MB/second to 52MB/second (compared with about 60/30 for Barracudas). This will mean slightly faster boot-up and application loading times, although the Raptor does add about £100 to the system price.
As well as the rearward-pointing grilles, this PC is also ventilated via the top of the case.Photo: Mark EwingThe three RAID 0-formatted drives measured a staggering 172MB/second write and 180MB/second read speeds, and a projected track count of over 700 tracks of 16-bit/44.1kHz audio, or over 200 tracks at 24-bit/96kHz. This will benefit those who want to achieve vast audio track counts, to do lots of 192kHz recording, run an entire orchestra using multiple streamed sample libraries, or have video streaming alongside their audio tracks. Those who don't fall into these categories will probably find a single 7200rpm audio drive more than sufficient, as well as being cheaper and slightly quieter, and the more standard option of a 7200rpm 80GB system plus a 250GB audio drive would shave about £200 off the total system price. Your data is also slightly less secure spread across a triple-drive RAID 0 array, since you could lose it all should any one of the those drives ever go faulty. Millennium told me that they were interested in pushing this review system to the limits of drive performance, but that anyone buying one of their systems can choose to have the same three drives formatted as RAID 5, for 240GB of storage with significantly more security but rather less speed.
SiSosftware's Sandra measured a healthy 5180MB/second memory bandwidth, while the CPU Arithmetic and Multimedia results were almost exactly in line with the reference figures for a Pentium D 840 model. However, as always, real-world tests with audio applications are the only reliable way to establish how a music PC performs doing what it's designed to do. With Timo's Cubase SX Performance Test 2.0, as used on all my previous PC system tests, I got CPU overheads in Play mode of 29 percent with a conservative 23ms latency at 44.1kHz, and 34 percent when the latency had dropped to 3ms. Referring back to my previous measurements, this dual-core Pentium D 840 system running at 3.2GHz is therefore a good 35 percent faster than the single-core 3.2GHz P4 Prescott system from SOS January 2005, and slightly faster than the rather more expensive dual-Xeon 3.06GHz system I reviewed back in SOS June 2004.
At this point I'd have been very impressed with this dual-core Pentium D system, if I hadn't recently reviewed a dual-Athlon XP X2 system. Admittedly, the Scan 3XS Athlon system had a far more expensive 4800+ processor, but you can nearly always scale processor performance in the same family from relative clock speeds, and by doing this I can extrapolate that this Pentium D 840 system turns in a Cubase SX performance that's of the same order as an AMD Athlon 64 X2 3800+ model.
I considered this rather disappointing, so repeated all my tests, and even removed the Echo Mia card from my own PC and installed it in the Millennium system to rule out soundcard-specific issues, but still got identical results. I then ran the Nuendo Thonex benchmark, which produced CPU usages of 59 percent with a 1024-sample buffer, 61 percent at 512 samples, 64 percent at 256 and 72 percent at 128 (3ms latency at 44.1kHz). Correlating these with other published tests of PC music systems using a variety of other processors, the figures do seem to add up correctly for an Intel D 840, and other tests such as Sandra's CPU Multimedia also place the 840's performance somewhere between the Athlon X2 3800+ and 4000+ models.
Millennium Music's Intel dual-core system provides significantly more processing power than any previous Intel-based system I've reviewed, and it's quieter than the Scan AMD dual-core system reviewed in SOS January 2005 (although that could easily be further silenced). It also offers audio hard drive performance way beyond any other system I've tested to date. So if you're interested in a dual-core system, should you opt for AMD or Intel? Well, this is a complex question that involves quite a few decisions involving the benefits (or not) of PCI Express and whether or not you have audio DSP cards, so I've covered it in depth in this month's PC Musician feature. However, I've now reviewed one AMD and one Intel dual-core system, and it's certainly possible to compare these two.
This Millennium dual-core Intel Pentium D system has similar processing power to a 3.06GHz dual-Xeon PC, and 35 percent more than the single-core Pentium 4 Prescott model clocked at the same speed, but is nevertheless eclipsed by Scan's dual-core Athlon 4800+ system at around the same overall price.Photo: Mark Ewing
The Millennium and Scan computers exemplify two different design approaches. This Millennium system starts with a more expensive quiet case, fitted with yet more silencing features, which in turns houses a modern PCI Express-equipped motherboard that costs £100 more than the 'tried and trusted' PCI/AGP model chosen by Scan. Both feature 2GB RAM, but once again Millennium have used more expensive materials, going for DDR2 PC5300 RAM rather than the cheaper DDR2 PC3200 used in the Scan system. Both have four drives (one system drive plus three in an audio RAID array), and the Millennium system turns in a stunning audio drive performance (albeit at the expense of slightly reduced data security), although the Scan system does offers more storage capacity. What the Scan system saved on case and motherboard was spent instead on a more powerful CPU — at current prices the Intel D 840 CPU fitted in this Millennium PC would cost about £360, compared with £570 for the AMD Athlon 64 X2 4800+ in Scan's system.
For those lured by the future promise of PCI Express, this Millennium system is quieter, more sophisticated, and uses more recent components, and it's only fair to point out that an AMD dual-core PC offering PCI Express features would be rather more expensive than the Scan system. However, if you're not yet convinced of the benefits of PCI Express, and given that the majority of musicians seem to run out of processing power before anything else, I have to say that I'd be seriously tempted by the 30 percent faster audio processing of Scan's AMD system.
Overall, Millennium have once again turned in a quiet and luxurious system with great attention to detail, but I have to admit that I'm disappointed by the performance of Intel's Pentium D range, which is lagging considerably behind that of equivalently priced AMD Athlon dual-core models. However, as always, this is just one snapshot system from Millennium's current range, and they tell me that by the time you read this they will have Athlon dual-core systems in their range. I'd be inclined to opt for one of these instead — currently, AMD seem to be the leaders of the pack. 
Pros
Significantly more power than an equivalently clocked Pentium 4 Prescott PC.
Deluxe acoustically treated case that's both quiet and stylish.
Fast 10,000rpm system hard drive.
Exceptionally fast 360GB RAID 0 audio setup for those requiring vast track counts or sample/video streaming.
Cons
Disappointing CPU performance relative to similarly priced AMD dual-core systems.
Summary
This system from Millennium is quiet, capable, and the fastest Intel-based system I've reviewed to date. However, it's ultimately let down by the performance of Intel's Pentium D 840 processor, which now lags significantly behind similarly priced models from AMD's dual-core Athlon X2 range.
information
Basic system as reviewed without monitor, keyboard/mouse, music hardware or software £1811 including VAT.
Millennium Music +44 (0)115 955 2200.
+44 (0)115 952 0876.