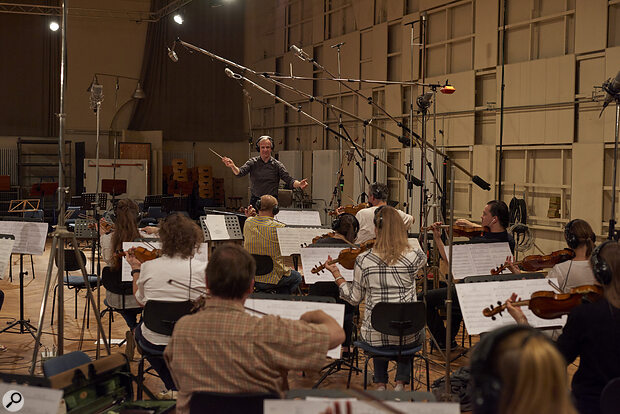 Orchestral Tools beef up their Berlin orchestra with a full‑size symphonic string instrument.
Orchestral Tools first made their mark in 2011 with Orchestral String Runs, featuring string players from the Belarus Philharmonic performing a huge collection of fast runs and figures devised by OT founder Hendrik Schwarzer. Under the leadership of its young MD, the company then wowed orchestral sample users with the impressive Berlin Woodwinds library before forging ahead with Berlin Strings, Berlin Brass and Berlin Percussion.
While most parts of this critically acclaimed series have been enlarged with expansion sets, there remained a conspicuous gap: in contrast to the symphonic scale of the other titles, Berlin Strings seems (on paper at least) comparatively modest, featuring only 28 players in an 8/6/5/5/4 configuration. Though the sections' real life sound is bigger than the bare numbers suggest, the head count falls well short of the 60+ string players you'd hear in a classical recital, film score session or major artist recording date. (More notes on section sizes below).
To pump their Berlin orchestra up to full heavyweight status, Orchestral Tools have released Berlin Symphonic Strings, featuring 68 string players recorded from multiple mic positions in the Teldex Scoring Stage. According to OT, the library was planned a long time ago: "The Berlin Series is about providing a comprehensive orchestra that's all recorded in the same space, so while we were capturing the medium‑sized ensemble, we were already thinking about what we could do with really big section sizes. We were very happy with Berlin Strings, and it's great for most uses, even symphonic music. But there are some situations where you need the big soaring violin section or a huge low end with a lot of cellos and basses. We wanted to add large ensembles and musically, we wanted to capture that big, opulent, dramatic sound and make it available to everyone."
When preparing to download the individual mic positions you can select 'Basic Kit' to download the Spot 1 and Decca Tree positions, or make your own selection from the 'Pro Select' list.Berlin Symphonic Strings (BSS for short) works exclusively with Orchestral Tools' Sine player, which runs standalone and as a plug‑in on Mac and Windows systems. You need the latest version of Sine, which is available free online from the Orchestral Tools website. The full library is 74.64GB installed, but you don't have to buy the whole thing: individual sections can be bought separately at prices starting from €126, after which you can download any or all of their mic positions as and when you need them. A great, flexible system which points the way forward for the industry. Crossgrade prices are also available for Berlin Strings owners.
Recording sessions for BSS took place over a two‑week period using a traditional orchestral seating arrangement and an expanded version of the standard mic positions used in all of OT's Teldex sessions. This makes all the Berlin titles acoustically compatible, and means they can be treated as components of a full, unified symphonic sound picture. All samples were captured at four dynamics (pp, mp, f and ff).
To ensure melodic fluency, OT's 'Adaptive Legato' technology tracks your playing speed and automatically selects the right kind of legato note transition for each interval. Based on the legato concept originally developed by...
You are reading one of the locked Subscriber-only articles from our latest 5 issues.
You've read 20% of this article for free, so to continue reading...
Buy & Download this Single Article in PDF format

£1.00 GBP

$1.49 USD


For less than the price of a coffee, buy now and immediately download to your computer or smartphone.

Buy & Download the Full Issue PDF
Our 'full SOS magazine' for smartphone/tablet/computer. More info...