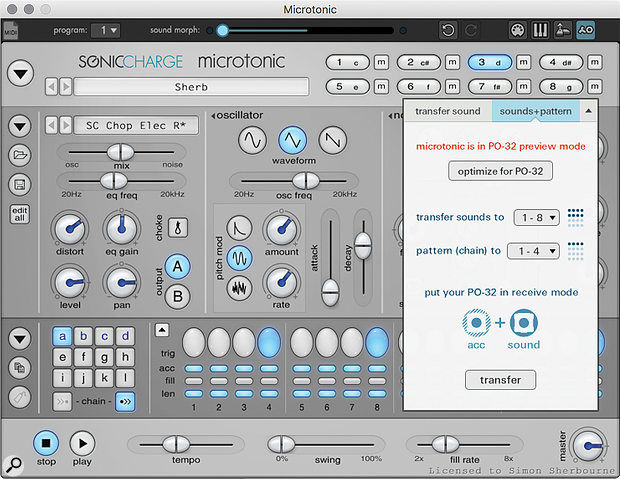 PO-32 is a hardware version of Sonic Charge's Microtonic drum synth. The software or plug-in can be used to create and load sounds into the device.
Teenage Engineering take the Pocket Operator game to the next level.
The PO-32 is the latest and most ambitious Pocket Operator in Teenage Engineering's quirky range of handheld instruments. This one is a programmable synth-based drum machine with a pattern sequencer, performance effects, and parameter lock automation. The 'Tonic' moniker is borrowed from Microtonic, the Sonic Charge plug-in whose drum synth engine has been committed to silicon on this device. It's this plug-in (bought separately) that provides the programming interface for creating your own PO-32 sounds. These can then be transferred to the PO-32 via an audio data burst... you should never expect the ordinary from Teenage Engineering.
Everyone loves a good unboxing, but nothing comes close to opening up a Pocket Operator. The beautiful gold card package protects the main part of the unit, while the integral hook (not something you find on the spec list of much gear) sticks out ready for hanging on a peg. A perforated 'zip' in the card is used to unpeel the device in a process my wife described as "an event"; she was dismayed I'd not videoed it and put it on Instagram.
The Pocket Operator looks like a calculator that's lost its outer case. If it was a cartoon character it would blush and try to cover its midriff. It's a slice of circuit board with a surface-mounted screen and a 5x5 grid of controls, two of which are small pots while the rest are buttons. On the rear are clips for attaching two AAA batteries, and a simple metal bar that angles the unit up when on a tabletop, or folds away if held in your hand. At the top there's a tiny mic for data input, and two mini-jack audio ports providing audio output, data transfer and sync connectivity.
At first it just feels wrong to be holding what feels like a half-assembled piece of electronics, but there's actually very little that's exposed. The back is mostly smooth bare board, with just the soldered pegs from the knobs poking through. Cleverly, all the delicate components are safely stowed away behind the screen. My review unit survived some pretty harsh treatment, being chucked in a bag in various planes, trains and automobiles, and put through its paces by two under-10s. If in doubt, though, there's an optional case which provides both an outer shell and nicer button caps.
The PO-32 is not the most intuitive device to get started with — you definitely need the few hints that are printed on the box and on the back of the unit; even simple tasks like changing the volume aren't straightforward. The screen doesn't help much: while there are a few small readouts on it that confirm what you're doing, it's largely devoted to a cartoon animation that plays along as sounds are triggered, reminiscent of '80s handheld games.
Sixteen of the buttons make up a 4x4 grid that's used for playing sounds, setting sequence gates and entering values. The remaining few buttons around the edge are used for changing global settings and modes. One of these toggles whether you're in Write or Play mode. In play, you can freely trigger sounds from the 4x4 grid. In Write mode, the grid represents the 16 steps of the current pattern, with one sound shown at a time. Steps can be added or removed by tapping the buttons. You can also record patterns in real time (quantised to the grid) if you hold the Write button, although this is a bit fiddly.
The 16 sounds in a Tonic bank share four playback voices. These are not distributed dynamically, each of the four columns of the 4x4 grid is allocated a single voice. When creating a bank it makes sense to avoid placing sounds with a long decay in the same group as things like hi-hats that will cut them off. In fact you can use this architecture creatively. For a start each column is effectively a choke group. Better still, I used this during playback as a way of dynamically muting sounds and creating breakdowns: if you hold down a button from a group it silences all other triggers until you release.
Effects are handled in a unique and wonderful way on the PO-32. They're not so much traditional effects as momentary performance variations that are applied in real time within the synth engine. During playback you simply hold the FX button and then any of the main 16 grid buttons. The effects include things like stutter, reverse, slowdown, shuffle and saturation. If you're in Write mode anything you do with the effects is captured as automation in the pattern. It's really effective, letting you add lots of interesting variation.
The two knobs are primarily used to adjust the sounds. Knob 1 always controls pitch, while Knob 2 is a morph between two different sound states. These two states are full presets from the Microtonic engine, so could be completely different sounds. Typically though they are variations of a patch. For example, you could set up a kick sound for the starting point, then save the 'B' state with extended release, distortion, etc. These will then be dialled up as you turn the knob.
Programming these sound states requires you to purchase the Microtonic soft synth — an eight-part, fully synth-based drum machine (shown in the main screenshot). This uses a single versatile synth engine design for all parts, and is capable of generating lots of different percussive sounds. A PO-32 Preview mode lets you hear how your patches will sound from the hardware, with the only significant differences I could spot being that everything folds to mono, there are fewer voices and patterns are fixed at 16 steps. You can transfer individual sounds to any slot on the PO-32, or do a complete dump of all eight sounds to either slots 1-8 or 9-16. This will also move a chain of up to four patterns to pattern slots of your choice.
The transfer process is easy, using a modem-style audio data burst of about 10 seconds, either over the air to the PO-32's microphone or via the mini-jack line input. I was able to do this from my laptop speaker, although it took a few goes the first time to get the level right. Too quiet and the PO-32 won't acknowledge the signal; too loud and you get an error notification on the display.
Transfer is also possible between two PO-32s, again either from speaker to mic, or via an audio cable. It's also possible to load (and back up) sounds from a data burst recorded as audio, allowing you to share via YouTube, for example, and get access to different banks without splashing out on the software.
The PO-32 can store 16 patterns at a time. These can be temporarily chained into longer loops by holding the Pattern button and tapping out a sequence. Automation of sound parameters can be added to a pattern, either as continuous envelopes by holding Write while adjusting the knobs, or for a single step by holding the step's button down while adjusting. This, along with the effects gives a lot of scope for interesting movement within a pattern.
Rather importantly for a drum machine, the PO-32 can sync to other gear, including its Pocket siblings.
Simple tempo matching and beat alignment are possible by feeding a click into the audio input. It can also generate a click from one channel of its audio output port. Different Sync modes are available that determine whether the PO-32 is to be a slave, master or both, and how the shared audio/sync ports are configured. Nothing is sacrificed sonically here as the output is mono anyway, but you'd need splitter cables in some scenarios.
It would be easy to dismiss the PO-32 as a toy or a 'collectable' based on its size, bare board design and tinny built-in speaker. If you dig a bit deeper, and especially if you plug it into some speakers, you'll find a surprisingly capable drum machine, based on a deep synth engine. While the sounds are not fully programmable from the unit alone, you can get a lot of variation from the sound morphing, automation and effects.
The effects in particular make a the PO-32 useful, letting you drop in momentary fills, variations and little flourishes of sonic interest on the fly. If you want to go deeper, you can add the Microtonic software ($99) and gain complete control over the PO-32's sound engine. And it's genuinely pocket sized if you like to keep something more tactile than a phone with you for some beat doodling — just be prepared to be asked what it is every time you get it out.  
Pros
Synth-based.
Real-time variation and performance effects.
Programmable if you add the Microtonic plug-in.
Simple sync with other gear and POs.
Cons
A bit tricky to learn.
Software doubles the price.
Summary
The PO-32 is cute and collectable, but is more than a fun curiosity; it's a genuinely useful and playable little synth drum machine.
information
£85 including VAT.
Sound Technology +44 (0)1462 480000