Sick of taking a heavy amp rack to your gig? Why not go for a mixer that has its own amps built in? Here's our selection of currently available options.
The Horizon 2012 features six mono mic/line channels and three stereo line inputs, which can also work as mono mic channels — so up to nine mics can be connected at a time. Twin digital effects engines are present, as is a nine-band graphic EQ, and the desk also
Studiomaster Horizon 2012 incorporates its own crossover, for use with a sub. The USB port allows for stereo recording and playback to and from a computer, or it can be fed from one of the pre-fader auxes, allowing you to use a laptop as an effects unit.
Review: /sos/dec13/articles/studiomaster-horizon.htm
Mackie PPM1012 £999$1099
The 1600W (peak) PPM1012 features eight mic/line channels, of which channels 1-6 each have a one-knob compressor. There are also two stereo line-level channels, which have a fixed, four-band EQ (the mono channels have the usual three-band affair with a swept mid). Two nine-band graphic EQs are present
Mackie PPM1012 (one for the mains and one for monitors), as are twin effects engines. A switch in the master secction matches the amp's power output to a range of passive Mackie speaker cabinets.
The TMX200 DFX incorporates two stereo amps and is capable of delivering up to 1kW+1.5kW continuous power (in bridged mode), yet weighs only 16.3kg. It also includes two digital effects engines, two graphic EQs, and two monitor sends per channel. Its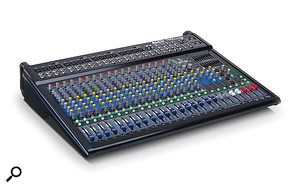 Alto TMX200 DFXinput count of 20 is made up of 16 mic/line channels and two stereo line-ins, all of which have access to the two internal effects plus two monitor sends.
As with many compact Yamaha mixers, the EMX5016CF features one-knob compression on all its mic inputs. It also has built-in feedback suppression, a dual effects engine and a nine-band graphic EQ with memory for preset storage and recall. The input count is made up of eight mono mic/line channels,
Yamaha EMX5016CF and four stereo inputs that can also accommodate mono mic signals. Unusually for a console, the EMX5016CF includes a room calibration and correction system, using a mic plugged into channel 1.
The carry-case-format PMX710 can accommodate six mono mic/line sources and one stereo source, which can come in on either unbalanced RCA phono plugs or from a computer, via USB. All channels have a single monitor and single effects send, the latter of which feeds an internal DSP effects engine, while the mono channels each have a three-band fixed EQ, compared with the stereo channel's two-band
Wharfedale PMX710 controls. The two mono seven-band graphic EQs can be set to act on either the mains in stereo, or the mains and monitors each in mono.
Review: /sos/apr12/articles/wharfedale-pmx710.htm
Made in Germany, the Powermate 1600-3 has no fewer than six aux sends, of which two are pre-fader, two can be switched to act pre- or post-fader, and two feed the two internal effects processors. Up to 16 mic inputs can be catered for, via 12 mono mic/line channels and four channels that can
Dynacord Powermate 1600-3 accept either stereo line or mono mic signals. All channels feature a three-band EQ, with the mono channels benefitting from a swept mid-band. The graphic EQ here is an 11-band, stereo type, and can be assigned either to the monitors or the main output.
Review: /sos/may13/articles/dynacord-powermate.htm
Phonic Powerpod 740RW £395$392
Catering for up to seven mono mic/line inputs, plus a stereo RCA in, the Powerpod 740RW can provide up to 2 x 220W of power, for either a main stereo rig or mono main and monitor speakers. It has two seven-band graphic EQs, a digital
Phonic Powerpod 740RW effects engine, and a three-band EQ for each channel. A USB port on the front panel allows for direct-to-thumb-drive recording of the stereo output.
This model from British company Allen & Heath uses 'Constant Power' technology to provide up to 500W RMS per output, at either 4Ω or 8Ω. As well as having parametric EQ on all the mono input channels, there's a four-band parametric at the amp output, for optimising a PA system's performance in the room, and minimising feedback problems. There's also an effects engine present, with 16 different effects algorithms.
This mixer's 20 inputs are comprised of 12 mono mic/line channels and four stereo channels, all of which have access to an internal effects send and two pre-fader monitor sends. The built-in amps use Class-D circuitry and can supply up to 1600W peak power in bridged mode (or 800W per output in stereo). A stereo seven-band graphic EQ is also present, and this can be assigned either to
Behringer PMP6000 the main or monitor outs.