Rain are quick off the mark with a model featuring the latest 'Sandy Bridge' CPU — and the results are rather impressive...
The release of Intel's Sandy Bridge 'second generation' Core i7 processor range in the first few days of 2011 saw a flurry of activity among audio PC builders around the world, as they raced to see how it would perform. The first report I spotted was full of praise for the Sandy Bridge quad‑core i7‑2600k model, whose audio performance apparently matched that of Intel's hex‑core 980X Extreme processor — which still typically costs three times as much!
The excitement was, however, brief. To cut a long story short, the audio performance of Sandy Bridge systems turned out to be very dependent on the model of motherboard, and even its BIOS revision, with figures seesawing from one build to the next as various arcane parameters were tweaked. Then Intel discovered a design flaw that resulted in Sandy Bridge systems being temporarily withdrawn, with promises of replacement motherboards for those affected.
As I write this in mid‑March, the dust has settled and replacement boards are starting to trickle through, so PC audio specialists like Rain Recording, who pitched in early, rode out the storm and worked their way through the parameter minefield, have Sandy Bridge designs ready to roll out. I was lucky enough to get hold of one of their carefully tweaked Nimbus systems for this review, so SOS readers could find out just what all the fuss has been about.
At the back, there's space for three PCIe and two PCI slots, plus lots and lots of USB ports...
In its stylish black case, complete with engraved Rain logo on one of its two‑tone, brushed-aluminium door panels (this also doubles as an on/off switch), this PC certainly looks the business. It's even got a tinted Perspex side-panel so you can show off the flashing skull on the motherboard to all your friends! Conveniently for most musicians, there's also a slim aluminium panel on top front of the case featuring two USB 2 ports, one Firewire 400 port and one SATA port (very useful for plugging in backup drives), along with the main blue‑illuminated on/off switch.
Robin Vincent at Rain has long favoured Intel motherboards as offering rock‑solid performance from the CPU designers themselves, and, sure enough, I glimpsed an Intel DP67BG model through the side panel. One of the much‑praised 2600k CPUs has been fitted, along with another first: water cooling! Several builders have proposed this for review systems, but Rain are the first company to actually deliver one to SOS.
Instead of a large heatsink/fan mounted on the CPU, there's a small pump mounted on it, with two pipes connecting the pump to a reservoir bolted onto the case rear panel, along with a 120mm fan to pull in cool air from the outside and blow it over the radiator. This is a sealed system, so there are no leakage or coolant refilling worries.
Another advantage is that since the passive radiator is bolted onto the rear case panel and the CPU attachment is significantly smaller than a traditional heatsink/fan, there's less strain on the CPU during transit. To complete the cooling system, Rain Recording use a huge, slow‑spinning, 140mm fan pulling in cool air from the front panel and a 120mm fan in the PSU to extract all the warm air.
High-quality components abound in this machine: the 4GB of 1600MHz RAM, the CPU water-cooler and the 650W PSU are all from Corsair, while the single Western Digital 500GB hard drive has been fitted inside a drive enclosure/heat-sink to make it even quieter, and then partitioned into 100GB for Windows and Applications, and 400GB for audio.
As I've explained in the past, audio sequencers rarely access their files after initial launch, so this splitting results in very little extra drive head activity, and aids backing up. Moreover, as laptop owners can attest, a single drive is perfectly adequate for many musicians, and helps to keep overall noise levels as low as possible for those recording with mics in the same room.
Only the graphics card occupies a PCIe slot on the review model, leaving three other PCIe and two PCI slots for considerable expansion potential. Windows 7 Home Premium 64‑bit is installed as operating system to take full advantage of the 4GB of RAM, and the two USB 3 ports and plenty of USB 2 and Firewire ports are all extremely welcome.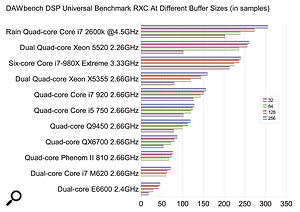 The 2600k Sandy Bridge processor lives up to all the hype with stunning performance, courtesy of the Turbo Boost feature that can clock this CPU to well over 4GHz.
I was impressed with the low noise of this water‑cooled system, although personally I'd choose the optional solid side panel and acoustic lining for even lower acoustic noise figures, especially since I noticed the side panels and front door had a slight tendency to vibrate in sympathy with the fans. This system has also been finely tuned: idling temperatures sat at a conservative 35 degrees Celsius, but no CPU core temperature rose higher than 60 degrees during my 100 percent CPU torture tests.
Windows 7 really doesn't need as much tweaking as previous Microsoft operating systems, but a quick check showed that the important tweaks were in place: 'High Performance' power plan, best performance of Background services, Windows Sounds disabled, DMA enabled for the hard drive, and graphic animations disabled. Throughout my tests, the DPC Latency Checker utility showed no processing spikes above 80 microseconds.
My first feeling on running the usual raft of Sisoftware Sandra benchmarks was of déjà vu — each result proved to be spookily close to that of the Carillon AC1 Core 4XT audio PC that we reviewed in SOS July 2010, which was fitted with a Core i7 Extreme 980X 'Gulftown' processor with six cores, each running at 3.33GHz.
The 2600k CPU has a nominal clock speed of 3.4GHz and a maximum Turbo speed of 3.8GHz, but Intel's Extreme Tuning Utility had been used to overclock this Turbo Boost smoothly on demand, up to 4.5GHz when under heavy processing loads. What's more, I noticed no audio glitching at all during the speed ramping, so it seems that musicians can finally benefit from such auto‑overclocking.
The memory bandwidth of both machines was about 21GB/s, which is significantly ahead of every other machine we've reviewed to date, and ideal for those who need to stream loads of samples. The Sandy Bridge CPU Arithmetic scores came in 18 percent better, at 176GIPS Dhrystone compared with 149GIPS for the 980X, while the CPU Multimedia ones dropped very slightly behind (by just a few percent), at 259MPixels/s Integer and 196MPixels Float, compared with 274MPixels/s and 204MPixels/s for the 980X. However, given that this Sandy Bridge system retails at half the price that the Carillon machine did in July 2010, this is extremely impressive performance!
Inside the case, the machine's water‑cooling system is clearly visible, as is the eye‑catching skull on the motherboard.
My final tests, and, as always, the most important ones, were with DAWbench running inside Cubase 5.5, since this provides a much better indication of how the machine compares with others when running audio tracks and plug‑ins. At this point, I have to admit that with the 'well‑known Firewire audio interface' I was sent with the review PC I got impressive results at high latency (249 Cockos Reaxcomp plug‑ins with 256‑sample buffers). However, there was a significant drop-off in performance at smaller buffer sizes, with audio glitches at just 80 percent load with 128‑sample buffers, at a paltry 50 percent load with 64 samples, and no 32‑sample option at all.
I nearly finished my review at this point, but a nagging doubt in my mind about the poor efficiency of some Firewire audio interfaces at low latencies resulted in my pulling out the elderly Echo Mia PCI interface from my own PC and running the Sandy Bridge tests again. I'm very glad I did, because they rose to new highs. With the Echo Mia and a 256‑sample buffer size, this system managed a massive 305 Reaxcomp plug‑ins — an amazing achievement for a computer at this modest budget level.
Dropping to 128‑sample buffers this time resulted in a much smaller reduction to 273 plug‑ins (instead of 200), while at 64 samples I still managed 239 plug-ins (but only 120 with the Firewire interface!). This really does prove that the performance of audio interfaces can vary hugely, especially at lower latencies, so anyone who needs to monitor incoming audio with plug‑in effects should choose their audio interface very carefully.
Coming first past the post with a Sandy Bridge machine wasn't an easy task, but Rain Recording have won through and risen to the top of the SOS PC performance chart with the Nimbus. Intel's 900 series are still strong performers, offering more cores and more options for RAM expansion, but this machine is simply stunning, beating the 980X Extreme at all but the lowest, 32‑sample, buffer size. I can now see why there's been so much fuss about Sandy Bridge. If you want an extremely powerful audio PC at a modest price, put Rain Recording's Nimbus on your shortlist immediately!  
As usual, this model is just one snapshot from the entire Nimbus range. A more basic model featuring the slightly slower 2500k CPU is available for those on a budget, while those with higher ambitions can upgrade the RAM as far as 16GB, or fit additional hard drives (with an SSD option), screens, and so on. As I write this, few other specialist audio builders have Sandy Bridge systems, preferring to stick with Core i7 900 series processors until the dust has settled. However, I did spot a few more early birds, such as the Scan 3XS SB67 PowerDAW (http://3xs.scan.co.uk) in the UK, and ADK Pro Audio's Quad Pro (www.adkproaudio.com) in the US.
Intel's Core i7 processor range has been the most popular choice for musicians for some time now (for a long time the Core i7 920 model was a great favourite), but since Intel insist on each new series having a different pin‑out it also needs a different motherboard. Here's the low‑down to prevent any confusion:
The '900' models with LGA1366 socket were released in 2008.
The '800' Lynnfield models took over in 2009 with the LGA1156 socket.
The latest Sandy Bridge series released in 2011 features the new LGA1155 socket.
Case: Rain Labs Nimbus 2 Tower, black with brushed aluminium and chrome trim; Corsair 650W HX PSU.
Motherboard: Intel DP67BG, featuring Intel P67 chip set, one LGA1155 socket for Intel Core i7/i5-series processors, four DDR3 DIMM sockets supporting up to 32GB of system memory, one PCIe x16 (or two PCIe x8), three PCie x1 and two PCI expansion slots, four SATA 3GB/s connectors, two SATA 6GB/s connectors, two USB 3 ports and up to 14 USB 2 ports, two Firewire 400 ports.
Processor: Intel Core i7 2600k, unclocked to 4.5GHz.
Cooling: Corsair H50 Hydro Series CPU water-cooler.
System RAM: 4GB of Corsair DDR 1600MHz XMP.
Hard Drive: Western Digital Caviar Black, 500GB, SATA III, 6GB/s, 7200rpm, 32MB cache, mounted in drive enclosure/heatsink.
Graphics Card: ATI Radeon HD 5450 dual-head 512Mb, fanless cooling, with VGA, DVI and HDMI outputs.
Optical Drive: ATAPI iHAS124 SATA DVDR/RW.
Installed Operating System: Windows 7 Home Premium 64‑bit.
Rain offer a one‑year warranty and support via phone, email and Internet, but this can be extended to three years with the RainCare Plus plan for an additional payment. You can use the RainCare Help Desk for email queries and get a reply within 24 hours, and also use the Help Desk to book a RainCare Remote appointment, so that a technician can remotely connect to your computer to help diagnose any problems.
Pros
The most powerful audio performance SOS have measured to date!
Overclocks on demand, with no audio glitching.
Excellent value for money.
Plenty of USB 3, USB 2 and Firewire ports.
Cons
Side panels have a tendency to rattle, but this could easily be cured with the optional acoustic case lining.
Summary
Kudos to Rain Recording UK for being the first specialist builder to offer SOS a Sandy Bridge audio PC. With performance as good as this, I suspect it will become a firm favourite among musicians!
information
System as reviewed, £1013 including VAT.
Rain Recording +44 (0)845 094 3964.