The Red Submarine music laptop running Steinberg's Wavelab.
Although there is a lot of interest in the idea of portable, silent PC‑based recording, only one company has taken up the challenge of supplying and supporting laptop systems that are guaranteed to work well for music recording. Martin Walker tries one out.
In last month's PC Musician, I outlined the many pitfalls facing the PC laptop owner who wants to make music on the move. In compiling the article, I got feedback not only from readers, other musicians, and music tech support staff, but from various specialist music retailers. However, I could only find one company, Red Submarine, who actually sell laptop PCs optimised for music recording. Given the current level of interest in portable computer recording systems, and the problems many people have been having, I was keen to try out one of their machines for myself — and having now been using this laptop for the last few weeks I can say that it does, indeed, escape these problems. I have been able to record and play back dozens of audio and MIDI tracks using a very portable PC system without compromising on audio quality. In fact, this model seems currently to be the only laptop that is guaranteed to work well with MIDI + Audio software.
The right‑hand side of the laptop features a built‑in floppy drive, as well as the two PCMCIA slots, FireWire port, Ethernet port, headphone and mic sockets, and modem connector.
Red Submarine currently source their laptops from German company MaxData, and adjust their specification to suit music applications by selecting appropriate hard drives and setting up both the BIOS and operating system to suit the special needs of the musician. The review model came with 128Mb of SDRAM fitted, which is the most sensible minimum amount for musicians, and up to 256Mb can be fitted in total using two S.O.DIMM memory sockets, which ought to be enough for almost any application. The review model had an Intel Pentium III 700MHz processor and a 10Gb Toshiba hard drive; a 600MHz model is also available with 64Mb RAM and a smaller 6Gb hard drive, for those who need only MIDI and limited audio support. Both use the latest Intel Pentium III Speedstep devices, and have a motherboard fitted with an Intel chipset. This should provide the greatest compatibility with expansion products, especially since the PCI to USB Universal Host Controller chip is the Intel 82371AB/EB, which is generally regarded as the most widely compatible of all available chips for this function.
The BIOS is contained in 256K of Flash ROM, and can therefore be upgraded if required. As on most laptops, an audio chipset, in this case an ESS Allegro PCI Audio, is built in to the main board, and provides basic 16‑bit audio recording and playback along with a Microsoft GS Wavetable Synth for MIDI playback. An MPU401 interface and gameport is also supported by the chip, but since a gameport socket isn't provided you can't access these.
Graphics are provided by an ATI Rage Mobility M1/M3 PCI/AGP chipset with 8Mb of memory, along with a TFT (Thin Film Transistor) 14.1‑inch XGA screen. This Active Matrix screen has a fast refresh and is bright and crisp, and I found I could see the display clearly over a very wide horizontal angle (handy when you're on the other side of the room), although as always, the vertical angle was less generous. Most people will leave the screen resolution and colour at the supplied settings of 1024 by 768 pixels and 16‑bit, since these are the most suitable values for music software. A valuable feature for many musicians will be the standard 15‑pin D‑type connector on the back panel to connect an external VGA monitor. This means that you can switch to a much larger screen when you wish: even better is the option to run both the laptop's own screen and an external monitor using Dual View mode, with your MIDI + Audio sequencer on the large screen and another application like a synth editor on the laptop LCD screen. You can switch between the various display modes using a combination of Function keys.
The keyboard itself has 87 full‑sized keys, including the usual cluster of cursor and editing keys, although as on most laptop keyboards there's no space for a separate numeric keypad. Instead, the NumLock key activates a cluster of existing keys to provide similar facilities. An additional Fn key at the bottom left, in conjunction with other keys on the top row, provides a further 14 hot keys for extra functions such as contrast, brightness, and volume. A touch pad with two 'mouse' buttons beneath it replaces the standard mouse.
LEDs on the front panel show when the AC adaptor is being used, and the charge status of the batteries. One battery slot supports a 3000mALithium Ion pack for about three hours of life, and full charging time is around two and a half hours. The battery pack can be replaced via a panel underneath the laptop, as can the hard drive, and the RAM can be expanded by removing yet another panel.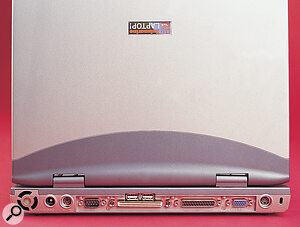 The back panel sports a PS/2 mouse/keyboard port, a serial port, two USB ports, a parallel printer port, outlets for a VGA monitor and S‑Video TV display, and a Replicator port allowing you to duplicate the functions of these ports on an external Port Replicator.
The left‑hand side of the machine sports a TEAC CD224E 24‑speed CD‑ROM drive, while the right‑hand side offers a standard 3.5‑inch 1.44Mb floppy drive. Not all laptops fit both as standard, and some offer a single dual‑purpose slot where you can swap a floppy with a CD‑ROM drive. However, having both is extremely useful, both for installing software and moving data files to another PC. You can even play back audio CDs with the laptop powered down and the LCD screen closed, using a set of controls across the front edge of the laptop.
An RJ45 LAN (Local Area Network) connector provides a useful way to transfer data to and from another PC using the integrated 10/100 B/T Ethernet network card. You can buy a suitable card for your desktop PC and cable to connect the two for about £25. There's also an IrDA socket, which provides a virtual serial‑ or parallel‑port infra‑red connection to suitable peripherals such as printers; this offers an alternative method of transferring files to another PC by buying it a serial‑port infra‑red device for about £50. Transfers will be a lot slower than over a network connection, but you don't need a cable: you just place the two PCs close to each other.
A stereo headphone socket, suitable for 8Ω earphones or headphones, and tiny stereo speakers are also built in, along with a lo‑fi mono mic socket. Completing the sockets on the right‑hand side is an IEEE 1394 socket, which I used to try out an external FireWire hard drive (see the Firewire Storage box on page 110), and an RJ11 connector for the built‑in Lucent 56K modem. Finally, at the rear of the right‑hand side are two PCMCIA sockets, which let you hot‑plug a variety of expansion devices. I tested the laptop with the Ego Sys WaMi Box, which is also reviewed in this issue (starting on page 200).
Ranged across the back panel are a 19 Volt DC input for the supplied AC adaptor, a PS/2 port into which you can either plug a standard‑sized keyboard or a standard mouse, a nine‑pin D‑type COM1 connector for peripherals such as an external fax/modem or serial mouse, and two USB ports with a Replicator port beneath. If you travel a lot with a laptop, buying the optional Port Replicator will give you a full duplicate set of rear‑panel sockets into which you plug your peripherals back at base, so that your laptop can be quickly reconnected to them all en masse when you get home. Completing the rear‑panel sockets are a 25‑way printer port (which is vital if you need to run Cubase with its dongle), the VGA monitor port mentioned earlier, and an S‑Video port to connect a TV display.
This is a comprehensive selection of I/O options, and provides plenty of choice for a musician. Only a gameport socket is missing, which stops you plugging in an adaptor cable for a cheap MIDI interface. However, anyone spending this amount of money on a laptop is likely to be investing in a serious audio or MIDI interface of some type.
If you want an external drive for audio storage, the hot‑swappable Freecom FireWire drive also supplied by Red Submarine seems ideal.
Windows 98SE was installed on the review laptop, and I suspect that this is the best choice for most musicians, since there are still far too many MIDI and audio peripherals without Windows 2000 drivers. Red Submarine had already set up the operating system for music use, so I scouted around to see what optimisations they had made.
I was pleased to see that the Active Desktop had been disabled, as had screensavers, system sounds, superfluous Windows animation for menus and lists, and the Task Scheduler, and that the only item in the StartUp folder was the WaMi Box Mixer. Power Management had been adjusted so that system standby mode was never entered, and the hard drive was never turned off, but sensibly the monitor was set to turn off after one hour's inactivity. Unfortunately, auto insert notification was still enabled for the CD‑ROM drive, and both this and the main hard drive had DMA disabled.
Vcache had as yet no fixed settings, but installing Cubase set these up for me, and Windows had been left to manage its own virtual memory settings. Read Ahead optimisation was left at full, and write‑behind caching was enabled — both sensible settings for most modern music software.
Intel's SpeedStep technology is a feature that normally switches the processor speed and voltage to a slower power‑saving mode when you switch from the AC adaptor to battery power — in this case, dropping the 700MHz processor speed to 550MHz, and the power supply from 1.6 Volts to 1.35 Volts. Red Submarine had sensibly abandoned this Automatic setting in favour of Maximum Performance, so that although battery life will be shorter you won't lose any audio performance when unplugged from the mains. However, if you regularly use your laptop for mobile non‑audio activities then it would be sensible to change this back.
Meanwhile, a few changes had also been made in the BIOS (accessed by pressing the F2 key during boot‑up). Normally, a tiny switch near the screen hinge ensures that the LCD display is disabled when you shut the lid to save some power, but the Suspend option had been deactivated in the BIOS, to avoid any degradation of audio performance during normal use.
As I expected, the laptop was whisper‑quiet in normal use, and even when it was accessing the hard drive, acoustic noise was no more than a murmur in comparison with most full‑sized 3.5 inch hard drives. After some minutes of almost silent operation, a tiny one‑inch cooling fan with a fairly quiet but high‑pitched whine switched in. This only operates as long as cooling is required, switching itself off again afterwards, and even with it running the laptop was blissfully quiet compared to most full‑sized PCs.
The CD‑ROM drive was also extremely quiet when playing back audio CDs, although the first time I inserted a CD‑ROM I thought I was being buzzed by a hovercraft! However, this just proves how quiet the laptop was, since the 24‑speed TEAC drive was actually no noisier than any other CD‑ROM. Of course, musicians won't be accessing this during recording or playback, so it shouldn't prove annoying in practice.
The keyboard felt very responsive, although I found it harder to get used to the touch pad, and eventually resorted to plugging a standard mouse into the PS/2 socket was on the rear panel.
The 10Gb Toshiba hard drive was suitably formatted as FAT32 with 32K clusters primarily for audio use, although it might be better to create a second partition exclusively for this purpose, or use an external audio drive (see the Firewire Storage box), and then format the system partition with 4K clusters to waste less space with smaller system files. When I first ran the DskBench utility the hard drive performance was disappointing, because the DMA button hadn't been ticked in the hard drive Properties. Once I'd enabled bus Master DMA and rebooted, however, performance improved dramatically, with sustained transfer rates of 15.1Mb/second read and 16.0Mb/second write, both with under 3 percent CPU overhead. With a fairly standard 64K buffer size, DskBench predicted that 43 audio tracks were possible, so I was intrigued to see what happened in practice.
I started by installing Cubase VST, and had no problem running this, although its chunky dongle was an extremely tight fit in the parallel port. If you buy VST with your laptop, however, Red Submarine will supply a six‑inch extender cable free of charge (normal price £14.95).
My first choice for audio testing was the built‑in ESS soundchip. Its audio playback sounded perfectly adequate on headphones, but it's not a lot of use for recording audio, since you can only use the lo‑fi mic input. The built‑in speakers were also handy in an emergency, but plugging in an adaptor lead from the headphone output to my studio mixer gave disappointing results, with little or no bass and a harsh top end.
Nevertheless, the laptop managed to play back the 26‑track Cubase demo song with no glitches, contradicting those who claim that PC laptops are incapable of more than half a dozen tracks! On the MIDI side, the ESS Allegro provides a Microsoft GS Wavetable synth which gives very basic MIDI playback facilities, and there's no built‑in MIDI input for recording. However, most musicians will want to add an external MIDI and/or audio interface — I covered the many options available to laptop owners in last month's PC Musician.
For the purposes of this review I had installed the EgoSys WaMi Box system that I was also testing for this issue, and this gave me a much better chance to run the Red Sub laptop through its paces. Initially the laptop wouldn't boot up after I installed the WaMi Box drivers. This turned out to be a conflict with the ESS MPU401 driver — since the sound chip has MIDI facilities, the driver for these had been installed automatically by Windows, but as no MIDI In or Out sockets are provided on the laptop itself I just disabled this device inside Device Manager.
After this, the WaMi box ran properly, and the only other problem I had was that Cubase disliked running when the WaMi Box wasn't plugged in. I solved this by disabling it inside Device Manager while still plugged in; when I then removed it I could use Cubase successfully with the ESS soundchip as well.
Testing out DskBench's claims for the internal hard drive, I kept adding more and more audio tracks to see what was possible. Using 64K disk buffers it started to get a bit twitchy at about 32 tracks with occasional 'overs', but I managed to get up to 48 tracks and about half a dozen real‑time effects before Cubase got close to falling over. What more could you ask for?
The first words that came into my mind when I started to use the Red Submarine laptop were 'highly desirable', and nothing I found during the course of this review changed my mind. Those who insist that no PC laptop can manage more than half a dozen or so audio tracks should eat their words — this is an extremely capable machine that could form the nerve centre of a powerful recording system with the twin advantages of extremely low acoustic noise and portability.
Laptops are significantly more expensive than desktop PCs, and one as powerful as this is even more costly. The Red Submarine laptop reviewed here costs about £2100, and the full review system including Cubase VST 5.0 and WaMi Box is about £2700, rising to just under £3000 with the Freecom FireWire drive for those who want expandable storage. However, these prices aren't that much higher than for other laptops of similar specification, and for those musicians who want the ultimate portable solution, let me end this review by repeating what I said at the start. This model and its cheaper stablemate seem currently to be the only ones guaranteed to work well with MIDI + Audio software. You could buy elsewhere and take an expensive gamble, or you could get in touch with Red Submarine. If I had the money, I know what I'd do.
Processor: Intel Pentium III 700MHz.
Screen: 14.1 inch TFT XGA, up to 1024 by 768 pixel resolution at 32‑bit colour depth.
Graphics Card: ATI Rage Mobility 8Mb, with Dual View external monitor output, S‑Video port for TV connection.
System RAM: 128Mb S.O.DIMM, upgradeable to 256Mb.
Internal hard drive: Toshiba 10Gb UDMA33.
CD‑ROM drive: 24‑speed TEAC CD224E.
Floppy drive: 1.4Mb 3.5‑inch.
Modem: 56K Lucent Win Modem.
Network: Integrated 10/100 B/T Ethernet card.
Keyboard: 89 full‑sized keys, including two Windows keys and embedded numeric keypad.
Mouse: built‑in touch pad.
Internal sound chip: ESS Allegro PCI Audio.
Other ports available: 1 serial, 1 parallel, 2 PCMCIA, PS/2, Infrared, 2 USB, Firewire.
Physical: 305mm wide by 250mm deep and 40mm high, 3.2kg weight.
Three‑year parts and labour warranty.
Along with the laptop, Red Submarine also supplied me with an external 20Gb Freecom FireWire drive to try out. A FireWire drive is a perfect solution to the problem of running out of audio storage space, and they can be used with any PC or Mac computer that has a suitable FireWire connection. Drivers were supplied on CD‑ROM for those running Macs on Mac OS 8.6 or higher, but no extra drivers are required for Windows 98SE or ME users.
The Freecom drive can be operated either horizontally on the desktop, or vertically using the supplied stabilising foot. At 8 inches deep, 4.5 inches high, and just 1.25 inches wide, it looks rather like a silver VHS video cassette. Power comes from a supplied 12 Volt mains adapter, and the only features on the back panel are a socket for this along with a FireWire and iLINK (Sony's brand name for their FireWire equivalent) port. There is a tiny green power indicator LED at the rear of the right‑hand side of the case, and a red 'busy' LED indicator on the front panel.
I plugged the new drive into the laptop and then powered up, and Windows 98SE detected it correctly and automatically assigned it a drive letter. It showed up inside Device Manager as a Samsung model. As with any new hard drive, you need to format it before you can store any data. Using the drive proved as easy as using the internal one, and you do have the advantage of being able to plug and unplug them while your computer is running, as long as they aren't being accessed at the time.
Strangely, the sustained transfer rate for both writes and reads varied quite a bit every time I ran DskBench, but the result for multitrack audio running with 64K disk buffers was rock‑solid at 3.69Mb/second, giving a theoretical 43 tracks of 16‑bit/44.1kHz audio — almost identical to the performance of the internal drive. This should be more than enough for any laptop owner, and at £199 the Freecom drive seems excellent value.
Red Submarine offer a three year parts and labour warranty on their laptops, and like most specialist music retailers have experienced technicians on their telephone support line who not only know all about PC hardware, but also all the ins and outs of music hardware and software. If you do get a problem, their helpline is open on Monday to Thursday from 9:00 to 17:30, and on Friday and Saturday from 9:00 to 17:00.
Pros
Enough processing power to run a complex studio setup.
Guaranteed to work well with music hardware and software.
Loads of I/O options including FireWire and Dual View monitor mode.
Acoustic noise almost non‑existent when cooling fan is inactive.
Good crisp screen display and high‑quality keyboard.
Cons
Not cheap!
As with all laptops, the built‑in sound chip isn't good enough for serious work.
No gameport socket.
Built‑in cooling fan, although this is still fairly quiet.
Summary
This Red Submarine laptop is an extremely powerful but portable PC, and should prove ideal for any musician who wants to make music on the move with no hassles.