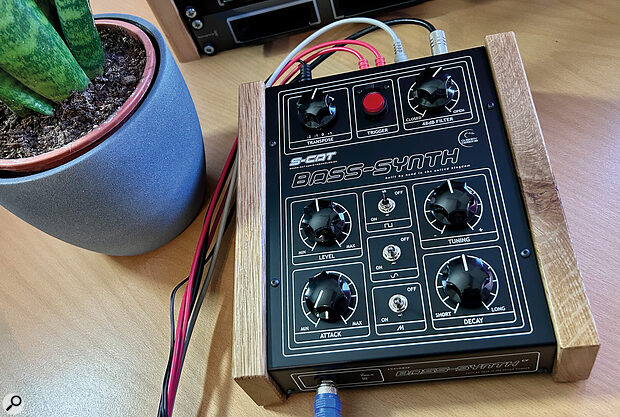 S‑CAT's bespoke Bass‑Synth does exactly what it says on the tin...
A once‑fashionable dance outfit cited that you need to put 'Bass In The Place', but if your synth or bass line lacks that low‑end grunt, S‑CAT have a bespoke solution that could fill your frequency void.
Along with other products from the S‑CAT line‑up, the Bass‑Synth is made to order. The less‑than‑oversized device sits neatly on the desktop, with an uncluttered panel that slopes toward you. It's got that Moog‑style feel, with chunky knobs, pots and switches that ooze quality. Complete this picture with a chunky pair of wooden end cheeks, and you've got a beautiful piece of analogue synth design.
Switching it on, the Bass‑Synth emitted a very low series of pulses before I clambered to plug in a keyboard, to control pitch and gate. There is no MIDI included with this device, only 1V/octave CV/gate via 3.5mm sockets on the back panel. Despite its analogue makeup, warm‑up time is pretty immediate; no more warming up the room before you make music!
The Bass‑Synth's sonic journey begins with three switches, which activate square/pulse, sine and saw waveforms. These are enabled or disabled, rather than offering any individual amplitude adjustment, emanating from a Curtis CEM 3340 VCO chip. This is the chip of legends, providing the sonic backbone for instruments such as the SH‑101. At the top left of the unit is a Transpose knob, switchable between four octaves, and this is accompanied by a sweepable fine‑tune pot, which will shift pitch up by a major third or down by a fourth. There's plenty of volume to call upon. I was operating at just 50 percent of its output, with plenty of signal in evidence.
The VCO feeds a 48dB/octave low‑pass filter; it's undeniably rich and smooth, offering a depth of tonal colour which chimes with the build quality of the instrument. When fully open, it's as bright as the sun, but it's the smoothness with which the filter sweeps that creates the tonal magic. In use, I did find that the cutoff was quite lively at the lower end of the sweep, but still manageable, with lower frequencies adopting a real sense of warmth and authority.
The Bass‑Synth offers a trigger switch, which immediately engages the gate signal, and hence the envelope. This is also a simple affair, with only an attack and a decay/release control to call upon, but with a full sustain available. There is also a Latch mode, handy for rumbling drones. The attack and decay phases themselves are relatively short, with just a couple of seconds to call upon, and while they can also be agile, they are far from the snappiest envelopes in the synth world. This feels slightly surprising, given the relative shortness of phase lengths.
There are no modulation options on the panel, with these elements being available via connections on the front or rear of the casing. Four 3.5mm CV connections to the rear allow pulse‑width control of the square wave, hard‑sync'ing, and frequency/amplitude modulation. You'll need an external source to utilise these, such as a Eurorack LFO. The front panel provides a single quarter‑inch jack input, which exploits the tip/ring trick to either control the filter cutoff or input an audio signal, which in turn feeds the filter. This feels a tad cumbersome, not least because two mini‑jack connectors for use with Eurorack would have been more practical.
This is a powerful and beautiful sounding device, which sits wonderfully alongside other synths without sub‑oscillator credentials.
In use, this is a powerful and beautiful sounding device, which sits wonderfully alongside other synths without sub‑oscillator credentials. The filter sounds truly beautiful too, but with a lack of resonance control or ability to route the internal envelope to the filter's cutoff it exhibits limitations for anyone wanting more scope for bass‑line creation.  
Summary
The Bass‑Synth is a beautifully made, quality product which will happily coexist with many single‑oscillator synthesizers or Eurorack systems. Its lack of onboard MIDI may require additional expense for anyone without CV/gate‑based equipment.