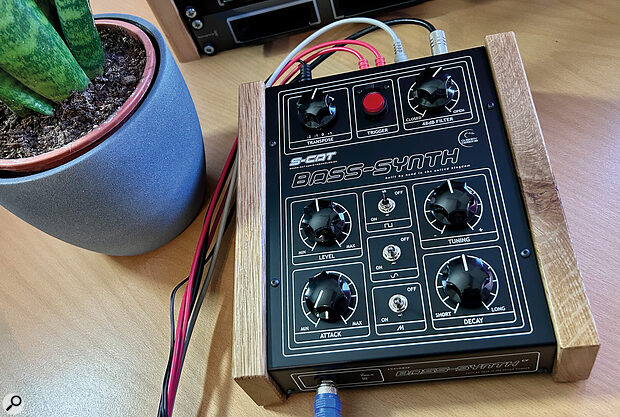 S‑CAT's bespoke Bass‑Synth does exactly what it says on the tin...
A once‑fashionable dance outfit cited that you need to put 'Bass In The Place', but if your synth or bass line lacks that low‑end grunt, S‑CAT have a bespoke solution that could fill your frequency void.
Along with other products from the S‑CAT line‑up, the Bass‑Synth is made to order. The less‑than‑oversized device sits neatly on the desktop, with an uncluttered panel that slopes toward you. It's got that Moog‑style feel, with chunky knobs, pots and switches that ooze quality. Complete this picture with a chunky pair of wooden end cheeks, and you've got a beautiful piece of analogue synth design.
Switching it on, the Bass‑Synth emitted a very low series of pulses before I clambered to plug in a keyboard, to control pitch and gate. There is no MIDI included with this device, only 1V/octave CV/gate via 3.5mm sockets on the back panel. Despite its analogue makeup, warm‑up time is pretty immediate; no more warming up the room before you make music!
The Bass‑Synth's sonic journey begins with three switches, which activate square/pulse, sine and saw...
You are reading one of the locked Subscribers-only articles from our latest 5 issues.
You've read 30% of this article for free, so to continue reading...
✅ Log in - if you have a Subscription you bought from SOS.
Buy & Download this Single Article in PDF format

£1.00 GBP

$1.49 USD


For less than the price of a coffee, buy now and immediately download to your computer or smartphone.

Buy & Download the FULL ISSUE PDF
Our 'full SOS magazine' for smartphone/tablet/computer. More info...

RECORDING TECHNOLOGY: Basics & Beyond
Claim your FREE 170-page digital publication
from the makers of Sound On Sound — CLICK HERE