Mixer, Multitrack Recorder & USB Audio Interface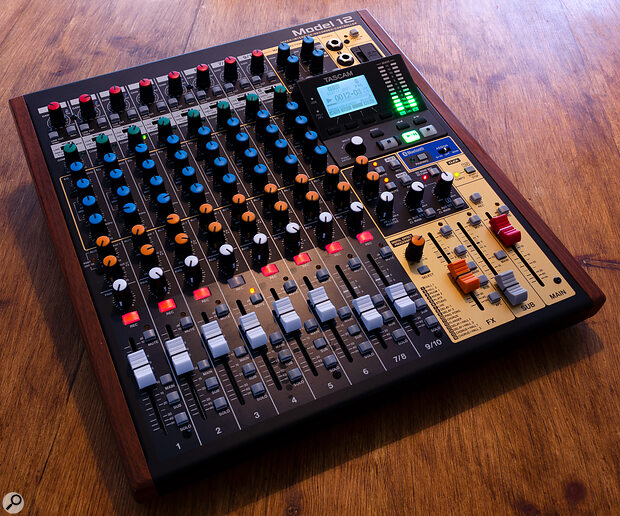 Tascam have done far more than shrink the Model 24.
When reviewing Tascam's Model 24 in SOS February 2019 (http://sosm.ag/tascam-model-24), I found plenty to love and, on balance, thought it a lovely combination of mixer, USB recorder and audio interface. That said, there were a few aspects that I felt could be improved. Tascam have since added the Model 16 and Model 12 to their range, and I'm happy to report that the latter, reviewed here, is far more than a reduced channel‑count version of the Model 24. In fact, Tascam have implemented several new features, on both the hardware and software sides of the house, and they combine to make the Model 12 far more versatile than the 24. In fact, it addresses many of my previous criticisms, and will undoubtedly appeal to a much wider audience.
As with the Model 24, the Model 12 is essentially three devices rolled into one. As its delightfully retro appearance implies, it can function as a fairly uncomplicated standalone mixer, with mic/line/instrument inputs, one‑knob compressors, EQ and a couple of aux sends on each channel, a master‑section EQ, and a built‑in 16‑preset digital effects processor. It also doubles as a standalone digital multitrack recorder with individual track arming, recording to SD/SDHC cards and SDXC cards (class 10 or higher) and, erm, triples as a multitrack USB 2 audio interface for Mac/Windows computers (via a USB C‑style port). In both those roles, it's capable of 16‑ or 24‑bit and 44.1 or 48 kHz PCM recording and playback. The Model 24 could do all that, but there are some major improvements to the facilities on offer: notably, for instance, it now acts as a USB MIDI interface, and throws basic DAW‑controller facilities into the mix.
There are some welcome changes to hardware. First, bar the two headphone outputs (which might have been more conveniently placed on the front edge, beneath the master fader), all of the physical input and output connections are on the rear panel; on the Model 24, they were on the top. Not only does this make for a tidier desktop and place less strain on your cables but it also reduces the amount of dust that will fall into the sockets, so should make maintenance less onerous over time.
All the analogue input channels can now accept mic, line or instrument inputs, via combi XLR/jacks: the XLR for the mic input, and the jack for line or instrument sources, selectable via a button beneath the channel gain pot. Channels 1 and 2 still feature a TRS unbalanced insert send/return socket too, allowing you to use outboard EQ or compressors while recording, and channels 7/8 and 9/10 double up as stereo line/instrument inputs: a normalled jack socket accompanies the combi XLR to allow stereo or dual‑mono operation. In total, then, there are eight analogue input channels, of which two can cater for mono or stereo sources, giving you a total of 10 inputs.
There's also a stereo Bluetooth input that can be routed to the main mix or to channel 9/10, as you prefer. So, pressing this into service, you could technically accommodate 12 inputs on mixdown. Furthermore, there's a TRRS jack, catering for two‑way connection with smartphones: the phone delivers sound on channels 9/10, and receives the main mix...
You are reading one of the locked Subscriber-only articles from our latest 5 issues.
You've read 20% of this article for free, so to continue reading...
Buy & Download this Single Article in PDF format

£1.00 GBP

$1.49 USD


For less than the price of a coffee, buy now and immediately download to your computer or smartphone.

Buy & Download the Full Issue PDF
Our 'full SOS magazine' for smartphone/tablet/computer. More info...